What is a good retention rate in SaaS and how to improve yours?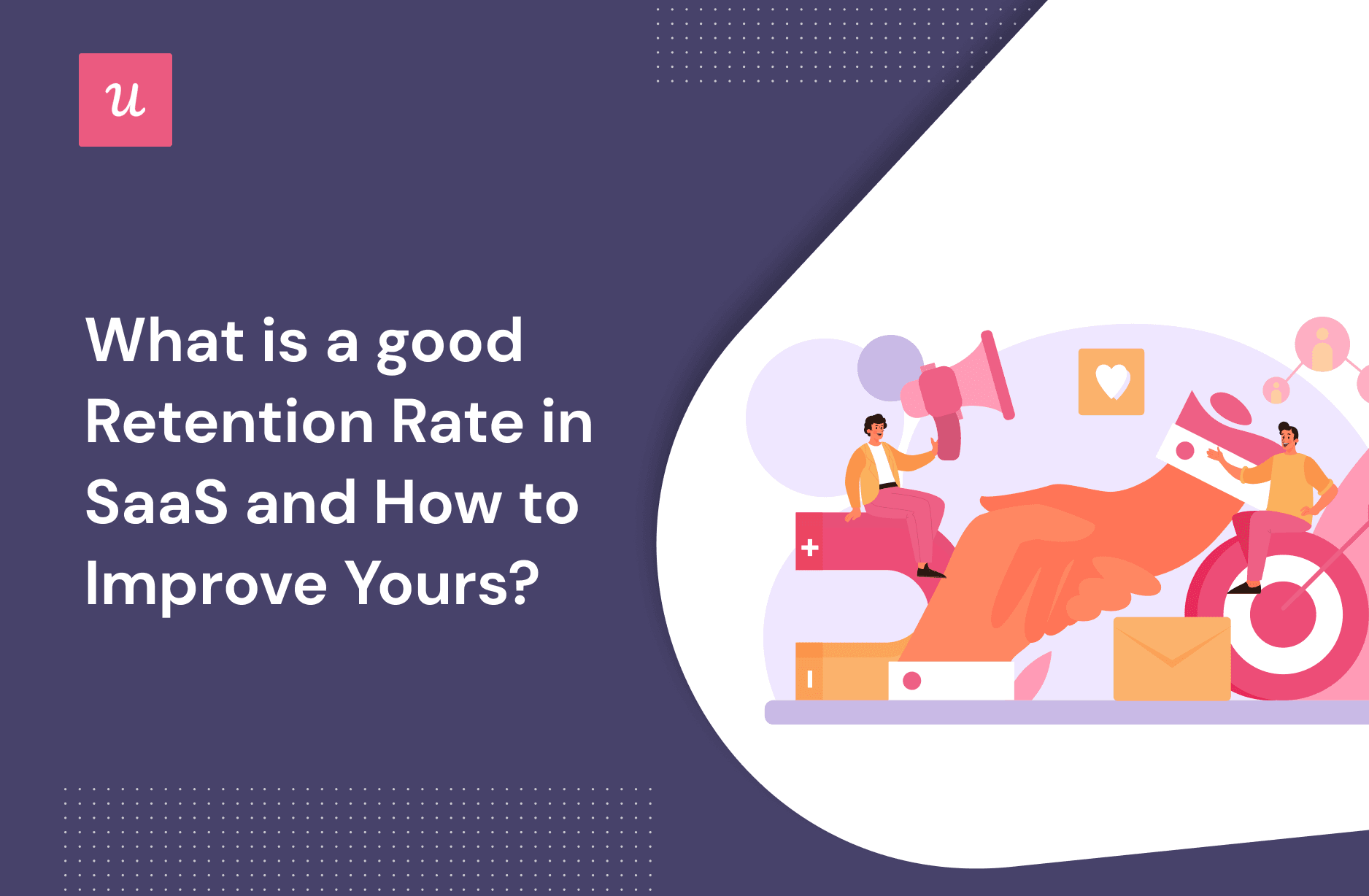 Have you ever wondered what is a good retention rate for your business?
If you've been looking for ways to increase your customer retention, you're in the right place.
TL;DR
What is customer retention?
Simply put, customer retention rate refers to the percentage of customers a company retains over some time. These are customers who keep renewing their subscriptions and actively engage with your product.
The key to having a high retention rate is to focus on your user base and seize opportunities for improving customer satisfaction.
Customer retention rate not only evaluates how successful your company is at acquiring new customers but also assesses the success of your business in terms of satisfying existing customers.
Consequently, a high retention rate brings in new customers, increases ROI, and boosts loyalty.
Why is customer retention important for SaaS businesses?
For starters, having a high customer retention rate means more loyal customers and a healthier business. It indicates that your users are active and engaged. A high retention rate means high customer satisfaction.
Furthermore, it increases your ROI by cutting costs. You pay to attract new customers as part of your marketing budget. With repeat customers, this is not the case. You get regular income.
According to Forbes, attracting new customers is 5 times more expensive than it is to retain users. With a high retention rate, you'll be able to spend more on customer acquisition.
Most of the revenue for SaaS companies comes from repeat purchases by retained users. So, improving user retention can result in greater revenue and growth.
How to calculate customer retention rate?
To calculate the customer retention rate, you need to determine the time period first. Afterward, you calculate the number of customers at the end of the period minus the number of new customers acquired during the period, divided by the total number of customers at the start of the period, and multiplied by 100.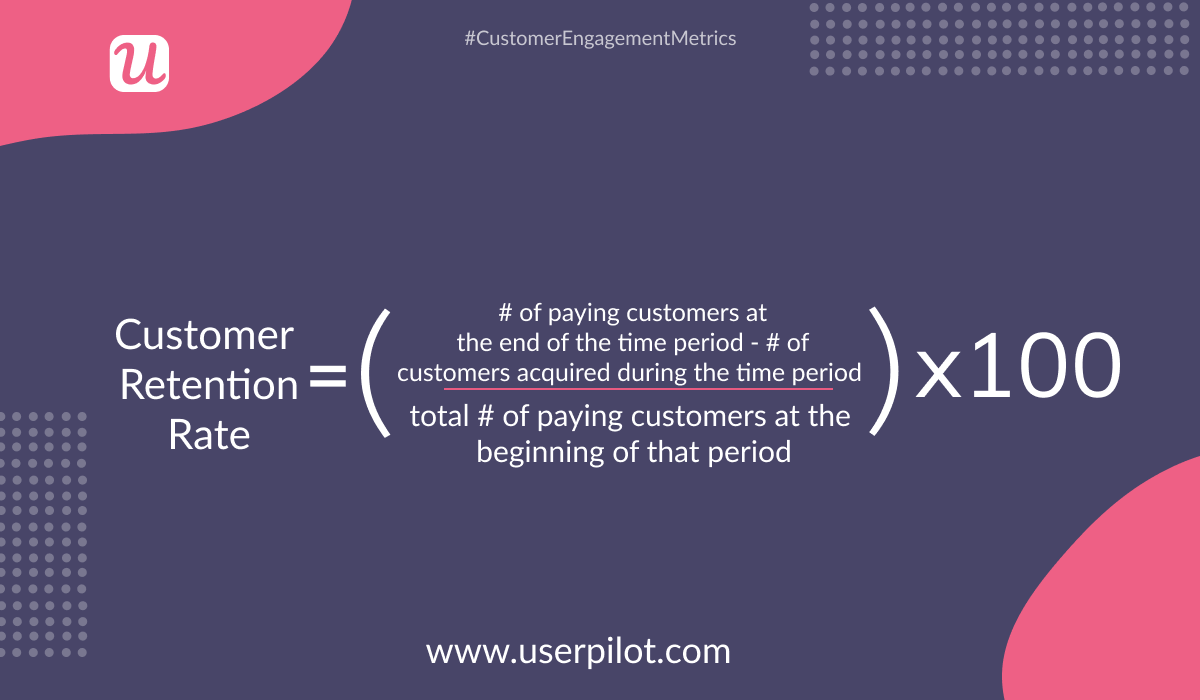 Let's say you had 1000 app users at the beginning of January. At the end of March, you had 1250 customers remaining, of which 500 are new users. So your retention rate for the 3-month time period is ((1250 – 500)/1000) * 100 = 75%.
Customer retention rate is not the only metric you can measure to understand the health of your business.
There are also other user engagement metrics that you can use to improve the average retention rate for your business.
What is a good customer retention rate?
The average customer retention rate differs from one industry to another. So do the industry benchmarks. This is for several reasons.
Different services have different considerations of the time periods. One business might measure its customers daily while others measure every month.
Even the formula for calculating customer retention rates varies by industry. For example, some media companies focus on in-app purchases and measure retention rates using that.
If you want to know what counts as a good customer retention rate, you should start by looking at the industry average rates.
For example, a Mixpanel report states that an acceptable user retention score for the SaaS industry is above 35 %. The monthly average churn rate for SaaS businesses is 3-8%, making the average retention rate in the range of 92-97 %.
4 ways to improve your customer retention rates
First, you'll need to set your benchmark retention rate. You can measure the retention rate against your company by comparing the customer retention rate for different time periods. Alternatively, you can measure it against similar companies.
Next, you develop customer retention strategies. We have listed 4 ways that can help you re-engage your customers with your company and get a great user retention rate.
Use targeted welcome screens to personalize onboarding
Welcome screens are so much more than their title. As the first point of contact users have with your business, a welcome screen establishes communication during the first stages of the onboarding period.
Here's how Kontentino does it.
You can add an extra layer of personalization by using targeted welcome screens. Top companies engage visitors at every point in their journey.
For example, one effective strategy is to add a micro survey which can help you understand the needs of your users. You can then personalize the onboarding path, getting them to experience the value you provide faster.
You can also create custom welcome pages for visitors who found out about you via your affiliates.
Provide secondary onboarding to retain customers
Onboarding is not merely contacting your customers during the activation stage. It continues beyond that stage.
It means welcoming your new users and engaging them from the first week and guiding them to the next level in the user journey. It is a continuous process that helps customers focus on what you're offering them.
Secondary onboarding refers to using in-app experiences to guide new users to the secondary features, converting them into premium users and/or advocates who promote your business through word-of-mouth and referrals.
For example, frequently contacting your users through in-app messaging and providing them with discounts and coupons ensures good business. You can also design in-app guidance features, including an interactive walkthrough or a product tour.
The key here is to drive repeated and continuous value. Onboarding goes beyond the primary and secondary levels.
Offer in-app self-service support to improve customer retention rates
When using your services for the first time, customers tend to have a lot of questions. Waiting for customer support to answer these questions can be very time-consuming.
A better way to handle this would be to create in-app self-service support that helps customers answer their questions. For example, many companies have an FAQ section at the bottom of some web pages.
Resource and help centers allow customers to help themselves. These can include numerous educational resources, such as tutorials, in-app experiences, open chat, and blog posts.
Implementing self-service opportunities allow users to spend more time within your app/website and get answers faster.
It helps users get used to your product, provides scopes for better customer satisfaction, and lowers frustration due to waiting time as the focus is shifted away from customer support.
Improve retention with churn or exit surveys
Churn/exit surveys refer to surveys via which you can ask users why they're uninstalling your app or unsubscribing from your services. Implementing these surveys helps you understand why your users are leaving.
You can act on these insights to improve your service and thus improve low retention rates.
Churn surveys should be as simple as possible. Usually, users do not spare the extra time needed to complete it, so it's best to keep them brief.
For example, you can ask the users why they are leaving and offer them a list of the most common reasons users tend to leave.
You can also leave a box for the users in case they have very specific complaints.
How can Userpilot help you boost customer retention?
Userpilot is a product growth tool that offers solutions across different stages of the user journey, including customer retention, user onboarding, self-services, and in-app marketing.
Let's start with micro surveys that allow you to collect customer feedback inside your app efficiently. This helps you better understand user sentiment so you can drive more value for your users.
With Userpilot, you can create in-app micro surveys, including NPS surveys, that are aligned with your brand, and moreover, it's code-free.
Additionally, our detailed product analytics will then help you evaluate customer feedback so you can take the right actions to meet customer expectations.
That's not all. Userpilot helps you build a resource center widget along with custom triggers, so users do not have to wait on your customer support team to get back to them.
A/B testing allows you to understand which strategies can yield more business. That's also something Userpilot allows you to do without your having to do the coding!
With Userpilot, you can also add a welcome screen modal, so your users don't get stuck in the initial stage. This helps boost user activation and satisfaction and, eventually, user retention.
Moreover, you can use customer segmentation and feature tagging to improve customer targeting.
Conclusion
High customer retention is key to any SaaS business growth. A higher number of retained customers mean more resources can be used on customer acquisition. With Userpilot, the road to boosting customer retention gets a lot more simplified.
Want to significantly improve your customer retention and build product experiences code-free? Book a demo call with our team and get started!