The 13 Proven Customer Retention Strategies For SaaS Companies [A Guide]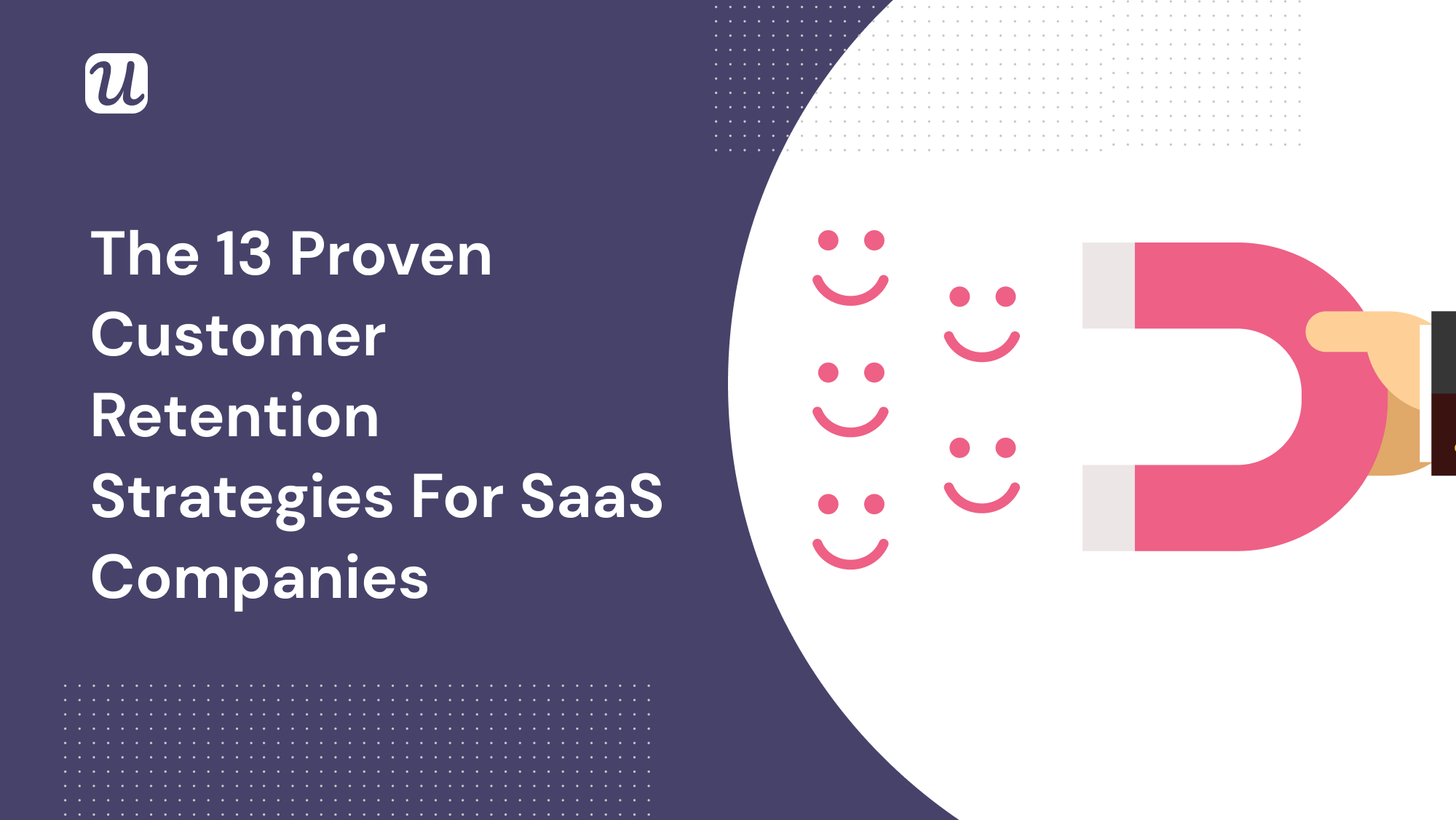 A successful customer retention strategy requires constant iteration and innovation to keep up with an ever-changing SaaS market environment.
It's also not like customer retention is the business of only one department. There has to be cross-departmental and cross-functional cooperation between product, sales & marketing, customer success, and customer support to implement a successful customer retention strategy.
Why does retention management take so much time and effort? Well, because both the rewards and risks are so great.
This article will dive into how each department should own its own customer retention strategy – and how it should all fit together! We have also asked experts from each department about their Customer Retention Strategy – so let's dive in!
TL;DR- 13 Customer Retention Strategies
Customer Retention Strategies for Your Marketing & Sales Departments
To kick off this guide to customer retention, we will be focusing on the efforts of the people going out every day and spreading the good word about your product.
The marketing and sales warriors in the trenches creating blog posts, running email campaigns, and closing deals. Their efforts all reflect how you position your product and the type of customer you attract.
Customer Retention Strategy #1 – The Importance of Positioning and Managing Expectations
Marketing and sales are the engines of your growth. Their job is to sell prospects on the vision of your company. But how the marketing team decides to tell your story will determine who it connects with.
Take a look at how these companies position themselves:
vs.
A Product Onboarding Tool for Startups
vs.
The Product Growth Tool for Product Teams
Which one would you buy from?
I'm guessing the answer is "it depends".
If you're a mid market company with a product team you'd probably go for 'the Product Growth Tool for Product Teams'.
If you're a startup – you'll go for the one that claims to understand startups. Simple.
Each description above represents a market position with its own customer demographic, market share, and competitors.
Positioning is the context in which you present your product. It's what you are for a particular customer. It starts with how you communicate what you are and for whom. What they can expect, and how much it will cost them.
Emilia Korczynska, Head of Marketing at Userpilot
Your marketing strategy will be dependent on your product positioning.
There are tons of great products out there that could be successful, but they're failing to position their product in an appealing way to acquire and retain customers.
So what is the key to presenting your company in a way that makes customers stay as loyal as Apple users?
Decide on whom you want to target before designing your product, creating your website and your communication strategy
Make sure your tagline communicates your core benefit to a specific target audience – focus on a feature that will immediately hit their most burning pain point
Set yourself apart from your competition, do not imitate them
Study your customer's behavior. Build killer features and base your positioning on what problems your product actually solves
We also asked some experienced copywriters who have helped SaaS companies present their products to convert and retain customers.
Conversion Copywriter. Marketing + Acquisition Strategist
There's more than one way that marketing can help drive long-term customer retention. But one smart way to do it is by setting the right expectations. And by that, I mean naming and addressing potential questions (or objections) that users might ask while using the product.
This could manifest in multiple ways, such as a robust FAQ section on a website or an email or video series that "troubleshoots" potential problems. It could even simply be calling out the objections (and then swiftly handling them) on a landing page.
This will help earn users' trust while setting the stage for a long-term commitment. If the user feels like they know exactly what they're getting into when they sign up, there are no unfortunate "surprises" waiting for them on the other side. Which will help reduce churn and increase retention.
Conversion Copywriter to B2B and SaaS
Marketing needs to make sure the things they're promising aligns with reality. Marketing gets to be the company's mouthpiece, which means they get to set expectations for how the rest of the relationship will go.
Unfortunately, we've all had the experience of going on a 'first-date' with someone where we see all the promise and potential of who their very best, carefully curated self is—only to realize the person behind all that is not what we expected.
Marketing ought to work very hard with the other areas of the company to make sure that the experience lives up to its promises.
Marketing also shouldn't end when you make the sale, right?
Too often, once someone becomes a customer, we treat them like someone whose mind has been eternally made up.
While it might seem counterintuitive, you still need to market to your existing customer base. That might look like letting them know when new offers become available or a better option for them comes around.
Customer Retention Strategy #2 – Repel Marketing
Another key aspect of marketing strategies for retention is repelling.
Yes, we know it sounds counter-intuitive to scare away potential customers. But hear us out if you want to have better retention rates.
Retaining certain customer groups can require much more resources and only result in a high CAC without positive ROI. The problem might not always be with your product, but who is using it.
Excluding unqualified customers may mean your MRR may take a hit initially, but it will also develop a much stronger and loyal customer base for long-term growth.
To start planning a repel marketing strategy, look at the rate of conversion with your different audiences. You may be targeting content marketing professionals that need SEO software, and you have 1,000 accounts following you. However, only 500 are content managers who have SEO specialists on their team.
Both groups probably have very different conversion rates.
You might try repelling the content marketing generalists by doing a month-long campaign on how to structure briefs and effective keyword research.
All those generalist leads that keep going nowhere will get the message that your solution may help, but it's not for them.
Another way is to include forms in your demo signup or launching surveys through your social channels.
You can set specific criteria for your ideal customers. Anyone who doesn't meet them can be excluded from future marketing campaigns.
Implementing a paid trial option and promoting it can also repel certain customers who were there just for a low-cost option.
Source: Ahrefs.com
Thinning out your marketing funnel allows you to focus your message and resources on the customers that will be key to your growth. Be picky and thrive further into the future.
Product-Led Customer Retention Strategy – How to Build Products Designed for Retention
Now that we have gone through how your marketing and sales departments can lead your customer retention strategies let's get back to our bread and butter – how product-led growth tactics increase customer retention.
This section will go through the different steps your product development and product marketing teams can take to increase customer retention.
For each strategy, we collected quotes from marketing execs like the Head of Marketing at Kommunicate or the Head of Content at the Product Marketing Alliance.
Customer Retention Strategy #3 – Having Self-Explanatory UX and Great UI
The worst thing that can happen when you sign up for a new product is when you are shown an empty screen with a boatload of features. It's like being an average person sitting in the cockpit of a plane and being asked to turn on the engines.
Information overload with all the buttons and fear of hitting the wrong one. Ultimately, the person will freeze up and either bounce back to their seat or pester the pilot with a million questions.
The same goes for a user who enters a product with poor UX and a complicated UI. Unfortunately, this is more prevalent than you may think in SaaS. In a survey conducted by Map My Growth, 50% of SaaS prospects admit that software solutions are difficult to use the first time.
Source: mapmygrowth.com
So how do you fix this, and what do you do to create an easy-to-use or user-friendly experience that inspires customers to stick with you?
Well, the first step is to fill that empty state. There should always be a prompt to get started that gives the user a starting like templates or a create a project button to get started on their journey.
Source: basecamp.com
Great UI means that:
Users can understand functions very easily
It's easy and intuitive to navigate
Users themselves can solve most problems
Technical support is rarely necessary
Less tech-savvy individuals can use it
Little training required
Once users understand where they can get started and how they can navigate the product, it's time to launch the onboarding.
Customers are much easier to retain when they know your product inside and out. But what does effective onboarding actually look like?
Customer Retention Strategy #4 – Personalizing Introductions
You have about 7 seconds to make a great first impression, so you have to make it count. The problem is that many think a good welcome is just by putting in the user's name and saying, let's get started.
Unfortunately, that just doesn't cut it anymore. Users want to know that your product will help them with the job they need be done. You need to convey that as soon as they open up your app or from the get-go.
Source: Userpilot.com – Get straight to your customer's use case with personalized welcome screens. Want to see this in action? Get in touch with a product marketing specialist.
One way to create a more personalized intro is to ask the user's role and goals of using your product.
Source: Postfity.com
This creates a level of personalization much deeper than a generic "hello." You can then figure out their persona and create an experience that provides the quickest avenue to solving their problem. They will hit your activations points much faster and you set them on the right path to their customer journey.
Personalization in onboarding has moved from a good-to-have idea to a must-have asset. Good onboarding flow is not random tooltips popping up now and again. It's the process and flows devised from learnings gathered by watching your most successful users. You can start with onboarding screens to learn their goal, add a checklist to give them a sense of winning with important steps they complete in your platform. Keep it simple, motivating, and of course, witty.
Parth Shrivastava, Head of Marketing at Kommunicate
Customer Retention Strategy #5 – Interactive Walkthroughs
Ok, so you have your product personalized to the customer's use case, and they're ready to start exploring your product. You want to make this experience as engaging as possible because – let's face it-learning software can be boring.
The main culprit for this is product tours.
Source: UI-Patterns.com
This giant tooltip is blocking the get started button, the one that leads to the company's first activation point.
At this point, a customer is wondering how many times they will have to click next before they can actually get started.
Interactive walkthroughs focus on the one key event that the user needs to perform to get the utility of your platform.
E.g. If you're a social media scheduler, your user will need to add social media to their profile to start publishing posts.
Once users perform this key event, they can then start solving the problem that led them to your product in the first place.
For us at Userpilot, the key event is downloading the google chrome extension. For others, it may be importing a project.
Source-userpilot.com
From here, customers can reach their "Aha! Moment!" faster and are far more likely to stick around.
Source: Userpilot.com
Interactive walkthroughs are considered pro-active onboarding. This is designing a specific path for your users to follow along their customer journey. They are learning by doing and are shown engaging product experiences to create a deeper connection and memorable experiences.
They include:
User onboarding emails based on days, actions, and persona
Examples of Interactive Walkthroughs
The 1:2 punch of a welcome screen and then a checklist
Source-Postfity.com
In this example by social media scheduler Postfity, customers fill out their use case and then shown a relevant checklist to guide them through the features most relevant to them.
Giving the customer a set of options
This tactic works if you are a solution in a crowded market like Market Muse. There are probably already some customers familiar with your technology, and they can skip the tour and explore the product on their own.
If they are new, they can go through a tailored walkthrough that focuses on the product's benefits and ease-of-use. Finally, ending with key feature use.
Have the customer tailor their own journey
At Squarespace, they let their customers tailor their own journey by having them name the experience they are trying to create.
Then Squarespace shows the features that will allow their customer to realize that vision.
Once users go through the onboarding, they have this checklist letting them know what they need to complete to build their site. They also include an interactive video walkthrough that explains everything if it seems a bit overwhelming.
Source: Squarespace.com
Customer Retention Strategy #6 – The Impact of Onboarding Gamification on Customer Retention
A bigsyn thing missing from most onboarding experiences is…fun.
Yes, interactive walkthroughs and video tutorials are engaging, but you can also add more to make them enjoyable.
One of the most challenging problems is to cater to users who drop off in the first session itself. For most businesses that number ranges from ~20% to as high as 60%.
Parth Shrivastava, Head of Marketing at Kommunicate
Gamification is the introduction of fun elements into any context to encourage the achievement of different tasks. Basically – it's turning non-game tasks into a game with a specific end-point (an accomplishment or a desired behavior).
Source: Reddit.com
There are two important concepts to this practice:
Positive association
Incentivizing behavior
In behavioral psychology, positive association means that your brain will want to do something if the last time you did it, it was sort of fun.
Learning a new product is difficult and requires investing time and money. You can eliminate a lot of that friction by making onboarding a positive experience.
Many companies achieve this by offering rewards for their customers as they go through their journey. The most common reward elements are:
Points
Badges (likes, shares, emoji reactions, etc.)
Leaderboards
Discount coupons
Source: Prodpad.com
These gaming elements incentivize customers to complete their onboarding and use all of your key features.
They understand your product's value and will keep coming back because they love how it makes them feel.
So how do you create a gamification strategy for your product?
1. You can include an onboarding checklist that celebrates the completion of each task.
Source: Kontentino.com
2. You can use badges or points to reflect their proficiency and engagement.
Source: Facebook.com
3. You can include leaderboards among company accounts to encourage competition and rivalry.
Source: Helpdesk.com
Customer Retention Strategy #7 – Secondary Onboarding: The Key to Customer Retention
So, we have gone through the key elements of the primary onboarding process, but we only explained some secondary onboarding or even tertiary onboarding process elements.
Companies will often have converted their users to customers with a primary onboarding, but then they stop there.
They are missing out on the possibility of engaging with their customers at every stage of their journey. As a result, customers only see their product at face value; they have yet to engage with their secondary features and know nothing about feature releases or product updates.
This is why many customers become disengaged. They don't see the value in continuing their subscription. They stop logging as frequently, their key feature use drops, and they start exploring other options.
Secondary onboarding and tertiary onboarding are focused on customer retention by keeping customers constantly engaged. They include proactive onboarding tactics like tooltips for advanced features or modals for feature releases.
Source: Kommunicate.io
They also include reactive onboarding experiences, which means providing as much information as possible for your customers but letting them discover it on their own. Examples are product academies, FAQs, health checks, and in-app help or surveys.
Source-userpilot.com
The goal is to keep driving more value to your users by showing them more and more ways how they can benefit from your product.
People buy your product for 1 or 2 significant outcomes. But they will stay for all the polished edge-cases you provide them. Once using a product becomes routine; people stop exploring. Most of your intelligent side-features will go unnoticed if you do not provide information about them. Treat every major feature launch as a mini-product launch and educate your users as they grow with you.
Parth Shrivastava, Head of Marketing at Kommunicate
Customer Retention Strategy #8 – Onboarding Invited Users
Another gap that many companies forget about after implementing a primary onboarding experience is onboarding invited users.
A common example is a user signing up because a current customer referred them. They are already primed for conversion. In a study by Extole of newly referred customers, 92% say that they trust the recommendations that come from friends and they're four times more likely to buy something.
It makes more sense to provide a quick onboarding tailored to their use case-so the same as the person who referred them.
Source: Houseparty.com
The new team member is different because they count as a new user, but many companies don't provide them any onboarding. They need their own specific onboarding tailored to their role because they may have different access or permissions than the original admin of the account.
They also will be using distinct features, so it is important to show them the quickest way to get started.
Source: Airtable.com
How do you create these experiences for each group?
1. Start with a welcome screen that captures their role and use case. Make it personal, mentioning the person who invited them. Remove all the team-level steps (such as pasting the script in the website, adding a company name, adding a credit card, etc.) because you might have covered these for the admin user.
2. With that information, you can create a checklist that shows them exactly how they can start using the features most relevant to them and how they fit into their team's use case.
What Is The Role of Product Marketers In Customer Retention?
Head of content at The Product Marketing Alliance
Product marketers play a critical role in customer retention. Without speaking to customers, there's no way of knowing your product or service is ticking the boxes of your market. If you're not meeting customers' needs, what's their incentive to stay with you?
Customers are happy when you add value to their life. You add value to their life by creating products and solutions based on their needs. The net effect of all this is that your customers will want to stay with you, which goes without saying is a huge lever for your retention strategies.
Product marketing is the paramount piece of the puzzle that makes all this happen.
How to Use Customer Support to Increase Your Retention Rates
So, we have covered everything you need to retain your customers from your marketing, sales, and product teams. To finish up this guide, we will go over the strategies that will make the lives of your customer support and success teams much easier.
The technical support that you give your customers prevents them from churning. In fact, 71% of consumers have ended their relationship with a company due to poor customer service. While Oracle reports, 13% spread that bad experience to 15 or more people.
Great customer support has the opposite effect, where customers will pay up to 25% more for better customer support. 72% tell 6 or more people about that good experience.
Source: Slideshare.co
Your customer support strategy should be aligned with customer expectations. It should also follow them along the many touch points in their customer journey. Finally, you want to solve your customer's issues regardless of the channel they are on.
These methods establish trust with your customers and letting them know that you are constantly building a better product for them.
So, what are the customer support strategies that work best to retain customers? Which tools should you use to provide the best customer experience?
Customer Retention Strategy #9 – Understand Why Support Is Needed and Fix The Cause
The most common ways that SaaS companies provide customer support is through a support widget or button, live chat tools like intercom or drift, and through in-app surveys.
For your support widget, you always want to make sure that it is visible and not hidden in your app or website's footer. If a customer is experiencing an issue with your product, the quickest way they will churn is if it seems there is no way to fix it.
Source: Jitbit.com
Live chat is a great way to build better relationships with your customers. The moment they have a question or a bug appears, there is always a dedicated support agent ready to help.
Source: Hubspot.com
In-app surveys that gather NPS scores or ask about customer experience are another great way to understand why support is needed. Sometimes customers will experience issues or not know how to use a feature and not report them. These aren't pressing problems but certainly, detract from their experience.
You can build and launch these in-app surveys using no-code with a product experience tool like Userpilot.
It's even possible to include follow-up questions to get a more detailed response.
Through these surveys, you can capture the most common issues that your customers face without waiting for them to make the first move.
Then take action on these issues by directing them to your customer support team and developers.
Customer Retention Strategy #10 – Categorize Customer Issues
Of course, it makes much more sense to keep these customer responses in an organized way than opening up endless support tickets.
One way is to segment your customers based on their responses. If you are running an NPS survey, you can segment the promoters, passives, and detractors to see the common user behavior patterns and responses.
You can then tag responses with specific keywords to see user sentiment at scale and understand *why* most of your users feel in a particular way – good or bad.
Source-Userpilot.com
Now it is possible to create a priority list to address, organize and track responses. You can do this based on the feature they are commenting on or the topic that has either helped or hindered their experience.
Customer Retention Strategy #11 – Make Sure All Support Requests Go To One Place
The easiest way to cross-reference your NPS data with your user behavior is to use a tool with an interactive dashboard:
Source-Userpilot.com
You will also want to track how your overall NPS score changes throughout each quarter.
This gives you the ability to see which feature releases and product experiences have the most impact on customer satisfaction in real-time.
You will also see which updates might have tanked your score. Most importantly, you are refining your product experiences with actionable and trackable customer insights.
Customer Retention Strategy #12 – Set Customer Support Standards
Regardless of how busy your team is, there should always be standards for the service they provide. Without rules or standards, teams can get complacent, and customers begin to seem like the enemy rather than someone to help.
In your employee handbook, it should be stipulated:
How quickly customers receive a response
How customers are to be greeted
Any discretions staff should have for refunds or how to 'make things right'
How and when to follow up with customers
How to track requests and ensure nothing slips through the net
How to respond to specific problems or situations
These guidelines provide a consistent experience for customers and make them much more likely to become product advocates.
Why is the data you collect so important to customer support and customer retention?
Chief Design Officer and Co-founder at Novoresume:
The priority for customer retention should be to listen to what users think and make it easy for them to share that. We have recently started actively testing hypotheses, compiling quantitative data, and actively seeking observations.
We use voluntary emails and short feedback that our users could drop through a plugin (GetFeedback)installed on our platform. We made it very easy for them to do so! Our contact email is easy to spot (always in the footer or menu, where people expect to find it), and our feedback pop-up can be opened from a sticky button, always located on the bottom right of the screen.
We receive a lot of 'unsolicited' feedback; however, bear in mind that it comes highly unstructured – everybody writes their opinion – so make sure you have a process to filter it.
Making sense of this data can provide the top recurring issues and help you choose what you should focus on. Plus, it means that you already understand that a solution you created doesn't work for many people. Listening and structuring what users have to say should be a priority.
It should be effortless for your users to leave you their thoughts or feedback
Don't reinvent the wheel; a solution to your problem may already exist
Understand past success or error and learn from it
Customer Success and Retention – How to Create a Customer Retention Strategy Within Your CS Department
Now that you have your customer retention strategies running on all cylinders, you can't forget one of the most important customer success components.
What better way to explain customer success strategies than by using our own as an example.
Why should you listen to us? Well, we are very proud of our 2 % churn rate, so we must be doing something right.
Source: Userpilot.com
According to our Head of Customer Success, Elise Marengo, our customer success strategy has two main components.
Customer Contact-The customer always knows who to contact, how to contact them, and when to reach out. We have a very high-touch model because when customers have a real person to go to with their problem, they won't go somewhere else.
Customer Education-Customers should have an excellent grasp of all of Userpilot's tools and functionalities. They understand all the concepts of effective onboarding and product-led growth.
What does the customer success process at Userpilot look like?
Once customers leave the sales cycle, they will have either been onboarded during their free-trial or have converted directly into customers and need an onboarding session.
The customers who have already gone through their onboarding session still receive a welcome email and get assigned to a customer success team member. The ones who still need onboarding receive a four email sequence inviting them to an onboarding session.
Ex: "Hey, I see that you haven't started segmenting your customer base yet. Please schedule an onboarding session."
Once all our customers have been onboarded, implemented the product, and have been using it for about a month-they get segmented. Customers are segmented into 5 health categories and range from superuser to danger of churn.
We use a detailed classification criteria, but it comes down to their feature usage, user activity, and customer support interactions. Depending on how the customer success representative classifies them, they each receive separate treatment and a to-do list.
Some segments may receive quarterly emails while others every month.
Source: Userpilot.com
Super-users require less contact, and if they are considered an evangelist, they will be asked for a review and get passed over to marketing.
Average customers will get checked to see if they are using the features most relevant to their use case. Then they will receive a video teaching them how to use the feature or an email asking them if they would like to jump on a call.
Customers most in danger of churn receive an email every month to try and get them on a call or respond to an email. Then provide them with as much information as possible.
The purpose of this process is to keep all avenues of communication open. Customers in an active conversation are less likely to churn.
The Most Important Thing In Customer Retention
Customer retention is necessary to maintain sustainable levels of growth. Companies usually lose customers due to a poor onboarding experience, unused user data, ineffective customer service and weak relationships.
According to Retently, 80% of your company's future revenue comes from just 20% of your existing customers! Retention is much more cost-effective and reaps compounding rewards. Don't just focus on acquisition.
The most important thing to take away from all the strategies discussed above is that creating an engaging customer experience is how you win their hearts.
If you build your relationship off great experiences, show the user your value, and continuously be a resource, there will be no reason for customers to churn.
Summary – 13 Customer Retention Strategies for SaaS
Ready to start implementing some of these retention strategies? Book a free demo signup today with Userpilot!