Guide to Choosing the Best Customer Education Platform for SaaS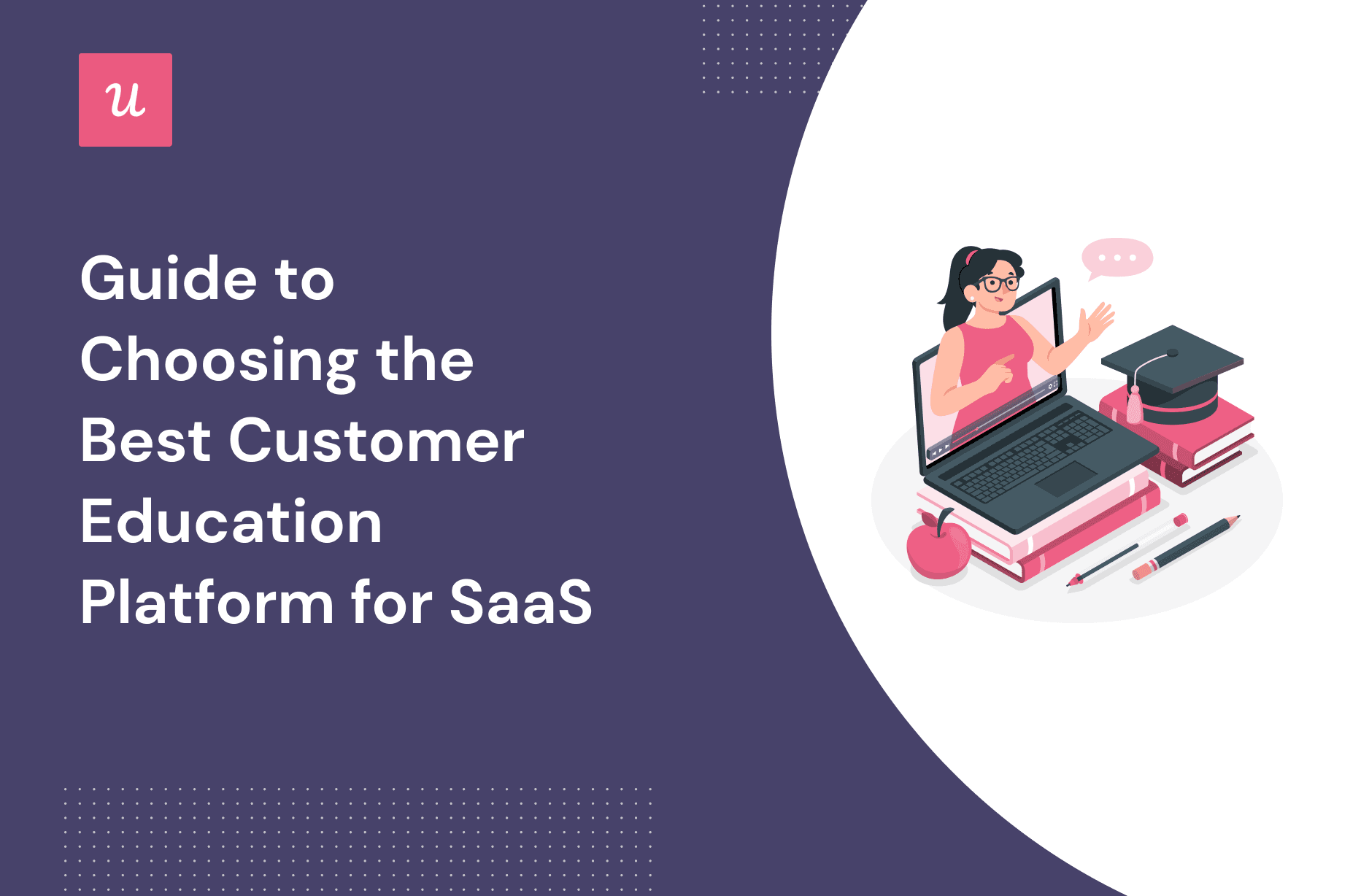 When it comes to choosing a customer education platform, there are so many options to pick from. Self-service, intuitive design, and customization used to be key requirements but today most tools have these, so it's easy to get lost in the ocean of options.
In this article, we'll look at various customer training tools available on the market. We'll explain what they do, their pros and cons, and how to choose one that suits you best.
TL;DR
Customer education is the process of teaching customers how to efficiently use your product to attain their specific goals.
Customer education platforms are software specifically designed to make onboarding and continuous user education easy.
Benefits of customer training software: Improved customer experience and customer satisfaction, better onboarding, reduced time to value, increased customer engagement, etc.
Some of the must-have features of a good training platform include in-app guidance, self-serve resources, user segmentation, and gamification.
When choosing a learning management software make sure it's customizable, user-friendly, and easy for you to use.
Tools reviewed: Userpilot, UserGuiding, Chameleon, Help Scout, TalentLMS, Skilljar, Docebo, Intellum, and SAP Litmos.
What is customer education?
Customer education refers to the process of teaching customers how to use and find value from your product.
The ultimate goal of customer education is to help customers use your product to its fullest, improve customer experience and drive retention.
What is a customer education platform?
Customer education platforms are tools that deliver and track educational content to customers.
It's not enough to have tons of helpful resources; you also need them arranged and delivered to customers in a structured and organized way. That's where education platforms come in. They reduce friction by ensuring your resources are delivered when and how needed.
What are the benefits of using customer training software?
The previous section highlighted some benefits of having dedicated customer training software. Here's an expanded list:
Must have features and capabilities of a good customer training platform
Type "customer education platform" into Google, and you'll instantly get over 500M results. Most links on the first page are listicles containing different products for customer training.
The point: there's so much to choose from, and you only need one good software.
We'll provide a detailed review of some of the top products later. But before then, the features below are a must-have for any customer training software:
Contextual in-app guidance
On-demand, self-serve resource center
User segmentation
Multimedia content support
Training progress tracking and analytics
Quizzes and assessments
Customer course feedback opportunity
Supplemental live training options
Multi-language support and localization
Gamification elements
Customization
Integrations
What to consider when choosing a learning management software (LMS)?
The truth is that any LMS worth its onion will have all or most of the above features. But that doesn't automatically mean they're a good fit for your business.
Here are some other factors to consider when choosing the perfect match:
Audience: Some tools only permit external customer training, while others can be used for both internal (your employees) and external training. Which is best for you?
Ease-of-use: The last thing you want is friction in your customer enablement process. Find a platform that your customers can use easily and smoothly.
Scalability: Your business will not always remain as it is. The customer base will increase, and you'll have to cater to all of them. The best platform is one that grows with you and can allow you to scale without stress.
Insights and Progress Tracking: What's a training program without tracking and adjustments? Software with a robust tracking feature will let you know what's working and what needs improvements.
Flexibility: The customer education platform you choose should have everything you need to run successful programs. It should be easy to set up and require no coding.
8 Best customer education platforms for SaaS in 2022
As promised, this section goes over some of the best products for SaaS customer training.
Userpilot – Best in-app customer education platform
Userpilot is the best for in-app training.
We know… we know…
"Best" is pretty cliche among SaaS companies, so we don't expect you to take our word for it. Let the reviews (below) and a demo trial convince you.
Key features
Self-serve Resource Center:
Userpilot enables you to build an in-app resource center for continuous user education and support.
The resource center created with Userpilot is totally customizable, in the sense that you can choose your knowledge base design and structure, and create a help center that feels unique to your brand.
You can include different content formats in your help widget —video, in-app flow triggers, webinars, articles, feedback, etc.
Interactive Product Walkthroughs
Worried that your product has a long learning curve? You can use interactive walkthroughs to help users learn by doing. Companies like Kontentino have been in your shoes and used our interactive walkthrough feature to increase new user activation rates.
Tooltips, Hotspots, and Checklists
Upon signing up, you have access to checklists, modals, tooltips, hotspots, and other UX elements. You can create flows.
Custom user segments
Userpilot gives you the liberty to create user segments as desired. For instance, you can create segments based on new sign-ups, and NPS scores and personalize the learning experience for each cohort.
Integrations with several tools
You can integrate with some of your favorite software, including Heap, Segment, Google Analytics, and Intercom.
We're the first to admit that no software product is perfect. Some cons of Userpilot:
It doesn't work on mobile, only on web apps.
Some integrations are still in progress. For instance, Hubspot and Zapier are coming soon.
It's not affordable for really small startups: Userpilot's pricing starts at $249 per month, which can be expensive for some teams.
Userpilot Pricing
Userpilot has three pricing tiers:
Traction: $249 per month for 0-2500 monthly active users (MAUs).
Growth: Allows you to have up to 10,000 MAUs, and you can bring 20 team members onboard. This plan goes for $499/mo.
Enterprise: $1000 per month for unlimited localization and unlimited team members, among other things.
Learn more about the nuances of each plan.
What people say about Userpilot
"Userpilot is an incredible, user-friendly software that allows us to create unforgettable experiences for our clients! From basic to complex experiences, we have been able to do them all with ease! I would highly recommend this software to anyone who wants to provide their clients or users with the best product tour experience. The possibilities of what you can create are endless!" – Tayla G.
"I like … having a great toolkit available to perform the job in hand of developing a seamless and enjoyable user experience. The range of features are great having switched over from Intercom product tours, I find there is more functionality, it is more stable and I can now utilise the UserPilot platform to help me run growth experiments to optimise the user experience"
UserGuiding – Best customer education platform for low budgets
UserGuiding is a customer onboarding software with all the essential features you can expect.
The good thing about this software is its cheap pricing. For instance, customers can get 2500 MAUs for just $99 a month. The UI is not so great, and it's not uncommon to encounter bugs, but it's still a good deal for anyone looking for a cheap option.
Key features
Good range of UI patterns: Checklists, hotspots, interactive manuals, etc.
Resource Center.
Integrations with Hubspot, Woopra, Google Tag Manager, etc.
Some cons:
Not the most friendly UI.
A lot of bugs.
Limited features on the basic plan.
UserGuiding branding on the basic plan.
UserGuiding Pricing
Basic plan: Goes for $99/mo, but with several limitations—allows just one team member, only 20 guides, two checklists, and UserGuiding branding on all UI patterns.
Professional plan: Checklists and guides are unlimited, plus there's no UserGuiding branding. This plan goes for $399/mo.
Corporate plan: Starts at $699/mo and is fully customizable.
What people say about Userguiding
"They make a system that I always thought would be out of my reach accessible and easy to use!" – Lee F.
"Price is too high for SaaS products like this. Doesn't support mobile version of web app, when 80% customers using mobile phone." – Aziz Z.
Chameleon – Best product adoption tool for employee onboarding
Chameleon is a no-code customer education platform but also allows you to adjust any element you want with custom CSS.
Features
Checklists.
A/B testing.
Analytics.
User segmentation.
Styling: customize fonts, colors, and the entire UX to fit your original product design.
Cons:
It might be expensive for small startups.
Further customization requires expert knowledge.
It's built for single-page apps: Chameleon can't build flows that run over multiple URLs.
Chameleon pricing
Chameleon offers a 14-day free trial, after which users can choose from:
Startup: Essentially for small companies, and it goes for $279/month. Tools and tooltips are unlimited. You can also make customizations on this plan, so it's great for small businesses.
Growth: In addition to the startup features, this plan allows you to A/B test and send unlimited in-app surveys. The growth plan is billed annually and priced at $999/month.
Enterprise: Better security, premium support, and more. The price isn't publicly stated on their website.
What people say about Chameleon
"Chameleon is a fantastic, in-app resource…the best part is that it requires little to no coding experience to design and utilize their tools, which means more members of our team can be a part of any project."
"Very slow UI. it takes very long to perform basic tasks. Multi-language support (last checked Nov 2019) Is totally missing, VERY hard to manage that side."
Help Scout – Best 2-in-1 helpdesk and knowledge base software
Help Scout is your go-to software for tidying up customer support. The platform allows you to deliver live chat, email, and self-serve support all from one place.
Its help center feature is quite robust and allows you to embed articles seamlessly on any web page.
Key features
An intuitive knowledge base.
Shared inbox for better customer relations.
Messages—for in-app communication.
50+ integrations.
Some cons:
Limited customization options.
The helpdesk doesn't include chatbots.
Help Scout pricing
Help Scout has a 15-day free trial and offers a 20% discount on all plans for customers ready to be billed annually.
Here's what the plans look like:
Standard: $20/mo for access to basic features, including two mailboxes, in-app messaging, live chats, etc.
Plus: $40/mo.
Pro: $65/mo.
The plans are billed on a per-user basis. You can have at least 25 light users starting from the Plus plan. However, know that light users can only view information and collaborate with you. They can't interact directly with customers—you'll need to pay more for that.
What people say about HelpScout
"Helpscout was easy to setup. And to maintain the system. And as a result my customers are helped much better.." – Damiaan P
"I just wish the program did all the things. Our company switched to Gorgias since we have employees working from home. Now phone, chat and email is all integrated together in one place." – Angie B.
TalentLMS – Best cloud-based learning management system
TalentLMS is revolutionary learning software that allows you to create online courses, quizzes, and host live sessions all in one place. The software also allows you to create localized content in many different languages. TalentLMS is more than just a customer education platform; its features can be used for other things like employee training.
Key features
Includes various content formats: videos, presentations, docs, etc.
Allows you to gamify the learning experience.
TalentLMS has an econ feature for selling individual courses or putting them up for a subscription.
Surveys.
Restricted learning allows you to define different learning paths for various audiences.
Cons
Old school interface that users may consider boring.
There are few customization options unless you're a CSS expert.
TalentLMS pricing
TalentLMS has an extensive pricing list:
Free: Maximum of 10 courses and only five users are allowed.
Starter: $69 / month with unlimited courses and up to 40 users.
Basic: Unlimited courses and up to 100 users. $149 / month. This plan allows you to create one independent training portal.
Plus: $279 / month. Allows up to 500 users and three branches (independent training portal for different teams/departments).
Premium: 15 branches, 1000 users, live chat support. Billed at $459 / month.
Enterprise: For companies that need more than 1000 users. Pricing for this is customized based on need.
What users say about TalentLMS
"TalentLMS conveniently rolls our training materials with just a few easy clicks." – David Christopher H.
"Minimal features, dated look and poor support"
Skilljar – Best customer training platform for tracking learner progress
Like TalentLMS, Skilljar is a cloud-based online training platform that can be used to create courses and track performance.
The major difference here is that Skilljar is an enterprise SaaS and mainly for customer education.
Features
Native dashboard analytics and reporting.
Supports multiple content formats.
It simplifies your workflow by allowing you to integrate easily with many popular apps.
Like TalentLMS, Skilljar has an econ feature for selling courses.
Mobile responsive interface.
Cons
Free templates are available, but you need a developer to make deep customizations.
Pricing isn't publicly displayed.
The UI is too basic.
No free trial.
Skilljar Pricing
Skilljar provides custom pricing based on your needs.
Reviews
"Easy implementation and reliable software" – Asta L.
"Limited API"
Docebo – Best software for mobile and social learning
Docebo is an extensive software with solutions for employee onboarding, customer training, sales enablement, and partner training.
The company prides itself on helping users retain both customers and employees. Let's see how that works:
Key features
Docebo's learning suite has the features you need to create, manage, deliver, measure, and analyze your training materials.
Some key features include:
Ecommerce LMS.
Accessibility (helps you deliver training to anyone, regardless of special needs).
Mobile learning.
Social learning.
Extensive integrations.
Cons
Not the best solution for startups—both in pricing and functionality.
Limited customization.
The tool has lots of features that can be confusing, especially when you're trying to troubleshoot.
Docebo pricing
They offer customized pricing. Docebo is best if you have 300+ people to train monthly.
What users say about Docebo
"I love being able to provide clean and intuitive experiences for my users. I have a lot of opportunities to create lots of different pages using their awesome widget system." – Dustin S.
This user was, however, dissatisfied, especially with Docebo's pricing. His review continues:
Intellum – Best software for creating and delivering certification programs
Intellum is another enterprise software for training customers, partners, and employees. This software is used by tech giants such as Google, Facebook, and Mailchimp.
One thing that makes this software stand out from the list so far is its virtual events feature.
Key features
Allows you to host virtual training events.
Tight exam security that ensures users don't cheat the system.
E-commerce feature for selling certification programs.
Cons
No free trial.
The admin dashboard isn't intuitive, so new users can struggle to get the hang of things.
Intellum pricing
Intellum requires you to contact the team for custom quotes.
What users say about Intellum
"Flexible tool to build the LMS your clients needs" – Alexis L.
"Intellum could be more intuitive in its user functionality." – Teresa C.
SAP Litmos – Best online corporate training platform
Litmos' use cases include training for employees, customers, sales, compliance, support, and operations. The company has a large user base, with over 30 million users trained.
Key features
Gamification – badges, leaderboard,etc.
Allows video conferencing integration.
Supports mobile learning.
Multilanguage support.
Certification programs.
Cons
The software is complex and has a bit of a learning curve.
Bugs with the report feature.
SAP Litmos Pricing
SAP Litmos offers a 14-day free trial, but pricing is customized and not publicly shared.
Reviews
"I like SAP Litmos…it can be customized for mobile devices, menus, and information in the training section." – Pierre R.
"Seems too complicated" – Lisa M.
Conclusion
The most important step in choosing the right customer education platform is to be clear on what you want to achieve with your training program.
So far, we've shown you the right things to look out for and some of the best tools in the industry. Hopefully, you'll leave this article knowing the next steps to take.
Want to get started with a customer education platform? Get a Userpilot Demo and see how you can boost adoption and customer success today!