UserGuiding Alternatives – Better User Onboarding Platforms for your SaaS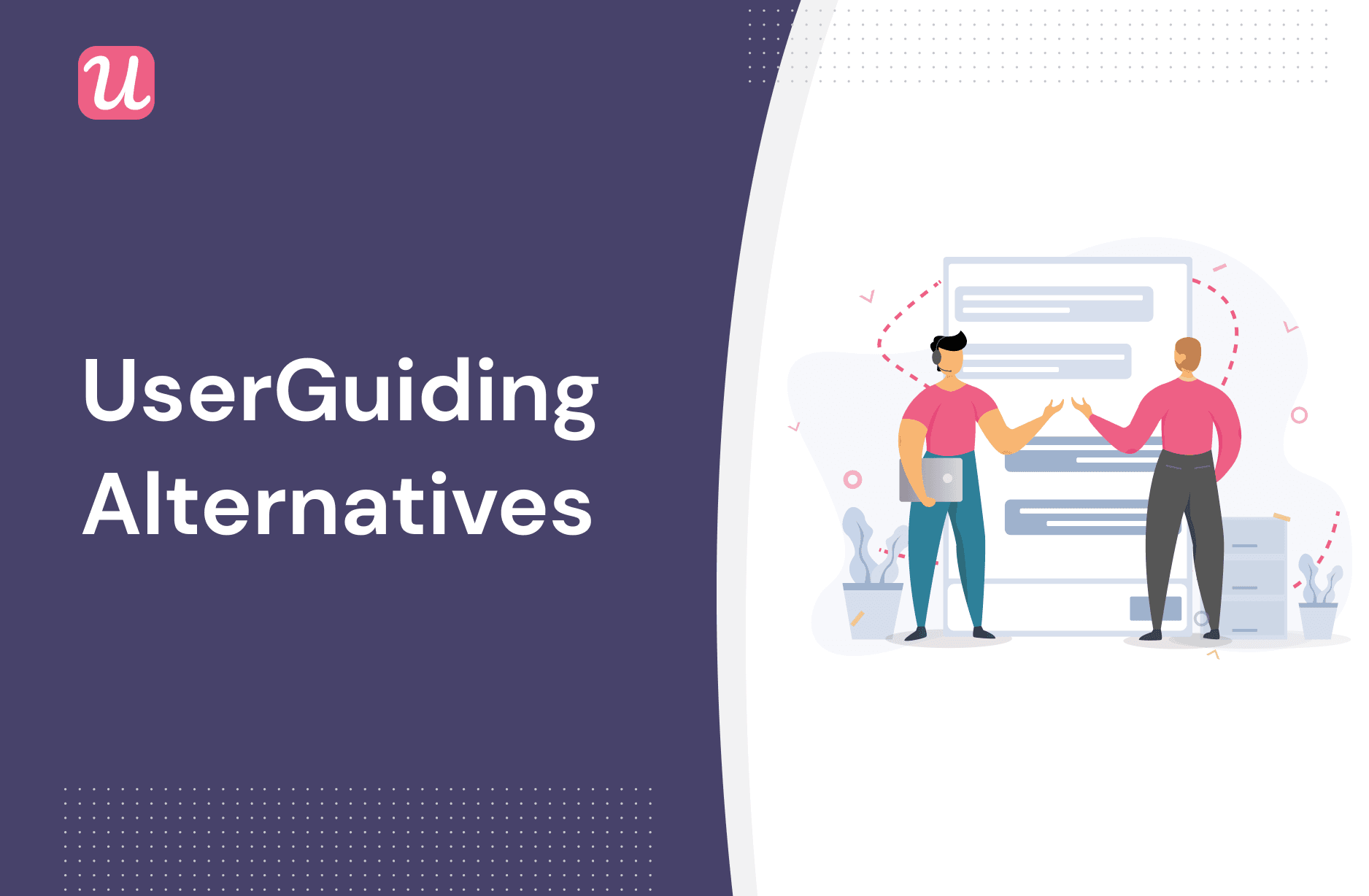 Looking for the right UserGuiding alternative? Then you're in the right place!
In this blog post, we're going to break down the pros and cons of using UserGuiding as an onboarding and engagement tool for SaaS and give you the best alternatives that may fit your specific needs and use cases.
Let's get started!
TL;DR
UserGuiding's biggest selling point is its $99/month Basic plan but that doesn't come with all the elements you'll need to build a positive onboarding experience.
A UserGuiding alternative like Userpilot or other agile digital adoption platforms come with the necessary elements needed to create a contextual, personalized user experience.
Appcues is a good alternative to UserGuiding but the Essential plan only lets you build one onboarding flow and gives you less than five audience segments.
Pendo is very robust analytics-wise but it lacks useful elements required to design onboarding flows and is really expensive at $9,000 to $50,000 per year (with no monthly billing options)
Intercom's onboarding solutions are affordable but they're only suitable for basic onboarding flows as they lack more advanced features that you'd find on other platforms.
Product Fruits may be cheap but the UI is too clunky to use effectively and it doesn't have enough flexibility to support SaaS companies as they grow.
What is UserGuiding?
UserGuiding is a no-code tool for user onboarding.
It has several onboarding features like interactive product tours, feature highlights, onboarding checklists, NPS surveys, and much more. That said, it's not that agile digital adoption platform as one might expect.
In the next section, we're going to take an in-depth look into each individual feature of the UserGuiding enablement platform to help you decide on your choice of a user adoption/onboarding tool.
Userguiding features
User onboarding
UserGuiding's product tours offer step-by-step guidance so new users get acquainted with your product and its features so they don't get stuck at a specific stage of their user journey.
Feature adoption
UserGuiding lets you implement UI patterns like tooltips to promote new features and get customers to use them.
Onboarding checklists
UserGuiding lets you create checklists that lead to fast user onboarding and less guesswork on what the next step may be.
NPS surveys
Microsurveys that measure your net promoter score can help you identify the boundaries to customer success and resolve these issues to increase the odds of referrals.
In-app messaging
In-app messaging can be used to announce new features, send activity alerts, or improve user onboarding via modals, tooltips, and other elements.
Interactive help center
Interactive help centers enable your business to support more customers and improve customer satisfaction without having to rely solely on your support team.
UserGuiding pros and cons
To make an informed decision before you invest in the software, it's essential to understand the benefits and drawbacks of UserGuiding:
Pros
Cheap enough for early-stage SaaS companies to afford
Good customer support
Multiple UI patterns to choose from when building onboarding flows
Cons
The tool can get a bit buggy
Doesn't support fully interactive product tours
Segmentation features aren't very intuitive and may require additional help from a developer
The poor UI design may actually slow your team down
UserGuiding prices
Basic
The $99/month Basic plan lets you access basic features like user identification, integrations, and NPS surveys but restricts you to two checklists and 20 guides (modals, tooltips, etc) without the ability to remove Userguiding branding.
Furthermore, you'll only have access to email and chat support.
Professional
The $399/month Professional plan is significantly more expensive but you get unlimited guides and checklists and access to up to five team members, compared to one on the basic plan.
You'll also be able to remove the UserGuiding branding and get full access to customer support. This feels more like what an entry-level plan would be with the Basic tier being a paid trial.
Corporate
The Corporate plan starts at $699/month and supports custom MAUs. Being UserGuiding's enterprise tier, the plan comes with customizable CSS and free coaching described as "highly personalized learning experiences." You'll also get an SLA and DPA.
Is it worth it?
UserGuiding reviews
Like we've seen in earlier sections, this tool has its fair share of ups and downs. Let's take a closer look at some of the user reviews that their customers posted online.
Based on what people say, there's room for improvement due to the app being buggy and a lack of an intuitive UI to help you figure out how to use it.
If you put in the time, you can get used to using and it highlights important characteristics of your product if the limitations of their basic pricing plan are not an issue for you.
For the money you need to pay to be able to remove their branding from your in-app messaging and guides and don't be restricted to how many you can build, there are alternatives to UserGuiding that offer more functionality and value for the money.
Best UserGuiding Alternatives
UserGuiding alternative #1: Userpilot
Userpilot is a product-growth platform made for SaaS companies that want to boost product adoption, increase customer success, and achieve a significant reduction in churn.
We're a little biased, but we are the best UserGuiding alternative.
It's also one of the most versatile UserGuiding alternatives with features like advanced segmentation, announcement modals, feature tagging, and microsurveys.
Userpilot features
Userpilot helps you create a more contextual onboarding process by showing the right message to the right user at the right time using advanced segmentation features and unlimited guides, checklists, and other onboarding UI patterns.
Userpilot works great for non-technical people as you'll be able to set up and customize your checklists and other in-app messages to offer step-by-step guidance to your users without the need to code.
Userpilot lets you style your elements without any coding. It allows you to get the exact look you want and keep your branding consistent.
Inside the analytics dashboard, you can monitor user behavior inside the product, track goals you set up, and other key metrics to help you tailor business processes to the outcomes you want to achieve.
After all, gathering data is the best way to shape new business processes and any digital adoption platform should offer robust analytics to track customer success.
Like what you see? You can jump on a free consultation call with us!
Userpilot pricing
For up to 2,500 monthly active users, Userpilot is only $249 per month making it more affordable than other alternatives to UserGuiding.
It may be pricier than the UserGuiding Basic plan but you get actually get more for the money:
All features are without limitations or restrictions
The intuitive interface means you can build in-app flows fast with minimum friction
Free on-demand live chat support
Three onboarding calls with the Userpilot customer success team unlike UserGuiding that only offers this type of support on its expensive Professional and Corporate plans
Unlimited access to live webinars that focus on how to get more out of Userpilot and improve your onboarding flows
Userpilot installation
Installing Userpilot involves minimal coding and takes just a few minutes.
All you have to do is install the Userpilot Chrome extension, have your development team insert a JavaScript snippet into the code of your application, and voila you're up and running.
Your development team will need to do a bit more setup if you'll be using custom events.
That said, you'll be able to target users using those custom events without any additional coding once everything has been set up.
It's also easy to create onboarding flows with Userpilot with its drag-and-drop UI editor. This ease-of-use factor means you'll be able to create multiple variations and then split test these flows using the product experiments feature.
Summary
If you want a no-code digital adoption platform that will help you create a personalized, streamlined onboarding experience to increase user engagement and product adoption then Userpilot is a better option compared to Userguiding.
You definitely get more value for the money. Book a demo to see how it works.
UserGuiding alternative #2: Appcues
Appcues is one of the top alternatives to consider if you're looking for a better software adoption platform than UserGuiding.
It was one of the first digital adoption platforms to implement checklists, tooltips, and other UI patterns that we still use for product adoption to this day.
Primarily, Appcues is designed to build customer onboarding experiences by mixing and matching various elements that help a user learn more about the platform.
The problem is that Appcues flows are limited to one available action and only a few UI patterns and it's safe to say that if you're looking to drive adoption and increase retention, virtually any web application will need more than that.
Userpilot, on the other hand, has four available actions that let you go further when creating onboarding flows or product adoption experiences.
Another shortcoming of the Appcues platform that keeps it from being one of the best UserGuiding alternatives is the difficulty you'll face when customizing onboarding elements. Much like UserGuiding software, Appcues isn't fully code-free as you'll need CSS to style basic elements like beacons and wedges.
Appcues pricing
Appcues is also more expensive than UserGuiding with its cheapest plan costing $299/month or almost $3,000/year if you bill annually.
This makes its yearly cost almost identical to Userpilot but with a few notable limitations when it comes to in-app content creation and engagement tactics.
With the Essentials plan, you can only build one onboarding flow and create less than five audience segments.
If your company needs more than that, you'll have to upgrade to the next plan which costs a whopping $879/month. This makes the Essentials plan feel like a lite or trial version.
Summary
Appcues platform is definitely a leader in onboarding software with a rich library of resources and useful content.
Its wide range of features can help you create onboarding flows that appeal to users but, having been around for a long time, its product has become quite expensive and bloated.
UserGuiding alternative #3: Pendo
Pendo is a popular platform for product adoption and user onboarding.
It has some really good features but is very expensive for a digital adoption platform and doesn't give customers the option of billing monthly which further increases the upfront cost.
Here's what you get for the price:
In-depth analytics that helps you optimize the product experience for your users and improve software adoption rates
User segmentation lets you divide users into different categories and create the most suitable onboarding experiences for them
Product tours, guides, checklists and NPS surveys
Onboarding flows for both web and mobile platforms
Pendo pricing
Pendo doesn't list pricing on its websites but sources give annual costs ranging from $9,000/year to $50,000/year.
There is one free plan and three paid plans to choose from. The Free tier only supports 1,000 MAUs and has limited features available, no integrations, and no customer support.
Upgrading to the Team plan will unlock analytics, API access, and in-app guides while also letting you set a custom number of MAUs on your plan.
The Pro plan comes with perks like SAML 2.0 SSO, roadmaps, feedback, and the ability to use one integration on your account.
Finally, the Enterprise plan adds one additional key for a web or mobile app, up to three integrations, a security audit, dev environment installation, and 24/5 live chat support alongside faster SLAs.
This makes the pricing structure costly, restrictive, and very expensive upfront.
Summary
With the limited elements, lack of monthly billing, and not even being 100% code-free paying up to $50,000/year for Pendo is a hard sell.
You can read more about this tool in our article on Pendo alternatives.
UserGuiding alternative #4: Intercom
Intercom Product Tour's user onboarding features may not be as complex as other UserGuiding alternatives but it could be a good option for small startups who want to build a basic onboarding process for their 500 MAUs.
It works even better if you already have an Intercom chat widget on your site or app.
However, many elements that are crucial to creating a positive onboarding experience like checklists and tooltips aren't part of Intercom's offering.
It's also not a digital adoption or product growth platform so if you're looking for a tool to grow with you then this isn't it.
That said, this lightweight tool makes it easy to set up linear product tours that can guide users through onboarding with a few modals.
The biggest selling point is the fact that it can integrate with the rest of Intercom in just a few clicks so companies already using the platform will get a seamless experience.
Intercom Product Tours pricing
Pricing starts at $49/month which is a decent price for the no-code builder, templates, and reporting but be ready for a sharp price increase after crossing the 500 MAUs threshold.
Its features also aren't scalable enough to justify the cost.
Summary
Intercom Product Tours isn't a good pick if you're looking for something analytical that helps build streamlined user experiences and complements product growth.
Also, if you hope to scale beyond 500 users then this alternative will quickly become too costly.
UserGuiding alternative #5: Product Fruits
Product Fruits is similar to UserGuiding in that they have similar features, an unintuitive UI, and pricing that doesn't really make sense for large enterprises.
The user experience can only be described as clunky and generally hard to use.
Product Fruits pricing
Product Fruits' entry-level Growing plan starts at $59/month for up to 1,500 MAUs with costs scaling up as you make your way towards 50,000 MAUs.
You can also get a custom quote for the Enterprise plan if you have more than 50,000 MAUs.
Summary
While Product Fruits is affordable, its clunky UI and limited features make it an undesirable option.
Building contextual product walkthroughs will be extremely difficult if you don't have the right tools so investing in a more capable solution will pay off in the long run.
Conclusion
While UserGuiding may have some good features, it's not necessarily the best option for everyone.
It all comes down to finding a solution that has all the features you need to create a contextual onboarding experience while being simple enough to maintain employee productivity.
Want to build code-free product experiences using a more robust tool than Userguiding? Book a demo call with our team and get started with Userpilot!
[/vc_column_text][/vc_column][/vc_row][/vc_section]