Pendo Onboarding: An In-Depth Review + Better Alternative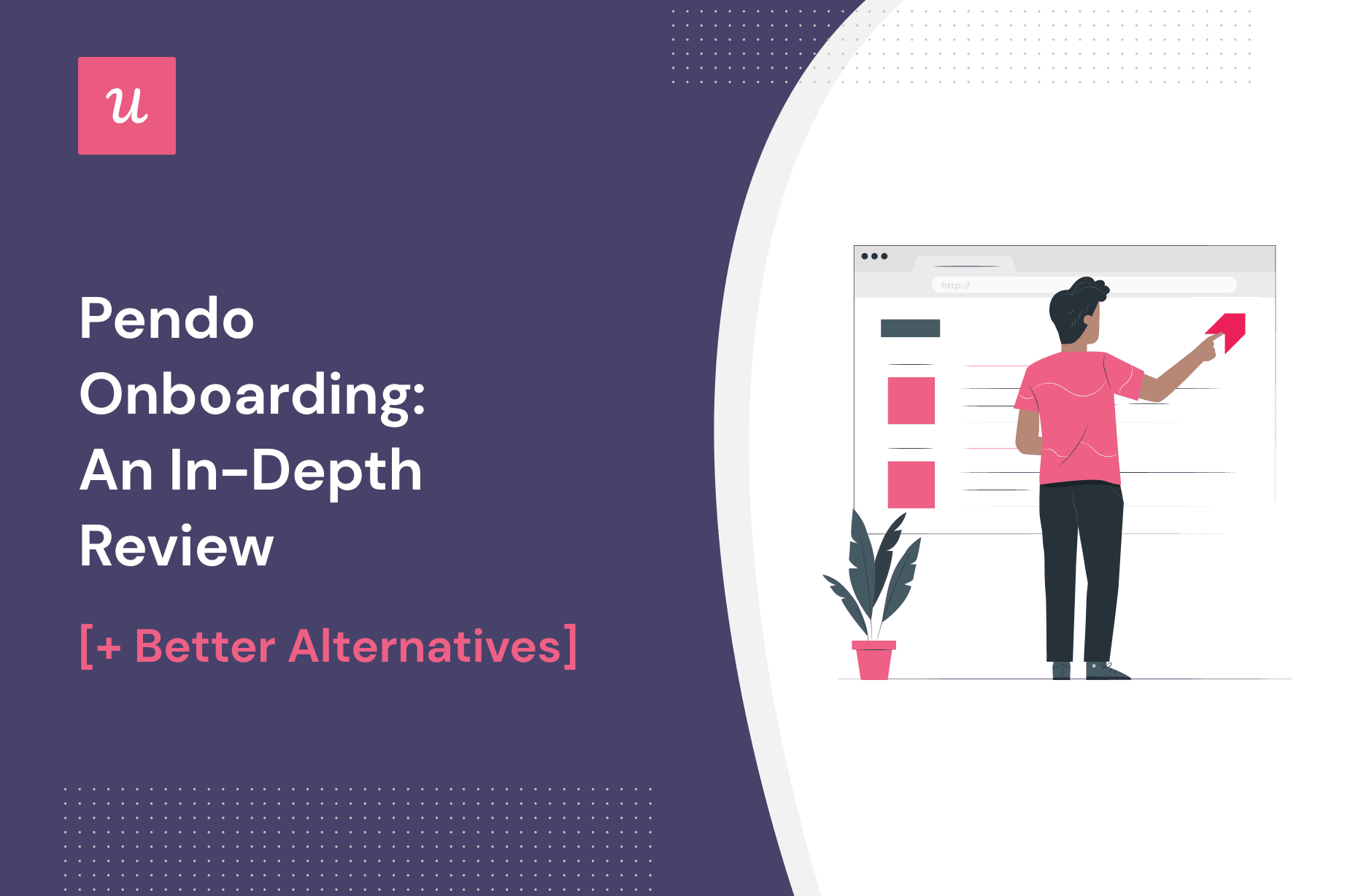 Is Pendo onboarding functionality any good?
This is the main question we tackle in the article, so if you're after this answer, you're in the right place!
We look at the onboarding features Pendo offers, how to use them, and their pros and cons. We also check out Pendo's pricing plans and what its users think about it.
Finally, we check out a very attractive alternative to Pendo. What is it? Read on to find out!
TL;DR
What is Pendo Onboarding?
Pendo onboarding functionality is a set of features that a digital product team can use to educate their users about their product and teach them how to use it.
In this way, Pendo onboarding enables your users to experience product value and ultimately achieve their goals. That should then translate into higher user retention and an increase in revenue.
How do you use Pendo for onboarding?
Using Pendo for onboarding should start as soon as your users sign up for your product. Here's a step-by-step guide on how to put it in motion.
What features does Pendo offer for creating onboarding experiences?
How exactly do you create a Pendo onboarding experience? Here's a breakdown of the relevant features and how to put them to use.
Customer segmentation
With Pendo segmentation, you can group your users based on their needs and preferences to deliver personalized onboarding experiences.
What criteria can you use to segment users in Pendo?
Product usage and user behavior data, for example, guide views, poll responses, and resource center views.
Visitor and account data, like demographics.
Mobile-specific data, like app or OS version.
For example, you can segment your users based on their responses to a welcome survey and trigger a relevant walkthrough. Later, you could target specific users who haven't used a relevant feature with in-app messages to help them discover it.
One thing to note here is that Pendo doesn't allow event-based segmentation. In other words. you can segment users based on their attributes (who they are), but not their engagement with defined events (what they have done in your app). Consequently, you can't react to user actions in real-time in Pendo, e.g., showing a tooltip right after the user has completed a certain action in-app.
This is a possibility with Userpilot, though. You can not only define custom events but also can use event-based data to segment users and prompt timely in-app messages to them. 
Guide layouts
Pendo supports a number of UI patterns you can use to educate and engage your users. These are:
Tooltips – small text boxes with contextual guidance used to prompt engagement with features.
Lightboxes – pop-ups of various sizes, normally in the center of the screen, used for important announcements, release notes, or surveys.
Banners – small notification bars used for sharing information in a non-intrusive way.
Walkthroughs: sequences of in-app messages, normally tooltips, with step-by-step guidance.
Checklists: lists of tasks for users to complete to activate important functionality, normally at the beginning of the onboarding process.
Pendo offers a library of styles and layouts for each of these so that they're easier and quicker to customize.
This doesn't require any coding unless you want detailed customization to match your UI. In this case, you will need to put your CSS, JS, and HTML skills to use.
Apart from these, Pendo also offers the Resource Center functionality so that you can provide your users with access to on-demand self-access support.
Pendo Polls
Apart from in-app messages, Pendo Guides also includes the Polls functionality.
In short, you can use it to create and launch surveys. What kinds? Any you may want, for example, welcome surveys to segment your users or NPS surveys to measure customer loyalty.
The kinds of questions you can ask include are:
Multiple choice
Open text field
Yes/No
Role drop-down
Number scale
This means you can use them to collect both quantitative and qualitative data.
Onboarding analytics
Pendo allows you to track the effectiveness of your onboarding strategy on three levels.
First, you can use it to track engagement with the onboarding flows. Pendo offers you insights into metrics such as guide views, guide completion, and time in the guide as well as individual visitor data.
In this way, you can adjust and improve your flows to increase user engagement.
Next, you can measure the impact of onboarding on product usage. With Data Explorer, you can easily track how feature usage has been affected by a flow while onboarding funnels allow you to visualize and analyze the effectiveness of individual steps in the onboarding process.
Finally, Pendo gives you tools to measure the impact of your onboarding on business outcomes. For example, you can use it to measure user retention, product stickiness, or NPS.
How much does Pendo cost?
Pendo offers 4 plans.
Pendo Free is a good one if you want to get the taste of the product, but probably not enough to satisfy the needs even of small SaaS startups. This is because of limited functionality and usage caps (up to 500 MAUs).
The Starter plan starts at $7,000/year. It comes with a 2,000 MAU usage limit and Sentiment functionality (surveys, NPS) but no NPS analytics.
To get access to that, the Resource Center functionality, Guide experiments, and more advanced analytics features, you need to upgrade to the higher plans, Growth or Portfolio. They come with custom pricing.
The pros and cons of creating onboarding flows in Pendo
✅ The Guides are easy to create.
✅ Segmentation for personalized onboarding experiences.
✅ Advanced analytics to measure the effectiveness of your onboarding flows.
✅ Works on mobile and web apps and can be used for employee training.
❌ Guide customization requires CSS, JS, and HTML skills.
❌ High price tag.
❌ Limited usage and functionality in the lower plans.
What do users say about Pendo Onboarding?
Pendo is currently enjoying a 4.4 rating on G2, which is pretty darn good.
However, such a high rating is often because of Pendo's advanced analytics features that the tool is known for and which outshines the other aspects of the product.
Pendo onboarding does get mentioned in the reviews though.
Using Guides as an onboarding tool to drive adoption of key features, helps new customers to find value much faster than they otherwise would have. – Richard F.
and…
Pendo allows us to scale our onboarding process by providing our users with in-app guidance.
However, users also point out design flows:
So many design flaws with the actual guides, spacing, visual quirks, which is surprising because it's just the basic template and they can't get that right.
Userpilot – A better tool to onboard users than Pendo
While Pendo is a decent onboarding platform, there are a few reasons why you may want to look at alternatives. These mostly involve its price, limited customization options without involving your devs, and missing features in the lower plans.
Let's see how Userpilot compares to Pendo in these areas.
Functionality overview of Userpilot onboarding
Userpilot is a product adoption platform that enables product teams to design user onboarding experiences for every step of the user journey.
Userpilot's key features include:
User segmentation – based on a range of criteria like demographics, user behavior, events, or survey results so that you personalize onboarding for each group of users.
Onboarding UI patterns – tooltips, modals, slideouts, driven actions, banners, and hotspots, you name it. You can easily create and fully customize them without writing a line of code.You can trigger them individually or combine them into interactive walkthroughs or checklists.
Surveys – with Userpilot, you can target specific user segments with customized surveys to collect the data necessary to personalize their experiences and track their satisfaction.
Analytics – Userpilot supports checklist and resource center analytics for engagement tracking. Naturally, you can also track engagement with your in-app flows and run A/B tests to choose the best ways to engage your customers.At the higher level, you can track product usage goals to analyze how users progress toward activation and identify drop-off points.
How much does Userpilot cost?
Userpilot offers no free plan, but you can still use its free trial to experience how it works firsthand. And the paid plans are more competitive than those of Pendo.
The lowest Traction plan starts at $249/month and gives you access to all onboarding features apart from the resource center, which is available in the Growth and Enterprise plans.
The higher plans come with custom prices and usage limits so you can tailor them to your needs.
The pros and cons of creating user onboarding flows in Userpilot
✅ It offers more UI patterns.
✅ Easy to create onboarding flows.
✅ Customization of the surveys is easier and requires no coding skills thanks to the WYSIWYG editor.
✅ It's more affordable for smaller companies.
❌ It supports web apps only.
❌ The analytics features are not as advanced as Pendo's.
What do users say about Userpilot's onboarding functionality?
Userpilot beats Pendo when it comes to G2 reviews with an average rating of 4.6.
This can be attributed to Userpilot's onboarding features:
Userpilot gives me back time because it replaces one or more human trainers. Users love it because they can onboard at their leisure and refer back to it when they need help… There are too many positives to list!
The best upside that I have while using Userpilot is the simple approach of creating guides and announcements for new users. We use Userpilot for creating onboarding guides, new feature announcements and targeting flows based on the user persona and role.
Conclusion
Pendo onboarding features are solid and allow you to design personalized experiences for your users. You can then track their engagement and its impact on your business goals.
However, when compared to other products, Pendo doesn't offer the best value for money. In fact, its high price tag makes it one of the least affordable onboarding platforms.
If you want to see how Userpilot can help you create bespoke onboarding experiences for your users, book the demo!