Chameleon Pricing Guide: Is It Worth the Money? (+Alternatives)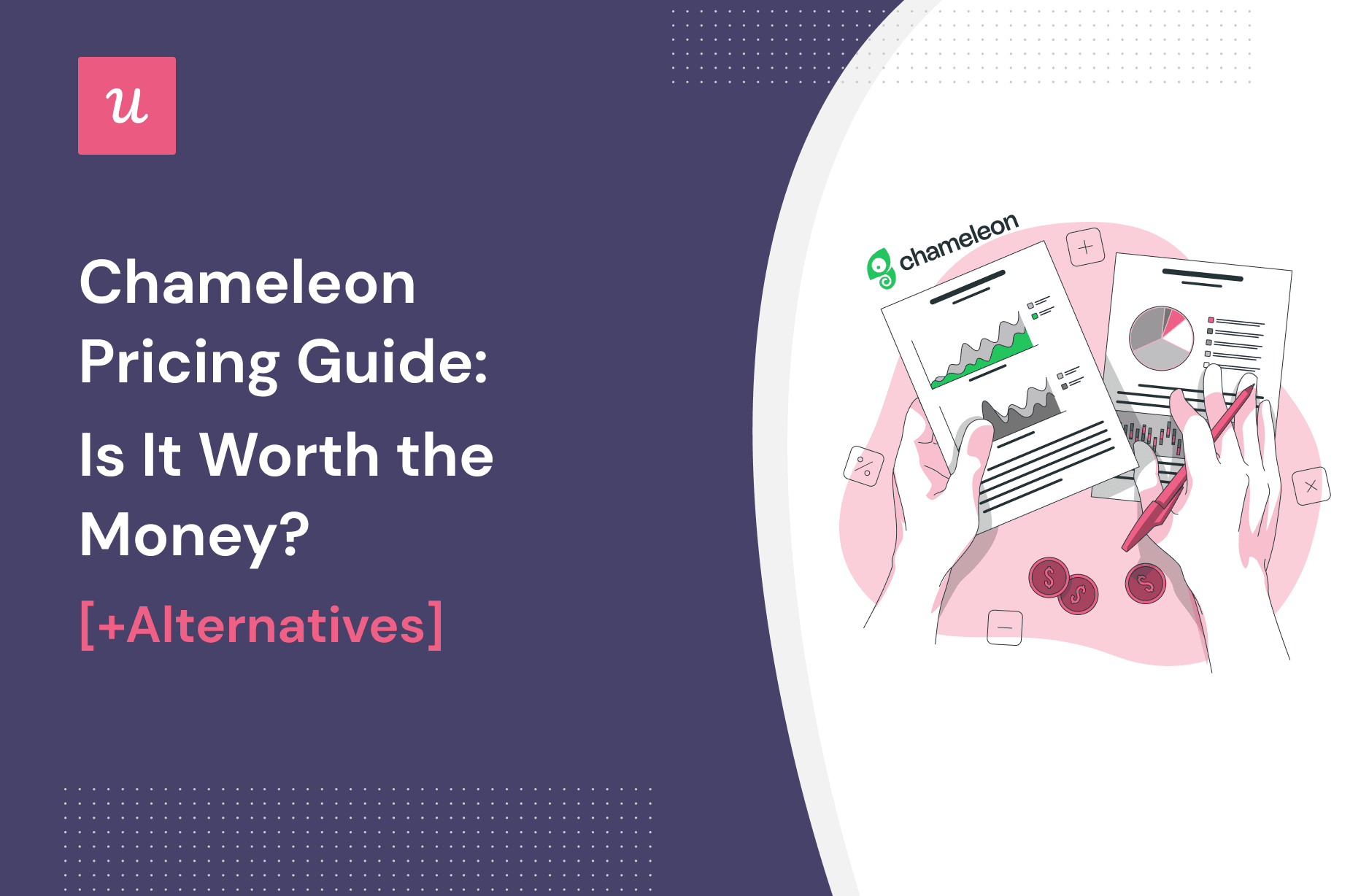 How competitive is Chameleon pricing? Are the features that you get worth the money or are there other products out there that give your product team a better value?
If you're after the answers to these questions, we've got you covered!
Are you ready to dive in?
TL;DR
Chameleon is a digital adoption platform (DAP), just like Userpilot or Appcues. It allows you to collect user feedback, design and run in-app onboarding experiences, and track their performance.
Key strengths of Chameleon include high levels of customization and robust feedback and segmentation features. However, limited analytics functionality and the pricing lets it down.
Its lowest Startup plan is more expensive than Userpilot or Appcues plans and it caps Monthly Active Users at 2000 (vs 2500 in both alternative products). The plan doesn't include A/B testing, goal tracking, or localization, which are available in the competing plans.
These features are available in the Growth plan, which costs more than competitors. At $1000, it's as expensive as the Userpilot Enterprise plan but it doesn't offer similar functionality.
Userpilot is the most competitive of the three products in terms of price and the features it offers. Want to see how you can use it to enhance your product experience without breaking the bank? Book the demo!
What is Chameleon?
Chameleon is a digital adoption platform (DAP). It supports user analytics, enables you to collect user feedback, and allows you to design user onboarding experiences.
Both user feedback and onboarding functionality are very well developed and allow great levels of customization.
However, the analytics part provides only basic data. You can track the performance of your in-app flows but apart from that, it's limited to tracking user conversions with the Goals feature.
How much does Chameleon cost?
The Chameleon pricing strategy is built around 3 main plans: Startup, Growth, and Enterprise.
The lowest Startup plan starts at $279/month for 2000 MAUs, while the Growth plan starts at $999/month for the same usage. The pricing of the Enterprise plan depends on the needs of your business.
Overall, the prices aren't the lowest and similarly-priced tools offer 2500 MAUs in their lowest plans. It's not a flat rate either because if you exceed the number of users in any month, the price goes up.
Chameleon offers also a free plan which allows you to design your in-app flows for as long as you want, but you're not able to activate them without purchasing one of the plans. You can also book a demo to see the product in action or use the 14-day free trial.
Chameleon Startup plan – what is it and who is it for?
The Startup plan is most suitable for early-stage companies that are starting their PLG journey.
Its pricing starts at $279 per month for 2000 MAUs and includes:
5 Microsurveys for user feedback collection.
1 Launcher for in-app self-support and onboarding.
Experience Scheduling to launch your experiences on a particular date.
Experiences analytics for tracking the performance of your in-app flows, microsurveys, or launchers.
Environment display control for targeted delivery and customization of experiences.
Dynamic personalization so that you can adjust the style and content of your guidance to your users.
Event triggering based on real-time data.
Open API integrations (Slack, Intercom, Segment, etc.), and single-trigger webhooks.
Support via the Help Center and email.
Free 14-day trial.
The functionality available in the Startup plan doesn't include:
Finally, the Startup plan is limited to 6 users and 2 Environments.
Chameleon Growth plan – what is it and who is it for?
The Chameleon Growth plan starts at $999 per month for 2000 MAUs and it's most suitable for mid-sized companies that have achieved their PMF and are scaling up.
What does Chameleon offer in its Growth plan?
Unlimited Microsurveys and Launchers.
Unlimited Goals tracking for Tours.
A/B testing for in-app flows.
2 Granular Rate Limits to control the max frequency for specific audiences and groups of Experiences.
All trigger webhooks.
SAML 2.0 SSO (Google only).
Advanced Security (SOC 2 report).
Email and Zoom support (live rep).
Personalized expert sessions to get the best for your use case.
CRM integrations and user permissions are available as add-ons, but Localization is still not available.
The Growth plan is limited to 15 users and 4 Environments.
Chameleon Enterprise plan – what is it and who is it for?
The Chameleon Enterprise plan is the most advanced of all plans. It comes with custom pricing based on usage and features and it's most suitable for established organizations with diverse needs and high site or app traffic.
How does the Enterprise plan differ from the Growth one?
In short, it gives you access to all the bells and whistles that Chameleon supports:
Unlimited teammate seats.
Environments (unlimited).
Frequency caps (unlimited).
A full suite of integrations.
Localization for Experiences.
Team permissions management.
Support via Email and Zoom (live rep).
Customized subdomain to avoid third-party restrictions.
What are the pros and cons of using Chameleon?
Chameleon has a number of strengths, mainly when it comes to the engagement layer, but it is let down by its limited analytics.
Pros of using Chameleon
Good range of onboarding UI patterns.
Robust and highly customizable feedback functionality.
High level of customization of Experiences that allow you to create a native-like look.
Solid segmentation features.
You can use it for employee onboarding too.
Cons of using Chameleon
It's not completely code-free – customization requires CSS skills.
Limited analytics functionality.
Pricing is based on MAUs, which means your costs will grow if you have more users even if you have the lowest-priced plan.
Lack of localization in the lower plans can put a brake on your global expansion plans.
What do users say about Chameleon's pricing?
The overall rating of 4.4 that Chameleon has received from its G2 reviewers is pretty solid.
It has got a reputation for excellent customer support and easy-to-create in-app experiences. It enables teams to engage users effectively without the involvement of the development team.
For example, one user writes:
Chameleon makes it easy to add interactions and instructions to our applications without engaging our development team. The Chameleon team is also incredibly receptive. They seem to care about our experience with their product and frequently ask for feedback to improve it…
Another user echoes a similar sentiment in her review. However, she also points out that the pricing makes upgrading unaffordable for smaller businesses.
What do you like best about Chameleon?
It's really easy to use. It's flexible and it helped us to test and iterate quickly on different ways to engage our users without any, or very little, development effort.
What do you dislike about Chameleon?
We can't upgrade because the price jump is too big for us yet…
Should you look for alternatives to Chameleon?
Despite its strong performance when it comes to creating personalized and highly customized user experiences, Chameleon is not the most competitive when compared to similar products.
Overall, Chameleon costs more than its main rivals and it offers limited functionality, mainly in the analytics department. Let's check out two alternatives Chameleon can't compete with: Userpilot and Appcues.
Userpilot as an alternative to Chameleon
Userpilot is another product adoption platform. Just like Chameleon, it allows you to collect growth insights, gather customer feedback and drive product engagement with in-app experiences.
Userpilot's key features include:
Engagement layer:
– UX patterns (modals, tooltips, banners, hotspots, slideouts).
– Onboarding checklists (along with analytics).
– Interactive walkthroughs.
– Resource center (along with analytics).
– A/B testing for in-app guidance.
Analytics functionality:
– Real-time product usage data display.
– Feature tagging (tracks clicks, hovers, and text input).
– Goal tracking.
– Custom events.
– Heatmaps.
– Advanced user segmentation, for detailed usage analysis and personalized in-app messages.
– Integrations with analytics tools like Mixpanel, Amplitude, or Heap.
Feedback tools:
– Custom user surveys to collect active and passive feedback and customer requests.
– Advanced NPS surveys and tools, including tagging and analyzing qualitative responses.
Userpilot pricing vs Chameleon pricing
Let's look at the key differences between Userpilot's and Chameleon's pricing plans to give you an idea of the value that you get for your money.
Here are the things that you get in Userpilot's Traction plan:
$249/month if paid annually.
2500 MAUs vs Chameleon's 2000.
Unlimited in-app experiences.
Unlimited user surveys.
NPS surveys and tools.
Unlimited Checklists (limited in Chameleon to 1 by the number of Launchers available).
Resource center.
A/B testing for in-app guidance (not available in Chameleon's lowest plan).
Goal tracking (not available in Chameleon's lowest plan).
API access, integrations, and webhooks.
Localization of up to 5 languages (not available in Chameleon's lowest plan).
14-day free trial.
How do the Growth plans of both tools compare?
In short, Userpilot's plan costs half of what Chameleon charges and offers more features and usage allowance:
$499/month.
2,500-10,000 MAUs.
Everything in Traction.
Localization of up to 20 Languages.
Unlimited Feature Tags.
Content Throttling.
Custom Website Domain Hosting.
For the same money that Chameleon charges for its Growth plan, you could get Userpilot's Enterprise plan with the following features:
$1000/month.
Up to 10,000 Monthly Active Users.
Everything In Growth.
Unlimited Localization.
Custom Roles & Permissions.
SAML SSO & Activity Logs.
Priority Support.
Security Audit & Compliance (SOC 2 Type 2 and GDPR).
Userpilot reviews
G2 reviewers have given Userpilot an average rating of 4.6 on G2. They praise it for its flexibility, customization and personalization options, and customer support. Customers consistently mention that Userpilot offers great value for the money they pay:
The flexibility is great, both in terms of available step templates and types of steps (modals, slideouts, tooltips, driven actions) and in terms of what you can actually do with these steps…

…the pricing is very advantageous for the huge feature set that they offer. Support via their chat is fast and cares a lot, even for non-enterprise-customers.
Another review mentions affordability:
I've been using Userpilot for about 2 months now and the experience has been amazing. From the ease of implementation to the intuitive UI to the friendly, responsive support by the lovely Elise! I've looked at other adoption software and I'm glad we went with Userpilot. It has just the right amount of features for our B2G software to help our users and it's really easy to use. And the best part, it's affordable.
Appcues as an alternative to Chameleon
Just like Chameleon and Userpilot, Appcues is a well-known product adoption tool.
Appcues enables you to collect user feedback, track product usage, and drive product adoption with in-app onboarding flows.
Engagement layer:
– UX patterns and flows (along with flow analytics).
– Onboarding checklists.
– Walkthroughs.
– Resource center.
– A/B testing for flows.
Analytics functionality:
– Track Events (click-to-track).
– Goals.
– User segmentation.
– Integrations with analytics tools.
Feedback tools
– NPS surveys and analytics.
Appcues pricing vs Chameleon pricing
The product is available in three different plans. They are cheaper than those of Chameleon and offer more MAUs, but come with other caps which limit its usefulness:
Essentials
$249/month.
2500 MAUs.
3 user licenses (vs 6 in Chameleon).
5 user segments (unlimited in Chameleon).
10 goals (not available in the lowest Chameleon plan).
Standard pattern library (no Checklists or Launchpad).
10 Track Events (click-to-track).
NPS surveys and Pins.
Standard integrations with analytics tools.
Email support.
Growth
$879/month.
Everything in the Essentials plan.
10 user licenses (vs 15 in Chameleon).
Advanced pattern library, including Checklists and Launchpad.
Advanced targeting capabilities.
Unlimited Track Events (click-to-track).
Unlimited use of integrations.
Customer success support.
Enterprise
Custom pricing.
Unlimited user licenses.
Advanced security and SSO.
Enterprise account administration, including roles and permissions.
Localization support.
Premium support and services.
Access to activity logs for security auditing.
Appcues reviews
Appcues beats all other products in reviews in terms of its average G2 rating. It scores 4.7 on G2, so there are lots of things that the product must be great at. However, users consistently mention its price as one of its downsides.
Appcues is one of the more expensive options on the market; that being said, its strong feature set and positive user experience make spending the extra money worth it. There's some legwork that has to be done by development to implement the initial integration and event triggers…
What do you dislike about Appcues?
The price 😉 Also, the predefined widgets library could be a bit bigger. It's an absolute minor, but Appcues could improve the visual presentation of flows conversions.
Conclusion
Chameleon is a solid user onboarding platform that allows high levels of customization of in-app experiences. However, the Chameleon pricing plans make it way less competitive than alternative products like Userpilot or even Appcues.
Book the demo if you want to see first-hand how much value your business can get from Userpilot's subscription!