User Analytics for SaaS – The Ultimate Guide to Behavioural Analytics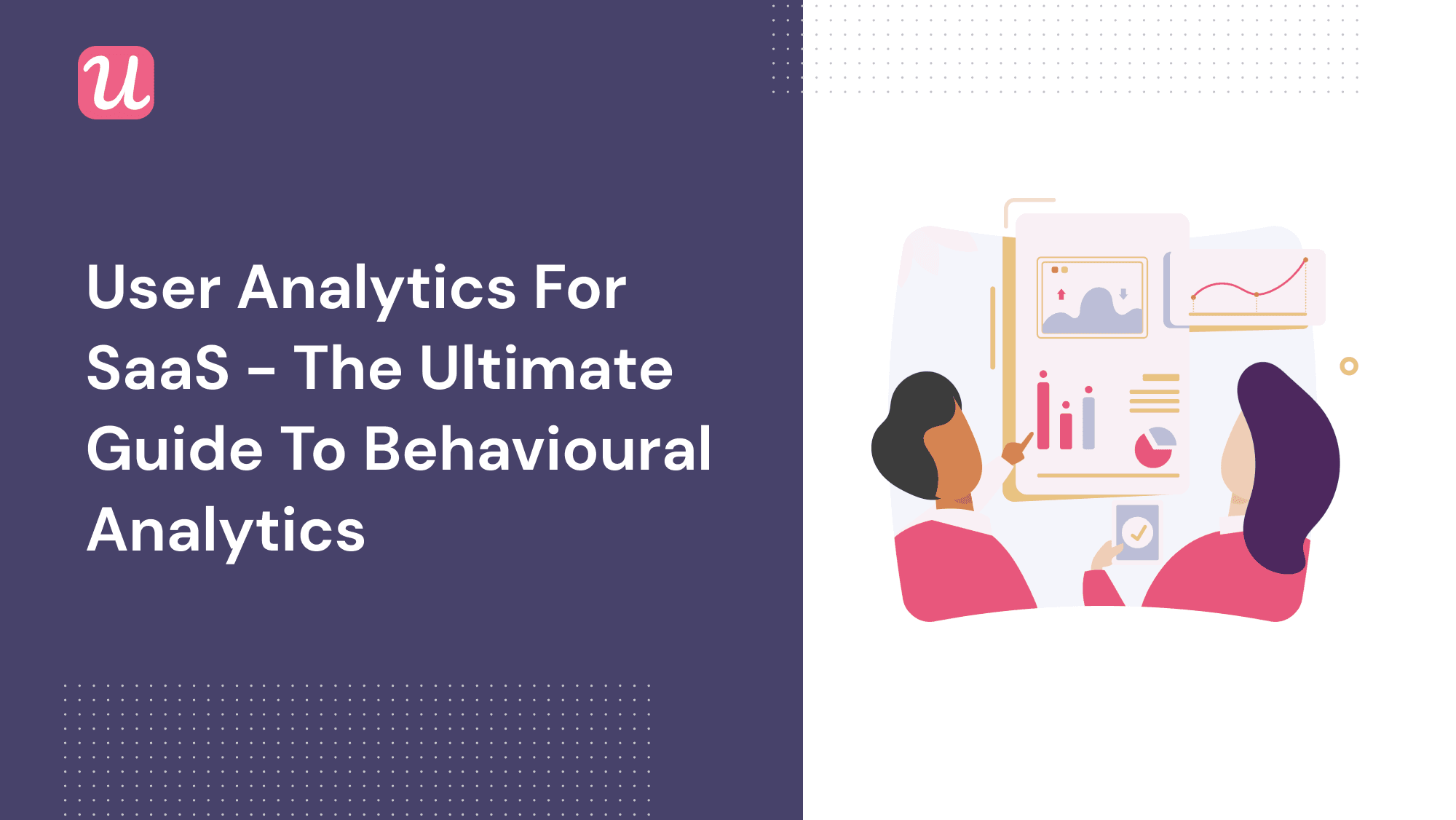 Wondering how you can boost your product growth with user analytics for SaaS?
User analytics tools provide valuable insights into user behavior, i.e., what users do inside your product and why they do it.
Once you have the right analytics tool at hand, you can make remarkable improvements to your growth metrics by making smart decisions.
In this article, you will learn about the importance of user analytics for SaaS, how to choose the correct user analytics tools for your SaaS business, and the best tools out there.
TL;DR
User analytics focuses on user behavior inside your product or your website.
Data reveals how user engagement with your product impacts conversion, retention, engagement, customer lifetime value, revenue, and other outcomes that matter.
You can measure the actions (behaviors) users take inside your product through clicks on the front end (feature tags) or by firing custom events.
There are three types of user analytics: Segment Analytics, Funnel Analytics, and Cohort Analytics. They all share the same goal – to help you build, market, and grow your SaaS business.
User analytics for SaaS is important for building better products, adopting more effective marketing strategies, streamlining your ad expenditure, and boosting retention rates.
There are many web user analytics tools like Google Analytics, Hotjar, and FullStory.
Google Analytics is one of the most robust web analytics tools that help you evaluate your website's performance by tracking key metrics, like behavioral and acquisition metrics.
Hotjar is great for getting implicit in-app user feedback. It has several different analytics features, including session recordings that provide quantitative and qualitative data on user behavior.
FullStory generates useful behavioral insights by letting you create funnels and recreate sessions to reproduce a user's online experience as if it's a video.
There are several in-app user analytics tools like Amplitude, Mixpanel, and Heap and product growth platforms with behavioral analytics like Userpilot that give you actionable insights.
Mixpanel is a great tool for tracking and accumulating user data in real-time, but it needs you to set up and define each event before tracking.
Amplitude lets you build a holistic user journey and receive an in-depth analysis of user behavior. It also needs you to configure events before tracking them.
Userpilot is a code-free product growth platform that lets you immediately take actions upon analytics by creating in-app onboarding experiences. You do not need expert skills or code to use it.
Heap is a comprehensive analytics platform that tracks all kinds of user interactions and does not need any prior configuration or definition of events.
What is user analytics?
User analytics focuses on user behavior inside your product or your website.
It takes records of user activity, categorizes them into separate behavioral segments, and analyzes the key metrics, such as retention and engagement.
Data reveals how user engagement with your product impacts conversion, retention, engagement, customer lifetime value, revenue, and other outcomes that matter. You can measure the actions (behaviors) users are taking inside your product through clicks on the front end (feature tags) or by firing custom events.
There are three types of user analytics: Segment Analytics, Funnel Analytics, and Cohort Analytics. They all help you build, market, and grow your SaaS business.
These tools can provide analytics based on non-identifiable data (e.g., Google Analytics) or identifiable data (e.g. Userpilot).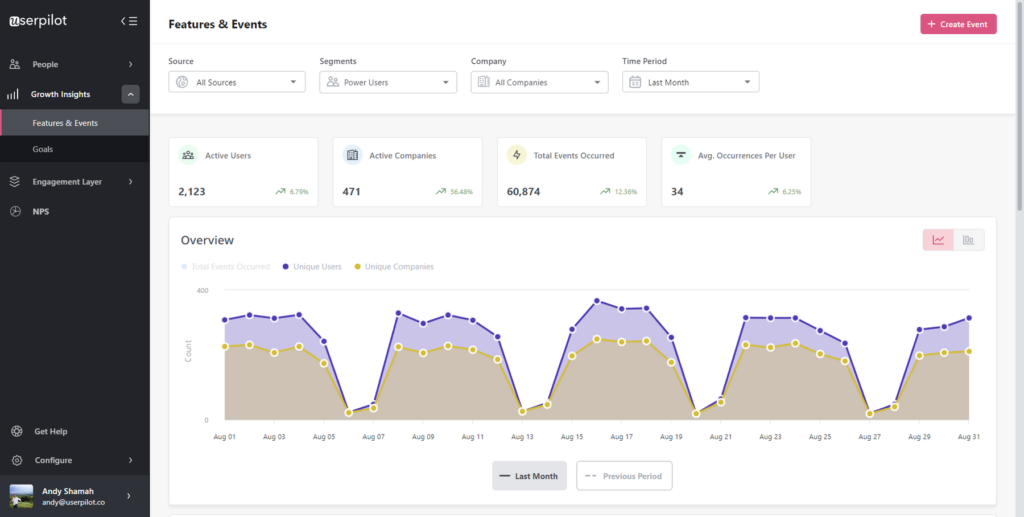 Why is user analytics important for SaaS?
It is crucial to understand your users to build better products, adopt more effective marketing strategies, streamline your advertisement expenditure, and enhance retention. In fact, 51% of customers will not return to a company with whom they've had a poor experience.
User data is pretty meaningless without user analytics. User analytics can help identify bottlenecks, improve customer acquisition attempts, monitor users' journey to conversion, and optimize strategies that'll enhance conversion. It'll also let you know where users are leaving in the onboarding flow.
In turn, this will improve your user activation via product marketing by optimizing the onboarding process to enable more people to get to the activation point.
User analytics is essential for understanding how users interact with your product and where they get stuck. Consequently, you will get a well-defined roadmap for your users.
User analytics informs you about product usage patterns at each stage of the user journey so you can adjust the growth metrics in real-time. It'll also help you find the issues users are facing so that you can enhance your UI/UX design or perform product iterations accordingly.
Moreover, user analytics will help you flag features that aren't working properly. Before a user complains, you can proactively learn their needs by checking their activities and patterns. For instance, if a particular feature in your app is used more than others, it should help guide your value proposition and product marketing.
If you realize your users are not adopting a certain feature, especially after they had earlier requested it, it could imply it's not in an intuitive place in the product. This can also mean that your users need more assistance with secondary onboarding.
You can address this issue promptly by creating reactive in-app experiences based on insights from user analytics.
Most user analytics tools let you segment your audience by demographic features, user journey stage, cohort, payment tier, and more. Segmentation helps tailor individual solutions to users' problems. You can even identify user segments at risk of churn and prevent it.
Last but not least, user analytics can help improve your retention, including Day One retention.
Why should product marketers use SaaS analytics tools?
Measure user engagement in real-time and monitor users' journey to conversion
Check for bottlenecks that might affect website conversion rates
Analyze user behavior during different stages of their journey to provide relevant in-app messaging campaigns
Why should product managers use user analytics SaaS tools?
Distinguish between 'positive' and 'negative' user behavior patterns across all stages in the user journey.
Use insights to create in-app experiences that reinforce positive user behavior.
Optimize retention by understanding the interaction of the most successful users with your product. This way, you can create experiences that'll encourage the adoption of these 'winning habits'.
Enhance onboarding flows and experiences for different personas to improve Day One retention and enhance FTUX (First Time User Experience).
Drive users further down their user journey by creating secondary onboarding experiences.
Drive upselling at the correct time in the journey to boost expansion revenue.
How to choose the right user analytics tools for SaaS
You have to consider multiple factors while selecting the right user analytics tools for SaaS, including product and business objectives.
First of all, you need to determine your overarching business goals. Then, you can set the KPIs to boost and achieve these goals.
This will help you build an event taxonomy, which is an organized collection of events used to define the actions users can take inside your product. This taxonomy will serve as a base for any future analysis done by your analytics tool.
Depending on your product, you can determine whether you need cross-platform analytics. When you anticipate user behavior to vary across platforms, you need to know how every platform functions independently.
However, when you need to understand user behavior as a whole throughout the user journey, you must get cross-platform analytics.
Track the predetermined events that are necessary during activation, conversion, and retention. To dig deeper into user behavior, segment users based on their personas and use cases.
In addition to these, let's look at the following criteria you should consider while deciding on a user analytics tool:
What it measures.
How it collects and measures data;
Whether it measures in-app user activity or website user activity;
Whether it measures page views or all clicks;
If the data is identifiable (identifying a user by unique ID, email, etc.) or unidentifiable (anonymized);
The type of analytics – qualitative session recordings or quantitative event-based analytics;
Ease of setup;
Whether it integrates into your current tech stack
To make the process easier for you, here are our curated best user analytics tools for your SaaS business.
Best user analytics tools for SaaS companies – web user analytics tools
Now let's have a look at some of the best SaaS analytics software in the market.
Google Analytics
Google Analytics is one of the most robust web analytics tools and it's a must-have for almost any SaaS business – whether they're a basic or advanced user.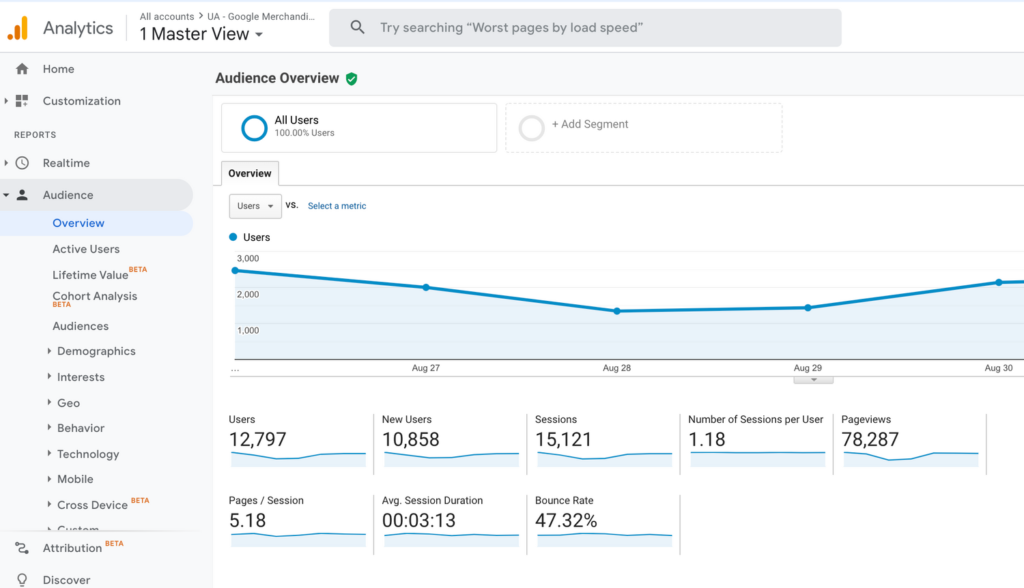 Features
Using Google Analytics, you get to know where your visitors arrive from, what they do while they're on your site, how often they return, and more.
Google Analytics will provide access to almost all the key metrics required to assess website performance, such as behavioral engagement metrics (like conversions and bounce rate) and acquisition metrics (like traffic).
You'll require a bit more advanced skills to utilize Google Analytics for tracking conversions and 'Events' (e.g. you can track what buttons get clicked on your site). You can figure this out yourself, but it's not an out-of-the-box functionality.
Pricing
Google Analytics offers a 'freemium' service. If you are a small SaaS business, you can avail of its services completely free of cost.
However, to access more advanced features, there's Google Analytics 360, which costs about $150,000 per year.
Hotjar
Hotjar is a behavioral analytics tool well known for its heat mapping feature. It's a brilliant option for getting implicit in-app feedback.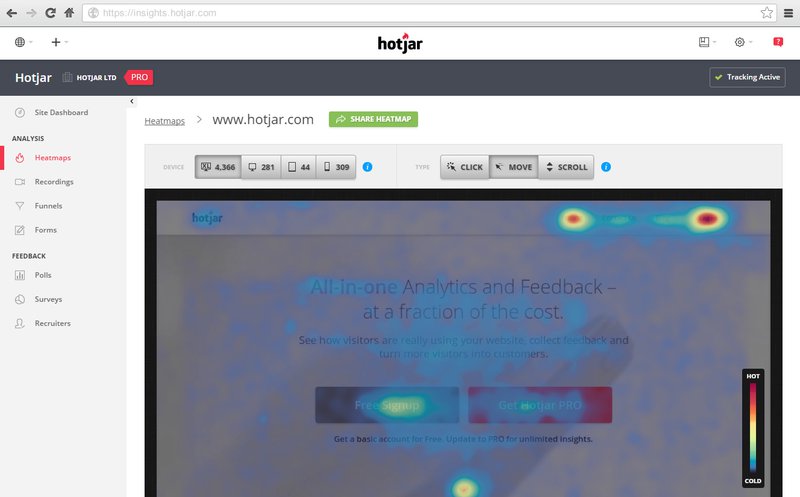 Features
As a SaaS business, you can utilize Hotjar to record users' browser actions when they're on your websites, such as scrolls, clicks, and mouse movements. Consequently, you gain a plethora of useful behavioral insights by looking at these session recordings.
Let's look at a few examples:
Identify areas of friction in your user adoption journey. If you fix these, it'll decrease Time to Value and improve retention. Both of these will create an impact on the bottom line.
Figure out areas where your UX is buggy or broken. Once you address that, it will enhance users' experience with your product.
Work out where users are bouncing. This will let you optimize marketing funnels more effectively.
When you put all these insights together, you will be able to effectively map out the whole user life cycle – starting from the time they visit your website till they become your power user. Plus, you are allowed to revisit session recordings several times for a more in-depth analysis.
Hotjar also offers a form analysis feature. This identifies the fields that users take a lot of time to fill. It's a smart way of decreasing friction in the customer adoption journey.
Furthermore, Hotjar's analysis is based on solid, quantifiable data rather than intuition. It also provides reliable qualitative data, making it a good complement to the quantitative data you'll get from NPS surveys.
There's more to Hotjar than session recordings! It also offers amazing in-app surveys like NPS surveys or multiple choices that slide in via a widget.
Hotjar also visualizes your conversion funnels, making it easier to find loopholes and boost conversion rates. It also comes with a wonderful screen recording feature that provides users with perspectives on your product.
Pricing
Hotjar offers 3 plans – Personal, Business, and Agency. Its Personal plan comes with a free basic version and offers a budget-friendly paid version at $39 a month.
Hotjar's Business plan includes a generous 15-day free trial that lets you use multiple features at zero cost. The paid version begins at $99 a month for 500 daily sessions.
Hotjar's Agency plan provides unlimited client sites in a single central account, plus the choice to rebrand its user interface with your company's logo.
FullStory
FullStory is a web user analytics tool that records user sessions from which you can obtain qualitative data on user behavior.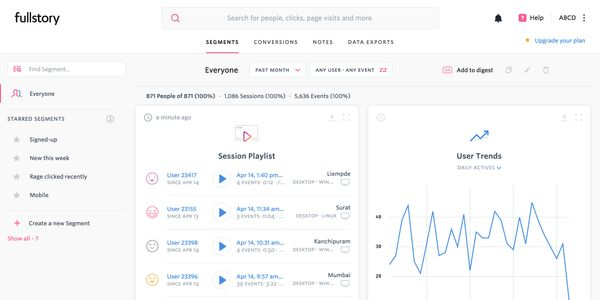 Features
FullStory lets you find emerging patterns in user behavior analytics. However, you may not understand the reason behind these patterns.
This is where you can begin watching the session recordings to determine why users are behaving in a certain way and what actions you can take to fix or maintain their patterns.
The session recording feature captures mouse movements, page views, and clicks that users make on your site. To make it as accurate as possible, FullStory also recreates sessions by integrating user data.
Session replays have been around for more than a decade. They are also known as session playbacks, user experience (UX) replays, or mouse tracking.
Session replay's job is to reproduce a user's online experience as if it's a video.
The session replay feature supersedes traditional web analytics tools by exhibiting an entire picture of the user on your website (or app). It'll give you all the individual data points you can obtain from a typical tool and depict how these points merge to build an experience.
Simply put, a session replay helps answer the question with certainty – "What's actually occurring on my website (or in my app?)"
FullStory will catch all user engagement on your site and doesn't require complicated coding or installation on your part.
What's more, you can calculate and track your KPIs, such as conversion rate and visualize data on its dashboards.
Pricing
FullStory's free plan comes with limited access to 3 seats and 1,000 sessions a month. The pricing information for its paid versions is not publicly disclosed. However, they offer a 14-day free trial for each of the plans.
Best user analytics tools for SaaS – in-app user analytics tools
Now we'll be heading to discover the best in-app user retention tools. Let's get started.
Userpilot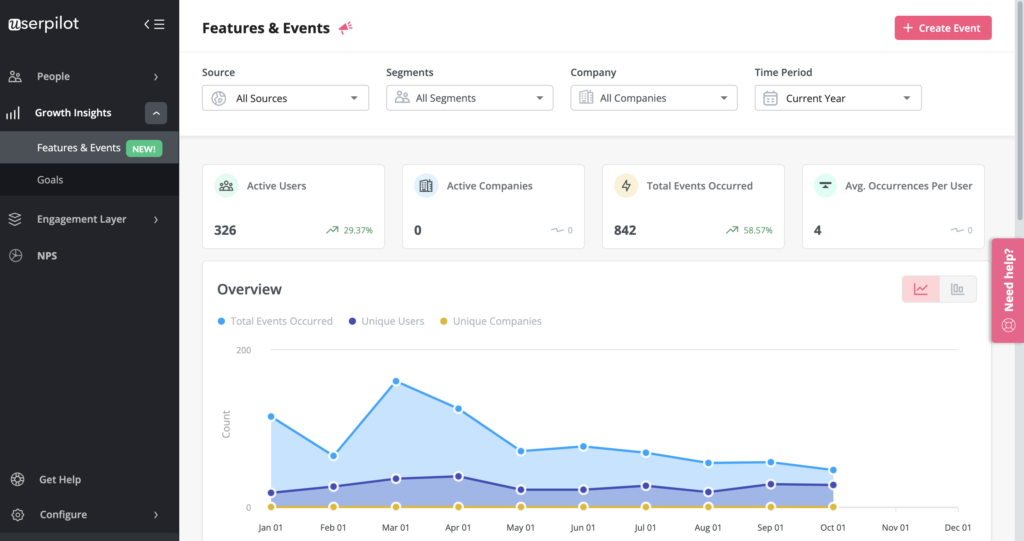 Userpilot is a completely code-free platform and is best used for proactive user behavior analytics as well as unique onboarding. It integrates with both Mixpanel and Amplitude to provide actionable insights for you to make informed decisions.
Features
Userpilot tracks user behavior based on your feature adoption goals – aka you can choose which aspect you want to concentrate on. This makes it a lot easier to read the analytics and identify and address any issues. You can track user activity and make necessary adjustments along the way.
As opposed to Mixpanel, you don't need any technical skills to get and analyze your results. It's all plug-and-play, and really simple to read:
The analytics is based on what a user does inside your app. It's either based on custom events (passed by your devs) or on feature tags, where you can 'tag' a feature users click on on the front end of your web app.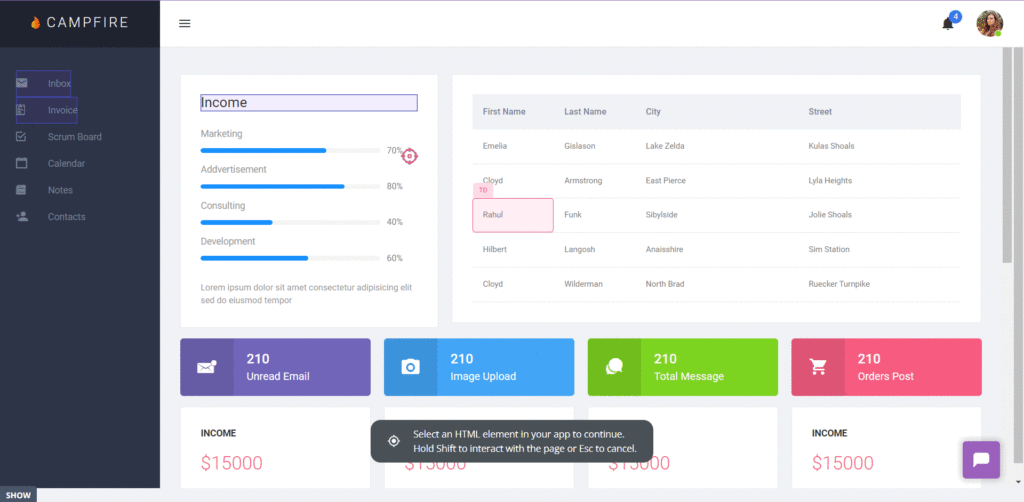 Userpilot lets you build user segments and funnels based on user activity. User segmentation tools are available to track user journeys according to each user segment. Plus, you can use data collected from NPS surveys and micro surveys to understand users' perceptions of your product.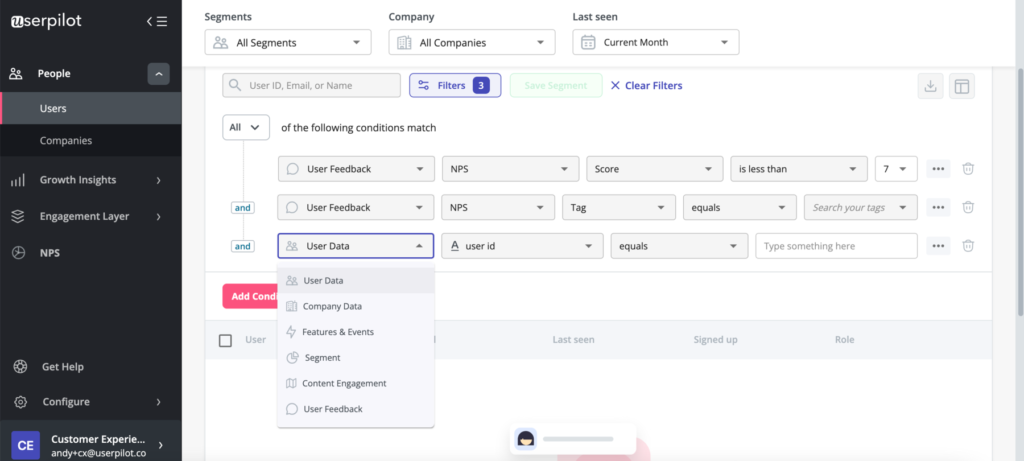 Then, you can monitor the behavior of these users inside your app. You might observe certain patterns and build secondary onboarding experiences so users can derive greater value from your product.
Userpilot's A/B testing feature enables you to know what's working and what's not. You can perform split tests on experiences within and among different user segments.
When you track the analytics on these tests, you'll get data-based evidence on how to boost your KPIs.
A product growth platform like Userpilot lets you immediately take action to create the correct in-app experiences to help users who are struggling with your product and push languishing users further down their journey.
To facilitate your product's growth, Userpilot lets you build secondary onboarding experiences that will enable users to benefit from more and more value in their user journeys.
A common problem with apps is that users can't discover particular features by themselves. Thus, they don't get values worth their money which, in turn, increases churn.
Kommunicate is a 24/7 chatbot service provider that faced a similar issue. It observed that users were asking for features already present in its app. They were only using a few of the major features and not realizing the value of their product.
Kommunicate then used Userpilot to set goals and redesign their onboarding experiences. The results were highly satisfying.
The percentage of new signups that used the chatbot integration shot up by 15% within about 7 months. "When we released the small product adoption cues about 5 or 7 months ago – only 28% of people had been reaching them. Now, it's 41%," said Parth Shrivastava, Senior Product Marketing Manager at Kommunicate.
The company reached another 'AHA moment' using chat widget customization to guide users to take particular actions and become paid customers. Since its inception, 86% of people have achieved the customization goal, which resulted in a 3% rise in this feature's usage.
Parth said that Userpilot led to significant increases for them. Although it's only a 5% increase, it boosts revenue by 2-3%, which has a huge impact on their MRR.
Kommunicate stands to be a brilliant example of a company that has been able to drive product growth without hiring a sales team.
Pricing
The paid version of Userpilot begins at $299 a month for 2,500 active MAUs. You can receive a discounted price of $249 a month with the annual plan.
You can also opt for the Enterprise package if you require priority support and more advanced customization features.
Mixpanel
Mixpanel is one of the most powerful and user-friendly analytics tools when it comes to in-app analytics.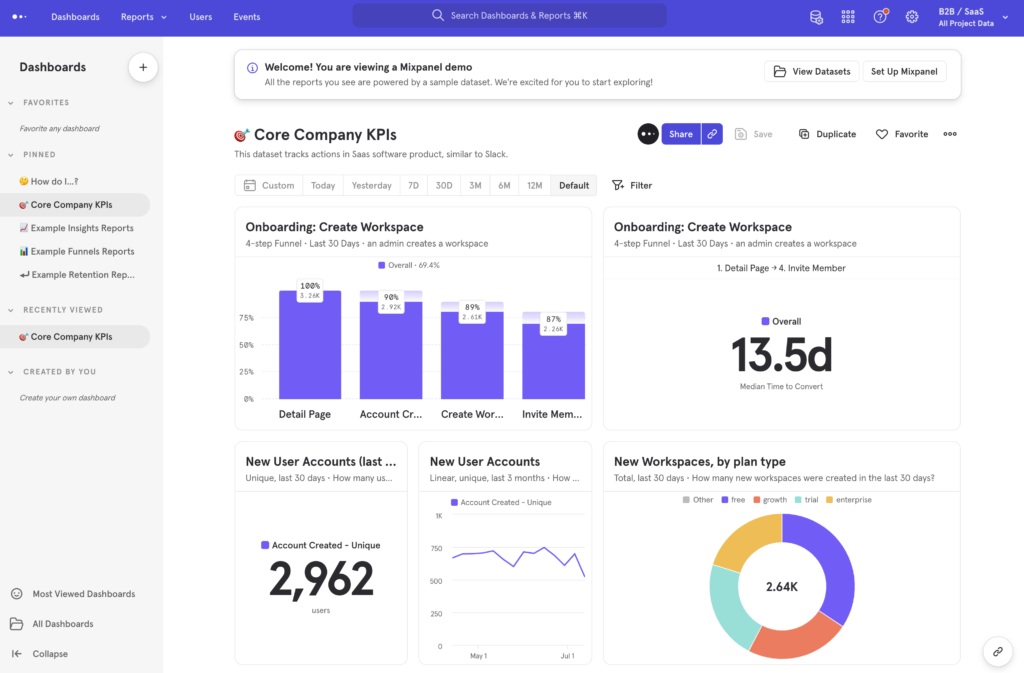 Features
Mixpanel allows you to monitor how each user segment interacts with your product. This makes it easier to track and find opportunities to work on.
The platform's data science models make it possible to effectively forecast user activity, which lets you proactively reduce churn.
Moreover, Mixpanel has A/B testing features that require you to do a little bit of coding. Nonetheless, its in-depth analysis is valuable enough to make up for it.
On one hand, Mixpanel has a wide range of capabilities to track and accumulate data, especially in real-time. On the other hand, you may find it difficult to implement. This is because:
You need expert skills to analyze the collected data
You have to define each event you wish to track before capturing it
It's a bit complicated and time-consuming to set up thorough reports.
Note that Mixpanel doesn't allow account-level tracking unless you are able to add all users from a company into a user segment.
Therefore, this tool might be your best option if you are a large company with an in-house data and analytics team. You're then likely to have a big data pool that demands complex analytics, which a highly technical platform like Mixpanel can satisfy.
You might also want to use the tool if it's necessary to get into the specifics of a lengthy and complicated user journey.
Pricing
The free version of Mixpanel offers limited features. Its paid version begins at $25 a month, although you might be disappointed despite the affordable price tag. It's a great tool for enterprise users, though.
Amplitude
Amplitude is another great user analytics tool for measuring quantitative behavior data. It concentrates more on actionable analysis.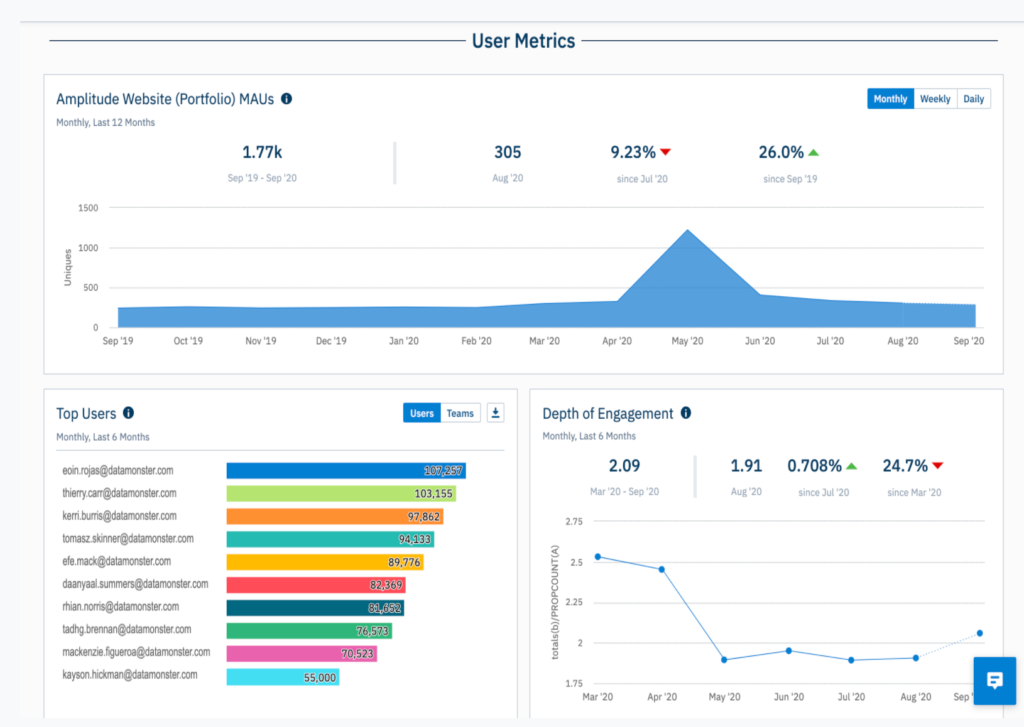 Features
Amplitude has a vast array of two-way integrations with other platforms that help expand its functionalities to a high degree. It generally offers better single-user tracking across multiple products.
The in-depth analytics allows you to track user journeys and figure out the best roadmap for users to follow and become high-value clients
.
Amplitude is very dedicated to data security, with vigorous data governance and data security attributes, thus ensuring the highest security of user data.
It even comes with brilliant team collaboration features, regardless of the team size. It is convenient to configure and provides flexibility across several products and devices.
As with Mixpanel, you need to configure events before you can track them using Amplitude.
Pricing
The free plan lets you track as many as 10 million actions. They haven't disclosed the pricing on either of their paid plans, 'Growth' and 'Enterprise'. You'd have to contact their sales team to get a quote.
The analytics is based on what a user does inside your app. It's either based on custom events (passed by your devs) or on feature tags, where you can 'tag' a feature users click on on the front end of your web app.
Heap
Heap is a comprehensive user behavior and product analytics platform. It helps create experiences to augment retention and conversion rates.
Features
The best part about Heap is that it tracks all kinds of user interactions after being installed in your app.
Unlike Mixpanel, Heap doesn't need any definition or configuration of 'events' beforehand. From day one, it starts gathering data offering considerable flexibility to its users. With other tools like Mixpanel, you can add new events down the line, but they collect data only when you've defined the event.
Furthermore, Heap allows you to:
Merge data into your own custom 'virtual events' for use in cohorts and funnels.
Retroactively define events and conversions to respond to altering situations.
Analyze along several axes and behavioral segments.
Carry out the account and user-level tracking
If your business needs a less technical analytics platform, you can use Heap and receive real-time reports.
Pricing
You can't get Heap for cheap, though. The free version restricts you to up to 10k sessions a month. The paid version begins from $1,000 a month.
FullStory
Yes, we're listing FullStory again as a brilliant user analytics tool. Fullstory comes in quite handy when it comes to tracking user interactions and creating funnels to analyze and understand user behavior.
Features
Customer segmentation based on certain criteria and clicks is helpful for assembling quantitative data. They answer the question 'what', but not 'why'.
To know why your users behave a certain way in a certain segment and find out the root of a problem, you have to check what precisely they do inside your app.
That is precisely where FullStory and its session recording feature come in!
FullStory is our favorite session recording tool since it lets you build funnels and observe how users behave in each of them.
Similarly to Heap, FullStory does not need any configuration to record all user interactions with your app.
You can even build funnels and observe each user's behavior once they've entered the funnel.
You can also integrate FullStory with Slack. This allows you to share user sessions with your team members and seamlessly collaborate on projects.
FullStory will catch all user engagement on your app without requiring complicated coding or installation on your part. Moreover, it offers AI and machine learning features.
Who said anything about analytics being boring? An interesting feature of the tool is its ability to track 'rage clicks'. This means you get to see when a user becomes frustrated and begins to click everything.
You can cross-reference the quantitative data obtained from several users with the qualitative experience of users on-screen. This will enable you to effectively understand why particular actions are taking place in a particular order.
Bonus: Using user analytics to improve SaaS metrics
User analytics tools have a lot of benefits for SaaS businesses. But here is how it can help you improve some of the key SaaS metrics and achieve customer success.
Map out user journeys
You can use customer data from user analytics to map users' journeys and find the correct metrics to track. You can even map out several user journeys through user segmentation based on personas. It'll make it easier for you to find anomalies in the user experience.
Personalize user experiences
Personalized user experiences based on emerging patterns and user segments can address areas of friction while also providing more value to users over time. This will reduce customer churn and boost retention.
Improve in-app experiences
With Userpilot, you can use insights from analytics to take actions in real-time and improve feature adoption by creating unique onboarding experiences. You won't even need to code!
Enhance user interface
You can identify bottlenecks and enhance your UI design to create a seamless experience for your users. This can decrease support ticket volume.
Final thoughts
In short, picking the right SaaS analytics tool is not an easy task. You need to determine your product and business goals first, fix your requirements aligned with these goals, and finally, select the analytics tools that meet these requirements.
For web analytics, you can use Google Analytics, Hotjar, or FullStory. For in-app user analytics, if you have an in-house analytics team, you can definitely opt for Mixpanel. However, if you want to steer clear of coding, Userpilot is your best bet.
Want to get started with user analytics? Get a Userpilot demo and get actionable insights from analytics and improve in-app onboarding experiences for your users.