B2B SaaS Funnel Conversion Benchmarks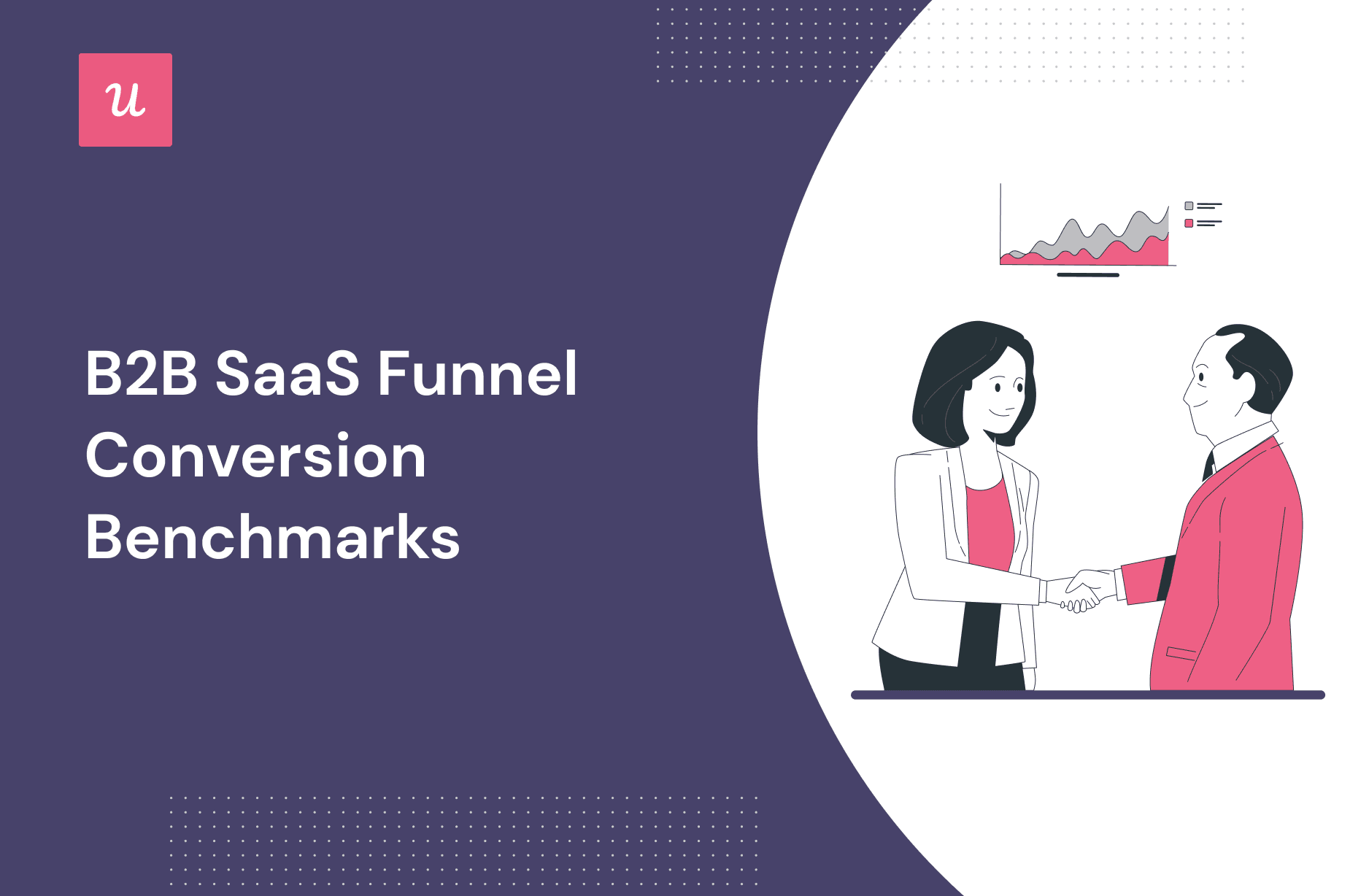 There's no magic number when it comes to conversions, but knowing B2B SaaS funnel conversion benchmarks can benefit any SaaS product manager.
At least you'll have something to aim for, and it will motivate you to take practical steps that drive product growth.
In this article, we will discuss the most common B2B SaaS conversion rate metrics and their benchmarks.
TL;DR
B2B SaaS conversion rate benchmarks:
What is a SaaS conversion?
Conversion happens when someone takes a desired action on your app or website. The term is usually used to describe visitors turning to pay customers, but could also mean the steps in between—a visitor to the trial user, trial to paid user, and freemium to paying customer.
B2B SaaS conversion funnel stages
The ideal SaaS conversion funnel covers both visitors and existing customers, i.e., the sales process conversion funnel and the customer success conversion funnel. Let's take a closer look at the stages:
Sales process conversion funnel
The sales process covers the user journey from being just a random lead to becoming someone who finds your tool valuable enough to buy.
The stages include:
Customer success conversion funnel
The customer success funnel ensures users consistently derive value and stick to your product as a result. The typical stages include:
Onboarding: Getting customers started well plays a major role in ensuring they adopt your product. The onboarding should be short, valuable, and action-based (make customers learn by doing).
Repeat purchase: Users that successfully adopt your tool and are enjoying it will keep renewing their subscriptions.
Account upgrades: Prompt upsells and cross-sells to provide additional value to customers and ensure they stick around.
What is a good conversion rate in SaaS?
There is no universal benchmark, what's considered "good" is highly dependent on:
So, rather than searching for a specific number, it's better to routinely collect and analyze your own data, then aim to improve on your past records.
B2B SaaS funnel conversion benchmarks
While you're tracking your conversions, it's important to know the various benchmarks so you can gauge how well your company is performing. Here's a list:
Website visitor-to-lead conversion rate benchmark
This metric indicates the proportion of visitors to a website that is converted into leads in a given period.
According to research by Capterra, software companies should expect an average website conversion rate of 7%.
PQL to paid conversion rate benchmark
Compared to MQL, PQL converts at a higher rate. Statistics show that, on average, only 2% of MQLs convert to SQL or even reach the opportunity stage. Meanwhile, 25-30% PQLs convert to paid.
It's also important to note that Gainsight's 2022 Product-Led Growth Index report shows free trials involving PQLs had 2.8X more conversion than freemium.
Freemium conversion rate benchmark
The average freemium conversion rate ranges from 1% – 10%.
Some companies treat freemium as a lead generation strategy to collect user information and have salespeople chase them down. You'll annoy potential customers and lose most of them that way.
To succeed with freemium, aim to provide value with your free version. Make the product so useful that users will oblige when you ask them to pay and experience more.
Free trial without credit card conversion rate
A similar survey by Softletter reported a 25% conversion for free trials that didn't require credit cards.
While you can't take the figures to the bank as many variables are involved when surveying companies, you can learn something from the drastic conversion drop.
Using a credit card to sign up for a free trial shows commitment. Usually, these users are serious and are more likely to become paying users.
On the contrary, allowing trials without credit cards means opening your door to those not necessarily interested in your product. They'll quickly pull back when it's time to pay.
Free trial to paid conversion with credit card
Tatango surveyed about 100 companies, and the conversion rate with credit cards was approximately 50%.
User activation benchmarks
Activation has the highest impact on growth. For example, a 25% increase in activation drives a 34% MRR increase, higher than any other stage of the funnel:
So, what's the benchmark for this critical metric?
Research by Lenny Rachitsky and Yuriy Timen shows an average activation rate of 36% for SaaS companies.
As mentioned in our State of SaaS Onboarding report, you can boost activation rates by using interactive walkthroughs during onboarding to ensure users learn to use your product correctly.
Gamification and onboarding checklists also make onboarding smoother and increase activation.
Product adoption rate benchmarks
Product adoption rate measures how many people become regular users of your product to help them achieve their goals.
To calculate, take the number of new active users, divide by sign-ups, and multiply the result by 100.
Product adoption rate varies greatly, depending on your industry. File sharing and collaboration tools have the highest adoption: 20.9%. Education-related SaaS platforms come second with a 7.5% adoption rate.
Customer churn benchmarks
SaaS churn rate varies greatly across businesses and industries, so in reality, there is no universal "average" churn rate.
The fact that there's no B2B subscription reporting method for churn or any other metric doesn't help. Some companies report revenue churn, while others only share customer or user churn numbers.
That being, said, here are some examples of different surveys:
In a survey conducted by KBCM Technology Group among 162 respondents, the median annual revenue churn rate was 13.2%, and the logo churn rate was 21% (however, this did not include companies with revenues below $5m).
Zuora's 2019 Subscription Economy Index reports average churn rates across a number of industries, from Business Services (16.2%) to Media (37.1%).
In a sample of over 1,500 sites, subscription service Recurly reported an average monthly churn rate of 5.6%. Churn rates differ between B2B and B2C, with B2C companies experiencing higher churn (7.05%) than B2B.
According to Nathan Latka, who interviews founders and publishes their SaaS metrics on his site, the average gross churn rate among the 300 listed companies is 16.8%.
Although the data is a bit older, Totango's 2016 SaaS Metrics Report lists a wide range of churn rates across its respondents, with the median churn rate falling between 5-10%.
Therefore, based on this data, the average churn rate (specifically the average monthly revenue churn rate) could range from 1% to 17%, with most studies reporting a median of 5-10%.
Retention rate benchmarks
Retention rate is the percentage of customers active in a given period who are still customers in the next period.
2023 research by SaaS Capital shows that the median net retention across SaaS companies is 102%. The median gross retention is also high: 91%.
Both figures are unchanged from the organization's 2022 study. One striking correlation in the study is the rise in retention as Annual contract value (ACV) increased.
In other words, you'll retain more customers by encouraging them to make annual subscriptions compared to monthly payments. A commonly used tactic is discounts on annual contracts.
Conclusion
Stop comparing your conversion rates with businesses operating in other industries. SaaS has different market requirements, user behavior, and customer acquisition cost, so the figures will always be different depending on a number of factors.
Instead, set company-wide benchmarks upon analyzing your own data and aim to improve with time.
Userpilot can help you track conversions across the funnel using a combination of custom events, UI tagging, and other analytics features.
Moreover, our platform has the features you need to properly onboard users, drive adoption, and boost B2B SaaS funnel conversion metrics. Get a Userpilot Demo to see how it works.