Amplitude Analytics: Is It Worth The Money Or Is There A Better Alternative?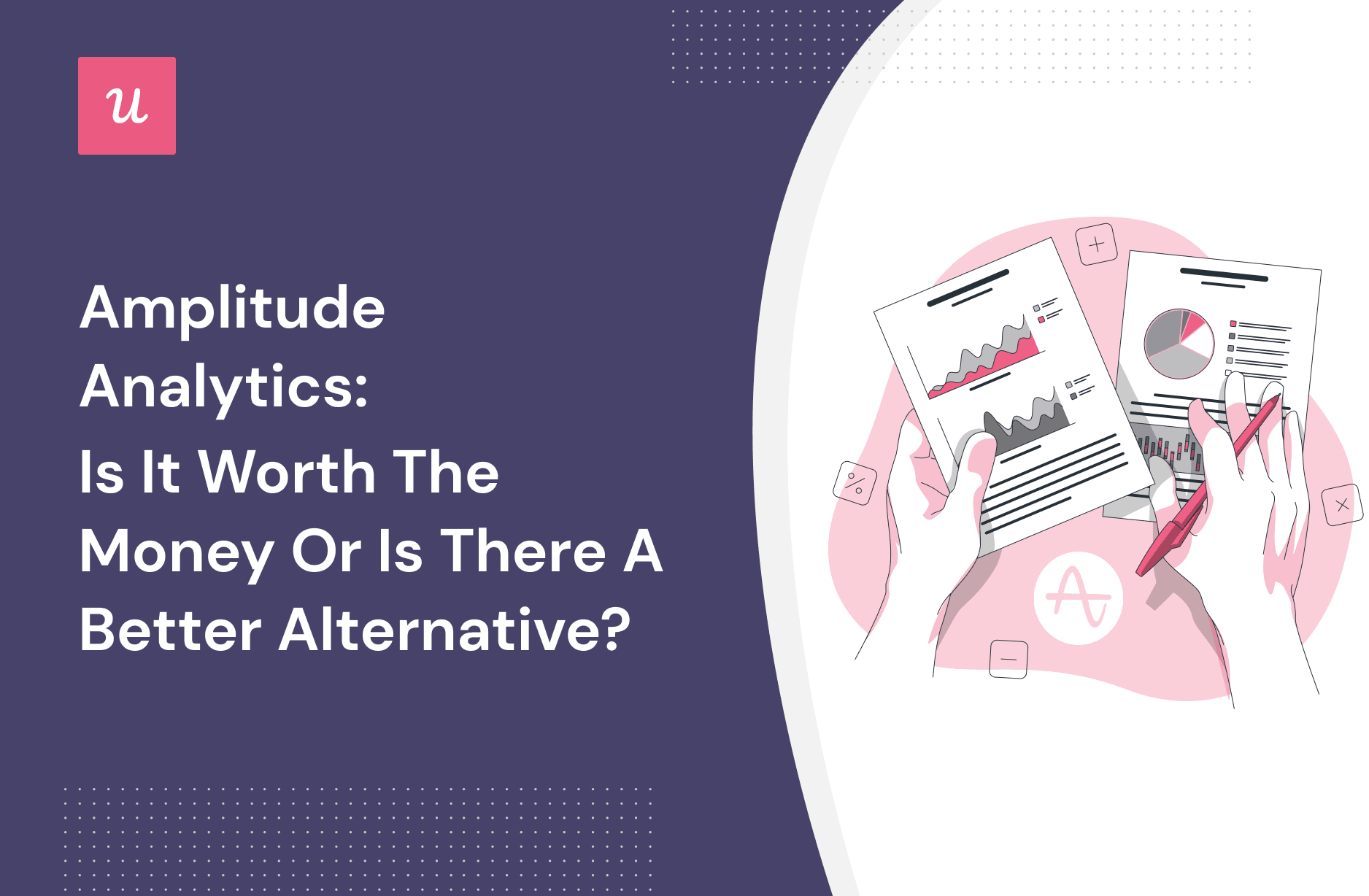 Do you want to get product growth insights but are unsure whether to use Amplitude analytics or not?
Amplitude is one of the best data analysis solutions to help you make data-driven decisions and grow your business. However, with several alternative analytics options available, it is important to assess if it is truly worth the investment.
In this article, we'll discuss the features and limitations of Amplitude analytics. You will also discover if it's the best choice for your business, or if there are better value-for-money alternatives.
Let's find out!
TL;DR
Amplitude is a product analytics tool that turns raw data from user behavior into critical insights.
You can consider Amplitude over Google Analytics because of its higher customizability and flexibility. Apart from that, Amplitude has been built entirely for product usage data so it's a better tool for product teams.
Any product and marketing team can use Amplitude's data analytics to get actionable insights and make informed decisions. Here are some features that are part of Amplitude's analytics.
Amplitude can be useful for businesses with in-house analysts, but it is likely to overwhelm small businesses without proper analysts.
Its integration with other industry-leading tools makes the product analytics process easier and seamless.
It offers three plans: Starter, Growth, and Enterprise, with a 14-day free trial.
Userpilot is a better product analytics alternative to Amplitude, offering goal-based analytics with various features.
Userpilot's analytics platform's key features include feature tagging, custom event-tracking, customer sentiment analysis, and trends overview. It offers advanced analytics and it's a better value for your money. Book a demo to see it in action.
What is Amplitude?
Amplitude is a product analytics tool that helps you turn raw data from users into meaningful insights.
Amplitude helps you get critical insights related to your digital product strategy, like:
What features do your customers engage with the most?
How do users navigate your product?
How can you improve your long-term retention rates?
Why is Amplitude better than Google Analytics?
Amplitude and Google Analytics are popular with businesses that want to track and analyze user behavior. But if you want a customizable and flexible platform, Amplitude is worth considering over Google Analytics.
You can customize Amplitude to focus on the data points and metrics that matter to your business. On the other hand, Google Analytics' one-size-fits-all tracking and analysis is more restrictive.
Amplitude tracks app and digital product user behavior for product teams from the beginning. Google Analytics's initial use case was to track website traffic. While it has expanded to cover other areas, it still lacks some of the features product teams need for product analytics.
Amplitude is better for usability because of its built-in tutorials and guidance to help everyone use the platform. Google Analytics requires additional documentation and a steeper learning curve.
Finally, Amplitude also excels at collaboration because of its features, like shared analytics dashboards and data sharing. Google Analytics requires each team member to create their own views and reports, making it harder to use collaboratively.
Why do product and marketing teams need Amplitude?
Any product and marketing team can use Amplitude's data analytics to get actionable insights into user behavior. It helps you eliminate guesswork, understand which information is useful or redundant, and make informed decisions to fuel growth.
Its digital analytics goes beyond surface-level data, like clicks and visitor count, to provide an in-depth analysis of how your users interact with your product. You can make actionable strategies from that insights to improve engagement, increase conversion rates, and secure long-term customer loyalty.
Amplitude analytics functionality in-depth
Let's look at Amplitude's 5 core product analytics features that will help you grow your business.
Amplitude analytics feature #1: Customer journey visualization
Customer journey analytics is the most crucial resource in understanding user data. Once you understand the customer journey thoroughly, you can integrate, analyze, and share information across the organization.
Amplitude's customer journey visualization allows you to gain visibility into all your user journeys with varying levels of precision.
Customer journeys today are multi-stage, multi-channel events. So you can improve the customer experience by gaining a complete picture of the customer journey and its touchpoints.
Amplitude lets you analyze any unstructured journey in aggregate views. You can also closely examine the individual user paths of customers. Then you can understand a particular context and motivation behind each user action. It helps you identify why some users are performing your desired actions while others are making little or no progress.
You can use pathfinder for event tracking and visualize all events your customers participate in. It also exhibits the sequences of events your customers take during a specific period. For example, you can examine the top common paths that new users can take to convert into paying customers.
The following image is a glimpse into Amplitude's pathfinder function. The chart allows you to visualize aggregate user flows inside your product.
Amplitude analytics feature #2: Dynamic audience segmentation
Audience segmentation means segmenting your customers into different groups based on shared characteristics.
You can use any combination of user behaviors, user profiles, products, and profile data to build highly targeted audience lists. Then you can segment customers by their last item viewed, average order value, or any behavior you want to track.
Dynamic audience segmentation also allows you to predict the best customer segment to target. You can then launch personalized campaigns to send special messages to at-risk customers, new engagement strategies to the ones least likely to convert, etc. It can help you maximize your marketing efforts and achieve your goals more efficiently.
You can also ensure your data analysis's reliability, consistency, and repeatability by automating syncs with your integrated tools.
Amplitude analytics feature #3: Event segmentation
Amplitude's event segmentation is a powerful tool for creating charts and analyzing user behavior based on specific events and event properties. You can easily track and visualize what users are doing in your product with the core Amplitude chart, whether simple or complex.
Amplitude's event segmentation offers 4 main functionalities:
Measures and shows the most commonly performed events over a selected period.
Analyzes how often customers complete certain events.
Identifies the number of unique users who perform a particular event.
Helps you understand which segments of your user base are most likely to trigger certain events.
Amplitude analytics feature #4: Retention analysis
SaaS businesses typically run their businesses on the subscription model. It makes them dependent on repeat purchases and high customer retention rates to be successful. As a result, retention analysis is a crucial tool for understanding the frequency of users returning to your product after completing a specific action.
Amplitude analytics helps you calculate retention data by comparing the date of the starting event to the date of the return event that you specify. It measures retention data by comparing the date when an event occurred for the first time to the return event data.
For a retention analysis chart, you have the liberty to select any event you want for the starting and return events. After redirection to the retention analysis page, you will see the retention analysis chart for your product.
Amplitude analytics feature #5: User cohorts
User cohorts are a powerful tool in the world of analytics, and Amplitude analytics takes full advantage of it. You can group users based on shared actions and gain valuable insights with user cohorts.
Amplitude allows you to save this group for further analysis and an in-depth understanding of user interactions. You can also group your customers based on their attributes, such as country, platform, etc.
There are two types of cohorts in Amplitude: behavioral and predictive cohorts.
A behavioral cohort groups different customers based on the events they triggered within your product. On the other hand, a predictive cohort segments users depending on their possibility of performing an event in the future.
What are the pros and cons of Amplitude analytics?
Does Amplitude have what it takes to fulfill your user analytics needs? Let's weigh the pros and cons.
Amplitude analytics pros
Offers real-time analytics, cross-platform tracking, behavioral analytics, enterprise-level security, and customer support to meet the requirements of product and growth teams.
Presents more advanced reports, making it useful for your team of power users and in-house analysts to extract insights from in-depth analysis.
Lets you share reports and charts with other teams in your organization.
Amplitude analytics cons
However, there are certain limitations to using Amplitude analytics.
May be overwhelming for a non-analyst because of its visualizing and slicing data features.
Moving data in and out of the platform is difficult, so you may have to depend on another tool.
Amplitude integrations
Another key feature of Amplitude is that it connects to other top marketing and data platforms and brings data from any data warehouse. It offers above 106 integrations, including popular third-party platforms like Intercom, Segment, HubSpot, etc.
Amplitude pricing
This tool offers a free Starter and two premium plans – Growth and Enterprise. You can request a free demo for the Growth plan. But none of the premium plans come with publicly disclosed prices.
Userpilot: a better product analytics platform than Amplitude
Userpilot is a code-free product analytics platform that helps you better understand everything related to your product and customers. It is a better alternative to Amplitude because you don't need the technical know-how to get the desired results.
For product managers looking for goal-based analytics along with several other features, including but not limited to feature tagging and event tracking, Userpilot is definitely a better choice.
Userpilot analytics platform features
One key benefit of Userpilot is how better it is for tracking custom in-app events, advanced segmentation, and measuring feature usage.
Userpilot monitors customer behavior depending on the predefined goals you set. It helps you focus on any specific aspect of your product and tailor your analytics to your specific goals. You can also use it to interpret the results from customer events and discover the bottlenecks easily.
Another standout feature of Userpilot is that it lets you tag interactions such as clicks, form fills, and hovers as "features" directly from the Userpilot's Chrome extension.
Let's go over some core features Userpilot offers:
Feature tagging: Easily tag any UI element and monitor how different customer segments engage with different parts of your product. You can also use conditional logic with feature tags to trigger in-app experiences and increase engagement.
Custom events: Develop and track custom events to check if customers perform the desired in-app actions and gain insights into their behavior.
User sentiment analysis: Collect feedback to gauge the impact of your marketing and product teams' efforts. You can build various customizable in-app microsurveys to get customer feedback. Consequently, you can better understand user sentiment by integrating NPS surveys with analytics and the response tagging feature.
Trends overview: Filter feature tags and events by specific periods, segments, and companies to identify usage patterns and trends.
To add to it, Userpilot allows integration with Amplitude and other leading tools you may use.
Userpilot pricing
You can get a free demo and request a free trial before committing to one of the three premium plans that Userpilot offers. You can choose from:
Traction: Up to 2,500 users for $249/month.
Growth: Up to 10,000 users for $499/month.
Enterprise: For large-scale organizations, starting from $1,000/month.
Summing it up
Now that you have all the information on how Amplitude performs and how it compares to Userpilot, you're more informed of your options.
If you want an easy code-free solution that enables you to perform all core functions of Amplitude analytics without its cons, Userpilot is the right tool for you.
Want to collect in-app user behavior data and analyze product usage? Book a Userpilot demo and get started right away!