Micro and Macro Conversion Examples: Understanding What's the Difference and Why They Are Important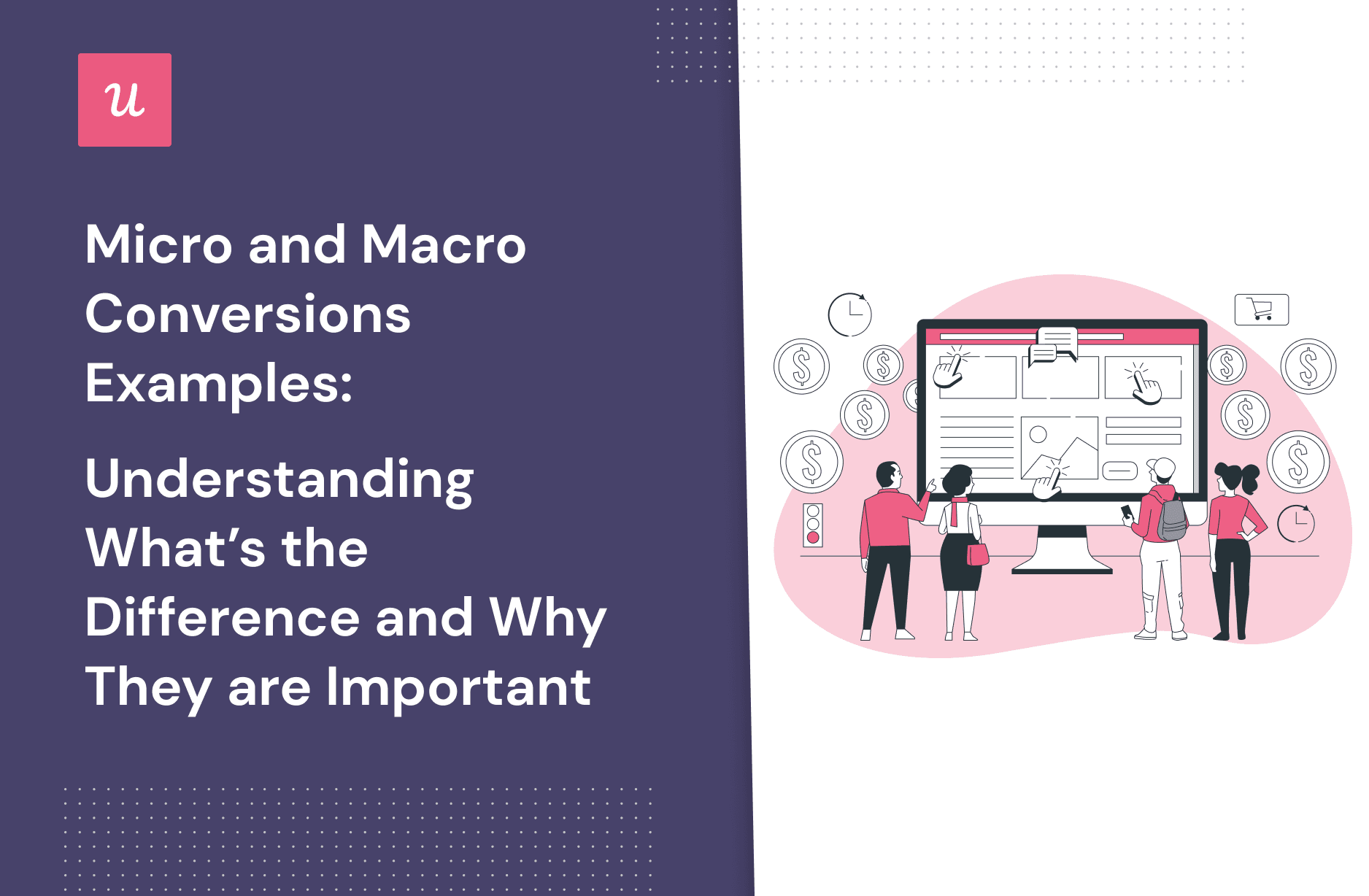 Looking for micro and macro conversion examples to better understand the buyer journey and improve retention?
Conversions can be classified into two main types: macro and micro conversions.
Let's dive deep into the topic and understand why they are important, what the difference is and how you can track them.
TL;DR
Micro-conversions are small steps your users take to reach the primary goal.
Measuring micro-conversions helps you uncover friction points to address them, and track the sales funnel.
A macro conversion defines actions undertaken by a user that serve the primary goal of your business.
You can track macro conversions to gain a better understanding of your product, in the long run, track the success of your marketing strategies, and identify when you've completed your primary conversion objective.
The difference between macro and micro-conversions is that macro conversions define your primary goals, and micro-conversions are small steps users take to fulfill the primary goal.
Micro-conversion examples include interested people visiting the pricing page, requesting a demo, signing up for a free trial, or completing tasks in an onboarding checklist.
Some examples of macro conversions are users completing the whole checklist to reach the activation stage, converting from a free trial to a paid plan, upgrading the account to access pro features, reaching complete product adoption, and reviewing your product and driving word of mouth multiple times.
With Userpilot, you can track micro and macro conversions and segment users to provide a better experience.
What is a micro-conversion in SaaS?
Micro-conversions, or micro-goals, in SaaS, are actions a user takes to reach a macro conversion. These are small steps that lead to completing the primary goal.
Micro-conversions categories
Micro-conversions are divided into two categories: process milestones and secondary actions.
Process milestones are micro-conversions that move visitors closer to completing a macro conversion. All activities that lead directly to a purchase. This might include:
Browsing through multiple pages of the website
Using the website's search function
Visiting the pricing page
Signing up to test the product
Although secondary actions do not directly lead to purchase at that moment, they may increase the likelihood of a visitor returning and buying the product in the future. A few of these could be:
Signing up for a newsletter
Downloading an ebook
Why should you track micro-conversions?
Tracking and keeping an eye on micro-conversions are important because they help you:
Get insights on user behavior: Not all customers use your product for the same reasons. Micro-conversions help you understand user behavior and activities. With these insights, you'd be able to identify trends among the various user groups.
Uncover friction points: Micro-conversion allows you to identify customer pain points and address them. For example, if a new user gets stuck during onboarding, it is a red flag that it's not that good. You can act on it and improve your onboarding to provide better guidance to your users.
Help you track the funnel and determine the highest performing channels: For any SaaS product, tracking micro-conversions is an excellent way to discover a conversion funnel (also known as a sales funnel). You can determine your customer's journey by looking at the major sources of micro-conversions. If the majority of your users show a specific path, you can guide new users on the same path and improve your macro conversion rate.
What is a macro conversion in SaaS?
Macro conversions, or macro goals, are the primary objectives of your business. In SaaS, a macro conversion usually involves converting a free-trial user to a paid user or going from a freemium to a paid one.
Depending on the business model and goals, macro conversions can be of three different types:
Revenue-based conversion: When monetary objectives are the primary focus, you should track revenue-based conversions. For example, when a free-trial user purchases a subscription.
Lead/member acquisition conversion: This type of conversion goal involves expanding your leads or users. For example, when users complete an application form and sign up for your services.
Inquiry conversion: This type of conversion focuses on service queries. For example, the number of tickets generated by a paying customer in a given period.
Why should you track macro conversions?
For any SaaS product, tracking macro conversion is important. Here's why:
Help you see the bigger picture: When you define your macro goals, you set a vision and have a broader look at your product. For example, when you determine your product goals for the next 1 year, you provide a clear picture for you and your teams to follow, which steers your business in the right direction.
Tracks success: Compared to your competitors or your past performance, how well are your product strategies performing? When you track macro conversion rates, you can measure your success in quantitative terms and even set performance benchmarks for your product.
Identifies whether you hit major milestones: Tracking macro conversions will help you keep an eye on major milestones and track how and when you achieve those.
Micro-conversions vs macro conversions
So what's the difference between micro and macro conversions? As we stated above, macro conversions are your primary goals, while micro-conversions are the steps that take you there.
Let's take an example. To use a typical SaaS product, you must visit their website, look up their pricing, create an account, and provide your payment information. These are all micro-conversions.
Finally, you purchase their product and begin using it. This is a macro conversion.
Micro-conversion examples in SaaS
Here are some examples to better understand the nature of micro-conversions.
Let's go into the details!
Visiting the pricing page
Viewing the pricing page counts as a micro-conversion. This indicates that a potential customer is considering buying your product but hasn't yet done so.
However, they're interested in your product, so they're checking out how much it costs and whether it meets their budget requirements.
Requesting a demo
Another example of micro-conversion is when a user fills out the "get a demo" form and schedules a demo.
This indicates that a user is seriously considering the product and wants to gain a deeper understanding so as to decide whether it will meet their needs.
Signing up for a free trial
When users have a good experience with the demo and realize that the product has potential, they sign up for the free trial to test the product thoroughly. This involves filling up the sign-up form and successfully registering as a user.
A free trial might lead to a paid subscription if the user is happy with the results.
Completing tasks in the onboarding checklist
When it comes to getting SaaS users to the activation point, onboarding checklists are a game-changer. Users are less likely to drop out of onboarding when an onboarding checklist is implemented.
When users know exactly what steps are required to understand the full potential of the product, they are more likely to complete the onboarding process. In turn, this leads to higher revenue and customer retention
The completion of each small task in the checklist is a micro-conversion.
Macro conversion examples in SaaS
Now it's time to explore the macro conversions. Here are some examples of it.
Reaching the activation stage
When users complete all the small tasks in the onboarding checklist then it indicates that they reached the activation stage. And it's considered a macro conversion.
You can use modals to celebrate that milestone and motivate customers to keep exploring the product and getting value from it.
Converting from a free trial to a paid plan
A key objective, aka a macro conversion for SaaS companies, is to convert free trial users into paid subscribers.
It is likely that users of your free trial will upgrade to a paid plan if they feel that your product meets their needs. This will increase the amount of revenue you earn on a recurring basis every month.
This is how Asana notifies its users that their free trial is over and that they need to convert to a paid account if they want to continue using the tool.
Upgrading the account to access pro features
This macro conversion is also known as customer expansion or account expansion. This refers to increasing revenue without acquiring new users.
The goal is to provide customers with more features and a greater level of value when upgrading their accounts. Here's how Asana reminds its' users about account expansion.
Recommending your product multiple times
These are your power users and advocates who get so much value from your product and heavily use the core features of your product. They recommend your product on review platforms or spread positive word of mouth.
Even though this isn't technically a conversion, we can think of it as a macro conversion since it's a huge milestone for any SaaS company.
How to track and improve micro and macro conversions with Userpilot?
Userpilot is a code-free solution that allows you to track both micro and macro conversions and segment customers to provide a better experience for them.
It has three pricing tiers: Traction at $299 per month, Growth at $499, and customized Enterprise plans from $1,000.
Now let's see how you can actually do it with Userpilot.
Track and monitor conversions
Using Userpilot's feature tagging, you can tag any UI pattern that will trigger after users click on that specific area. By doing so, you will be able to capture the activity of the feature on specific locations in your app and see which features are used more frequently.
You can also set up goals, aka custom events, and track how customers are progressing and what part of them completes those goals.
Segment customers and improve conversions
Userpilot allows you not only to track feature usage with feature tagging and custom events but also to create segments based on them. With our advanced segmentation feature, you can categorize users by their:
demographic data
firmographic data
technographic data
feature usage and completed goals
NPS score
You can also segment customers based on content engagement. For example, you can target customers who have a specific checklist "in progress". This will allow you to dive deep into customers' actions and see at what stage of the journey customers are at that particular moment.
Segmentation will help you better understand your customers, and their behavior so you can create personalized flows for them to improve retention and loyalty.
Conclusion
Understanding the differences between micro and macro conversions can help get invaluable insights into the customer journey and make data-driven decisions.
Want to track micro and macro conversions, and segment customers to get a better understanding of your customers? Get a Userpilot Demo and see how you can achieve this with a complete code-free solution.