8 Best SaaS Onboarding Tools in 2023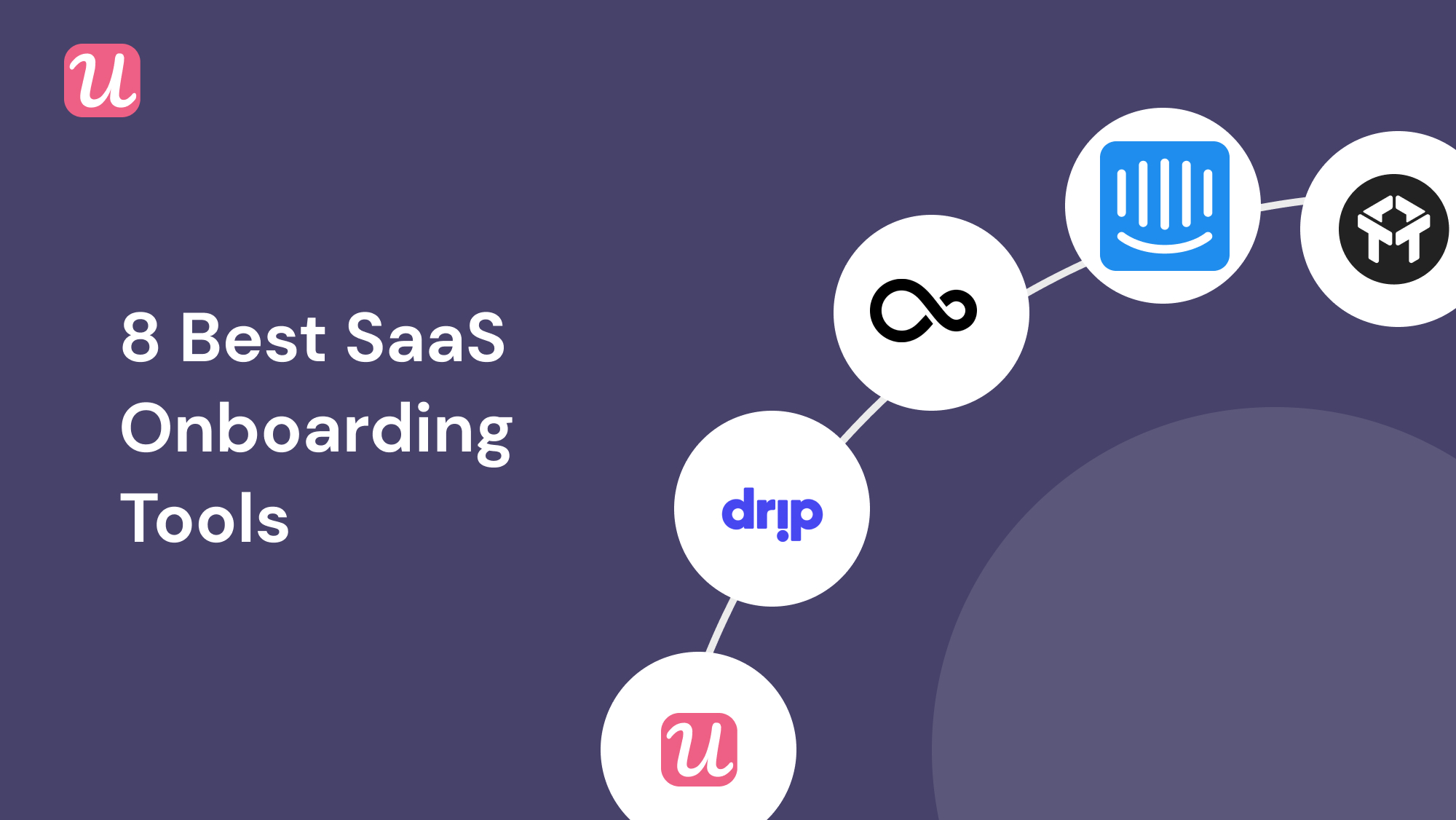 We hate to admit it, but there isn't one product that is going to increase your conversion rate and reduce your churn magically.
Companies need a stack of SaaS onboarding tools to create personalized experiences and bring users to their "Aha! Moment."
Just look at Bonjoro that recently released a case study about how they increased their trial to paid conversion rate by 32.7%.
They needed a combination of their own product for personalized video onboarding, Intercom for email automation, a tool for customer segmentation, and another tool to measure the results.
To create a truly personalized user experience, they needed to enlist the help of a couple of all-stars so that they covered all their bases.
And the results speak for themselves.
80% of businesses report a boost in metrics when using an onboarding tailored to a customer's use case.
So what are the best SaaS Onboarding Tools for 2023, and how do you know which tools to choose?
In this article, we are going to define what user onboarding is, why it is important, and what exactly are SaaS onboarding tools. We will dive into how to find the gaps in your own onboarding and then look at a number of user onboarding tools with various specializations, presenting you with the best ones in their niches.
What Is User Onboarding?
User onboarding is a combination of processes and experiences shown to a new user once they sign up. Onboarding aims to guide them to the moment when they realize the value of the product.
This isn't limited to a simple introduction or product tour for new users.
Source: Userpilot.com – See why we are the #1 choice for increasing activation rates in a call with one of our product specialists.
A well planned user onboarding shows explicitly how the product will help the user complete the job they are looking to get done.
In the case of Bonjoro, they are a service that makes it easy to record and edit videos and include them in your sales outreach.
They sent their new users personalized videos based on whether they were considered an MQL, signed up on their own, or entered their credit card information.
Source: Bonjoro.com
After seeing the ability to personalize videos, how simple it was, and the power of video, these groups of users converted at a much higher rate than those in their standard automated email onboarding.
Your user onboarding should work to show off the features that are relevant to their use case, get them to your activation point, and create an engaging product experience.
It can include anything from modals, checklists, tooltips, emails, and videos.
But why is user onboarding important if you already have a great product?
And why should you use a set of SaaS onboarding tools to create your onboarding flows when you have a team of developers?
Why Is SaaS Onboarding Important?
In a perfect world – your UX would be self-explanatory and all of your users would 'get' your product straight away, without any help.
But let's go back to planet Earth.
In real life – onboarding is a necessary process in most cases when someone is looking to make a purchase.
Because, let's face it, SaaS products can get complicated.
On top of that, the competition in the SaaS industry is quite intense, and pretty much in every major market, you will find dozens of different products.
That is why personalization is so important. According to an Accenture survey, 91% of customers are more likely to buy from brands that offer personalized experiences.
If you implement the right tools, user onboarding can provide an onboarding experience tailored to your users' job-to-be-done and ultimately reduce your churn.
Then you avoid the average churn rate of 5-7% for SaaS companies or even the whopping 20% of smaller SaaS businesses.
So what are the SaaS onboarding tools that can help you accomplish that mission? And why you need them?
What Are SaaS Onboarding Tools? Why Do You Need Them?
SaaS onboarding tools are specialized solutions designed to help companies plan, build, and deploy user onboarding scenarios, track user behavior and analyze the results of onboarding experiences.
Since user onboarding is quite a comprehensive and multi-level process, there are different types of onboarding tools available. Each specializes in a specific stage of the journey until conversion.
You might have some products that specialize from the moment of sign-up, while others will work better toward the end of their free trial.
Source: Taplytics.com
Finally, you have tools that help you analyze your users' behavior and test different experiences that provide value quicker to your target user.
You technically could build most of these solutions in-house, but that would be the opposite of cost-effective. Unless, of course, you want to spend the next 3 years in stealth mode.
Here are the most common types of SaaS onboarding tools and specializations available today:
Product adoption tools
Email automation tools
Live chats
Video Recording tools
Analytical tools
Feedback tools
User journey tools
Testing tools
But how do you find the right combination of SaaS Onboarding Tools?
You first have to do an assessment of your current product adoption rates, conversion rates, and churn rates.
You can calculate the product adoption rate by what percentage of your users engage with all your features.
If you have a low product adoption rate, it means users are only using a few of your core features, and you need to create better experiences, so users understand everything you have to offer.
Source: Userpilot. Sign up today and track how much your user base engages with each feature and calculates your overall product adoption rate for each segment.
This will positively correlate with your conversion rate and reduce your churn because users will think of your product as the all-in-one solution they can't live without. Or in other words, your product becomes sticky.
If you struggle to get core engagement use or users only sign up and then bounce, that is when you know you need a product adoption tool or at least some email automation.
For improving conversion rate, you are also going to want to invest in a live chat option, video recording, and SaaS onboarding tools for testing.
Source: Drift.com
Live chat enables you to solve the most pressing issues of your users without investing in customer support.
Video recording lets you provide more personalized onboarding experiences, and frankly, is much more engaging than emails or text. Testing lets you see what onboarding sequences work best for each customer segment.
Finally, to reduce your churn, you will want to invest in analytical, feedback, and user journey tools. These SaaS onboarding tools let you keep a finger on the pulse of your users and allow you to act when they are close to churning.
So, what are the best option to get the job done?
The 8 Best Tools For SaaS Products: Support and Onboarding
There is a wide selection of platforms and solutions available out there that are designed to help you improve SaaS product support and onboarding.
When making a choice on which SaaS onboarding tools to implement, it makes sense to focus on the specific needs of your product, going only with tools that offer the best selection of features.
Features to look for:
Product and user analytics
Contextual in-app walkthroughs
Onboarding checklists
User targeting and segmentation
User activity monitoring
In-app surveys
Advanced personalization
Contextual customer messaging
User communication
Churn management
Automation
Data analysis
Adaptive learning
Performance optimization
Product Adoption
Product adoption is the process of new users discovering all the features of a product, realizing their value, and deciding to purchase a subscription.
Using a third-party product helps you to improve this process. Without them, you will have to take your engineers' time off your product roadmap to build your product walkthroughs from scratch, and each time you need to tweak them or add a new feature.
Source: Userpilot.com
Userpilot covers every aspect of SaaS user onboarding from welcome screens with videos and micro surveys, through fully customizable interactive walkthroughs, onboarding checklists, as well as product analytics.
The product easily partners with any web app by downloading the chrome extension.
This is the ideal product for the mid-market space as it provides a variety of solutions in a very intuitive format.
Userpilot reduces time to value and provides a full framework of tools that drive user adoption.
Key Features
Interactive Audio-visual walkthroughs
User segmentation
Event-based messaging
User analytics
Onboarding completion tracking
Checklists, Tooltips, Slideouts, NPS, and Modals
Pricing
Userpilot offers users two subscription plans to choose from Growth (starts from $249/mo) and Enterprise (starts from $749/mo).
Email Automation
Being able to send targeted, automated emails to subscribed users also plays its meaningful part in the user onboarding process. Action-triggered automated emails with relevant information can be a powerful way to communicate with potential customers.
You can set different email sequences once a new user signs up, has engaged with your key features, or hasn't signed in for a long time.
The purpose is to use this software as an asset for your sales and customer success teams. These SaaS onboarding tools are a constant source of information for users.
They can be sent based on behavior or to send an invite for a formal demo. You can even set up a sequence that informs the user about the features relevant to their use case.
The options are endless, but only some products can truly make a difference.
Source: Drip.com
Drip is a marketing automation platform built for eCommerce users primarily.
It allows you to create various interactions with leads and send automated emails and text messages based on user behavior.
It supports dynamic product recommendations, abandoned cart items reminders, discount codes, and other kinds of action templates for eCommerce businesses.
Key Features
Automated email responses
Personalized email templates building tools
Segmentation
User behavior tracking
Email deliverability management
Email campaign analytics
Workflow Builder for email sending automation
Pricing
Drip offers a free 14-day trial with up to 500 sent emails limit. The subscription price is $19 per month, with a 500 limit on the number of contacts in your list.
Live Chats
Today, live chat communication has become one of the most popular methods of moving users along the customer journey. In fact, it increases conversions by 20%, and customers who chat are 3x more likely to buy.
This is why integrating a live chat application into a SaaS company website and proper customization of automated chats can be a great way to increase conversion rates and improve sales.
Thanks to the growing power of modern-day artificial intelligence technologies, these SaaS onboarding tools are also a good way to automate customer support and reduce overhead costs.
Source: Drift.com
Drift allows you to create (and integrate into your website) live chats to improve customer experiences, shorten the sales cycle, engage more target accounts, and increase conversion rates.
It has multiple chat features, including user feedback and Live View mode, to track users who view the website in real-time and initiate communication with them.
Drift coined the term "Conversational Marketing." Their AI chatbots have been around for several years now and still commands a market share of around 3.4%. It is the preferred solution for many small to medium-sized SaaS businesses for their simplicity in setting up and customization.
Key Features
Multiple chat inboxes for different types of conversations
Automatic replies to frequently asked questions
Conversation Ratings feature for feedback
Notes feature for internal communications
real-time user tracking
Conversational analysis
Pricing
Drift has a free trial period and offers three subscription plans: Premium (meant for small and mid-sized companies), Advanced (for companies with multiple regions, business units, or product lines), and Enterprise (or global enterprises or complex organizations with unique needs). All come with custom pricing that is not transparent.
Onboarding Videos
Videos are a powerful tool to capture the attention of your users.
Why?
Well, people retain more information from video than from any other media.
Whether in-app or in an email, an onboarding video shows new users what the initial experience will be like before they create an account.
Prospective users get that peek behind the curtain they crave. Then users who have signed up feel a more personal connection to the brand.
They actually see the face of someone from your company rather than feeling like they are engaging with a robot. These are a new addition to the SaaS onboarding tools stack but nevertheless can be a difference-maker.
Source: Bonjoro.com
Bonjoro lets you convert, retain and grow your customer base through personalized video messaging.
They are specifically designed for sales outreach but can also be a tool to spice up your automated email onboarding.
It is a great option to drive engagement for new users who feel like they are getting a personal introduction from the product's creators. This builds greater trust and makes users more likely to convert.
Key Features
Easy set up through a chrome extension and mobile app
Integrates into your CRM or Zapier
CSV data uploads
Message and call to action templates
Animated Previews
100% Email Deliverability
Video tracking and Analytics
Pricing
Bonjoro offers a free option and a free trial period of all its advanced features. Its basic starts at $15 a month and goes all the way up to $79 in its Grrrowth plan.
Analytics
Applying modern-day analytical capabilities to their user onboarding process allows SaaS companies to measure the behavior of their users and gather key insights.
By measuring how many users used your key feature, their time in-app, and tracking their activation rate, you can optimize their onboarding path.
With so many analytics options available, it makes the most sense to SaaS onboarding tools that allows session recordings.
Numbers will only tell part of the story. By watching how your users interact with your platform, you will know the exact moments when to give a nudge.
Source: Fullstory.com
FullStory is a digital experience analytics platform with several advanced features, such as on-the-fly funnels, replays, custom events, heat maps, advanced search, and Dev Tools.
FullStory's analytics engine automatically indexes every digital interaction with your site or app and allows teams to measure, validate, and act on each onboarding experience at scale.
You are given a window into your user's behavior through their session recordings and spot bugs, poor UI, and various other instances that will make your users churn.
Key Features
Engagement analytics;
Session replays;
Real-time reports;
Click tracking;
Error and bug tracking;
Data analysis;
Mouse movement tracking.
Pricing
FullStory offers its users a two-week free trial and two subscription plans: Business and Enterprise. The pricing is custom. You need to contact FullStory's sales team to get a quote.
SaaS Onboarding Tools for Feedback
Being able to collect user feedback lets you get qualitative research data without studying dozens of product interviews.
If you know your user's thoughts, observations, and potential complaints, you know where to improve.
It might be your tutorial that is too long. It could be that one button that doesn't work in the drop-down menu.
You will never know if you don't ask your customers.
This can be easily implemented with In-app surveys, NPS scores, or through a support button. You can fix the features with the lowest feedback scores and expand those that users praise with these components.
Intercom
Source: Intercom.com
Intercom is a platform that allows SaaS companies to build better customer relationships through conversational, messenger-based experiences.
Intercom's Feedback by Userfeed feature helps teams capture, manage, and close the loop on product feedback with various tools.
The second that a user has a question experienced an issue or has an amazing comment about your product, with these SaaS onboarding tools you will know.
Key Features
Rich feedback integration capabilities
User segmentation
Customizable feedback view options
Team collaboration options for feedback-related tasks
Daily digests and real-time notifications
Feedback synchronization with third-party tools
Pricing
Intercom offers several subscription options. Start ($59/mo) and Grow ($119/mo) include basic chat and messaging features and are meant for small businesses.
There are also three subscription plans available for bigger businesses with different features and custom pricing:
Conversational Marketing
Conversational Customer Engagement (includes onboarding and feedback functions)
Conversational Support (focused on live chats and other customer support tools)
User Journey SaaS Onboarding Tools
User journey tools help SaaS companies track, analyze, and understand the paths their users take up until conversion.
With behavior tracking and analytics, user journey tools weave together every touchpoint that a customer interacts with across multiple channels and over time.
If you are trying to optimize your onboarding process, this tool helps you understand where the majority of your users get stuck and where they become active.
You can then measure your product strategies' effectiveness in improving touchpoints and can attribute what actually works.
Source: Woopra.com
Woopra is an end-to-end customer journey analytics platform with a rich selection of features, such as full-funnel attribution, onboarding optimization, feature usage trends, subscription growth, and cohort analysis.
They have a personalization feature with people profiles that reveal a full behavioral history for each user, from their first touch to conversion and beyond.
Woopra has its own patented tracking technology that uses machine learning to follow customer activity across your website, product, and mobile applications. You can visualize past, present, and future journeys.
It supports synchronization of existing user data from 51+ one-click integrations.
Key Features
User engagement tracking
Session analytics
Machine learning
Existing user data synchronization
Build and receive non-linear customer journeys and trends, and retention reports
Personalization for built user profiles
Pricing
Woopra has a free subscription plan with a limit of up to 500k actions per month. And three paid plans: Startup ($349/mo), Pro ($999/mo), and Enterprise (a custom price that depends on the specific needs of the enterprise).
SaaS Onboarding Tools for Testing
As great as watching session recordings and receiving real-time data is, it isn't the most efficient option to test new features or for launching a new product.
You don't want to wait for an important customer segment to stumble into an untested onboarding flow and have a terrible experience.
To ensure that they continue providing value to their entire userbase, companies have a variety of ways to test before launch. This can be holding a beta, hiring a testing service with real humans, or inviting a few customers to try a new feature.
The main positive is to identify issues or errors at scale.
Source: Usertesting.com
Usertesting is an on-demand platform that provides companies with a team of people to test out everything about their product.
It is easy to set up and gives your team a wide variety of research capabilities. You get immediate video feedback that allows you to understand what customers, prospects, or competitors think and, most importantly, why.
Their software is one of the best ways to A/B test which onboarding experiences inspire and which ones fall flat.
Key Features
Actionable video feedback with surveys and notes
Longitudinal tests
A/B test landing pages
Launch moderated and unmoderated studies
Customer ethnographies
Marketing campaign message testing
User screen, face, and voice recording
Pricing
Usertesting offers custom subscription plans exclusively, with different pricing depending on a client's needs.
Choosing The Right SaaS Onboarding Tool For You
As you can see, user onboarding is a rather comprehensive field with a wide range of solutions.
It is up to you to identify the gaps in your onboarding and test different solutions that help you activate more users.
It may take some time to figure out what works best, but you are investing in a much brighter future with great customer retention and ARR growth.
Start with our top picks for each level of user onboarding, and test against your current automated onboarding flow like Bonjoro.
You might even reduce your churn by 37% too!