10 Product Marketing Examples To Inspire Your Product Team To Create Product-Led Strategies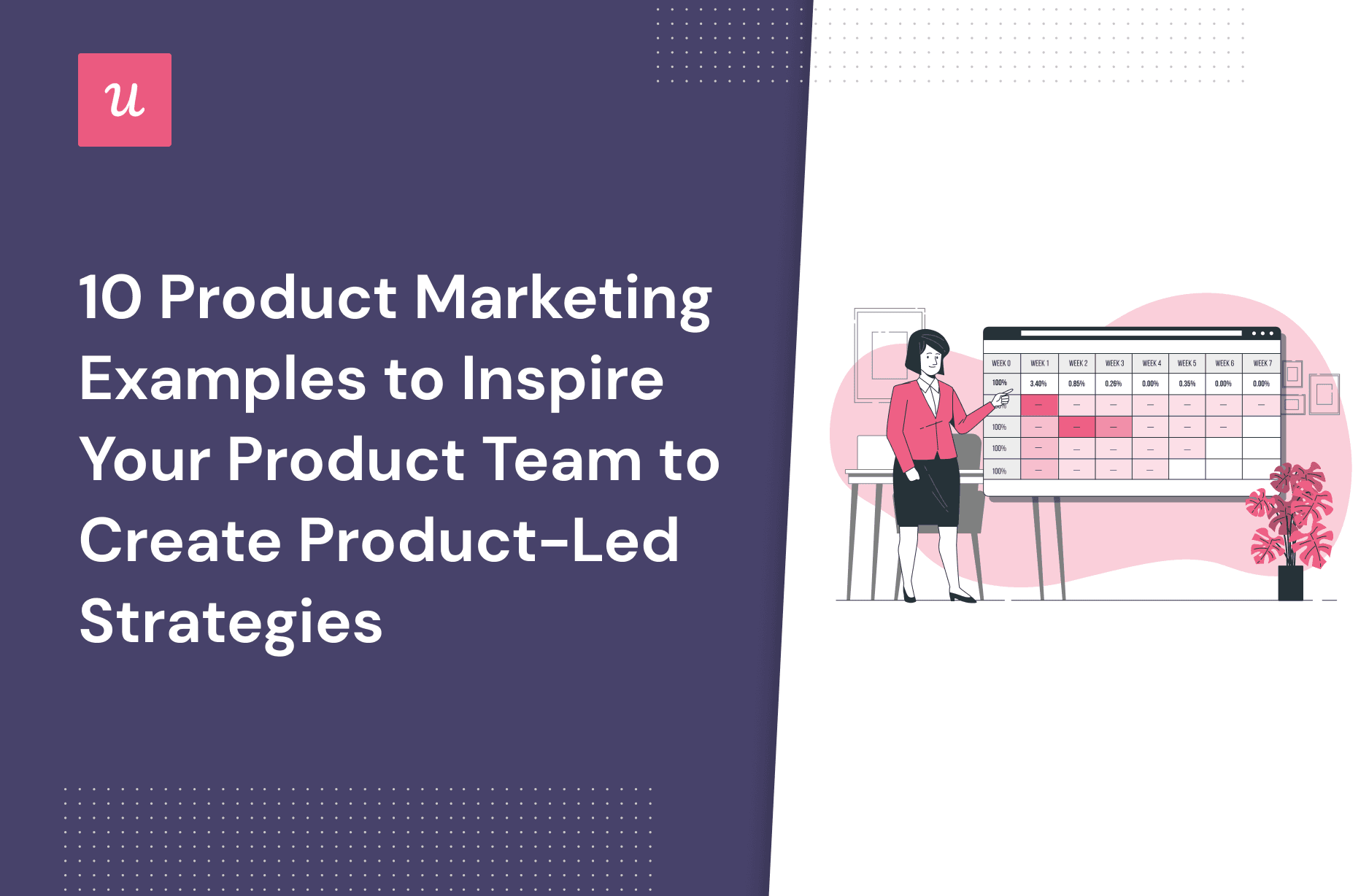 Is your product marketing strategy lacking inspiration? How about some product marketing examples?
In this article, we consider 10 SaaS product marketing examples. How did their product marketing strategy put their audience first? How did they successfully communicate value? What made them successful?
Let's dig in!
TL;DR
Product marketing involves bringing a product to market and aligning its messaging with customer needs.
Whereas traditional marketing focuses on customer acquisition alone, product marketing drives everything from acquisition to activation, adoption, and retention.
Product marketers define market positions, shape product messaging, and drive product pricing and customer retention strategies.
Some useful product marketing examples include:
Postfity's use of welcome screens to collect customer data and personalize their experience.
Loom uses onboarding checklists to encourage users to get fully activated.
Userpilot organizes webinars to teach users how to use new features.
Miro uses announcement modals to inform users of updated features, while Asana uses tooltips to highlight features that might be hidden.
Userpilot helps you nail your product marketing campaigns by:
Providing lots of onboarding UI patterns and styling options for your interactive onboarding walkthrough.
Helping you create a powerful in-app help center with FAQs, chat support, search functionality, and a knowledge base.
Providing leading user segmentation functionalities and real-time data on user interactions with your app.
Book a demo today to learn more about how Userpilot improves your product marketing strategy.
What is product marketing?
Product marketing is the process of bringing a product to market, positioning it for success, and successfully communicating its value to potential customers.
Product marketing strategy vs. traditional marketing strategy
Traditional marketing aims to create brand awareness, drive demand, and attract more customers. It puts its focus strictly on customer acquisition.
The goal of this marketing strategy is awareness – geared towards attracting marketing qualified leads (MQLs) to the brand/product. Product marketing, meanwhile, goes beyond the acquisition stage.
Beyond curating a go-to-market strategy, product marketers position the brand, onboard new users, boost customer expansion, and drive customer success via activation, adoption, and retention strategies.
Product marketing is at the intersection of different teams, including the product, customer success, sales, and marketing teams.
It focuses on driving product growth from the product launch to the end of the product life cycle. It cuts across different customer journey stages, from acquisition to activation, adoption, and retention.
Why should you have product marketers in your SaaS?
There are many advantages to building a SaaS product marketing team. During the product launch, product marketers define your market position and identify your competitive advantage by understanding your product, target market, and competitors.
Product marketers ensure every product-related communication is relevant to the target customers' needs, from marketing efforts to in-app content.
Ultimately, product teams provide invaluable insight into the customer's thinking. They track and analyze user behavior to drive product growth.
As they are familiar with the customer and the product, they can provide commercial insight on go-to-market strategies, pricing strategies, and customer retention strategies.
10 Product marketing examples to inspire your product team
A product marketing strategy must identify a product's strengths and successfully communicate its value to its target audience for it to be effective.
Consider these 10 SaaS businesses and how they achieved this goal.
Postfity uses welcome screens to understand its customers better and offer them personalized experiences
Welcome screens are often heavily underutilized in SaaS apps. Used properly, the welcome screen positively impacts new user activation and satisfaction.
To take full advantage of the welcome screen, you should collect data about your new users and their use cases. Then create personalized flows that improve their product experience.
Postfity does just that by using a welcome screen. In addition to a warm welcome message, Postfity reiterates what you stand to gain from the product. Finally, it attempts to identify the use case and challenges of the user with the aid of a microsurvey.
Kontentino provides interactive walkthroughs to guide new customers
Although product tours may help users get started with your app, they are long and packed with info users may never need (or remember!). Instead, use interactive walkthroughs that engage users and are curated for their specific needs.
See how Kontentino uses interactive walkthroughs to help users get their first taste of the product. The walkthrough focuses on getting the user to achieve their primary goal by showing them the features that help them reach their Aha! Moment.
Loom uses onboarding checklists to drive users to the activation point
Onboarding checklists guide users toward the activation point by employing a psychological phenomenon known as the Zeigamik effect. This effect highlights the tendency of the human mind to focus on uncompleted tasks as they observe their progress.
Thus, checklists carry the same power as progress bars and encourage users to engage. Create checklists with tasks that users need to complete upon signup. Keep them simple, track the user's progress using a progress bar, and provide users with quick wins to drive engagement.
Loom uses these checklists to great effect for first-time users. Upon signup, you're presented with a "Get Started" checklist that shows the steps you need to make. Once each task is done, it is marked as complete on the list.
Figma uses modals to prompt customers to upgrade their accounts
An important part of any product marketing strategy is account expansion. Customer expansion creates value for existing customers, bringing in more revenue as a result.
Expansion strategies include conversion, upselling, and promotion of add-ons. Send the right upgrade message at the right time. Use limits and triggers to display "upgrade messages" before the free trial ends.
Figma uses banners and modals to alert users when their free trial is coming to an end. With a carefully worded message, they highlight the benefits of a plan upgrade and encourage users to move to a paid plan.
Asana uses tooltips to drive feature discovery
Despite your developers' best efforts, some product features may be hidden from users at first sight. As part of your product marketing efforts, you want to drive users' attention to those features.
Use tooltips to alert the user to the existence of hidden features and to highlight the benefits of using the feature. More than feature discovery, your goal should be to drive feature adoption.
This is what Asana aims to do with its in-app tooltips, such as the one below. The tooltip points users to a feature they haven't used (in this case, the record button), highlights what it is, and states its benefit in a very brief message.
Miro uses in-app announcements to introduce new features
There's no point spending so much time and resources building and shipping a new feature if new users never know of its existence.
In-app feature announcements expose users to new features. They are more effective than any blog post or email that can be missed or ignored. They can also be contextual, only appearing in areas where users are likely to put them to use.
In this example, Miro uses announcement modals to inform users of any new feature in the product. Announcement modals such as this one tell users what's new and how it addresses the user's pain points.
Userpilot organizes webinars to educate existing customers on new features
If a newly added feature(s) is complex, consider using videos and webinars to demonstrate how to use the feature. These webinars should be aimed at helping users get the most out of the feature.
Use slideouts to invite customers to take part in the training. Highlight when the webinar holds and what users will benefit from attending it.
Let's have a look at how Userpilot did this after launching its Resource Center and Native Tooltips features.
Postfity uses behavioral segmentation to request product reviews
There are many potential uses of behavioral segmentation. You may already understand its usage in onboarding, feature adoption, churn reduction, or conversion. But did you know you could use it to improve your ratings?
Periodic NPS surveys help you collect customer feedback for your product. But you could also use this opportunity to improve your public ratings. Trigger in-app messages requesting product reviews – on review sites like G2, Capterra, etc. – from satisfied users.
Postfity does this to great effect, identifying happy customers and sending them a warm message requesting public feedback. Targeting only delighted customers with this request boosts overall ratings, making your brand more trustworthy.
Slack uses microsurveys to understand the product-market fit
A product-market fit (PMF) survey is another great way to learn how much customers value your product. The microsurvey, such as this one from Slack below, asks users how they'd feel if they could no longer use your product.
The PMF survey answers the question: "Is my product relevant to the market I'm in?"
By combining the survey with customer segmentation, you can better streamline the best market for your product and learn when (and where!) best to scale.
Dropbox uses the product as the main driver to promote it with word-of-mouth and gain new potential customers
Another important part of product marketing is the word-of-mouth (WoM) marketing strategy. This strategy relies on (and encourages) customers to share their experiences with your product.
Although you can stumble your way into product virality, you can also consciously drive it. Dropbox does this by incentivizing its users to invite their friends.
In addition to offering 16GB of free storage to new users in its early days, users earned an extra 500MB for inviting their friends. The combined effect was a viral product that customers were happy to share.
How can you nail your product marketing campaigns with Userpilot?
Ready to work on implementing a great product marketing strategy? Userpilot can equip you with the tools and information you need to get started.
Userpilot is an all-in-one tool for onboarding new users, building engagement layers, and gaining invaluable insights into user behaviors.
Consider these three ways you can supercharge your product marketing with Userpilot:
Lots of onboarding UI patterns to choose from
The best solution to boring product tours is interactive onboarding with varied UI patterns. Userpilot enables you to employ different UI patterns within your onboarding flow.
You can choose from modals, slideouts, tooltips, and checklists to craft a compelling onboarding flow.
Customize your selected UI feature with your brand colors and styling so that they match your SaaS app. Be sure to conduct A/B testing from within Userpilot to identify the most effective onboarding design for your users.
In-app help center that's completely code-free
Help centers are the heroes of SaaS customer service and an invaluable part of the customer support team. They provide users with quick answers to queries they may have.
Userpilot helps you create a powerful in-app help center, completely code-free. You can add a chat feature, FAQ, or a knowledge base area to your help center. It also comes with an intuitive search feature to help users find answers quickly.
Userpilot also enables you to customize your help center's appearance and behavior. You can control when and where the widget appears, how it looks, and for whom it appears.
Advanced segmentation and customer insights in real-time
Knowing how customers interact with your app is a product marketing superpower. as it provides invaluable data for combating churn and driving retention and expansion.
Userpilot lets you group customers based on feature usage, product engagement, loyalty levels, etc. Get these insights in real-time, and trigger the relevant content or flow for your user accordingly.
Conclusion
Product marketing is an important part of every successful marketing strategy. It encompasses everything from market research where you learn about potential customers, to how you engage and retain customers.
Userpilot ensures you're on the same page with your users by providing you with insights and tools to keep them engaged and satisfied.
Want to collect user in-app insights and create personalized flows for them? Then book a demo to learn more about how Userpilot can help you improve your product marketing efforts.