10 Customer Engagement Strategy Examples in SaaS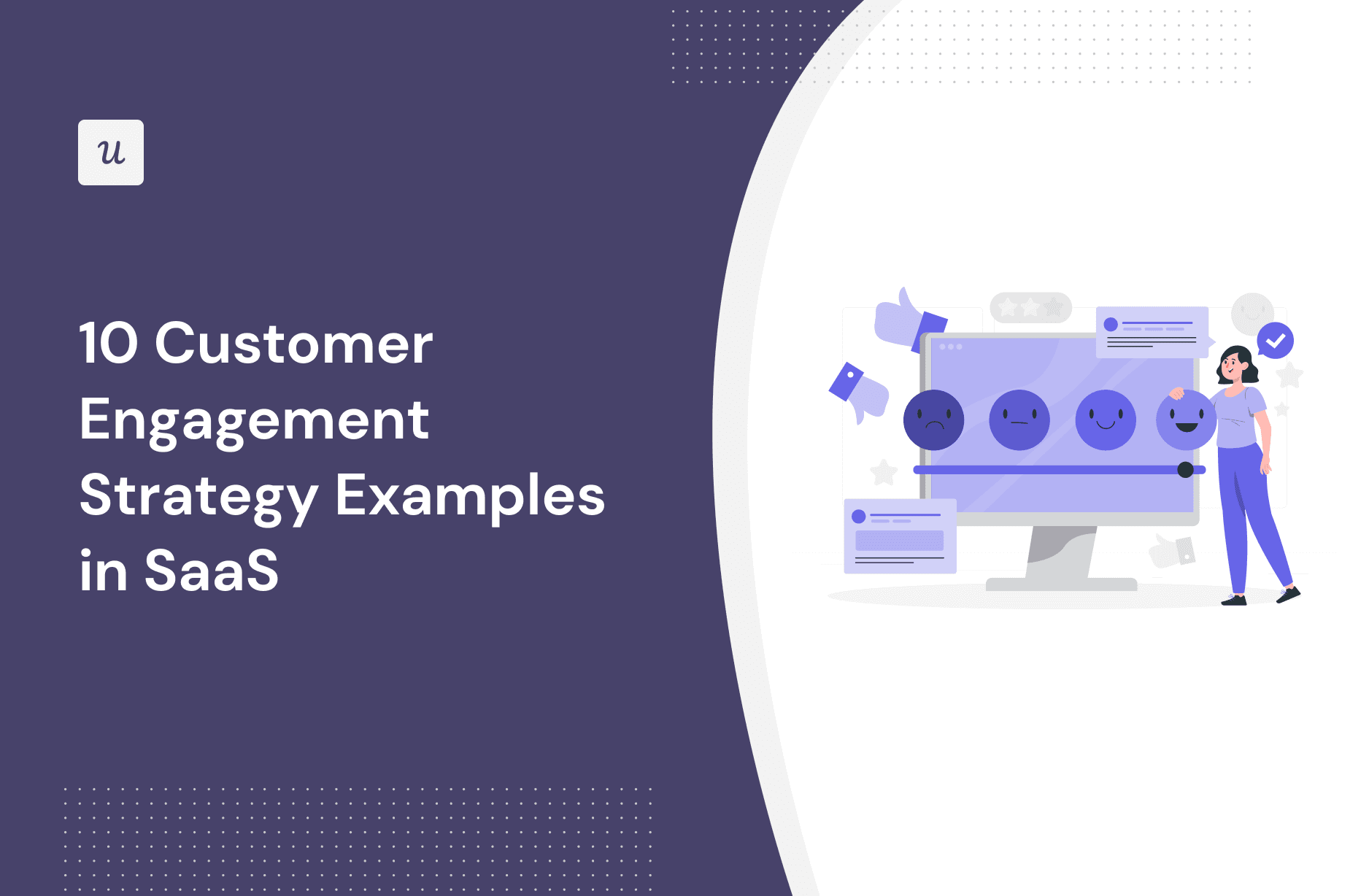 In SaaS, creating a customer engagement strategy is essential to sustain business growth.
It provides the building blocks for making customers stay, engage with your app, and eventually become loyal advocates for your product.
That said, we'll go over how to build a strong customer engagement strategy that cultivates trust and unlocks product growth.
TL;DR
A customer engagement strategy is a plan designed for building meaningful relationships with customers, encouraging consistent interactions, and fostering brand loyalty.
You need a solid customer engagement strategy to continue strengthening your ties with customers, reduce churn, and cultivate product-led growth.
There are four steps to create a customer engagement strategy:
Let's explore 11 customer engagement strategies you can apply in SaaS, they include:
Personalizing the customer onboarding process with welcome surveys.
Adding interactive walkthroughs to improve the onboarding experience to the next level.
A/B testing in-app flows to optimize customer engagement within your app.
Delivering useful content for existing customers through in-app tooltips.
Customizing in-app communication to build customer relationships with detractors.
Offering free trials of premium features to free users and upsell upgrades.
Triggering in-app surveys post-engagement to quickly collect and act on feedback to enhance customer satisfaction.
Learning what features are most used among loyal customers to replicate the experience to the rest of the user base.
Implementing an in-app resource center to offer 24/7 assistance.
Build a customer loyalty program to maintain engagement and reward customers for bringing referrals to your product.
Now, the best tools for implementing successful customer engagement strategies include:
Userpilot for automating in-app experiences, collecting feedback, and getting access to advanced product analytics.
Userguiding for creating product tours quickly and easily.
Appcues for building an engaging experience in mobile apps.
Need a customer engagement tool to automate, collect data, and apply these tactics? Book a Userpilot demo to see how you can quickly iterate your engagement efforts.
What is a customer engagement strategy?
A customer engagement strategy is a plan designed for building meaningful relationships with customers, encouraging consistent interactions, and fostering brand loyalty. It aims to understand and cater to customers' needs at various points on their journey.
Engagement tactics can involve delivering tailored experiences that increase satisfaction, promote more interaction with your product, and prevent churn with proactive customer service.
Why do you need customer engagement strategies?
No SaaS business can survive without retaining customers.
Closing sales is only the first step, and to continue strengthening your ties with customers and cultivating product-led growth, you need a solid customer engagement strategy.
Plus, there are even more reasons to care about customer engagement:
Reduced customer churn as engaged customers become loyal customers.
Enhanced customer retention as a result of prolonged customer relationships.
Increased brand advocacy, with satisfied and engaged customers promoting your brand through positive word-of-mouth.
Boosted product adoption as users start engaging with your app.
A customer engagement strategy creates up-selling and cross-selling opportunities as users engage with your product.
How to create a customer engagement strategy?
Keeping users around is not so straightforward. You need to follow a strategic approach that's effective and provides you with feedback.
That said, let's go over four steps for building a solid customer engagement strategy.
Gather customer data to understand their experience
Customer data is the base of an effective customer engagement strategy.
With high-quality data, you can identify friction points in the user journey and improve them. This process can involve tracking user behavior, mapping out the customer journey, and paying attention to key engagement metrics like churn rate, session length, and user activity.
For instance, you can perform funnel analysis to identify stages where users are experiencing friction and dropping. This way, if there's a substantial drop in engagement during the onboarding process, you can know immediately that you need to streamline your onboarding process to make it more user-friendly or interactive.
Define goals for your customer engagement strategy
After collecting data, your next step is to define your strategic North Star.
What are you aiming to achieve with more engagement? It could range from increasing product adoption to boosting user satisfaction.
For this, a best practice is to follow a goal-setting framework like SMART (Specific, Measurable, Achievable, Relevant, and Time-bound) to align your goals with the results your business needs.
For example, a SMART engagement goal could be: "Increase in-app customer interactions by 25% over the next quarter by implementing targeted email campaigns."
Create and implement your engagement strategy
Now, to design a customer engagement strategy, you need to start looking at each touchpoint to find opportunities for improvement.
Why? So you can start working on existing problems instead of moving aimlessly.
That said, break each stage of the journey, then outline the engagement playbook that best corresponds with each stage. An example could be creating personalized emails or loyalty programs for the retention and advocacy stages.
Once the tactics are outlined throughout the customer journey, you'll get a solid strategy that you can start implementing right away.
Analyze and iterate to constantly improve
To complete your customer engagement strategy, you need to carefully select engagement metrics to measure your success.
These metrics should align with your SMART goals, as well as fit with your customer's path. For instance, metrics like feature adoption rate and product stickiness are a good fit if your goal is to increase product adoption.
Once you start to collect customer data, you can use user engagement tools to track user data and identify areas where engagement is high or low. Then, you can improve and iterate as needed.
10 Effective customer engagement strategies across the customer journey
As you go through the process of making a customer engagement strategy, you may feel lost at step three as you run out of ideas to implement.
That said, let's go over 10 customer engagement examples that you can apply in a SaaS business:
Offer personalized customer onboarding process
Customer data from sign-up flows represents an opportunity to design a personalized onboarding experience and drive engagement right at the start.
For instance, you can use a welcome survey to gather information such as the user's industry, their role within their organization, or their main motivation for using your product. With that info, craft an onboarding path that addresses their specific jobs-to-be-done (JTBD) and responsibilities.
This could mean, for example, presenting features that a CMO would find valuable, or automatically skipping others that an engineer might not need.
Build interactive customer experience to encourage interactions
Another way to engage customers is to present your product's core features interactively.
So instead of showing a generic product tour that users are likely to skip, you can implement an interactive walkthrough to:
Hand-hold users step by step with progressive onboarding.
Respond to in-app behavior in real-time.
Avoid overwhelming users with information they won't retain.
Enhance user's learning experience as they can grasp how to use core features while interacting with the product.
A/B test in-app flows to improve customer engagement
One effective way to optimize customer engagement is by A/B testing in-app experiences.
This means creating two different versions of in-app content (announcement, onboarding tutorial, etc.) and then testing them with your user base to see which one resonates better.
For example, let's say you need to optimize feature usage in your onboarding process. In version A, you can have a series of video tutorials. While version B includes interactive walkthroughs.
With A/B testing tools that support in-app flows (like Userpilot), you'll be able to analyze the engagement performance of those versions such as time spent on each version, completion rates, and feature usage—and determine which version performs better.
Deliver helpful content for existing customers
Educating customers about your product is a constant, never-ending task. But when done well, it will keep users engaged with your app as they find success with it.
This can involve engaging existing users with educational content such as webinars, slideouts, or tutorials and triggering them when relevant. This way, instead of expecting users to learn by themselves, you can provide them with the information they need, when they need it.
For example, you can leverage in-app tooltips to introduce features for specific use cases. So if sending invoices is one of your users' JTBD, you can trigger onboarding tooltips when a user first accesses the "invoice" section—highlighting how to create clients, add your brand logo, etc.
Personalize in-app communication to build customer relationships
Resurrecting users is a key part of sustaining healthy engagement levels.
First, identify detractors by segmenting them based on their survey responses, behavioral patterns, and qualitative feedback. Also, look for unusual patterns like a sudden drop-off in usage, reduced engagement with your emails, or any decrease in other metrics.
Then, set up personalized in-app communication to enhance their product experience (and hopefully restore your relationship). This can involve triggering customized content that addresses their specific problems—such as personalized emails, video tutorials, or even an invitation to get personal assistance.
Offer premium feature trials for free users to invite upgrades
Free trials aren't only for attracting new users. They can also be used as an upselling technique to generate paying users as well.
For this, start by identifying high-value features that are exclusive to your premium plans (this could include those features that your power users engage with the most). Then, offer your free users a free trial for these premium features so they're compelled to try it out.
This free trial becomes an upsell opportunity as trial users experience the value of the premium features and realize that it's worth upgrading their plan to keep using them.
Collect and act on customer feedback to enhance customer satisfaction
In-app surveys serve as a quick channel to collect user feedback, spot issues in your app, and fix problems that can hinder the user experience.
But to collect feedback through in-app surveys and enhance customer satisfaction, it's important to employ a blend of open-ended and close-ended questions at specific touchpoints of the customer journey.
This means using these surveys post-engagement as a way to obtain immediate and honest responses—think of triggering a CSAT survey after a feature use or a customer support interaction. This way, you can identify and address issues at top speed, prevent churn, and ultimately enhance user engagement in the process.
Learn from loyal customers and replicate the experience
Expanding customer engagements starts with learning what fuels engagement among your loyal customers.
For this, you can use feature tagging and event tracking to record how frequently your power users interact with features. This data analysis is super useful for designing a path that replicates the success of your loyal customers based on their preferences, behaviors, and engagement patterns.
So if, for instance, your engaged users frequently engage with advanced features for task management, you can introduce that feature earlier to encourage other users to try it out and achieve success.
Offer 24/7 help with an in-app resource center
A great opportunity to keep customers engaged is through an in-app resource center. Since it prevents users from leaving your app to solve their issues (experiencing friction in the process), customers are more likely to stay engaged with your app.
The process for creating an effective knowledge base is simple:
Identify common issues that make customers drop off and disengage.
Survey your users, review your support tickets, and examine your usage data to see what's causing friction and pushing customers away.
Create help resources in different formats to directly tackle these challenges. It can include FAQs, tutorial videos, step-by-step guides, or help articles.
Organize your resources in content modules so users can find resources that are relevant to them (instead of having to browse through messy documentation).
Include launch messages for announcements, updates, and patch notes to keep customers informed 24/7.
Build customer loyalty programs to engage customers
One way to build customer loyalty is to reward your customers for leaving feedback, writing reviews, and bringing in referrals.
This could involve setting up a loyalty program where customers are awarded points each time they take a desired action, and those points can be exchanged for credits, free months, etc.
To encourage participation, communicate clearly about what's in it and ensure that the process is straightforward. Also don't forget to follow up regularly to remind them about what they can get with their points, current offers, etc.
Best tools for successful customer engagement
No matter what engagement tactics you wish to execute, you'll need software to set them up, trigger them, and retrieve data.
So let's go over the best customer engagement tools that require no coding skills:
Userpilot
Userpilot is a customer success platform with the ability to create, design, and trigger in-app surveys for user research, either from scratch or by using any of the multiple templates available.
This tool brings more than the ability to trigger in-app experiences. You can also create onboarding flows, collect user behavior data, and give access to advanced product analytics—everything to nurture product growth.
Here's how Userpilot can help you engage users:
Get a deep user experience understanding with analytics charts such as funnels (to spot friction), trends (to understand what brings value across different plans), and paths (to draw the product journey of your users).
Use feature-tagging and event-tracking to analyze user behavior and identify friction points.
You can segment your users based on their data and personalize the customer experience.
Analyze feature usage with feature heatmaps to understand product adoption and which areas of your product bring value to your users.
A/B tests different in-app flows to see what kind of content generates more engagement.
Build an in-app resource center to offer self-service support 24/7.
Collect feedback for your research using a great variety of in-app surveys such as CSAT, CES, and NPS surveys.
Use advanced survey analytics to tag and filter user responses based on recurrent themes and keywords and save time analyzing responses.
UserGuiding
UserGuiding is a practical platform for driving customer engagement. It's designed to refine the onboarding process and enhance user experience by optimizing every interaction within their web-based applications.
Here's what it offers:
Interactive Product Tours: This makes it easy to onboard new users to your app step-by-step.
In-app Messaging: Allows for personalized in-app communication to enhance interaction and increase customer engagement.
Segmentation: Can group your users based on their in-app behavior, which can be leveraged for targeted strategies.
NPS Surveys: Encourages feedback from users to measure customer loyalty.
Performance Analytics: Offers key metrics to evaluate the effectiveness of onboarding flows and engagement initiatives.
Appcues
Appcues is a customer engagement tool that's designed to create seamless customer experiences. It can help you enhance your user's journey—from onboarding to feature discovery and interaction—in order to drive customer engagement.
Here's what it can offer:
Flows: The ability to create unique, in-app user journeys that can guide, inform, and engage your customers.
Checklists: Functional in-app checklists that motivate users to complete key tasks.
Surveys: Which can collect feedback from customers directly from the app and make quick data-driven decisions.
Segmentation: This allows you to personalize the user experience based on the characteristics, behaviors, or needs of different user segments.
Mobile engagement: Provides tools to build engaging experiences for mobile apps.
Conclusion
Designing an effective customer engagement strategy is a key task for every product manager.
And with the informed steps mentioned above, you can ensure personal, interactive, and valuable experiences for your customers—and keep them around for longer.
And if you need a customer engagement tool to automate, collect data, and apply these tactics. Why not book a Userpilot demo to see how you can quickly iterate your engagement efforts?