14 Actionable User Adoption Strategies to Drive SaaS Business Growth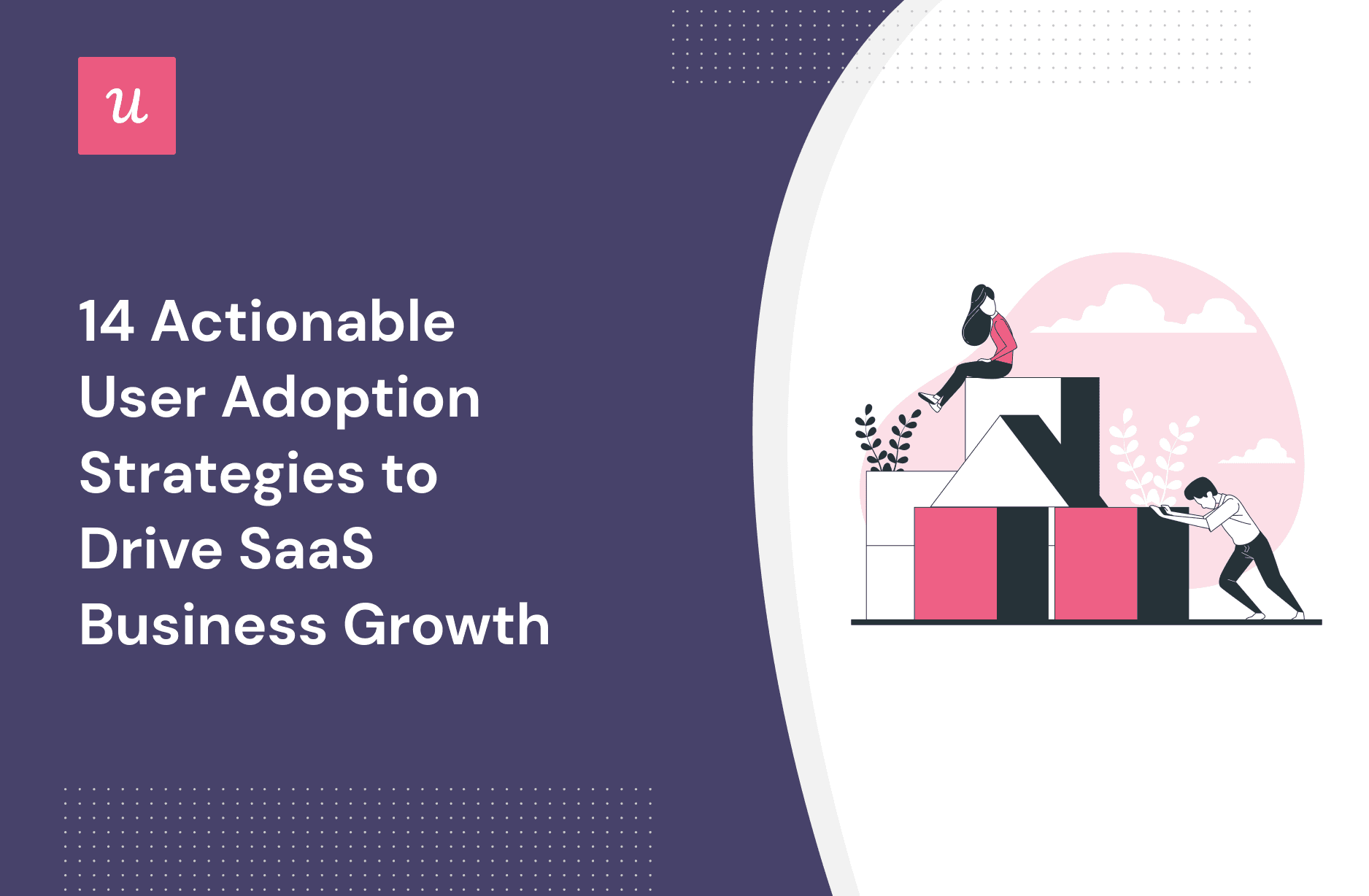 Which are the best user adoption strategies for driving growth in SaaS?
In this article, we cover 14 actionable strategies and discuss how using product analytics can help enhance the success of each one.
TL;DR
User adoption happens when users learn how to use a product and discover its value.
Adoption is essential because it drives customer success and increases engagement.
Faster adoption also improves the onboarding experience and reduces customer churn.
An effective adoption strategy involves setting goals, implementing product education, and measuring success. Then try different tactics meant to drive engagement and get users to experience value.
Personalize the customer journey from the start by collecting data using welcome screens and personalizing their first-time user experience.
Shorten the learning path and deliver value faster with step-by-step guides that handhold users through their first-time interaction with specific product features.
Use onboarding checklists to prompt users to discover and try relevant features for their specific use case and stage in the user journey.
Incorporate gamification elements like celebration modals, progress bars or badges to leverage psychology principles to keep users engaged and enhance product adoption.
Your feature usage analytics are a gold mine for adoption insights. Analyze feature usage to see where adoption is low. Then, create contextual tooltips to draw attention to the feature.
Track feature usage for different segments and understand which drives value. Is there a feature relevant for a specific segment with a low user adoption rate? Build in-app guidance to prompt discovery and engagement.
Organize webinars to help users adopt more advanced features.
Provide in-app self-service support to reduce friction.
Re-engage inactive users with win-back emails. Remind them of your product's benefits and what they should do to immediately get value.
Constantly collect feedback with in-app surveys and act on it.
Review your product analytics, and A/B test your in-app messaging for added context. Improve on what's not working and double down on what is.
Measure user adoption by tracking metrics like user adoption rate, time-to-value, onboarding completion rate, daily and monthly active users, feature usage, and CLV.
Userpilot is a no-code solution where you can track product metrics and build interactive experiences that improve adoption.
What is user adoption?
User adoption is the continuous process of users learning how to use a product, evaluating its value, and building habits around usage.
Why is user adoption important?
User adoption is important because:
An effective user adoption strategy drives customer success: achieve more success with your product when they adopt more high-value features.
Adoption increases user engagement: when customers experience value, they're motivated to keep engaging.
Product adoption decreases customer churn: when users get repeated value, they stick around and have no reason to switch to a different tool.
What is a good user adoption strategy?
An effective user adoption strategy involves a three-step process:
Set actionable and measurable goals.
Deliver contextual product education and guidance.
Track product analytics to measure success.
14 Actionable user adoption strategies to drive user engagement
To improve user adoption you need to build contextual in-app guidance where it's needed across the onboarding process. Keep your goals in mind, track product usage to understand where users need help, and try different engagement tactics for specific user segments.
Here are some of the best tactics that can boost product adoption.
Personalize the customer journey from the start
Use a welcome screen survey to collect customer data and understand needs.
Once you have the data you can use it to automatically trigger an onboarding flow that's relevant to each segment.
Airtable asks new users what team they're on to better understand their job to be done. They can then tailor the onboarding experience to fit the use case.
Shorten time to value with interactive walkthroughs
Shorten the learning path and deliver value faster with step-by-step guides that handhold users through their first-time interaction with specific product features.
An interactive walkthrough is a series of tooltips and driven actions that prompt users on how to navigate the UI and adopt a feature.
Encourage customers to explore your product with an onboarding checklist
Onboarding checklists prompt users to discover and try relevant features for their specific use case and stage in the user journey.
For example, an onboarding checklist should drive users to engage with core product features that get them to the activation point;
Focus on building short checklists that drive users to a specific milestone in the journey and add only relevant tasks for that goal only.
Celebrate customer success with gamification
Gamification uses game elements, such as progress bars, badges, and more, meant to enhance engagement through different psychological effects.
Take Asana for example and their famous flying unicorn that shows on your screen when you mark a task complete. The reward increases dopamine and drives the user to repeat the steps that got them the reward, just to get more of it. This not only drives engagement and leads to product adoption but also makes the use of the product, fun.
Analyze feature usage to understand the reasons behind low user adoption rates
Product usage analytics will help you spot adoption trends. In other words, what drives customer success?
Track feature usage for different segments and understand which drives value. Is there a feature relevant for a specific segment with a low user adoption rate? Build in-app guidance to prompt discovery and engagement
Customer success teams should focus on maximizing relevant feature usage for each new user to increase user adoption.
Understand and replicate power users' behavior for new users
Another benefit of analytics is seeing what your power users are doing right.
These users are engaged, loyal, and have adopted the product. You can learn a thing or two from their behavior and then replicate it for new users.
For example, identify the most used features and create a secondary onboarding checklist to drive activated users to discover relevant features for them.
Drive feature discovery with contextual tooltips
The key to keeping users engaged is to continuously help them experience value.
Tooltips are great for driving discovery as they prompt users' attention to relevant features for their use case.
Use them to highlight specific UI elements when launching new features to make it easier for users to spot changes.
Organize webinars to educate new and existing users on how to use your product
For more advanced features where tooltips alone won't cut it, host webinars too.
You can promote your upcoming webinars with in-app slideouts and send them to relevant user segments.
The key to product adoption is to use different in-app communication tactics in a contextual way to make sure existing customers get value without friction.
Use in-app messages to help users adopt new features contextually
In-app messages like modals, tooltips, and interactive walkthroughs guide users on how to use new features.
When you announced a new big feature using a banner or a modal you help users discover a feature. Next, make sure to follow up with a series of tooltips and actually guide the user on how to use the feature.
Provide in-app self-service support
Users expect instant help when they encounter friction. They don't want to wait for your customer support team to reply.
You can easily reduce friction with an in-app self-service resource center.
Adding guides and letting users search your knowledge base without leaving the app, will help them solve their issues on their own – a lot faster. A resource center is also an easy way to group all your help resources in-app, in one place for on-demand help.
Collect feedback and act on it
Collecting feedback at different touchpoints in the user journey will help you understand the overall sentiment and satisfaction of your users, and also help you spot friction points.
You can use an NPS survey to monitor loyalty for example.
Then make sure to ask follow-up questions to gather qualitative data and understand the reasoning behind low or high satisfaction. Reaching out to detractors to offer help is a proactive way to reduce churn and analyzing responses can help uncover what needs to change.
A/B test different onboarding flows to understand what drives adoption
A/B test and iterate your onboarding processes to understand what drives adoption goals higher.
Product adoption is not a set-it-and-forget-it approach.
With Userpilot, you can A/B test to see if in-app guidance helps users reach a product milestone. For example, can a tooltip help users discover and engage with a new feature? Run an experiment to see.
Re-engage inactive users with personalized emails
Sometimes users become inactive for various reasons.
Until they cancel their account, it's not too late to re-engage inactive users.
Send personalized emails to give them reasons to come back and prompt a specific action. You can follow up with in-app guidance and communication when they actually log back in, to build an omnichannel experience.
Miro keeps their users up to date with product changes.
Measure user adoption success with goals
Tracking and measuring success with goals will help you make data-driven decisions.
Start by setting goals based on user journey milestones. For example, you track when users reach the activation point or adopt a secondary feature.
Then understand where users are getting stuck and trigger in-app guidance to help them get to the next stage. Increase adoption by focusing on the most important goals and completion rates for different user segments.
How to measure the success of your user adoption strategy?
Six helpful metrics measure the success of your user adoption strategies. Let's explore them in more detail:
User adoption rate: the percentage of new users who engage and use a feature.
Time-to-value measures how long it takes for a user to reach the AHA moment and experience the value of your product.
Onboarding completion rate: the percentage of users who complete each stage in your onboarding process.
Daily and monthly active users: the total number of users who are active on a daily or monthly basis. Active means something else for each tool and is connected to how users get value (ie active is not the same as logging in, it requires engagement too).
Feature usage: the percentage of users actively engaging with a specific feature.
Customer lifetime value (CLV): average total revenue generated by one customer.
Best software to improve user adoption rates for SaaS companies
Improving user adoption starts with finding the right software. Choose one that can help you automate user adoption and offers in-depth analytics so you can make informed decisions.
Here are the top three adoption tools SaaS businesses should have in their tech stack:
Userpilot
Userpilot is a no-code user adoption solution. It helps you track adoption metrics and build interactive flows for in-app product education.
Here's how:
Guide users towards adoption with tooltips, interactive walkthroughs, resource centers, and more. Create these in-app experiences in minutes with code-free builders. Plus, customize the styling to match your brand.
Design surveys like NPS or CSAT survey to collect user adoption insights. Trigger these surveys to specific segments to collect relevant insights at the right time.
Build an in-app resource center complete with training modules and FAQs. Most customers prefer solving minor issues by searching through a knowledge base. They can keep learning without waiting for 1-on-1 help.
Use the A/B testing functionality to see how in-app messages impact your adoption rates.
Appcues
Appcues offers similar functionality as Userpilot when it comes to building in-app guidance. the only difference is that they don't offer a resource center functionality and their analytics is pretty basic.
All of that is at 3x the price of Userpilot.
But, if you need to drive product adoption for mobile apps, Appcues is the go-to tool.
You can build modals, tooltips, and checklists (limited on their basic plan) without coding and drive contextual adoption.
Compared to Userpilot, Appcues offers less functionality for more money.
Chameleon
Chameleon is great for collecting feedback, but it's the platform with the steepest learning curve compared to Appcues and Userpilot.
For building in-app guidance Chameleon offers similar functionality to the other tools, at a price closer to Appcues, but their analytics is missing.
With Chameleon, you can't track any adoption metrics. This makes it hard to understand where adoption is currently low. It also makes it hard to measure success after implementing your strategies.
They do offer the most integrations out of the box with product analytics tools, but that's another cost you should consider.
Conclusion
User adoption helps you grow faster, boost retention, and improve customer experience. You can see why it's worth prioritizing right away.
Want to get started with increasing user adoption? Get a Userpilot Demo and see how you can track your adoption metrics and build product experiences that improve them.