No Code Onboarding for SaaS: How to Build Effective New User Onboarding Without Coding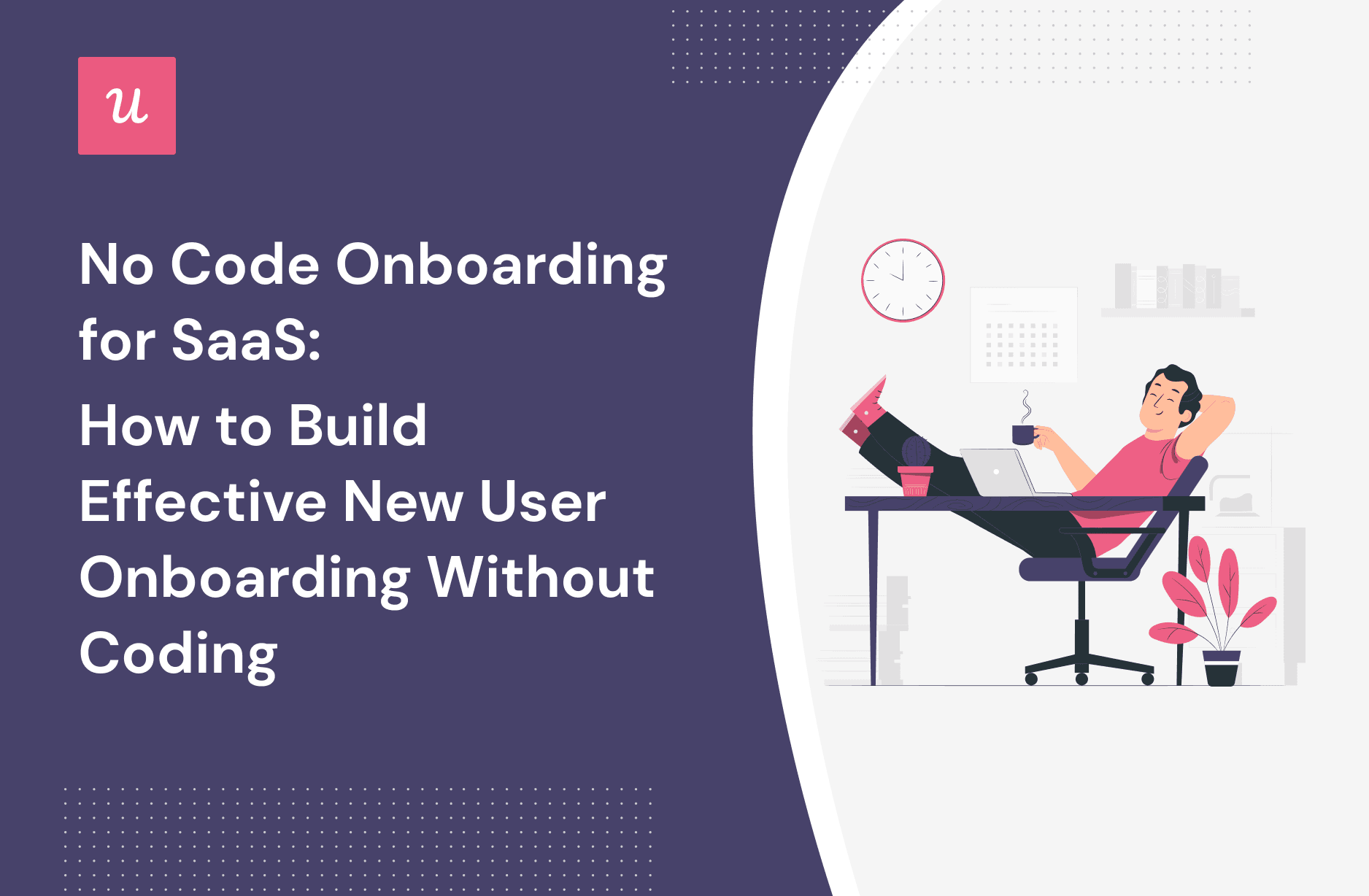 No-code onboarding is all about building product experiences that boost retention and adoption using no-code software solutions.
In this article, we'll cover:
What user onboarding is and how no-code tools make building flows faster and easier.
The six-step process for building your onboarding process.
The top three onboarding tools to help with onboarding automation.
Let's get started.
TL;DR
User onboarding is the process of showing new customers how to use your product with in-app guidance elements such as checklists, tooltips, and hotspots.
No-code onboarding is building the onboarding experience using tools that don't require coding.
Onboarding tools help improve your process because they make building and iterating on your onboarding flows faster.
With no-code tools, you can make changes in minutes and personalize the experience without needing a developer.
To build a SaaS onboarding flow, start by defining essential touchpoints in the customer journey. There are three stages in the onboarding user journey: primary onboarding, secondary onboarding, and tertiary onboarding.
Primary onboarding is for new users who've just signed up. They need guidance to reach AHA moments and become activated.
Secondary onboarding is for paid users who are ready to try secondary features. The goal is to retain them and improve product adoption.
Tertiary onboarding is for loyal customers who are ready to receive contextual upsells or cross-sells. You can also ask them for referrals or invite them to a loyalty program.
After mapping out the customer journey and its touchpoints, it's time to find opportunities to help new users experience AHA moments.
After defining these important milestones, it's time to segment users and set clear goals.
Segment your users based on their distinct onboarding phases so you can send the most relevant content at the right time.
The top three product onboarding tools are Userpilot, Appcues, and Userguiding.
Userpilot is the best no-code onboarding solution for web-based apps. You can build flows faster with advanced customization options. You can also create self-serve resources and track product usage metrics.
Appcues is the best onboarding tool for mobile apps, and Userguiding is the best low-cost option.
What is user onboarding?
User onboarding in SaaS is about guiding new customers on how to use the product and get value. It combines email campaigns with in-app guidance, such as product tours and interactive walkthroughs.
The point of user onboarding is to boost product adoption. It helps customers achieve value from the product faster so that they're more likely to stick around. If you have a free trial, successful onboarding helps you improve your free trial to paid conversion rate.
What is no code onboarding?
No-code onboarding is building an entire onboarding experience using tools without a single line of code. It usually involves building in-app experiences, such as modals, tooltips, and checklists using drag-and-drop builders.
Most companies prefer using no-code onboarding tools over making the onboarding experience in-house. It's easier, less expensive, and doesn't require a developer's help.
How can no-code user onboarding tools help improve your customer onboarding processes?
A no-code platform improves your onboarding customer experience by enabling you to build flows faster with easy personalization. It also helps you make changes on the fly and preview and launch onboarding flows directly in the tool.
Build onboarding flows faster
Instead of spending hours coding, a no-code solution allows you to build your onboarding flow in minutes.
Most no-code onboarding tools have drag-and-drop builders and templates for you to choose from.
For example, if you want to build an interactive walkthrough for your users, all you have to do is to use built-in UI elements (i.e tooltips) and edit them to match your native app theme. You can also drag and group different UI elements to make them part of your onboarding flow.
Make changes and A/B tests easier
There's no need to wait on a developer to change placement, size, text, or make other design or copy changes. You can easily edit any aspect to match native design themes.
You can also A/B test in just a few clicks. In Userpilot you can launch an A/B test on your onboarding flow based on a goal. For example, will adding a checklist help users get to the activation point faster? A control group won't see the experience, the rest will and Userpilot will measure which group has a higher goal conversion.
Personalize the in-app onboarding flow for each user
No-code tools also make it easy to personalize the in-app onboarding flow for all users. You can create segments and trigger experiences for different users across the user journey.
This makes the onboarding contextual and relevant for each user, boosting product adoption.
For example, you can target a feature discovery tooltip to only active users. This would only be relevant for someone who has reached the activation point and is an active user.
Preview and launch onboarding flows
No-code tools make previewing and launching onboarding flows simple. Without them, you usually have to use testing (or staging) environments to preview and test your flows.
Most no-code tools have visual builders so you can see how your flow looks step-by-step.
How to build a SaaS user onboarding process?
Building a SaaS user onboarding process is simple. Follow these simple six steps to build a flow that helps more customers reach activation.
1. Define important touch points in the onboarding process
The first step is to map out the important touch points in the onboarding process. The onboarding process is more effective when it's well-designed for users at different onboarding stages.
That's because you don't want to waste a user's time teaching them something they already know. Also, you don't want to overwhelm a new user with advanced training they're not ready for.
Onboarding can be divided into three stages: primary onboarding, secondary onboarding, and tertiary onboarding.
Primary onboarding happens when a new user signs up for the first time. Your main goals are to get them to experience AHA moments and reach activation.
During secondary onboarding, they're using a paid plan at this point. Your goal is to retain these customers and get them to try secondary features.
In the tertiary onboarding stage, customers are now advocates. Your goal is to upsell or cross-sell to boost customer lifetime value. You can also ask for reviews or ask them to join a loyalty program if you have one.
Map out your customer's journey so you can see the critical touchpoints for every stage they're in.
2. Identify opportunities to drive users to experience AHA moments
An AHA moment is a point where a user sees the product's potential for providing value. It can happen after they read a product description or watch an engaging video.
One of the goals of onboarding is to help customers experience AHA moments often which will prompt them to engage and ultimately experience value. The more a customer can see the value, the more likely they will be to stick around.
3. Determine the activation point
Now it's time to understand where your activation point is in your onboarding funnel. This is the key moment where users experience value from your product.
To do this, ask yourself which features they need to engage with to experience value and reach activation.
At Userpilot, we realized that users who install our Chrome extension, create a product experience, and then "preview it", are more likely to experience that first "AHA moment".
However, for us to consider a user to be "activated", he/she must install our JavaScript and deploy at least one experience live. This helps users experience value and increases the possibility of them becoming premium users.
Find out what your activation point is and map out the key steps users need to take to get there.
4. Segment your users into distinct onboarding phases
After you've defined your activation point, segment your users based on where they're at in the customer journey. You can do this by analyzing product usage data.
Kontentino uses a welcome screen to collect data from new users and uses this information to create user segments to personalize their in-app communication.
For users in the secondary and tertiary phases, you can segment based on in-app behavior and/or user sentiment. A social media scheduling platform could segment customers by factors like: did they schedule a post or add their social media accounts?
5. Set goals to track where users are on their onboarding journey
After segmentation, design goals for each onboarding phase.
SaaS teams need clear goals to understand when users reach specific milestones and objectives. For example, you could track how many new users connect to an account.
When you track in-app goals, you can see if users are successfully reaching important product milestones.
If completion is low, you can help increase it by adding more in-app guidance or updating your UI. If completion is high, you know to double down on what's working well.
6. Create an interactive walkthrough for each user segment
Now that your product goals are set, build interactive onboarding walkthroughs for each user segment. Show the step-by-step actions users should take to reach activation.
You can use a mix of checklists, modals, tooltips, and other UI patterns to educate users.
For example, start by driving new users to the activation point by triggering a primary feature walkthrough. This shows them the main features they should begin with to get value.
7. A/B test and iterate your onboarding processes
A/B test and iterate your onboarding processes until your onboarding metrics are where you want them to be.
Onboarding is not a set-it-and-forget-it approach.
With Userpilot, you can A/B test to see if in-app guidance helps users reach a product milestone. For example, can a tooltip help users discover and engage with a new feature? Run an experiment to see.
Best user onboarding software for building no-code onboarding flows
Choosing the right user onboarding platform is one of your most important decisions in SaaS. Look for a tool that has automation, customization and an easy set-up.
Here are the top three no-code onboarding solutions we recommend based on your needs and budget: Userpilot, Appcues, or Userguiding.
Userpilot: best no-code onboarding solution for web-based apps
Userpilot is an all-in-one onboarding tool with a no-code builder. It focuses on helping SaaS teams boost product adoption.
It's the best option for teams who want to build personalized and flexible in-app experiences for their web-based apps.
You can create models, slideouts, banners, tooltips, hotspots, and checklists with just a few clicks.
It also has the most powerful analytics features compared to Appcues or Userguiding which only offers basic data analytics.
Tracking product goals and user behavior is a crucial first step to improving the user experience. You can easily understand who engages with the product and how. That way, you can maximize growth by making data-informed product changes.
With advanced segmentation, you can trigger different onboarding flows to different user segments. Segmentation can be based on multiple factors such as jobs to be done, company size, in-app behavior, and more.
On top of building in-app onboarding experiences without coding, you can build an in-app self-service resource center and trigger in-app guides, add educational materials, and let users search your knowledge base without leaving the app.
Appcues: best no-code onboarding solution for mobile apps
Appcues is another digital onboarding tool that requires no coding knowledge. You can track app usage, build onboarding flows, and create surveys.
It's the best option if you want to increase app activation and adoption for your native mobile apps.
While Appcues does offer an onboarding solution for web-based apps too, their web-based pricing is more expensive than Userpilot and Userguiding and offers less value (features are limited on starting plans).
All in all, Appcues is the best no-code option for mobile apps. It's not an excellent platform for web apps in terms of values and features compared to Userpilot.
Userguiding: best low-cost no-code onboarding solutions
Userguiding is the best budget-friendly onboarding platform. While it has limited features, it's a good solution for new or small companies who want a low-cost solution.
With Userguiding, you can build no-code product walkthroughs with a drag-and-drop builder, create onboarding checklists, and add personality with video, emojis, images, and GIFs.
If all you're looking for is an easy and affordable way to build simple onboarding flows, this could be a great choice for you. However, if you expect more analytics, customization (including no Userpilot branding), or complex integrations, you should probably look elsewhere.
Conclusion
Product onboarding is crucial to improve product adoption and retention in SaaS. No-code tools make the building process easier and faster. Stop relying on developers to build in-house solutions that take weeks or months to finish.
Want to build product experiences code-free? Book a demo with our team to get started!