8 Ways to Provide After-Hours Support in SaaS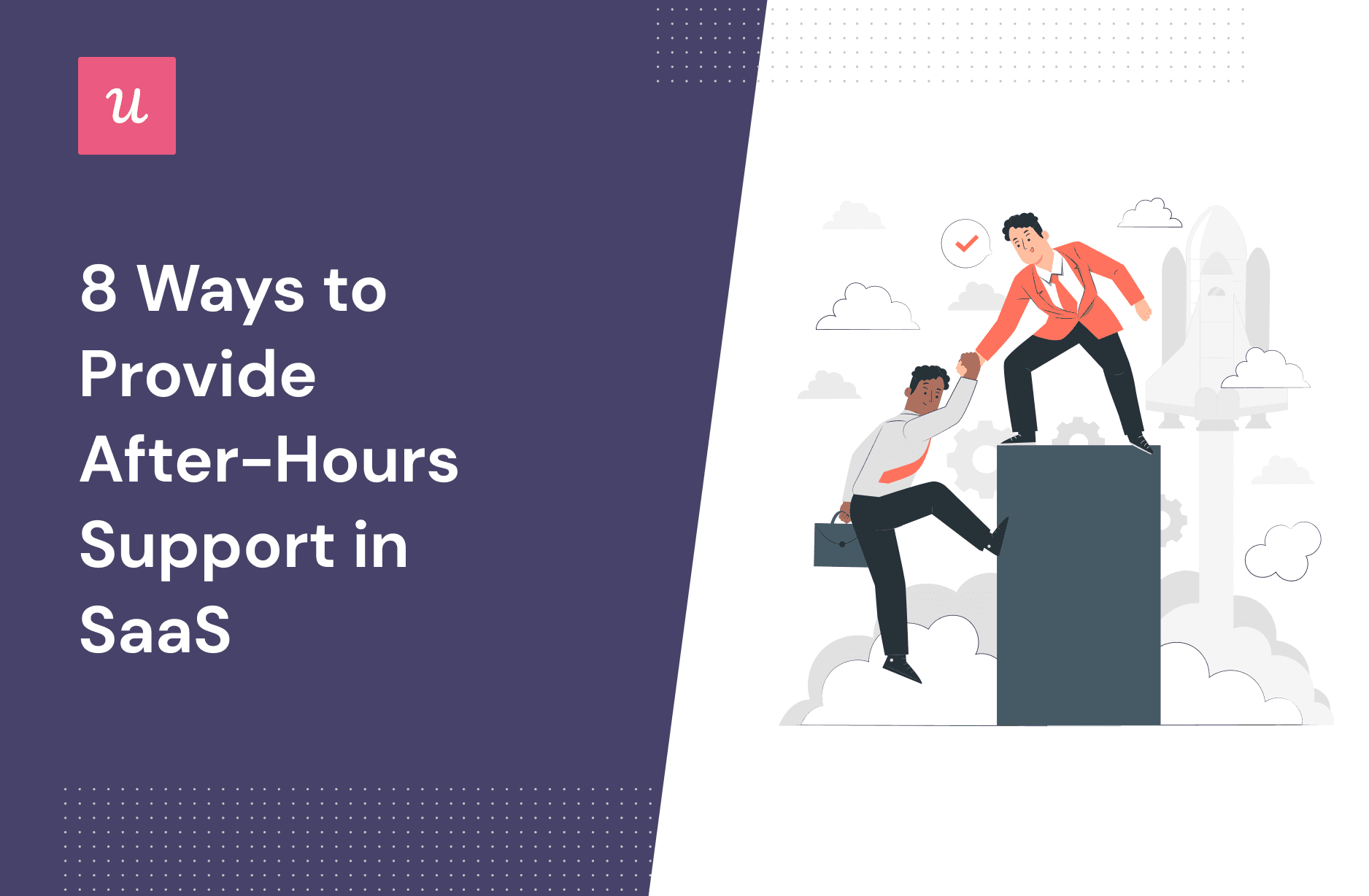 When your customers have a question, they expect a fast response. After-hours support in the form of self-service content can help your SaaS improve customer satisfaction.
In this article, we cover:
What after-hours support is and why you should offer it.
7 easy ways to provide after-hours support without breaking the bank.
How a tool like Userpilot can help you build self-service support resources, code-free.
Let's get started.
TLDR;
After-hours support is customer support provided outside of normal business hours, such as at night, during the weekend, or during holidays.
You should offer after-hours customer support so that you can stay connected with customers 24/7, improving their customer experience. After-hours support also sets you apart from competitors, allows you to reach global markets, and helps you build a positive brand reputation.
To provide after-hours support, start by building a self-service knowledge base. This is a resource center customers can turn to on-demand to view helpful content like guides, how-to videos, and tutorials.
Video tutorials are another excellent way to provide after-hours support – customers can see how to resolve their issues and follow along with the instructions in the video.
Automate support with contextual in-app support. You can use a tool like Userpilot to build modals, tooltips, and hotspots that provide product support when needed.
Add an offline chat option to reach customers when your live chat agents are finished for the day. An offline chat function includes a contact form where customers can leave their questions and contact information. A support agent can get back to them in the next business day.
AI chatbots are another helpful tool to not only ease the burden on your support team but also to give support around the clock. While they can't help with complicated issues, they're a great resource for most customer queries.
Encourage your customers to help each other by creating a digital community. For example, create a Facebook group where customers can ask questions any time of day and fellow members respond.
Offering after-hours support means hiring more people to answer questions, day and night. To save costs and resources, you can consider outsourcing your customer support team to a company specializing in 24/7 customer service.
Userpilot helps you provide after-hours support with its powerful knowledge base functionalities, in-app experience builders, and more.
What is after-hours support?
After-hours support is customer support given outside of regular business hours – such as on nights, weekends, and holidays.
Why should you offer after-hours customer support?
Here are four reasons why your support team should offer after-hours customer support:
After-hours customer service sets you apart from competitors
Only 54% of companies offer after-hours support.
That means providing customer support outside of normal business hours gives you a competitive advantage over other businesses.
Since 24/7 customer support improves customer experience, you're more likely to win business over competitors.
Empowers you to reach global markets
When online businesses expand globally, revenue goes up. By providing after-hours customer service, you can reach people in different time zones.
You will also be more attractive to nationwide and global markets when help is available in any time zone.
Improve customer satisfaction
When customers reach out to your support team, it already means that something went wrong. Further delays in getting answers will make things worse.
If you can give quick fixes day and night when problems happen, that will boost customer satisfaction.
Establish a strong brand reputation
Providing after-hours customer support helps improve your brand's reputation – if you give a consistent support experience all the time, word will spread.
Customers who had a positive experience with your brand will leave positive reviews and recommend you to others.
8 ways to provide after-hours customer support
Setting up after-hours support is easier than it sounds. Here are seven ways to provide support outside of regular business hours:
Offer after-hours support through a self-serve knowledge base
A knowledge base is the cheapest way to provide after-hours support. It's a one-stop resource of helpful content that can guide customers on how to fix their own issues.
When you have a good knowledge base, it eliminates the chance of customers reaching out to your customer support team in the first place. They'll only reach out for critical issues they can't fix themselves.
Once it's created, it's easy to maintain and there is no risk of employee burnout. Besides, 60% of customers prefer self-service anyway.
Here are some examples of resources you can embed in a self-serve knowledge base:
Product documentation articles
Case studies
Webinar recordings
Create pre-recorded video tutorials for common issues
Video tutorials are an engaging and effective way to show customers how to do something. Since they can actually see the process in action rather than just read about it, they'll understand better.
First, assess the most common support requests your team gets. Then, create how-to videos that walk people through troubleshooting those.
You can then embed your video tutorials directly in your knowledge base for easy access. Not only that, you can host them on YouTube for easy searching, share them in support ticket responses, and use them in your product marketing campaigns.
Automate in-product support
Automated support is available whenever, wherever – including after hours. Since it runs on its own, you don't need to have any customer service reps online. To do this, provide contextual in-app support with UI elements like modals, tooltips, and checklists.
You can set event-based triggers to launch those patterns automatically. For example, if the user clicked on a feature, but didn't manage to get their job done with it, you can highlight a sequence of tooltips to guide them through completing their action.
This ensures customers are staying on track while using your product. It reduces friction and improves the customer experience.
Provide after-hours support with interactive feature walkthroughs
If a user needs help with a specific feature, you can support them through the process of using it with interactive guides.
Once you create the step-by-step interactive guides, you can enable the user to launch them by clicking on the feature or simply embed those resources into the resource center users can access on demand.
Although the support you can provide with walkthroughs is limited to feature use cases, it still helps you to address a portion of support requests.
Leverage AI chatbots
Chatbots are one of the most popular customer service automation methods. That being said, they can't handle critical or complex issues – but they can provide quick answers to users 24/7 (and save your team time).
Chatbots can book meetings with customer success reps, direct customers to the relevant self-help resource, and more. They can also answer simple questions that would otherwise take up valuable time if your customer support team had to answer them.
Add an offline chat function
Live chat is nice to have when you want to give customers on-demand personalized assistance. But, unless you hire people to manage the chat around the clock, you won't reach people after hours or in different time zones.
That's where an offline chat function comes in. If the help desk is closed for the day, they still have the option to leave their questions and contact details so someone can answer the next business day.
Customers don't feel as frustrated since they don't have to remember to come back during business hours. They know their question is in the queue and will be answered soon.
Build digital communities to encourage peer-to-peer support
Empower your customers to help each other. Create digital communities where they can ask questions and learn from each other.
If you don't the resources to build your own community platform on your site, you can create a group on LinkedIn or Facebook. Most of your customers will have an account on one or both platforms, making it easy to access and engage.
Fuel discussions in the community with Q&As, polls, and helpful content. Have someone on your team monitor the group, start conversations, and engage with posts.
For example, we have a Facebook group for product people to discuss product marketing and growth.
Hire more people or outsource
Providing after-hours customer support can be costly – you're paying for support reps to be online during business hours and after hours. That means you have to hire and pay more people to watch the phones, email inbox, and live chat.
To save on costs and resources, you can try outsourcing your support to a company specializing in around-the-clock customer service. They're highly trained in providing support 24/7.
How can Userpilot help you to provide after-hours customer support?
Userpilot helps you deliver contextual in-app experiences that add value for users. You can craft those experiences using modals, banners, hotspots, and in-app videos.
It also has powerful knowledge base functionalities so you can offer self-service support available 24/7. You can create modules and group content by features, use cases, and more.
You can play video tutorials from within the resource center without having to take the user to another environment. Plus, you can localize the knowledge base content to cater better to users' needs, so help is available in their own language.
Conclusion
After-hours customer support is one of the easiest ways to quickly boost customer satisfaction. When you can be there for your customers around the clock, you stand out from competitors and give customers a reason to leave a positive review.
Want to get started with providing after-hours support? Get a Userpilot Demo and see how you can build knowledge bases and in-app product experiences that are there for your customers 24/7.