How to Use In-app Help to Improve Customer Onboarding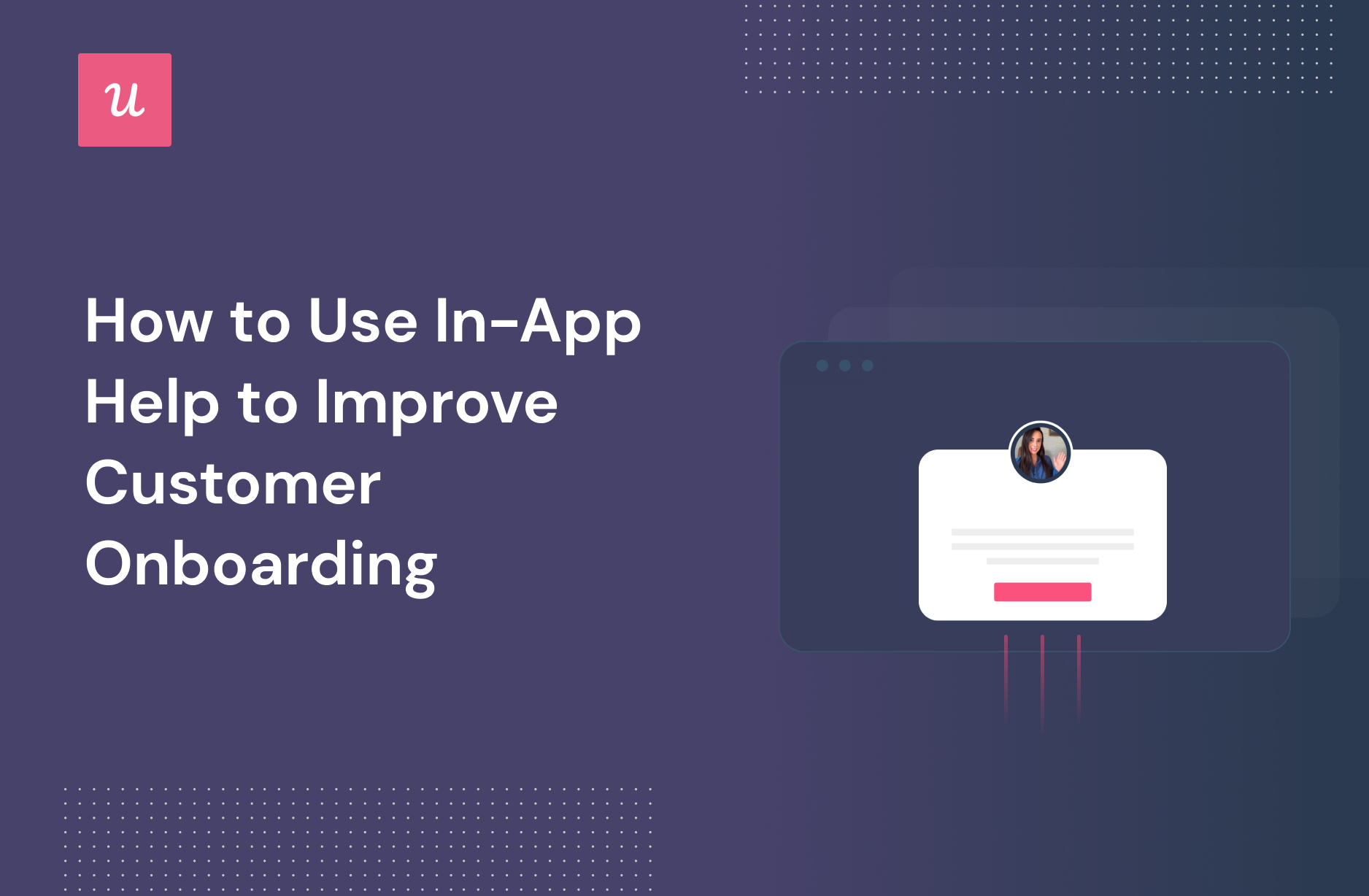 A smooth customer onboarding process is key for any SaaS company, and in-app help can be a real game-changer.
A well-designed in-app help center will help users to get instant answers to common support questions thus enhancing and simplifying the onboarding process.
In today's post, we'll explore how in-app help can help you improve customer onboarding.
Let's get started!
TL;DR
As its name suggests, in-app help is a form of contextual help that's provided directly within the app.
In-app help and in-app support are slightly different. The first one provides tips, and guides throughout the entire customer journey, and the latter one focuses on self-service and on-demand help.
In-app help includes a button to access support and chat, a help center and knowledge base hub, tooltips to announce new features, hotspots to grab users' attention, as well as checklists to drive users to the activation point.
In-app help is an effective way for customer onboarding, and it has a lot of benefits.
It helps you reduce the workload on your customer service team, improve the in-app support experience, boost customer satisfaction and drive adoption.
Userpilot is a code-free tool that allows you to create in-app help centers and provide self-service support with an easy and quick setup.
What is in-app help?
In-app help is a form of contextual help that's offered within the app. Whenever a user needs additional information on a certain topic, they can access help documentation directly inside the app.
What is in-app support?
As its name implies, in-app support is a form of customer service that can be accessed right in the app. There is no need to switch between tools. Everything is done through one interface. As a result, users find it intuitive and it boosts engagement.
It is possible to provide this kind of support by integrating a chat SDK into your application. In brief, you take ready-made development documents, read a few simple instructions, and then your system becomes chat-enabled. In-app support gives you the ability to better serve your customers.
Since support can be accessed within the app, users will not have to leave. Mobile app users may find this feature particularly useful. They would encounter friction if they had to leave the app to find your support team.
Customers can browse support articles through the help button on the app through in-app support. To obtain further assistance, a ticket is filed with a support agent.
Why is in-app support important for improving customer onboarding?
SaaS products are increasingly adopting self-service support, as users don't want to wait for support. They want fast answers. This is why in-app help and support are so important.
But apart from that, in-app support has a variety of benefits. Let's take a look at some of them.
In-app helps reduce the workload on your customer service team
By adding AI-enabled bots and automation into the mix, in-app support helps customer service organizations promote brand consistency, keep their agents up-to-date, and even reduce support costs.
In-app help improves the in-app support experience
Making it easier for users to contact you through your app enhances their experience. In-app support provides a familiar interface for customers who are already accustomed to using your app.
As a result, the overall product experience becomes better with the right help when the user needs it.
In-app help improves customer satisfaction and drives adoption
Use short messages to encourage users to engage with your product and increase adoption.
A successful outcome depends on whether your messages help your customers experience value. You can combine multiple types of in-app messages to offer guidance within your software. Effective in-app marketing relies on guidance.
In-app help vs in-app support?
Unlike in-app support, in-app help refers to the entire user experience and proactive tips, hints, and guidance that you provide as part of it. In-app support is more focused on self-service and on-demand help through chatbots, knowledge bases, and the in-app resource centers.
How to take care of in-app support?
A user must have access to the app in order to receive support within the application. A customer must then be able to reach the support team. Having a user-friendly interface is essential. Avoid switching the user to a different browser or channel, and assist them within the application instead.
What does the in-app help include?
In-app help lets your customers communicate with your customer service team through a familiar messaging interface that mimics the way they communicate across multiple channels.
Now let's see what in-app help includes.
In-app help button to access support and chat
A help desk widget or help center widget integrates your knowledge base and documentation with your product.
Your help desk or help center can be used to support your users, so they don't have to open another tab every time they need assistance.
Help center widgets generally work the same. You should include a help button to access support and chats.
Depending on your UI, that button might appear in a menu or be a dedicated tool. This will largely depend on the frequency with which users will need assistance. Make sure the system is also as accessible as possible.
Users can access the widget by clicking the button. The widget will cover part of the screen, overlaying your product.
Afterward, they can browse your help documentation to find the guidance they require and use it to solve their problems.
In-app support help center and knowledge base hub
A help center is a self-service support feature in apps that helps users resolve common issues. The difference between help centers and knowledge bases is that the former is part of your website, whereas the latter lives within your app.
There are several resources that you can include in your help center. The list includes knowledge bases, a support chat shortcut, a quick way to report bugs or open support tickets, and any other integrations you think would be useful to users.
In-app guidance tooltips to announce new features
Onboarding tooltips are contextual popups that describe product features contextually. Most often, they are used for interactive product tours and walkthroughs.
Tooltips can also be used to announce newly released or updated features, run interactive guides, trigger in-app contextual help to enable self-service, or prompt upsells.
In-app hotspots to prompt users' attention to interact with the UI
UI hotspots provide contextual pointers toward a specific part of your UI via blinking patterns. These can be used to point to different elements on a page or a particular part of the UI.
During onboarding, hotspots are typically created to direct user attention to a certain action.
Utilizing various engaging UI patterns (hotspots, slide-outs) can help you captivate users and direct their attention to the most relevant areas of the onboarding flow.
Hotspots and tooltips can be combined to draw attention (hotspot) and explain (tooltip). Check out Airtable for an example.
Hotspots can be easily created with an onboarding tool like Userpilot. Add the hotspot to the element you want to attach to, and then customize the appearance.
In-app help-driven actions to guide users step by step
The interactive walkthrough shows users how to use a product step-by-step through a series of driven actions. In comparison to linear tours, interactive tours are far superior because they are tailored to the user's actions! They are used to onboard new users, highlight secondary features, and train new employees.
A good interactive walkthrough can have an impact on just about every SaaS metric, including activation, retention, engagement, adoption, and time to value. When planning a walkthrough, begin with a welcome screen that segments your users, then take them through the key steps.
In-app checklist to introduce users to the main functionality of the app
Onboarding checklists can make all the difference when it comes to getting SaaS users to the activation point. When a SaaS user begins using a new product, an onboarding checklist guides him or her through the process by specifying tasks or steps to follow.
To increase users' awareness of the activation point, you can utilize the Zeigarnik effect. It is a psychological phenomenon describing a tendency to remember interrupted or incomplete tasks or events more easily than tasks that have been completed.
Software for implementing in-app help and self-service support in SaaS
You can drive growth by engaging users in-app with more than just guides with the right software tool.
Guide new users through adopting key features with various kinds of UI patterns: modals, hotspots, tooltips, checklists, etc. And Userpilot is the all-in-one tool for doing all of these.
With its Chrome Extension builder, you can easily create the right customer experience and offer relevant help to each user, based on their needs.
Make sure your message reaches the right users with advanced segmentation.
And offer on-demand self-service help by building a resource center right inside the app so that users can access it when they need support.
Conclusion
In-app help is crucial for providing a positive onboarding process and making customers think that they have made the right choice.
In-app help contains a lot of components that you can use for different cases: tooltips, checklists, hotspots, etc.
Want to provide in-app help to your users and improve customer onboarding? All of this code-free? Then book a free demo call with us to get started!