12 Best Practices For Managing The End To End Customer Experience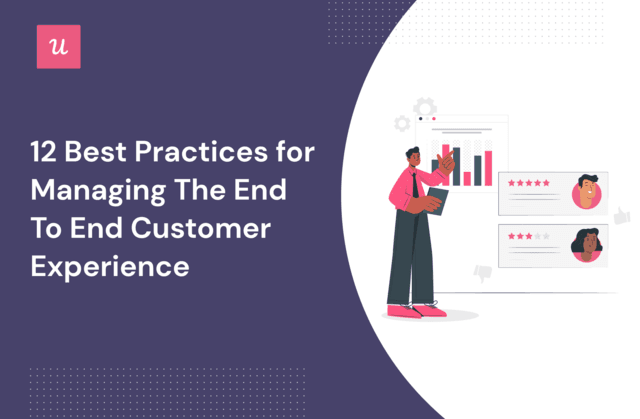 What does it take to provide a great end-to-end customer experience?
There is no simple answer to this question. However, there are a number of trusted techniques that you can use to continuously analyze and improve the user experience.
In this article, we have covered 12 best practices for managing the end-to-end customer experience.
TL;DR
End-to-end customer experience refers to all the interactions between the user and the business throughout the relationship.
There are significant benefits to a good customer experience. It gives you competitive advantages, promotes loyalty and helps you retain customers.
Here are some of the best practices for managing customer experience –
– Identify the friction points across various touchpoints through customer journey mapping.
– Make the sign-up flow frictionless and get your users inside the app as soon as possible.
– Greet users with welcome screens, introduce them to the product and the next steps they need to take to progress through the customer journey.
– Customers expect you to treat them as individuals with their special needs and wants. Personalize the onboarding process based on jobs to be done and trigger relevant experience for each user segment.
– Implement checklists to drive users to their activation points and to make users experience value.
– Don't stop after activating users and continuously drive value by expanding the use cases of your product with secondary onboarding and advanced feature discovery.
– Use interactive walkthroughs to guide users through each step of the customer journey.
– Use gamification to celebrate customer milestones and give your customer a dose of dopamine which they'll keep coming back for.
– Don't leave empty states, they are harmful to the user experience. Instead, fill empty states with meaningful content which helps users to learn how to use your product.
– Provide 24/7 customer support with self-service support. Self-service support is contextual and timely which helps you to improve user experience. To provide self-support, you need to create a resource center consisting of multiple resources (eg. micro-videos, knowledge base articles and webinars).
– Analyze product usage with feature and goal tracking to determine the areas for improvement, find out which features need more engagement and drive engagement for them by triggering different in-app experiences.
– Collect user feedback throughout the customer journey, analyze it, act on it and close the feedback loop.
What is end-to-end customer experience?
The end-to-end customer experience is the set of interactions between a company and its customers over the course of their relationship. The ultimate objective of end-to-end customer experience is to deliver a great user experience to every customer across all devices, channels and touchpoints during the customer journey.
Why should you focus on the end-to-end customer experience when designing products?
Customer experience is what makes a good product exceptional. Users should be at the heart of everything product-led companies do and their comfort must be the top priority for every SaaS business.
Good customer experience drives user retention and promotes customer loyalty. If you fail to deliver a pleasant UX at any stage of the user journey, your relationship will not progress into the next step, and your customers will churn.
If you focus only on the acquisition stage and abandon the users once they've signed up for a trial, they simply won't convert into paying customers.
Don't neglect users once they become paying customers either, the market is competitive and they may switch to a competitor if they aren't satisfied.
Besides, you'll miss out on account expansion opportunities and increasing MRR. Your business grows as your customers grow and the end-to-end experience is what's fueling the growth.
Best strategies to create an end-to-end customer experience
In this section, let's discuss the best strategies for designing the end-to-end customer experience.
Identify and remove friction points across the customer journey
Map the customer journey and list all the touchpoints across it. Then, collect quantitative and qualitative data and analyze it. At the end of the process, you'll be able to identify where customers churn most and optimize the processes for a better customer experience.
Create frictionless signbup flows to keep customers motivated
The first interaction with your product starts at sign-up and it's important that you make it as easy as possible for users to get into the product.
Making users fill out long forms, verifying their email, and asking for upfront payment slows down the sign-up process and even risks abandonment.
Take a look at Airtable's signup flow. The signup form has a single sign-on feature, which allows users to complete the registration within seconds and proceed to experience value.
Use welcome screens to prompt users to take action
Welcome pages are used to make a good first impression and set a friendly tone with the user after they've signed up. Welcome screens draw the users' attention, remind them of the value users signed up for and encourage them to engage with the product.
You can create welcome pages with modals using tools like Userpilot. There are some best practices for designing welcome pages, including personalizing the message, featuring a picture of your team member to humanize the page, and highlighting the next steps.
Here's how Konteninto designs its welcome screens: it utilized all the best practices discussed above and also added a CTA button to further eliminate confusion.
Personalize the onboarding based on needs
Different users have different business goals that they are looking to achieve using your product. It's important to be mindful of their individual needs and skills when onboarding them.
Segment your users into different cohorts according to their jobs-to-be-done, and then deliver a personalized onboarding flow to each cohort. Personalized onboarding leads to high rates of customer satisfaction which naturally results in higher retention.
Here's how Canva collects data at signup and personalizes the whole user experience right from the start. Canva segments users according to their roles and recommends designs and templates accordingly. It wouldn't make sense to recommend resume templates to non-profits and charities, right?
Use checklists to get users to experience value
An onboarding checklist is a series of steps that guides users to the activation point.
Users won't experience value if they don't engage with the product, so having a checklist that prompts users to engage with key features of the product is crucial.
Checklists also work great because of the Zeigarnik Effect – a user psychology principle that roots in the human tendency to remember uncompleted tasks and feel compelled to complete them.
Here's how Growthmentor breaks down the onboarding process into simpler steps with a checklist.
Drive feature discovery with secondary onboarding
Onboarding isn't a one-time process, you should keep onboarding users throughout the stages of the customer journey.
Once users experience the value of the product and are activated, you need to provide extra value through a continuous onboarding experience.
Secondary onboarding helps users to discover advanced features and get more value from the product.
You can use contextual in-app experiences such as tooltips to onboard your activated users onto your secondary features and turn them into power users.
Reduce friction with interactive walkthroughs
An interactive walkthrough refers to a step-by-step guide showing users how to use the product.
Interactive walkthroughs are contextual and timely and eliminate confusion the user might have around the product.
Here's an example from one of our favorite tools, Rockebites. After triggering an onboarding checklist and telling users what to do, Rockbites goes the extra mile and shows users how to do the tasks included in the checklist.
Use gamification to celebrate customer success
Acknowledging and celebrating customer success makes your customers experience a sense of satisfaction and self-fulfillment. These positive emotions drastically improve their customer experience.
You can celebrate customer milestones with gamification. Gamification adds a fun element to the customer experience and drives repeated engagement.
Take Asana for example. Asana shows a colorful unicorn animation whenever a user completes a task, which encourages users to engage more with the product and complete more tasks in order to see the magical creature again.
Fill empty states with meaningful content
Empty states are what you see when you sign up for a product and don't have enough data to illustrate.
Empty states require more activation energy than pages with content. This can slow down the onboarding process and cause churn in your user base.
You can use empty states to showcase your product and its functions or point your customers toward educational resources around your product.
Notion uses the empty screen quite effectively. They list down the steps on how users can start using Notion, along with a video tutorial. It becomes super easy for users to get started, with the step-by-step guides available on the same page where they need to implement the task.
Provide 24/7 customer support with self-service
As your customer base grows, it becomes difficult to excel in customer support and service. Your customer support agents may be overwhelmed with too many and probably repetitive questions. On the other hand, your customers will get frustrated because of long wait times.
This is where self-service will come in handy. Self-service is contextual and timely as users can get the help they need when they need it the most.
Moreover, creating self-help educational resources also helps you to drive adoption. The better a user understands your product, the more likely they are to be able to achieve their goals and be satisfied with the product.
When creating a resource center, make sure to include multiple formats of resources such as product documentation, video tutorials, webinars, FAQs and many more.
Analyze product usage and improve feature engagement
Understanding how users interact with your product is essential if you want to improve the customer experience. Are your users engaging with your products' key features that they need to get value? Which features are getting the most and the least engagement? Where do users get stuck with your product and are unable to move to the next step? You can find the answers to these questions by using product usage analytics.
There are 2 main types of tracking product usage: goal tracking and feature usage tracking. Let's look into feature tagging and tracking further.
With a tool like Userpilot, you can tag features and track feature engagement. The collected data will help you identify the features that need more user engagement. Then you can use different strategies and in-app prompts to drive engagement and adoption of the neglected features
Continuously collect customer feedback and close the feedback loop
Customer feedback helps you keep your product relevant to users, and makes users feel important and heard. This increases customer satisfaction and loyalty. And most importantly it helps you find new ideas for continuous improvement.
You can get feedback from your users by setting up in-app customer satisfaction surveys such as CES and NPS. Alternatively, you can contact them via email and ask them about their experience.
The next step is following up on the provided feedback with automated messages and showing the customer that you appreciate their time and efforts.
The most important step is analyzing the feedback and drawing actionable insights from the collected data. Determine customer pain points, see if there are any common patterns that have a negative effect on customer experience and understand what your loyal customer loves about your product.
After analyzing the data, it's then time to make the changes the customers have asked for.
Keep the users in the loop and update them on the progress. If they asked for a new feature, let them know if it's on the roadmap or notify them when it launches. If they reported a bug, let them know it has been fixed. This is an important final step in closing the feedback loop.
Conclusion
Creating a great product and stepping aside isn't the way to go if you want to retain your users and drive product growth. It's important to ensure that your customers have a seamless user experience across all the touchpoints of the user journey.
Book a Userpilot demo today and see how we can help you to create an end-to-end customer experience without a single line of code.