14 Best Signup Page Examples: Understanding the Anatomy of Signup UI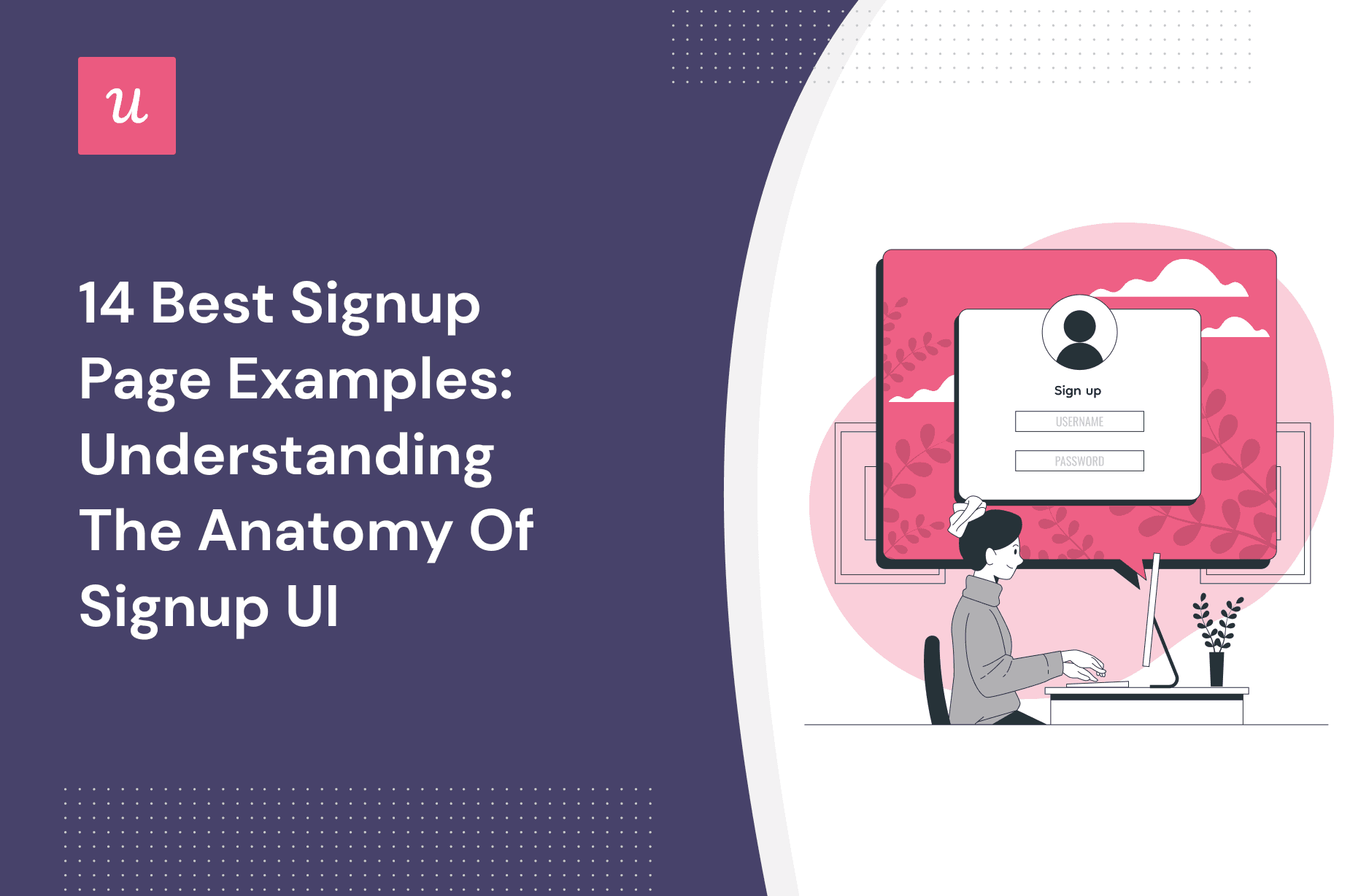 The signup page is a crucial part of trying to convince visitors to try your software out. As such, having a great signup form is paramount if you're trying to maximize the conversion rate on your landing pages.
After all, a single landing page could very well mark the difference between hordes of signups and sluggish growth. The last thing you want is to spend time and money driving traffic toward your website only for them to get stuck at signup.
In the big picture, streamlining your signup forms and page interface is often a high-ROI undertaking worth pursuing. This article will take you through 14 brilliant sign up page examples that you can draw inspiration from when creating your own compelling page!
TL;DR
A signup form is the first impression that your brand has on visitors, users, and customers, which is why it should start the user journey off with a positive experience.
Every good signup form or page should include a good headline, compelling copy, complementary media, and a clear CTA button.
Your signup form should either have "good friction" or do away with friction altogether to ensure that visitors make it to the end of the account creation process.
Why is your signup page important?
Signup pages are the first touchpoint that your company has with new customers and the first impression that your brand will make. As such, the user experience needs to be optimized to avoid hindering conversion rates. This single page will also set the tone for the rest of the onboarding flow and wider user journey.
What should be on a signup page?
While landing page design will vary from one SaaS company to the next, there are a few key elements that you'll find on the majority of signup pages. The most common ones that you'll see on SaaS signup pages are:
Headline. A strong headline is the first step towards getting website visitors to view the rest of your signup page. As such, your headline needs to be compelling and to the point so your target audience doesn't click off.
Copy. Having compelling copy is the key to making visitors read through your signup page. This is especially true for your above-the-fold microcopy that, along with the headline, will determine whether or not the prospect decides to scroll down.
Media. No landing page would be complete without media elements like user interface screenshots, detailed graphics, explainer animations, and tutorial microvideos that help prospective users learn more about the product.
CTA. A clear call-to-action telling your target audience what to do after the registration page is imperative so your website visitors know what the next logical step is. Your call-to-action button should also use contrasting colors to ensure it stands out.
Friction-based vs. frictionless signup
Friction is the bane of any signup page, as it can turn even an excellent registration page into a chore for potential users. There are a few things that will determine how much friction is present in your sign up page design, including:
The number of steps
The number of fields
Requirements (e.g., email verification or credit card information)
It's important to remember that there's no right or wrong when it comes to how much friction you incorporate into your landing pages. Good signup page design is about understanding which level of friction will be the best fit for your company and its prospective customers.
Both friction-based and frictionless landing page approaches have their own merits. Frictionless landing pages have fewer steps and thus make it easier for prospects to reach the call-to-action and convert into activated users.
On the other hand, friction-based signup flows utilize "good friction" in the form of a more personalized experience and additional guidance for prospects to increase the conversion rate. It may take longer to reach the call to action, but engaged prospects are more likely to click it and follow through with the entire process.
Top 14 signup page examples in SaaS
Signup page design is as much an art as it is a science, which is why looking at signup form examples is one of the best ways to learn about the craft. Let's take a look at how 14 top SaaS companies turn potential customers into converted sign ups.
1. Userpilot
Userpilot's signup page design philosophy is all about "more is less." We limit the number of fields and only ask for essential information before moving on to email verification. We also mention the password character limit to reduce friction and prevent user error.
You will also notice a large CTA button that ensures the desired action stands out on all registration pages. In addition, we have testimonials accompanying our sign up form field to serve as social proof and enable faster value realization for incoming users.
2. Google
Creating a Gmail account is the first step towards using Google's suite of tools like Docs, Sheets, and the cloud-storage platform Drive. Since Gmail account creation is the gateway to the entire Google Workspace ecosystem, it's no surprise that its signup page has been perfected.
The signup form for Gmail abides by Hick's law with its minimal design, plenty of white space, and absence of potentially distracting elements. This is especially advantageous for entrepreneurs in a rush to set up their Google Workspace business accounts.
3. OpenAI ChatGPT
ChatGPT has one of the simplest signup forms on the internet since you can create your free account by just entering your email address. Phone verification is required after the signup form is submitted, but that's not an unreasonable amount of user friction.
Users can also take shortcuts during the signup process by logging in with their Google or Microsoft accounts instead. These integrations can improve the activation rate amongst new users.
4. Leadinfo
Leadinfo uses very simple signup forms to onboard new users. The company's signup forms also display clear error messages whenever a form field is overlooked or incorrectly filled out. The heading itself mentions the 14-day free trial to assure visitors that they won't be charged.
The entire page uses simple copy to ensure that the whole page makes sense to visitors who land on it. In line with keeping anything that could confuse visitors to a bare minimum, Leadinfo has their social proof on the left side of the page while the signup form is on the right.
5. Asana
The project management software Asana utilizes very simple signup forms to ensure that the entire onboarding journey is as frictionless as possible for new users. Additional steps in the onboarding flow are carried out through in-app guidance and email sequences.
Their signup pages also have a lot of white space to keep the main focus on the benefit-oriented headline and CTA button. You won't find any flashy colors or eye-catching design elements that could distract users.
In fact, the headline emphasizes and tells users about only three core benefits in a horizontal line — to keep the helpful copy as compact as possible. This is an excellent example of how a value-based signup form can still be concise.
6. Typeform
The Typeform sign-up form is designed to be as intuitive as possible. It starts by giving users the option to log in with their Google or Microsoft account. This makes more sense since, when the user clicks on their account of choice, they've already reduced the signup time.
This a no-brainer since most people already have a Google or Microsoft account — so you're able to get the majority of visitors to the next page that much sooner. The signup form also offers an email option and password field for those who don't want to link other accounts.
Typeform also uses images to break up any placeholder text in its signup form and make the registration process more engaging. This also gives the company a chance to showcase its product in action in an eye-catching manner even before users have ticked all the boxes.
7. Salesforce
At first glance, it's clear that Salesforce's signup form appears more complex than the other examples on this list. It has more form fields, but that's to be expected since the Salesforce platform itself is more complex than other software solutions.
Still, its heavier-handed UI is a great example of how helpful content can incorporate customer education into a free trial signup flow — without making website visitors go through multiple steps or start scrolling past information.
The benefit bullet points also give new customers a quick recap of the product and what they'll gain with their subscription. The home page also has a chatbot and contact number that users can call, ensuring that prospects are always able to reach support.
While Salesforce might benefit from a shorter form, the progress bar certainly makes the nine-question process more bearable.
8. Monday
Monday's signup page design is quite straightforward, with minimal text, a single form field, not a single pop-up, and alternative sign-up options like logging in through a Google account. The signup form also reminds visitors that it's free and doesn't require a credit card.
You won't find any superfluous form fields or additional steps on Monday's signup page. All illustrations are on the right side of the page to ensure that users aren't distracted from their account creation as well.
9. Mailchimp
Mailchimp knows that driving traffic to a signup form is only the first step of the onboarding process. To speed things up, Mailchimp recommends that users select their email as a username.
The signup form also features a list of DOs and DONTs to help new users create a secure password. The "Show" icon even lets users double-check the password they've entered — which is a lower-friction alternative to having a "Confirm Password" field.
10. PayPal
PayPal has a multi-step signup form, but every screen focuses on a single action to avoid overwhelming website visitors. The form fields also focus on security-related information like email and mobile verification.
Seeing as PayPal is a financial app, it's expected that their signup form would require a bit more information in comparison to software that deals with less sensitive subjects like emails or AI writing tools.
Also notice how PayPal's dark blue CTA buttons stand out quite well against the white background.
11. Quora
Because an account is required to post on Quora, respond to threads, or view more than one question on your browser, it makes sense that the signup page is the first place that most users will be directed toward.
Both the signup form and login form are side by side on the same page, so users don't have to navigate between different screens depending on their choice. You don't even need to enter your email to sign up since you can log in through a Google or Facebook account.
12. Wise
Wise is similar to PayPal both in terms of the product/service they offer and the design of their multi-step signup form. Since lengthy KYC procedures are one of the biggest annoyances of the financial services industry, Wise tries to streamline this with multiple signup options.
These include the ability to log in with a Google, Apple, or Facebook account. Wise also shows the icons for each of these signup options to make the signup form UX more visually appealing to users.
13. Crazy Egg
Crazy Egg has a straightforward headline that mentions the free trial and gives users two options to sign up for their account. You'll notice that the CTAs also use different colors to help users figure out where to go next.
On the social proof front, Crazy Egg leverages client testimonials to highlight real-life use cases. The difference in background colors also helps differentiate the signup section from the social proof section.
14. Trello
Trello is known to have one of the simplest signup forms out of any SaaS company. It has various signup options, each with its own respective icon, so users can figure out which accounts they'd be linking without having to read through the entire list.
If you look at the bottom of the signup form, you'll see a message informing users that one account can be used across all Atlassian products. This multi-platform account setup reduces friction across the entire ecosystem in much the same way that Google Workspace does.
Wrapping up
As you can see, signup page design is a crucial part of getting visitors to click the call-to-action button and make their way to the next landing page. Optimizing and split-testing your signup forms is a core part of optimizing conversion rates.
Remember, SaaS customers are no longer willing to tolerate generic templates and boilerplate signup flows. Creating a personalized, step-by-step process with the optimal amount of friction is precisely what you need to succeed nowadays.
We hope that the 14 sign up form examples in this article help you draw inspiration for your own signup forms. If you're ready to start implementing these signup form best practices and optimize your -in-product journey, then it's time to get your free Userpilot demo today!