SaaS Free Trial Emails Explained: How to Use Them Right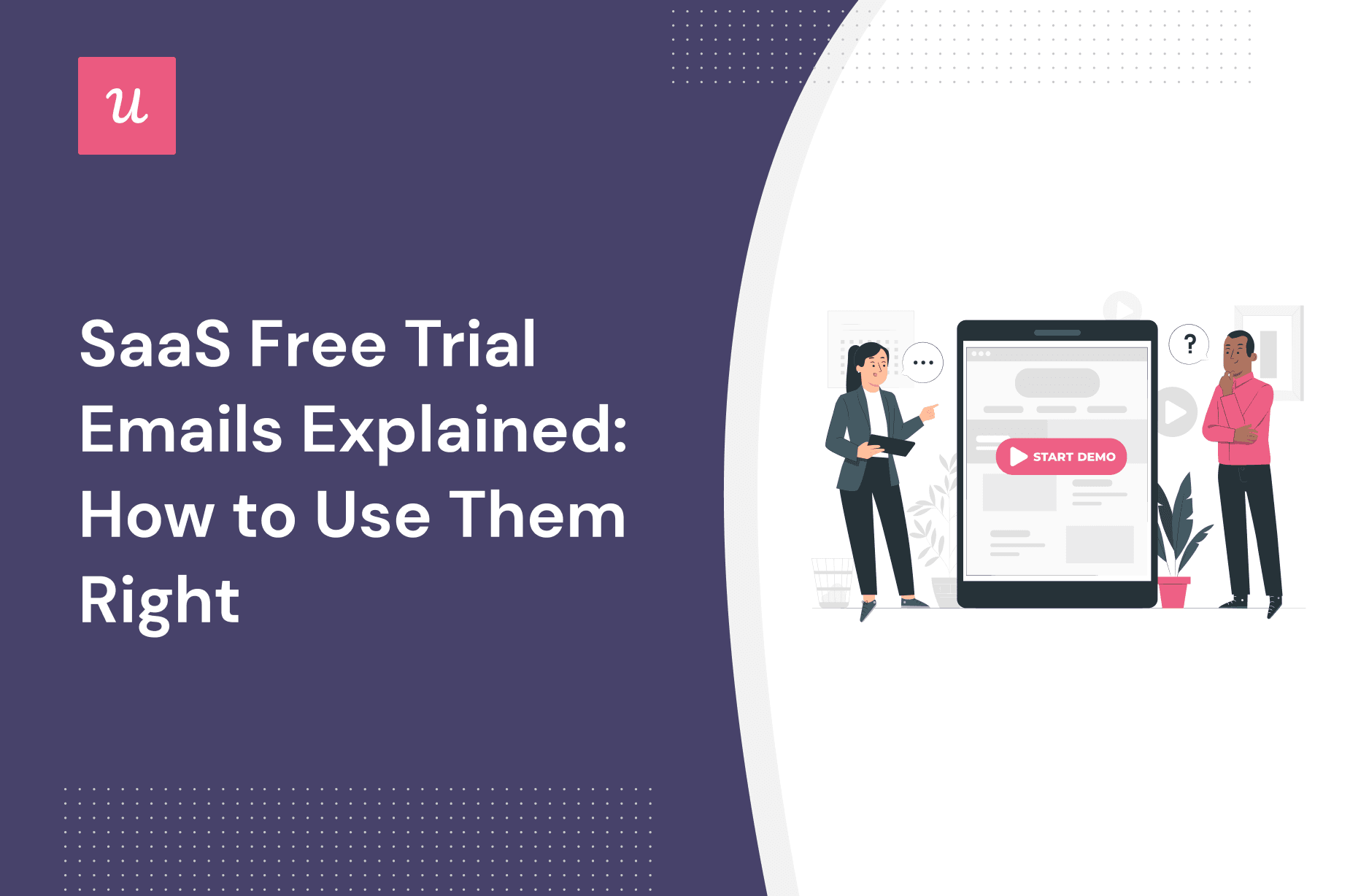 Free trial emails are invaluable tools in the hands of product-led SaaS companies.
They can serve as the bridge for user education, motivation, and conversion. However, none of these will happen if your trial emails aren't well crafted. Read on to learn how to pair free trial emails with your onboarding software to properly welcome, nurture, and convert users.
TL;DR
Free trial emails are onboarding emails sent to prospects that signed up to test your product. These emails aim to welcome users, educate them about the product, and hopefully convert them to paying customers.
KPIs to measure the success of your free trial emails: activation rate, conversion rate, churn rate, and retention rate.
Nine types of free trial emails
Welcome email: Greet the user and thank them for signing up, give them an overview of what's to come, and lead them back to your product.
Feature highlight email: Highlight valuable features and list their benefits.
Educational email: Provide helpful guides and resources to help users navigate your product successfully.
Proactive support email: Similar to educational emails, but also shows customers how to reach you when they need help.
Call-to-action email: Comes after you've nurtured users for a while. This email aims to drive action (e.g., prompt users to upgrade their accounts).
Special offer email: If the call to action doesn't work, provide discounts and other special offers to drive action.
Free trial expiration email: Send this a few days before the end of the trial period, reminding users when their free time will be over.
Free trial extension email: Send this email to give users the option to extend their free trials if they want.
Feedback email: Used to collect user feedback about the product. This email is sent especially to the cohort that refused to convert.
Seven best practices for high-converting free trial emails
Keep it simple
Personalize to build trust
Adopt a "benefits-over-features" mindset
Mind the timing
Lead them back to the product
Have one call to action at a time
Run A/B tests
It's not enough to use the best email marketing services and send nice emails. Also ensure to deliver a fantastic free trial experience.
What is a free trial email?
Free trial emails are onboarding emails sent to prospects that signed up to test your product. These emails aim to welcome users, educate them about the product, and hopefully convert them to paying customers.
Done well, messages delivered at this stage of the user journey will further motivate and prompt them to progress in the product and eventually upgrade to a paid plan.
Key metrics to measure the success of your free trial emails
Want to know how effective your free trial emails are? Just look at the numbers. If a good chunk of trial users are converting to paid customers, then your email sequence has been doing its job.
The following KPIs will give you a holistic view:
9 types of free trial emails with examples
It's not enough to send a single free trial email and call it a day, hoping the user will successfully upgrade on their own. You need a well-defined free trial email flow to guide them there, which is why combining different email types is essential.
Below are nine types of emails you can send. Of course, you mustn't have all nine emails in your sequence, but go through the list and determine the examples that fit your product the most.
Welcome email
The welcome email is the first new users should receive from you. This email should do a few things: greet the user and thank them for signing up, give them an overview of what's to come, and lead them back to your product.
Example: Calendly sends welcome emails that give users an overview of what to expect from the product. They also include a CTA to lead them back to the platform.
Feature highlight email
Trial users signed up to see if your product can solve their problems. What better way to convince them your tool is worth it than sending an email highlighting a cool feature you know they'd love?
The key to nailing this is gathering basic information about your user's job to be done. That way, you'll be better informed and send a feature that fits into their specific use case.
Example: Grammarly drives feature adoption by highlighting benefits new users stand to gain from using the product.
Educational email
The last thing you want is for a trial user to stop using your product because they can't find their way around it. Unfortunately, that's what happens with many SaaS platforms.
Avoid this by sending multiple informative emails to ease the adoption of your product. But, of course, don't spam your leads—only send valuable content. Your emails should include free resources, guides, or any other educational content to help the user reach their next Aha! moment.
Example: Airtable sends new users emails containing several helpful links.
Proactive support email
Trial users are delicate because most of them are basically testing different products to see which fits the most. They'd rather drop off than meet you with their problems—it's easy to do since they haven't paid.
However, you can prevent this situation with proactive support. Send check-in emails during the free trial to show you're there to help if they need it. Add helpful self-serve links to the email as well.
Example: Userpilot sends a personalized email filled with self-serve links but also lets users know they can reply to the email with questions.
Call-to-action email
Have you noticed none of the email types above involve directly asking customers to upgrade?
That's because going for the jugular immediately will give you little to no success. But nurturing trial leads and giving first before asking will increase your chances.
After all the warming up with previous emails, it's now time to call your active users to action.
Do it with one clear CTA and give users a good reason to upgrade from free trial to paid—show what they stand to miss if they don't. Also, prioritize benefits over features when writing this email copy.
Example: Evernote uses the benefits-first approach to persuade users to upgrade.
Special offer email
If the call to action didn't get them to upgrade, a special offer will.
Your special offer could be a discount, free upgrade for a limited time, gift, or anything else you think will interest your audience. People love freebies, so many of your users will upgrade when the offer makes sense to them.
Example: Squarespace offers a limited 15% discount to motivate upgrades. Adding urgency to this copy works because users would want to grab the opportunity before it's gone.
Free trial expiration email
Some users don't upgrade early because they want to spend the free trial period exploring your product. Others sign up for a trial and then forget about your product.
Whatever the case, a trial expiration email draws user attention and subtly reminds them to make up their minds. Ideally, this email should be sent some days before the end of the trial period. Feel free to include a quick mention of the premium features they will get if they upgrade.
If they never upgraded, send another email to let them know the trial has expired, and they'll lose access to the platform.
Example: Loom sends an email after the free trial is over. They also include a single upgrade CTA in case customers change their minds.
Free trial extension email
The trial expiring isn't necessarily the end of the line. Free trial users might have missed the deadline or need more time to make up their minds.
An extension email gives them a second chance to explore more of the product benefits. But don't be pushy with this email. Give customers the option to either extend their free trials or neglect the email and have their accounts deactivated.
Extension emails could also be sent when your product undergoes major updates, and customers may need extra time to familiarize themselves with the new changes.
Example: Shopify accompanies their extension email with the option for customers to state why they don't want to continue with the product. Collecting feedback in this way allows the company to gather growth insights.
Feedback email
The previous example showed how Shopify took advantage of the extension email to collect feedback. You could either do that or send an email specifically to collect feedback.
Aside from gathering insights, this email also gives you one more chance to win customers back if their reason for not converting is something you can easily fix.
You could ask for an email reply or send a survey to make it even easier for them.
Example: Zapier motivates users to take its feedback survey by specifying the exact number of questions involved.
Userpilot can help if you opt for a survey rather than an email reply. Our no-code platform allows you to build and track survey results with ease. Here's an example of what you can create:
7 best practices for high-converting free trial emails
Knowing the emails to send new users is just half the job. You also have to ensure they open your email and get captivated by it. The following practices will help:
1. Keep it simple
People tend to avoid anything that seems too complicated or requires much thinking. We'd rather spend our mental energy engaging in simple but highly rewarding activities.
With that in mind, design your onboarding flow and email instructions to be as straightforward and to the point as possible.
2. Personalize to build trust
Personalized emails outperform generic ones, but personalization doesn't stop with including the user's name. Also consider their chosen plan, goals, and segments.
Although you might not have much data on your free trial users, you can still segment them into active, partially active, and inactive users. Do this and personalize the email that each segment receives.
Userpilot can help if you want to gain insights into user behavior and create advanced user segments. Here's an example of user segmentation on our platform:
You have full liberty to customize segments to better match your product or audience.
3. Adopt a "benefits-over-features" mindset
Users rarely want to see your extensive list of features and all the technical details. Maybe you can impress your boss with that, but all users care about is how your product can help them—in other words, what are the benefits of those features?
Answer this question in your emails by prioritizing benefits over features. Bolt does this really well in the example below:
4. Mind the timing
Be strategic with your emails. Don't ask for upgrades too soon, and don't wait too long to ask. The way to solve this problem is to create a timeline for when each email in your sequence will be sent. This timeline should correspond to the expected user behavior and your trial period length.
For instance, imagine your trial is just seven days, and the user hasn't engaged with any feature by day 3. You should send an automated—but personalized—email reminding them to engage and also consider highlighting a feature you think they'd like.
5. Lead them back to the product
The main idea of a free trial is to let people experience your product, so encourage users to spend more time playing with the tool. You can do this by using CTAs in your emails that lead back to the product, but don't stop there. Also, optimize your in-app experience so the user is motivated to stay on the app.
As you know, communication is a vital part of any relationship and something you must take seriously if you want users to stick to your product. Boost your in-app communication with modals, checklists, tooltips, and other UI elements.
6. Have one call to action at a time
Too many calls to action are confusing and make your email less effective. Your conversion rate will be affected because users will get distracted and may not take the most value-driven action. So, dedicate each free trial email to a single action you want users to take and center your email around that.
7. Run A/B tests
A/B testing can significantly boost your email marketing strategy because you'll see what works for each user segment and optimize properly.
A/B test even the seemingly minor email elements—subject lines, email length, formats, copy, CTAs, multimedia, etc.
Conclusion
A good percentage of free trial users are in the market to test different free products and come to a decision based on their experience. With a well-crafted email sequence, you have the chance to capture the attention of these users and convert them into long-term customers.
This blog post has shown you nine types of free trial emails you can use to accomplish that. Go ahead and implement the types that fit your situation the most, and don't forget to be strategic in your approach.
Want to build user segments, send personalized free trial emails and easily track your results? Userpilot can help. Book a demo to learn more.