Appcues vs Userlane: What's the Difference, and Is There a Better Option?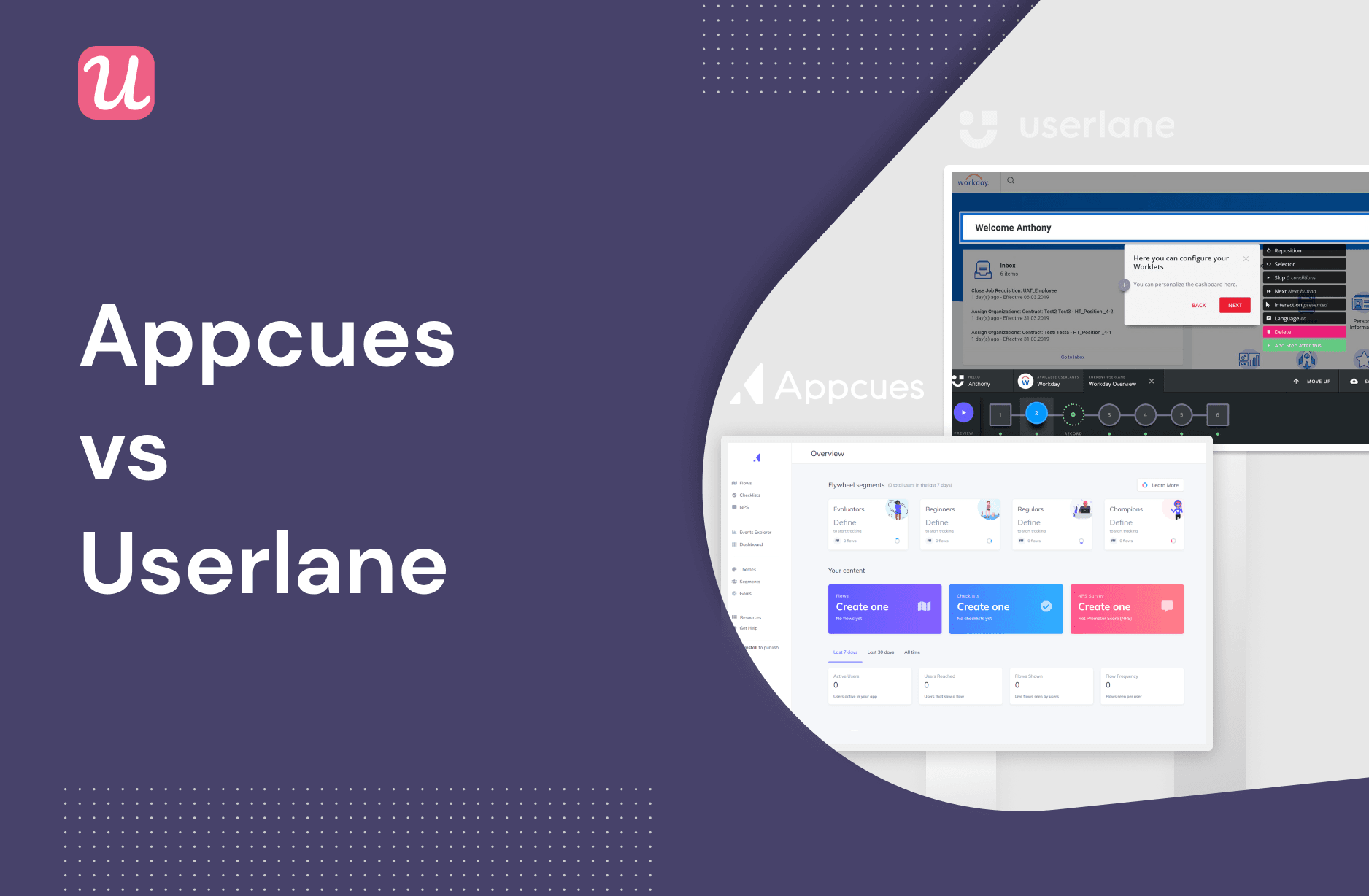 Are you on the hunt for the perfect digital adoption platform (DAP)? While it's a relatively new term to enter the SaaS lexicon, there are already a number of choices on the market. And judging by the title of this post, you may already know that—and we're willing to bet you're wanting to know a bit more about Appcues vs Userlane.
In this post, we'll break down the pros, cons, features, and pricing of using Appcues vs Userlane; plus, we're throwing in an alternative onboarding and engagement tool that could be perfect for you! Let's dive in.
TL;DR
Appcues is a popular DAP, great or building onboarding checklists. It's easy to use and doesn't require coding skills.
Appcues is one of the more expensive tools, clocking in at $879/mo paid annually (its cheaper plan only includes five user segments).
Userlane is also a DAP tool, unique due to its employee onboarding functionality.
Userlane caters to enterprises and does not offer a free trial.
Userpilot is a robust, code-free, and easy-to-use SaaS DAP tool that offers many of the same features as Appcues but for a much lighter price tag.
What is Appcues?
At the heart of it, Appcues is a user onboarding and digital adoption platform. Being one of the oldest on the market, we can thank Appcues for introducing the SaaS world to some of the features we use today when building in-app experiences (one of our favorites being checklists, for example).
While it's simple to use and pre-loads a ton of information for you, it is lacking some critical features (that you can find in Userpilot).
What are the key features of Appcues?
Advanced users who want to build more sophisticated flows may find themselves being held back, as well as losing some of that freedom and flexibility of a code-free tool. But first, let's dig into more of their main features.
New User Onboarding
Appcues allows you to create personalized user onboarding walkthroughs. You can also create checklists, modals, tooltips, and slideouts; however, many of these additional tools are not part of the lower pricing plans.
User Analytics
Insights and analytics help measure software adoption, track results and uncover opportunities for growth. Appcues gives you the ability to track metrics and create custom reporting and analyses.
Resource Center
Appcues features a rather large resource center. It includes a Product Adoption Academy, an Appcues blog as well as a ReallyGoodUX blog, and a "Made with Appcues" case study section for inspiration on how to build a product adoption engine.
What are the benefits of Appcues vs Userlane?
There are a few main benefits for considering Appcues over Userlane, mostly:
Easy of Use: Overall, Appcues gives a pretty straightforward experience with an easy-to-use interface anyone on the team can handle when designing and editing flows. For one thing, their builder is a Google Chrome Extension so everything is easy to build right then and there.
Two-way integrations: Appcues also has premium two-way integrations with Hubspot, Zapier, and Salesforce so you can send information to be sent back and forth between two pieces of software.
NPS: You can create customized, code-free surveys and NPS, then use the results to provide a better product in-app experience.
Cons of Appcues
Here are some of the downfalls to look out for when considering Appcues.
First, it's easily one of the most expensive user onboarding tools. Appcues' most basic plan gives you five user segments (the following are pre-defined: Evaluators, Beginners, Regulars, Champions) and 10 click-to-track events, which isn't a lot for gathering user analytics.
If you want more—which will inevitably happen as your business naturally grows—you'll need to jump to the growth plan, which is $879/month paid annually. That's over $10,500 needed upfront to have access to more custom events and segments, something that is unlimited in every Userpilot plan! (For more info on Appcues vs Userpilot, we've created a quick comparison page here).
Next, you'll face very limited customization in their builder. For example:
You can't control your box-shadow or the intensity of a backdrop.
You can't change the width of your modals/tooltips nor can you change the position of the modal.
You can't customize the look of experiences (no custom CSS) in the Essential plan. Essentially, this means you'd either have to rely on templates to build, losing out on getting that perfectly polished brand look; or your engineers would have to code the changes themselves.
If you want more freedom to build interactive walkthroughs, consider Userpilot. In addition, Userpilot boasts a healthy customer-facing resource center, a self-serve hub inside your app which allows the users to look up resources and trigger product tours based on keywords.
What's not to love about that?
What is Userlane?
Now let's meet the next tool: Userlane. Much like Appcues, this onboarding and training platform, too, lets you design and create interactive walkthroughs for your software. However, Userlane's use cases applies not just users but also employees.
At this time, Userlane caters to enterprises and does not offer a free trial.
What are the key features of Userlane?
As mentioned, Userlane is an enterprise onboarding solution that caters to both businesses and users. Let's dig into what that means via the features they offer.
New User Onboarding
The most interesting feature of Userlane is the ability to create workflow guidance and support content in your app. Similar to Appcues' walkthrough feature, this helps your users understand your software from the get-go.
Employee Onboarding
Interestingly, Userlane caters—heavily, at that—to automated employee training for when you're onboarding with a third-party tool like Salesforce. This helps train employees and as they navigate applications they're to use in their day-to-day roles.
Benefits of Userlane vs Appcues
There are a couple of obvious benefits for considering Userlane over Appcues:
Employee onboarding use case: Userlane breaks the mold when it comes to providing interactive training for new employees or software rollouts for the entire team. On the customer-facing side, Userlane only supports walkthroughs.
User analytics: Gain valuable insights into customer engagement to continuously improve your software experience. Userlane makes it easy to discover points of confusion and where additional support is needed most.
Appcues vs Userlane Pricing Model
Appcues is a great onboarding and in-app engagement tool for SaaS but, as mentioned before, it can get pricey.
Appcues' basic plans start at $299/mo for a grand total of $2.5K annually. However, this basic plan is limited by usage and only offers five segments in this tier.
Its Growth plan is $879 per month and can only be paid annually.
Userlane, on the other hand, doesn't showcase its pricing tiers on its website. If you're interested in this tool, you'll need to reach out to them and wait for a reply from the team if you're an enterprise. Having said that, the cost and the wait can be justified if you need an employee onboarding solution for complex third-party tools for your sales team and more.
Alternatively, Userpilot's Enterprise plan is just $749 per month (see more on this tool below).
Still thinking about Appcues vs Userlane? See this Alternative
Considering the limited settings and customization of Appcues, alongside the niche yet also limited use cases of Userlane, you may want to consider more affordable alternatives.
Try Userpilot as Your Leading Digital Adoption Platform
We built Userpilot with SaaS companies in mind, helping you automate onboarding across each stage of the user journey (e.g., primary onboarding, secondary onboarding, tertiary onboarding).
With Userpilot, you can:
Create in-app experiences without coding according to your needs such as increasing user and feature activation, adoption, and/or reducing churn!
Build linear or branched experiences using tooltips, modals, driven actions, and more.
Create segments and personalize the onboarding walkthroughs for each user one. When onboarding is smooth, it directly improves customer satisfaction!
Key Userpilot Features & Use Cases
Now that you have a general overview of how Userpilot stacks up to the competition, let's dive into its main features and use cases.
New User Onboarding
Userpilot's branched walkthroughs are fully interactive and can be personalized to each user segment with just a few clicks. This makes new user onboarding for your SaaS a breeze.
✅ This also means you can tailor your onboarding to each individual user, triggering onboarding elements based on user behavior in-app.
✅ Onboarding checklists: Pave the path to feature activation by highlighting each step of the onboarding journey with clear to-do checklists.
✅ Secondary/ Continuous onboarding: Push users to adopt more secondary features by crafting timely product experiences based on their persona and in-app behavior.
❌ Employee onboarding: It's important to note Userpilot is a SaaS product growth platform, so it is not suitable for third-party app employee onboarding.
❌ Mobile onboarding: Userpilot works on responsive web apps. It's not suitable for native iOS/Android mobile apps.
Surveys & NPS
With Userpilot, you can create surveys to ensure your customers are finding value at every step of the user journey. Check out the following tools:
✅ In-app micro-surveys: Embed surveys to collect user feedback and user segmentation.
✅ NPS Surveys: Easily collect a Net Promoter Score.
By setting up the right surveys at various points in the user journeys, and collecting in-app feedback, you can help stop churn, encourage referrals, and improve user sentiment.
Self-Serve Support: the Resource Center
Product marketing, UX design, growth—oh my! There's a lot to learn, even with the simplest of tools. With Userpilot, it's made simple via:
✅ User analytics: See how you successfully engage customers with the features of your product as well as the in-app experiences.
For example, you can see how many users complete certain goals you've set for them over a period of time, where they drop out in the funnels, and more.
✅ User segmentation: Build unlimited customer segments using demographic data, survey responses, in-app behavior, custom events, user and event attributes, and much, much more.
✅ Resource Center: Check out the Help Center inside your app. It's chock full of in-app guidance, help docs, knowledge base articles, video tutorials, onboarding checklists, and chatbots.
Set Up & Ease of Use
Much like Appcues, Userpilot can be set up in minutes! Simply download a Chrome extension and paste one line of Javascript code into your device.
You may need to pass some custom events and user attributes that require development help; however, creating experiences and launching them is done with an easy-to-use visual editor:
Userpilot Pricing
Compared to the hefty price tag of Appcues and the hard-to-pin-down cost of Userlane, how does Userpilot stack up?
In our humble opinion, Userpilot offers the best value for money from the tools in its class. And here's the proof: for only $249 per month, you can enjoy unlimited feature use of what's listed above, unlimited segments, and up to 2,500 MAUs (Monthly Active Users). Plus you'll get ample support (no waiting around for email answers)! You only move up in price if you go beyond the already generous user limit.
Who Wins the Appcues vs Userlane Debate?
Now that we've evaluated Appcues vs Userlane—and we've thrown the heavyweight contender Userpilot into the ring—it's time to weigh their differences and decide which leading digital adoption platform is best for you and your business needs.
We're a little biased, but if you're looking to increase product adoption with in-app onboarding in addition to a slew of useful in-app feedback tools, book yourself a Userpilot demo today.