Self-Serve vs. White Glove Onboarding: What's The Difference and Which is Better For Your SaaS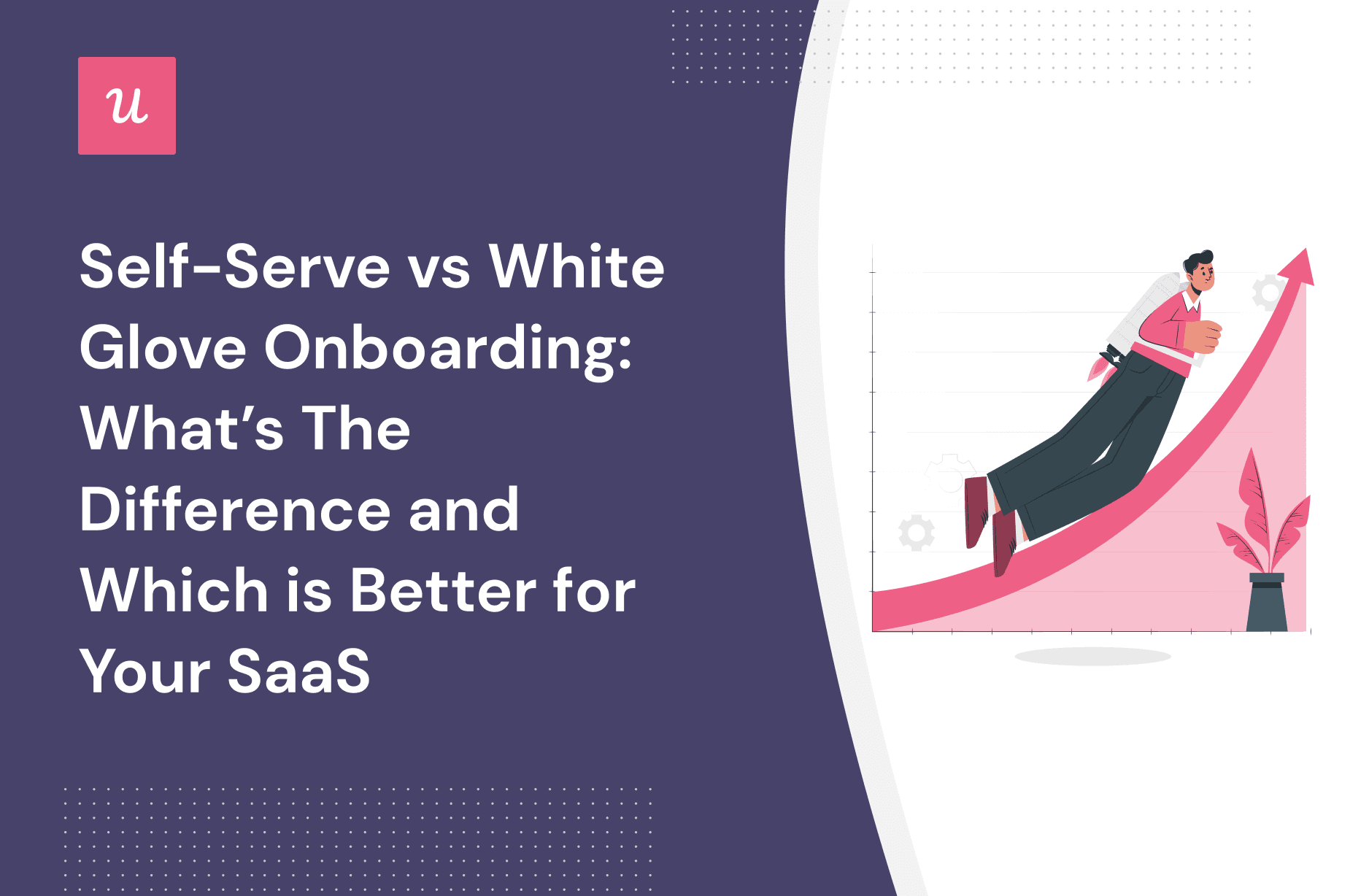 Are you a SaaS customer success manager torn between self-serve and white-glove onboarding methods? You're not alone.
Many SaaS businesses struggle to decide on the approach that's most likely to engage customers and turn them into repeat buyers. What people don't realize is that there's no "right" and "wrong" method. There's just one that's most suitable for your product and customers.
Read on as we explore the differences between self-serve and white-glove onboarding and help you to choose the right one based on your situation.
TL;DR
White-glove onboarding is hyper-personalized onboarding where sales or CS teams take customers by hand to show them the product.
White-glove service is pretty expensive, so companies that use it mostly do so for just high-profile clients.
The white-glove method delivers highly personalized experiences, helps to break down complex tools, and enables companies to generate live feedback.
Self-service or tech-touch onboarding provides customers with the guidance and resources they need to learn and use the product themselves.
With self-service onboarding, customers are more in control of their experience. The method embraces a product-led approach and is easily scalable.
White-glove and self-service onboarding differ in: the customer experience (one is outside the app, the other is in-app), onboarding materials, cost, and the company staff involved in the process.
Self-serve onboarding process and touchpoints:
White-glove onboarding example: Vinteum.
Self-serve onboarding example: Slack.
No matter the method you choose, ensure to deliver a memorable onboarding experience and continue to wow users as they progress through the customer journey.
What is white-glove onboarding?
White-glove onboarding is hyper-personalized onboarding where sales or customer success teams take customers by the hand and guide them through a product.
It's called "white-glove" because it originated from traditional brick-and-mortar settings where customers walk into a dedicated environment and someone or a team of salespeople wearing white gloves attend to them. The customers are usually affluent and expected to have high LTVs.
This practice has evolved so much, and customer-facing teams now use technology like emails, video calls, etc., to enhance the process. But whether online or off, the principle remains unchanged—highly personalized one-on-one interactions.
It's worth noting that white-glove onboarding is expensive. Companies that use it mostly do so for just high-profile clients—think enterprise customers with big annual contracts.
What are the benefits of white-glove onboarding?
A white-glove service has several benefits including but not limited to:
Customers receive highly personalized onboarding that tells them the company cares about their success. This positive first-time experience easily translates into an ongoing long-term relationship.
White-glove onboarding breaks down complex and highly customizable products in ways that users can quickly understand. This reduces friction and shoots up the time to value.
The company gets a chance to receive contextual feedback about the product or onboarding process. This insight will further inform future strategies.
What is self-service onboarding?
In contrast to white-glove onboarding, self-service or tech-touch onboarding provides customers with the guidance and resources they need to learn and use the product themselves.
This, of course, doesn't rule out human support agents. Customer-facing teams are always on standby to help users, but they rarely have to because the onboarding flows are designed to guide customers effectively.
For instance, Zoom or Slack do not need to run full walkthroughs to train their users. For most modern users, messaging and video conferencing tools are intuitive and familiar. It is still essential that these companies provide support resources when users ask specific questions.
What are the benefits of self-service onboarding?
Customers are more in control of their onboarding experience. This is especially useful to customers who don't intend to use all of your product's functionality; these people came for just a few features, so a lengthy or handheld onboarding isn't necessary. They want the freedom to learn at their own pace
Self-serve onboarding embraces a product-led strategy, making it easy to convert trial users
It's less resource-intensive and cheap
It's easily scalable and can be automated using no-code self-service tools
White-glove onboarding vs. self-serve: Key differences
From the information so far, you've probably spotted one or two differences between both onboarding processes. This section breaks down the differences in detail.
User experience takes place mostly outside of the app vs. in-app
Most white-glove experience happens outside the product—done in person, via calls, emails, etc.
On the other hand, self-serve onboarding happens inside the app. The customer may occasionally receive onboarding emails and may sometimes go outside the app for extra guides, but a good chunk of the experience is in-app. The advantage here is that customers begin to familiarize themselves with the product early.
Users are onboarded by customer success teams vs. by themselves
A human agent is always available when onboarding users with the white-glove approach. If no one is present to help or supervise, then it's not white-glove.
On the other hand, the self-serve method completely relies on the customer's ability to learn and implement independently.
Different onboarding materials and methods
Materials and methods commonly used in white-glove onboarding: phone calls, video calls, customized docs, and face-to-face interactions.
Materials and methods for self-serve onboarding: tooltips, checklists, user guides, in-app messages, and interactive walkthroughs.
Pricing
White-glove onboarding is comparatively more expensive because you need a dedicated team working on customizing processes and materials to your customer's context. You'll also have to invest in state-of-the-art CRM and communication tools that may cost you much due to how you intend to use them.
Self-serve onboarding is equally pricey if you're having an in-house team work on the processes. You'll need the customer success team to advise on strategies and developers working on the onboarding flows, but it won't be as expensive as the white-glove method. These days, companies even cut costs by using no-code self-service tools like Userpilot for their onboarding flows.
White-glove onboarding touchpoints and processes
In a nutshell:
The sales team finds potential customers or someone reaches out on their own after interacting with marketing content.
The above process is usually followed by several sales conversations that end with clients signing a contract.
The documentation materials are sent to users via email. This is followed by one-on-one calls or any personalized communication channel the company deems fit. Depending on product complexity, the training session can be held once or multiple times.
After users are introduced to the product's features and use cases, an account is created for them manually by their account managers or whoever the company assigns.
Voila! The user(s) begin using the product and contact their account managers when they need any help.
Self-serve onboarding touchpoints and processes
If you're interested in self-serve onboarding, below are the important touchpoints and processes to keep in mind:
Welcome flows to collect customer data and personalize the experience
Welcome flows do two things:
They give users a warm welcome to the product as you would if you had face-to-face interactions
Enable you to collect user data as the first step to understanding their expectations and goals. This allows you to segment users and later personalize the onboarding experience based on customer needs
Example from social media scheduler Postfity:
Use onboarding checklists to drive customers to activation points
Use a checklist to highlight 3-4 most important steps for users to get started. You could also add gamification elements like a progress bar, as in the image below, to motivate them to finish the process.
Trigger tooltips and modals to introduce features and drive adoption
Tooltips are text labels that appear when the user hovers over, focuses on, or touches an element. Use them at multiple touchpoints to subtly draw users' attention so and engage them with important features.
The modal is another form of in-app messaging you can use during onboarding to grab attention and announce new features and major updates. Modals are big, so users can't escape the notification. Just don't use them too frequently, or you risk annoying people.
Provide on-demand support with a resource center
A resource center is basically the combination of all your self-serve resources in one place. The content is also grouped to make it easy for customers to navigate and find specific information.
A good resource center includes multiple content formats such as video tutorials, case studies, webinar recordings, and even an option to contact support if customers need more personalized service.
White-glove onboarding example
Looking for a practical white-glove onboarding example from successful companies? Here's one:
Vinteum
Vinteum is a software that enables customers to run community associations and manage property inspections.
They use a five-step onboarding process:
An onboarding form is sent to new users to enable the company to collect all necessary details that will be uploaded for customers.
User accounts are created with the information provided. This takes between three and five days, depending on the volume of data to be added.
Next is user training. Customers meet with their account reps and get trained on how the product works. Training sessions can be once or multiple times. Again, it's user dependent.
The training recordings and other educational materials are sent to users after the training is over.
Onboarding ends with inviting members of the community association to the tool. Vinteum is ready for use once this last step is completed.
Self-service onboarding example
Self-service onboarding is common among product-led companies. Here's an example:
Slack
This company revolutionized corporate communication. The tool is intuitive and simple to use, so the onboarding process requires little to no human support.
Upon signing up, the company's bot—Slackbot—guides customers through different features on the app and prompts them to take action so they can learn by doing.
The company also has an extensive knowledge base for customers that need more clarity.
Conclusion: Which should you choose?
You don't have to choose. You can combine both methods to give customers the best possible onboarding experience.
But if you're wondering which of the methods to go heavy on, then consider the following details:
Use white-glove onboarding if you have…
A complex product with a steep learning curve
Enterprise-level customers that close big contacts yearly
Enough customer support staff to handle each customer individually and create customized onboarding materials
Choose self-serve onboarding if…
Your product isn't too complex for users to explore on their own
You don't have many enterprise-level customers
Are unable to afford 24/7 customer service, or would rather invest in self-service support options.
If you're not going with a complete white-glove onboarding, Userpilot can help you build self-serve flows that excite and properly educate users. Book a demo; let's talk about it.