What Is an NPS Program and How To Build One Code-Free?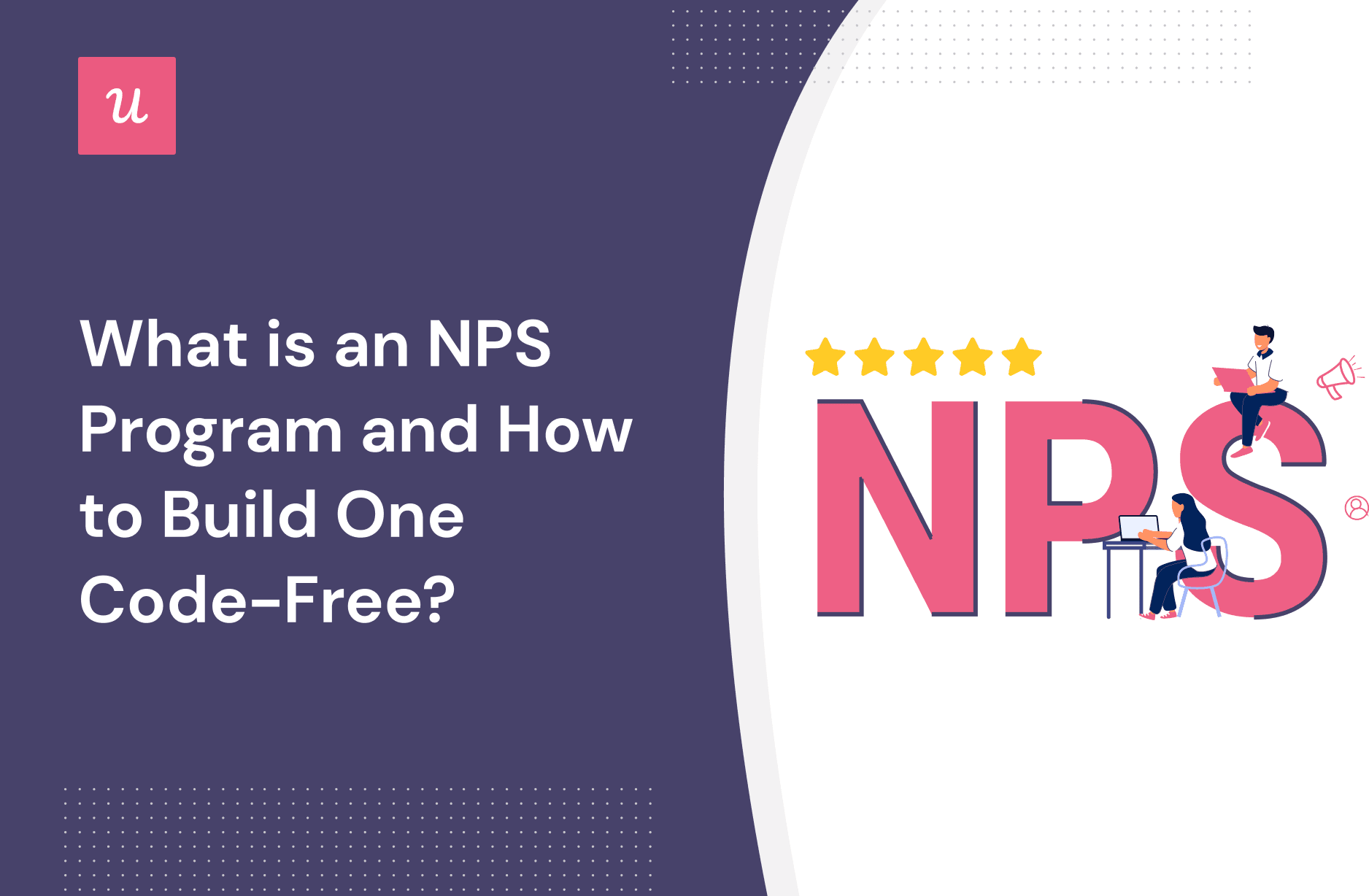 Looking for an NPS program to collect customer feedback and improve their experience with your SaaS product?
Net Promoter Score (NPS) is one of the most widely used metrics to measure customer experience. NPS data helps you dig deeper into your customers and find out whether they are your brand's promoters, passives, or detractors.
In this article, you'll learn how to build a successful NPS program, and what tools you can use to collect customer feedback accurately.
If you want to get started with your own NPS program, then read on!
TL;DR
An NPS program is a tool that allows you to conduct NPS surveys and collect feedback from users.
An NPS program can help you accomplish several goals:
It allows you to calculate your Net Promoter Score and measure customer loyalty.
You can identify your power users, turn them into brand advocates, and convert passive users into promoters.
You can find detractors and learn which areas need improvement.
To build an NPS program for your SaaS product, you need to first segment customers and decide who to survey.
Then, you should set the timing and frequency of sending NPS surveys.
You should add a follow-up question to enable qualitative feedback on your surveys.
You can tag responses to understand the context behind the NPS score.
You should always customize the design of your surveys and integrate them with your brand.
The three best tools to create an NPS program without coding are Userpilot, Qualaroo, and InMoment.
What is an NPS program?
The NPS program is software that can be installed on your product's website or application to collect NPS feedback from your customers at defined intervals.
NPS survey asks your customers how likely they are to recommend your product to a family, friend, or colleague on a scale from 1 to 10.
What are the goals of an NPS program?
Net Promoter Score is one of the most commonly used and important customer success indicators. When used at regular intervals, it helps you understand how satisfaction and loyalty change throughout their customer journey.
While the primary goal of an NPS program is to collect customer feedback periodically and use that information to significantly enhance your product's customer satisfaction capabilities, it can help you accomplish other objectives. Here are some examples.
Calculate your Net Promoter Score and measure customer loyalty
To calculate your NPS score, you must conduct an NPS survey first. This helps you understand your customers, measure their loyalty, and classify them into three categories:
Detractors are customers who score between 0 and 6. They are very harmful to your brand as they spread negative word of mouth.
Passives are those who score 7 or 8. They are neutral and do not pose a risk to your brand.
Promoters are your most loyal customers, scoring 9 or 10. They are your brand evangelists. They are extremely satisfied and will likely refer your products to others, helping you achieve high business growth.
After the survey, you need to use the NPS responses to find out the score: it is the difference between the percentage of promoters and that of detractors. It can range from -100% to +100%.
For example, you surveyed 100 customers last year. 50 of them turned out to be promoters, 20 turned out to be passives, and 30 turned out to be detractors.
So, your NPS score is (50-30)% = (+) 20%.
Identify your power users and turn them into brand advocates
Power users are one of the most valuable assets for your SaaS. They are users who have adopted your product to the maximum and are using the core features very frequently.
They are highly likely to be your promoters and a great source of positive word-of-mouth for your brand. Using Net Promoter Score software, you can easily:
identify them
engage with them in a more personalized way
increase your chances of retaining them over longer periods.
Convert passives into promoters
Passives are those customers who are neutral about recommending your product. While they won't be promoting your product, they won't be damaging your reputation through negative comments either.
They likely had a positive experience with your product but might need a little nudge to become your promoters. With NPS surveys, you can identify these users and create smarter conversion strategies to turn them into loyal promoters.
Find out detractors and learn what needs to be improved
Detractors are dangerous for your SaaS product. They are unenthusiastic customers who might abandon your product soon. They won't promote your product but damage your product's reputation on various review sites through negative comments.
You must identify them first, find their problems, and proactively fix those issues as fast as possible to avoid losing them as customers.
When you have data regarding detractors, you design win-back strategies that reduce churn and improve customer retention.
Do you need NPS software to create a successful NPS program?
If you're looking to create a successful NPS program that will keep working over the long run, you must use NPS software to automate the whole process. This helps you collect feedback and generate NPS results faster and more accurately among numerous other benefits.
Here are some key NPS software features shared by most tools in the market. Your software should be able to:
Create NPS surveys in different mediums (pop-ups or interactive emails)
Publish surveys automatically within a given schedule
Customized survey settings. For example, you should be able to send all surveys at once, send to a specific customer segment only, or send individual surveys a certain number of days after a purchase has been made
Collect individualized data on your users
Automatically calculate your NPS scores
Analyze the product's NPS trends score in real-time
Integrate with other software tools for easy data management
How to build an NPS program for your SaaS?
Here are a few important points to remember that will help you build a successful NPS program for your SaaS product.
Segment customers and decide who to survey
The first step towards building an effective NPS program is understanding who you want to survey.
You don't want to spam all of your users at once or run the danger of repeatedly sending the survey to the same users. You have to create different customer segments and then send out surveys to them.
The best strategy is to send surveys at different points throughout the user journey. For example, you can send out an NPS survey to new users a few weeks after onboarding.
Surveying new users of the product isn't a good idea because they can't provide accurate feedback with the little time they've spent with your product.
One way to identify your target group would be to track customers using in-app features. This will allow you to survey users who have real experience with your product and provide an accurate response to the NPS question.
For example, if you've launched a new feature, you can gauge customer satisfaction with it by surveying them once every two weeks.
Set the timing and frequency to send NPS surveys
The next step is to decide on the timing of your surveys. This involves:
At which time should you send the survey
How frequently should you survey your users
One common mistake most companies make is sending too many surveys thinking that this will help them collect more feedback. As a result, users feel bombarded and often end up ignoring your surveys completely.
To counter this and improve your response rates, you should automate your surveys and select triggers based on customized settings. For example, if one user submits the NPS survey, they will be surveyed again after 60 days.
On the other hand, if a user declines the survey and selects "Ask Me Later", they can be surveyed again after 7 days.
Add a follow-up question to enable qualitative feedback
One drawback of the NPS rating is that they focus on quantitative data, i.e. how likely are you to recommend the product. This doesn't tell you why they chose that score.
To overcome this, you can include a follow-up qualitative question after the NPS questions. This helps you get specific and detailed feedback on customers' experiences.
As shown in the image above, it's best to use an empty text field so that users can feel free to give their honest input. Users might have different issues with your products, or give you insight into your strongest features.
Once again, using an NPS tool helps you categorize these responses, making it easier to spot repetitive and unique problems.
Tag responses to understand the context behind the NPS score
When you tag responses, you're able to track the NPS score of different aspects of your product.
For example, it helps you understand the customer experience with your product's usability, features, or customer support. In the image below, customer support for a certain product has a score of 60 while its usability score is -10.
This helps you zero in on problems that impede growth, understand key drivers of your product and detect patterns.
Customize the design and integrate it with your brand
Lastly, you have to focus on the design of your survey.
To make it visually appealing, you can use colors, themes, and fonts that match the theme of your product. This makes it integrate easily and increases the response rates of your NPS survey.
3 Best tools to create an NPS program without coding
Here are three of the best tools in the market to fully automate your NPS program and get actionable insights that can improve user experience and loyalty.
Userpilot
Userpilot is a dedicated product growth tool. It helps you track and analyze your product's growth, run microsurveys in-app to ask meaningful questions, gather user feedback insights at scale, and engage users to get more value from them.
Features
Userpilot includes a lot of handy features. It helps you capture feature usage automatically. You can easily tag features with no coding and understand how different customer segments use your features.
You can also tag responses and see how users feel about different aspects of your product, which includes customer satisfaction, service, product usability, and interface design.
Equipped with numerous microsurvey templates, you can easily launch your NPS program (along with other metrics), measure your score, and understand overall user satisfaction with your product.
The analytics dashboard helps you get real-time statistics on average NPS scores and helps you track changes and identify patterns. You get access to real-time qualitative feedback from customers and analyze changing NPS scores over time throughout different customer segments.
Pricing
Userpilot has 3 different subscription packages:
$249 for Traction.
$449 for Growth.
$1,000 for the Enterprise package.
Feel free to sign up for a demo if you'd like to give it a shot!
Qualaroo
Qualaroo is a tool specifically designed to help you gather accurate customer insights. The AI sentiment analysis feature gives you access to intelligent feedback, leading to quicker response times and more satisfied users.
Features
Qualaroo's main features include different microsurvey templates, AI sentiment analysis, confirmation page surveys, exit intent surveys, question branching, A/B testing, and numerous integrations.
It also features advanced targeting options, more than 10 question types, customizable designs, and intelligent data mining. It enables you to connect with your customers at the right time to ask the right questions and helps you work more efficiently without compromising the quality of your online surveys to produce actionable results.
It is an easy-to-use survey tool that caters to different survey needs to measure key business metrics, including NPS, CES, and CSAT.
You can collect actionable insights for your CX program, marketing data for competitive market research, and even conduct Voice of Customers programs.
Pricing
Qualaroo has three pricing plans.
Essential starts from $80 per month. It helps you collect user experience insights on your website with basic features.
Premium starts from $160. It allows you to collect insights on your websites and mobile apps. This package comes with advanced reporting, administration, API, and access to more advanced features.
Enterprise is a fully customizable plan for large organizations or those needing enterprise security, SSO, multiple instructors and admins, custom license, and API.
InMoment (former Wootric)
InMoment's CX for SaaS and digital products helps you turn feedback into customer lifetime value and drive retention, engagement, and customer advocacy.
While they offer many solutions, you're looking for InMoment CoreCX for your survey needs. It allows you to gather user feedback, monitor trends, identify areas of improvement, and integrate with other software.
Features
The tool allows you to leverage hyper-targeted Net Promoter (NPS), Customer Effort Score (CES), Customer Satisfaction (CSAT), and numerous other feedback surveys at critical user journey points that can make or break customer loyalty.
It provides you access to different channels to ask the right questions, for example, microsurveys via email, in-app, Mobile, SMS, and Intercom Messenger.
You also have access to their text and sentiment analytics and data exploration to mine unstructured (qualitative) feedback.
With InMoment, you can quickly create and send surveys customized by different languages or customer segments based on your defined events.
Pricing
InMoment has 3 subscription packages:
CoreCX for surveys and customer insights.
Enterprise for flexibility, scale, advanced sentiment analysis models and more integrations.
Custom for all features of their platform, applications, and services to create a program designed specifically to meet your business requirements.
All prices are custom, and you need to contact them for quotations.
Conclusion
Now that you know what an NPS survey is and how crucial it is to your company, it is time to decide on the best way to collect your own NPS data.
You can use the free trials to see which tool discussed above fits your needs properly. Regardless of the tool you use, measuring your Net Promoter Score and acting accordingly is a guaranteed method to boost client retention and support long-term business growth.
Want to build in-app microsurveys and create an NPS program to collect feedback? Get a Userpilot Demo and see how you can measure customer experience and customer loyalty, and start improving retention rates code-free.