Userlane vs Walkme: Which is the best tool for onboarding?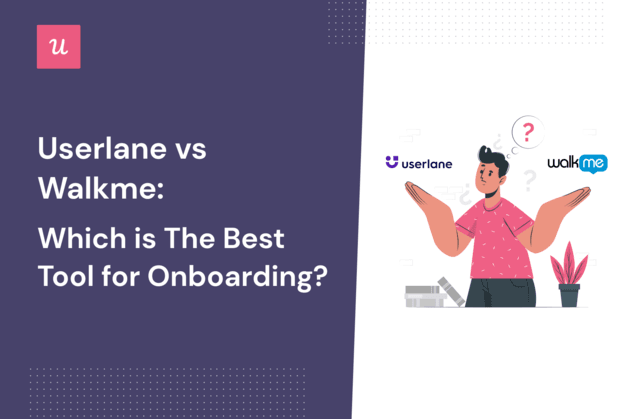 Userlane vs Walkme: which is the best tool for onboarding? Userlane and Walkme are both tools for onboarding,  but there are some significant differences to consider when choosing between the two – depending on the size of your business, budget, and use case.
Userlane is a tool for building interactive, guided tours that walk a user through all the features of your product or service.
Walkme allows you to do the same, as well as onboarding employees on third-party tools such as Salesforce. But the two popular digital adoption platforms are very different in terms of pricing, features, integrations, customer satisfaction, and UX. Which is a better choice for you, Walkme vs Userlane, as an enterprise vs. a small business? And are there any better alternatives to Userlane vs Walkme in general? Read on to find out!
TL;DR: 
Userlane and Walkme are both enterprise digital adoption tools.
Both are quite pricey and complex, but Userlane is generally considered more user-friendly than Walkme.
Both Walkme and Userlane are popular training platforms for employee onboarding on third-party websites.
If you're considering Userlane vs. Walkme for user onboarding in mid-market SaaS – a much better alternative for you will be to go for Userpilot or Appcues instead.
If you're looking for an employee onboarding solution for third-party apps – Walkme might be the better choice.
Userlane vs Walkme: Similarities and Differences
Userlane
Userlane's code-free digital adoption platform runs as an overlay on software applications. The software allows you to create in-app, interactive content that guides users through the onboarding processes in real-time and offers them intuitive on-demand assistance, within any browser-based application. Therefore, anyone can use any software immediately without prior knowledge or specific skills.
Userlane analytics dashboard provides insights into feature and process adoption within the software application, and it assists in making content creation decisions based on actual user behavior and needs. Userlane's digital adoption solution can also be integrated with your organization's collaboration tools or knowledge bases, making onboarding, training, support, and sharing internal knowledge more effective.
By providing every software user with exactly the information they need, you will drive productivity from day one, simplify business processes, accelerate digital transformation, and speed up the software adoption. You will also save precious time and costs while gaining valuable visibility into user behavior and engagement trends. Our digital adoption technology is designed to help businesses across all industries guide and support their software users, enhance user experience, and ultimately ensure long-term user retention.
Userlane Reviews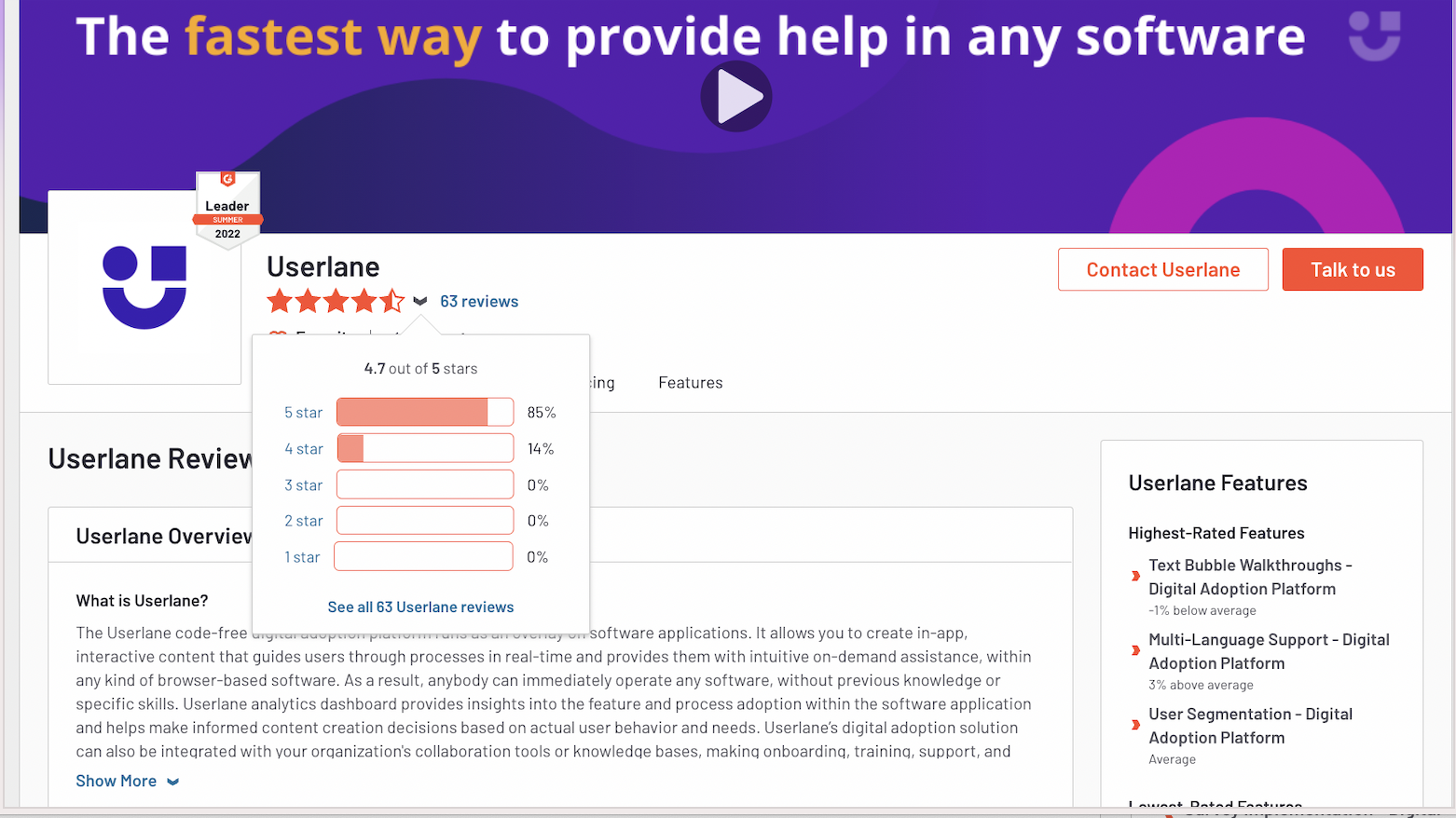 Userlane has on average 4.7 out of 5-star reviews on G2.
Here's a typical review of Userlane:
"What do you like best?
Learning is focused on the moment the learner needs it, that's key in any learning experience!
The announcement feature helps a lot to put attention to a specific topic and trigger the users to pay attention.
What do you dislike?
Creating the lanes and maintaining them up to date can be time-consuming, especially if it is for a system with processes changing continuously. It must be considered when considering which content to include within Userlane.
What problems are you solving with the product? What benefits have you realized?
The main purpose of Userlane was to help our users use our new HRIT system (Workday) properly. It is a big system, with a lot of processes, that not all users have to do on a regular basis. Userlane was there to support at the moment a user would need to do a process for the first time, which could be months after the live training we organized."
Walkme
The WalkMe platform is an interactive guidance and engagement tool used by service managers, user experience managers, and sales managers to manage the customer experience on company websites. Once an on-premise solution, it is now a cloud-based SaaS platform. Installing Walkme inside your product takes a tiny snippet of javascript code. As part of the "Walk-Thrus" feature, the software assists customers in taking specific actions through automated tip balloons.
Users can play these "Walk-Thrus" automatically, by clicking on links in an email widget that allow them to select a particular "Walk-Thrus," or by clicking on buttons embedded on their websites. The feature also uses segmentation to tailor the display based on a client's role, location, and language. Users can also embed videos, articles, and more into walkthroughs. WalkMe's features can be customized to fit the layout of a user's site and screen size. The analytics feature allows users to track user interactions with the platform and make changes to how they are guided through the site. It is also integrated with various search engines.
Walkme Reviews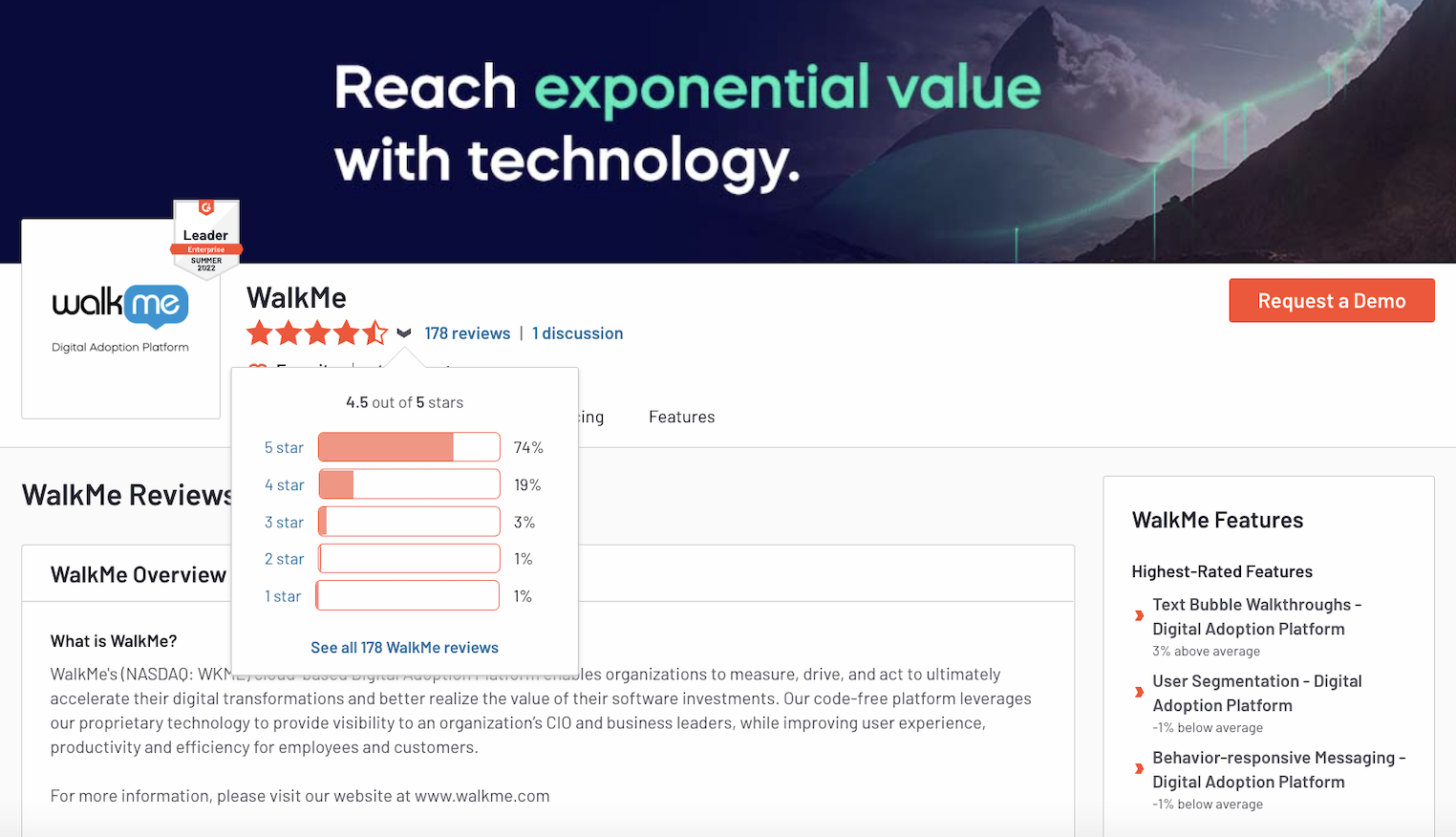 Walkme Reviews indicate that the tool is best for large enterprises. It is expensive and can be difficult to set up without technical knowledge. The interactive guidance platform has on average between 4.3 and 4.5 out of 5 stars (depending on the review site – here's G2 pictured above).
As Gregory S, a CEO of a small business(50 or fewer emp.)
"What do you like best?
In theory, the idea of the product is wonderful. And they are responsive and stay on top of your project. The product is feature-rich and for what they do, they do it well.
What do you dislike?
The problem is that you have to sign an annual agreement before you really use the product, and you're locked into that agreement no matter what happens. And the cost depends on what you think your user base will be over the course of the next 12 months,
For us, I didn't fully appreciate how complicated it can be to truly integrate WalkMe into our web application. It would have required weeks of time for our most technical resources, and it ended up I couldn't allocate that much time just for WalkMe. And it's too complicated (in my opinion) for any non-technical person to actually set up correctly. There's conditional logic that requires a fair amount of technical understanding, especially if you need to have the WalkMe logic look at the underlying HTML to know where elements should go.
Unfortunately, we ended up not being able to use WalkMe at all. Especially unfortunate is that I'm locked into the annual contract and am on the hook for $20,000 paid $5,000 quarterly. All based on numbers that I thought we'd be using (I guess I could have just said we'd only have 10 users).
They refuse to end the contract despite having already paid $10,000 for (quite literally) no work being done. None of their time taking, none of their server resources used nothing.
So if WalkMe appears to be the right solution for you, be sure you're going to use it and I would estimate on the LOW side for users because you will be paying for them regardless.
We did have one technical issue where the WalkMe scripts were causing each click in our Admin Portal to open a new tab briefly, then immediately close in the browser. We ended up removing the script and not working with them to resolve that, and I believe there would have been a fix for it.
What problems are you solving with the product? What benefits have you realized?
I was hoping to use WalkMe as a way to reduce support tickets. But the reality is that I'd need to have a full-time resource just keep the WalkMe scripts updated since we update our Admin portal with monthly builds, adding functionality and integrations, etc. Since that resource would have to be technical anyway, it makes more sense for me to just add that resource as a support agent.
Any change (even a label change) could cause the WalkMe scripts to break, so for each production update, we'd need to review WalkMe to see if anything broke. If something was broken and we didn't proactively fix it, it would cause even more support tickets."
Userlane vs. Walkme: Similarities
Both Userlane and Walkme can be used to build onboarding walkthroughs. Both use similar logic to build product guides: you build logic flows ("lanes") directly in the tool's dashboard, not in a chrome extension by pointing and building UI patterns directly on top of your native UI (like e.g. in Userpilot). This has its upsides (as you can preview the whole product tour's logic flow at a glance) but also its downsides (building product tours that way is not very intuitive). Both Userlane and Walkme have custom pricing only and are rather expensive ($10,000 + per year – which puts them in the mid-market-to-enterprise bracket).
Userlane vs. Walkme: Differences
Despite an equally high price tag, Userlane has a much easier-to-use interface and doesn't require as much tech setup and development support as Walkme. Userlane also boasts an integral chatbot.
On the other hand – Walkme is the only digital adoption platform that supports third-party user onboarding (e.g. employee onboarding on tools like Salesforce, Hubspot, etc.).
Userlane vs Walkme: Cost-Effectiveness
Neither Userlane nor Walkme publishes their pricing on their websites. Full access to Walkme can cost north of $50,000 per year.
Differences in Customer Service
According to user reviews, Userlane's customer service is better (more responsive) than Walkme's.
What are the key features of Userlane and Walkme?
Walkme's features include:
Customer Segmentation
Customizable Reports
Customizable Templates
Employee Onboarding
Engagement Tracking
Event-Triggered Actions
Feedback Management
Gamification
On-Demand Training
Interactive ContentManaged LearningPathways/Tracks
Predictive Analytics
Progress Monitoring
Real-Time Analytics
Userlane's features include:
User Onboarding
Employee Training
Userlane Assistant
Multi-language support
In-depth analytics
No coding required
User segmentation
Responsive design
Userlane and Walkme pricing
WalkMe is notably reluctant to communicate its standard pricing on its website. However, there's no doubt that WalkMe is an expensive solution, and we've heard of companies paying as much as $50,000 per year.
Userlane provides a bespoke quote based on its clients' needs. From our understanding, Userlane is certainly more affordable than WalkMe, though there are better value options available such as Userpilot.
Userpilot is a Product Growth Platform that helps SaaS businesses to build new user onboarding, secondary onboarding, contextual hints, and onboarding checklists, without writing a line of code.
It also offers integrated user analytics and a user sentiment suite – with in-app surveys to collect feedback, and NPS surveys to gauge user satisfaction.
All this helps you to improve user experience and engagement, lead more users to activation, help them adopt secondary features, and even push for upgrades and get more expansion revenue.
Which tool is more user-friendly – Userlane or Walkme?
Based on user reviews, Userlane is significantly more user-friendly than Walkme.
WalkMe has a lot of features, but its comprehensiveness creates a lot of complexity for non-technical users that makes it more difficult to utilize. It has even been criticized as being impossible for non-technical users to use.
So if you don't want to burden your developers with the adoption of WalkMe, this isn't the right platform for you. On the other hand – it's fairly easy to implement Userlane inside your product, according to information provided by its users on several review websites.
Customization options
Walkme offers more customization options than Userlane. Userlane, however, is easier to implement than Walkme.
Integration options 
Walkme has more integrations than Userlane. Walkme's integrations page lists 22 integrations, including Salesforce, Slack, Zendesk, Google Analytics, Amazon Web Services, Webhooks, and many more.
Userlane lists only 3 integrations on its website: Confluence, KnowledgeOwl, and Zendesk.
Which tool offers better support – Userlane or Walkme?
Compared to WalkMe, Userlane is better at support. According to G2 reviews, Userlane is more usable, easier to set up, and better at support.
Which tool is more scalable – Userlane or Walkme?
Due to the sheer number of integrations, Walkme seems more scalable than Userlane. However, due to how difficult it is to set up and use, Userlane may be a more scalable choice than Walkme if you consider the learning curve for your employees. As your product team grows, Userlane will be easier to use. There are easier software products like Userpilot or Appcues though, that also offer better pricing.
Which tool is better suited for large enterprises – Userlane? Walkme?
Both Userlane and Walkme are considered enterprise software. There's little difference between them when it comes to that. Userlane seems more of a self-service software. Walkme system requires more technical knowledge to set up.
Which tool is better suited for small businesses – Walkme or Userlane? 
Neither Userlane nor Walkme is appropriate for small businesses or mid-market enterprises. For companies between 1 and 10 million in revenue and 50+ employees, Userpilot is the best choice. For really small startups (under 1 million in revenue and fewer than 50 employees) – there are other tools like Product Fruits ($59 PCM) or Useguiding ($89) that are less robust and a bit messy, but have very affordable pricing packages.
Userlane vs Walkme for onboarding new users?
Both Walkme and Userlane are suitable for user onboarding. However, Userlane is more user-friendly. None of them is an ideal solution for user onboarding in small to mid-sized SaaS companies. There are some better product adoption alternatives such as Userpilot and Appcues for new user onboarding in SaaS.
Userpilot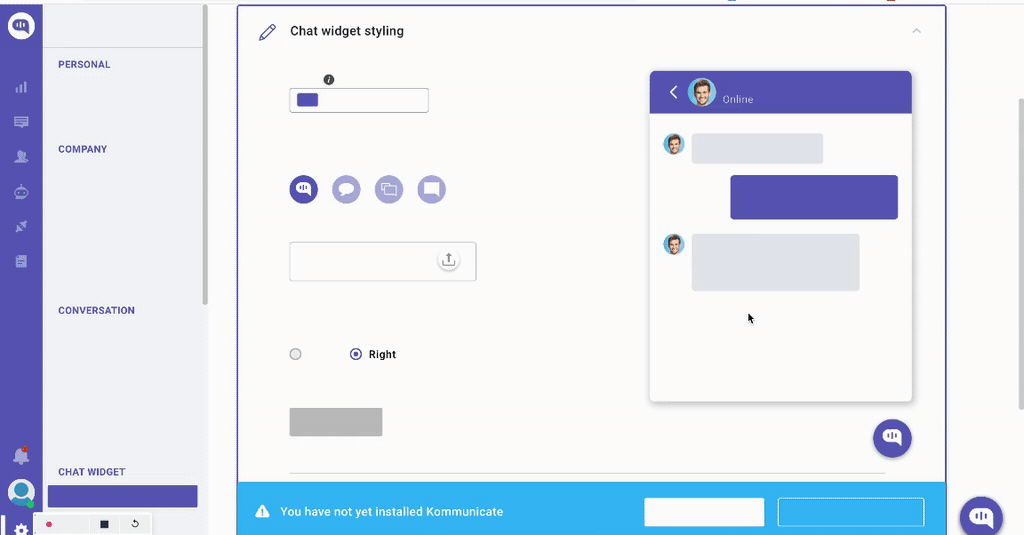 Userpilot is a great tool for user onboarding. It allows you to create guides for new user onboarding in minutes. Its intuitive interface allows building great walkthroughs for new and advanced users directly on top of your web app or website. You need only one snippet of code to install it in your app and you can easily guide users to these 'aha' moments. You can also build feature release messages, error messages, and loading screens.
Userpilot also allows you to segment your users in a really granular way, analyze user behaviour and trigger experiences based on in-app behavior in real-time: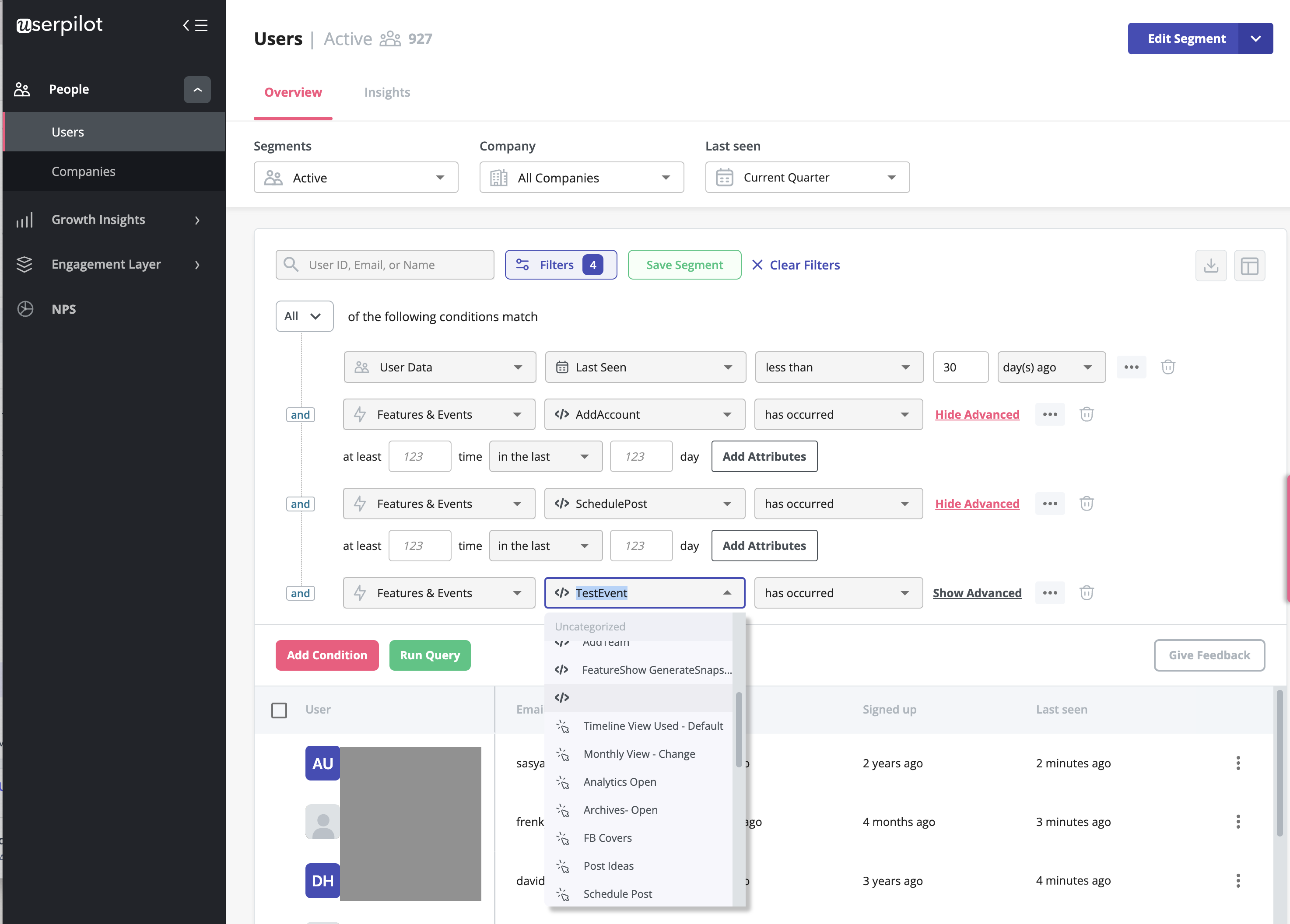 Based on over 120 reviews on G2, Userpilot users rate it at 4.7 out of 5 stars.
With pricing starting from $299 payable monthly, it's a real steal for user onboarding compared to Walkme and Userlane.
Try Userpilot for free now here.
Best solution for onboarding new employees?
Walkme is the only tool that allows employee onboarding. Userlane is only suitable for user onboarding and feature activation.
Userlane or Walkme: product analytics
Walkme has significantly more robust analytics than Userlane. However, it's more difficult to use than Userpilot or Pendo.
Conclusion: Userlane and Walkme: which is the better?
Even though Walkme has more features and integrations, it's so hard to set up and use that most enterprise companies may still prefer Userlane. In general, we recommend Userlane over Walkme for product adoption and interactive guide – it's easier to use, more economical, and seems more suited to all but the largest companies. However, there are better alternatives in general – such as Userpilot or Appcues.