Customer Communication Management Guide For SaaS Companies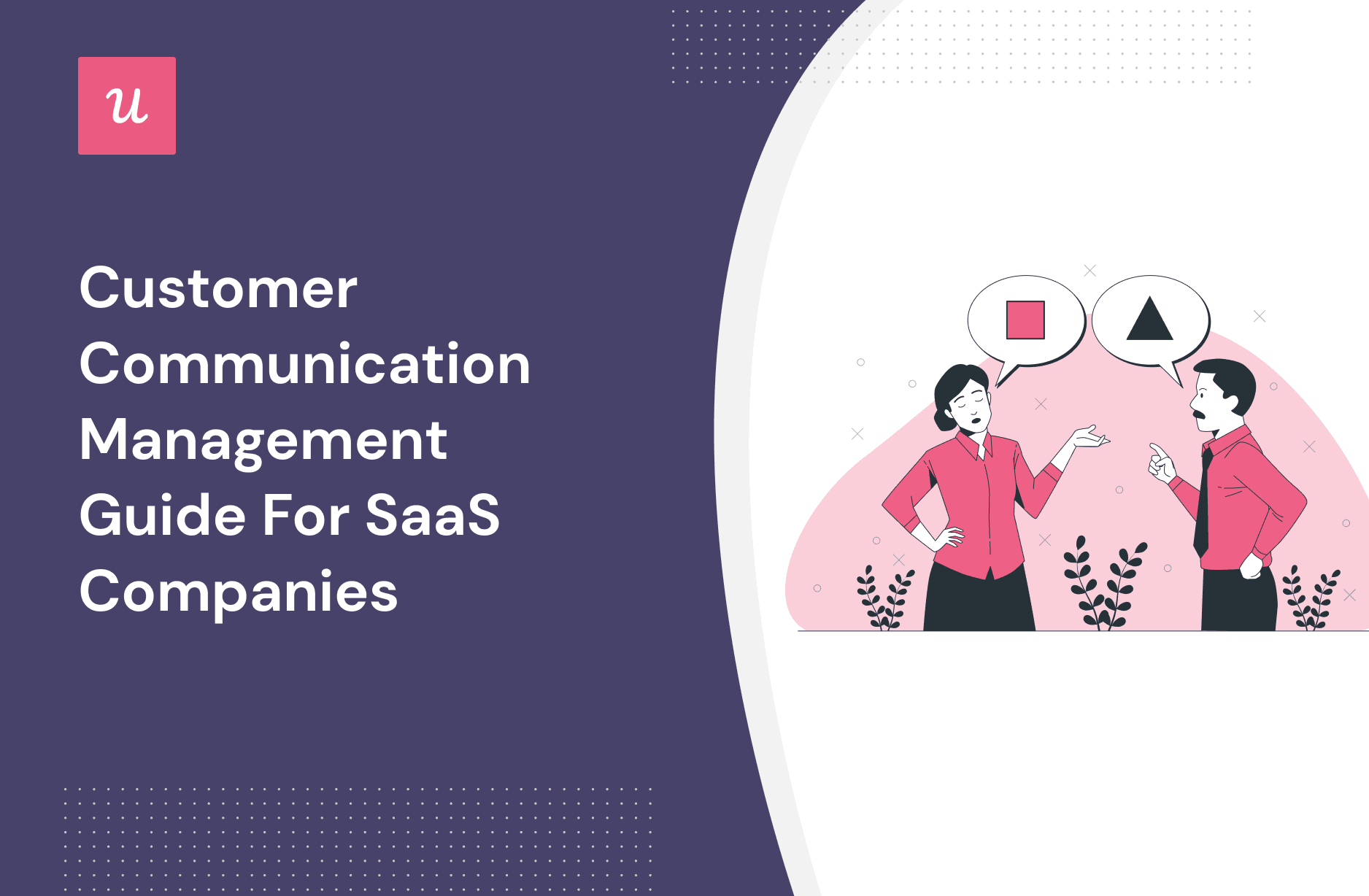 How comprehensive is your SaaS company's approach to customer communication? If the answer is "not very", now's the time to reconsider it.
According to research conducted by PWC, one in three consumers would walk away from a brand they love after just one bad customer service experience.
That's why mastering effective communication with your customers in this day and age isn't a nice-to-have – it's a business imperative.
Let's dive deeper into what everything customer communication management for SaaS entails, as well as our best practices for getting it right.
TL;DR
It helps create a more positive overall customer experience.
You can achieve higher paid conversion rates by focusing on and consistently listening to and meeting user needs.
And ultimately, every customer interaction is an opportunity to boost their satisfaction levels and your user retention rates.
Setting up a diverse range of customer communication channels will help you collect a variety of insights throughout the customer journey and reduce the strain on your agents.
In-app messages are personalized notifications like modals, checklists, and tooltips that appear to users when they do something inside your app.
Email is another popular communication channel that can be used to share all kinds of news and reach people who are less active in the app.
Your website is a core aspect of customer communication management, sharing information with visitors through notification banners, blog posts, changelogs, etc.
Finally, you can also use social media to interact with customers, resolve their issues, and make them feel heard.
Here are some of the best practices for effective customer communication:
Segmenting users so that you can hyper-personalize their emails, welcome screens, etc.
Setting and tracking customer service communication metrics.
Provide meaningful interactions through UI feedback mechanisms like tooltips.
Implementing self-service support solutions like resource centers.
Automate customer communication with chatbots.
Using positive language and attitude at all times.
Collect both active and passive customer feedback at multiple touchpoints and act on it.
Go above and beyond for unhappy customers.
Develop solid internal communication systems.
Some of the best communication management tools on the market include Userpilot, Zendesk, and LiveAgent.
Userpilot helps you onboard users, nurture loyalty, and drive revenue with highly customizable in-app messages.
Customer service teams can monitor and solve all customer issues and queries on the same platform as Zendesk.
LiveAgent is an all-in-one live chat software that helps companies personalize customer communications management.
What is customer communication?
Customer communication is how a business interacts with and talks to its customers.
A comprehensive customer communication strategy includes a variety of tools, channels, and touchpoints to create an ongoing (and ideally, rewarding) conversation between the client and the company.
Why is customer communication important?
Prioritizing effective customer communication can have a huge impact on a company's ability to acquire, engage, and retain customers.
Better customer experience
Psychologically, people are much more likely to remember negative experiences rather than positive ones.
Creating customer experiences that consistently meet and exceed their expectations is a huge differentiator in a customer-centric market where they can easily switch to another brand.
Higher conversion rates
Leveraging effective customer communication is key when it comes to growing SaaS businesses. But despite what some might think, it doesn't just kick in when a prospect is about to buy your product.
Instead, think of it like building an ongoing relationship right from the start of the buyer's journey.
This relationship can be nurtured at different touchpoints using tactics like welcome screens, checklists, and interactive walk-throughs to increase trial-to-paid conversions for example.
Increased customer satisfaction and retention
Happy customers want to repeat positive experiences. The happier you make them, the longer they will remain your customer.
To give you an idea, research shows that 93% of customers are likely to make purchases over and over again with companies that offer effective customer service communication.
So when you invest in predicting and delivering exactly what your customers need, customer satisfaction and retention will increase as a result.
What are the main customer communication channels?
Each customer communication channel comes with its own benefits and provides different insights into customer needs at varying parts of the buyer's journey.
They also help reduce the reliance on customer service agents alone.
In-app messages
In-app messages are useful, hyper-personalized notifications like modals, checklists, and tooltips that appear to users when they are active inside your application.
A best practice for in-app messages is to use customer segmentation to ensure that the right notification appears at the right time, making it as effective and helpful as possible.
Here are some scenarios in which in-app messages can drive engagement and growth:
Let's take a closer look at an example of how Userpilot uses a modal to announce a new feature:
Email
Email is one of the most popular, versatile, and inexpensive channels for communicating with your users. It can be used to share onboarding instructions, company news, product updates, useful content, and much more.
It's particularly effective for reaching inactive users who don't spend much time in your app and are less likely to see in-app messages.
Website
A website is a basic business necessity, but it also provides quick and easy ways to start a customer conversation using tools like notification banners, live chat, and blog posts.
Check out Storychief's notification banner (announcing future plans and pricing updates) below to get an idea of what those can look like:
Social media
Answering customer comments on social media can help them feel seen and heard faster, and also doubles up as a marketing tool.
You can also use social networking platforms to generate hype around product launches or new feature releases through targeted marketing campaigns.
Remember to invest your resources in the social media platform where the majority of your customers and prospects spend time to make an impact where it matters most.
Best practices for effective customer communications
Building an omnichannel customer communication strategy can feel daunting, but it's worth it: here are our best practices for getting started.
Hyper-personalize your customer communications with segmentation
Everyone likes to feel special and have their individuality recognized. Zendesk's recent study shows that 68 percent of consumers expect all experiences to be personalized.
Segmenting customers, aka breaking them into groups based on similar characteristics, allows you to personalize the user experience, making it more relevant to the individual and showing them you are prioritizing their wants and needs.
Some examples of personalization in customer communications include:
The key is not just to personalize your marketing efforts, but to personalize every form of customer interaction, including in-app experiences.
To get started, map the user journey, collect data on your users, and create user personas. You can achieve this using short microsurveys as part of your welcome flow like Postfity does below:
After you've collected your data, analyze your findings and use them to break your user base up into segments based on demographics, jobs to be done, NPS scores, and other characteristics.
Next highlight features, hints, and trigger flows designed to provide specific value to each customer.
Set and track customer communication metrics
If you're not collecting and analyzing data with the right metrics to enhance the customer experience of your brand, you won't be able to fully measure the impact of your efforts or know what needs to improve.
Customer satisfaction score
This is a commonly used metric that shows how satisfied people are with your brand, app, or website – or even after a customer service interaction.
It's measured through user feedback surveys as seen in this example from Hubspot below:
First Response Time
This metric tracks the average amount of time it takes for a service agent to get back to a customer once they raise a ticket.
Average resolution time
This metric measures the average amount of time it takes for a customer to raise a ticket to the support team to resolve their query or problem.
Customer effort score
The Customer Effort Score reflects how much effort customers put into interacting with your business, whether they're asking a question, resolving a problem, or even requesting new features.
Provide meaningful interactions through UI feedback
User interface (UI) feedback refers to how your product responds to user actions. UI feedback has the power to transform a confusing user experience into a pleasant one.
For example, you can use native tooltips to provide more information about a UI element when the user hovers over it.
Check out below how Airtable uses descriptive tooltips to explain specific features in more detail. Airtable pairs them with hotspots to drive the user's attention to the UI element that the tooltip is describing.
Implement self-service support solutions
According to research conducted by Zendesk, 67% of respondents prefer being able to find product information and solutions themselves over speaking to a company representative.
Given the increasing popularity of self-service support solutions, it's important to anticipate what kind of issues customers might have, and provide self-help resources they can proactively turn to in those moments.
A great way to do that is to create a resource center that combines all sorts of helpful resources for users such as:
Documentation articles
FAQs
Webinars
Case studies
Automate customer communication with chatbots
Repetitive or common customer service interactions can be automated using AI programs that simulate natural human conversations, i.e. chatbots.
Some of the advantages of using chatbots are that they can be available 24/7 and provide quick answers to customer queries.
This creates shorter wait times, reducing customer service costs across the board.
Use positive language when communicating with customers
Having an upbeat, empathetic attitude and using positive language are indispensable when it comes to providing stellar customer service.
Rather than apologizing profusely for a problem or long waiting times, focus on using a helpful and cheerful tone of voice.
This is important whether the communication is taking place over the phone, through self-help content, or even when programming the responses of your AI chatbot.
Collect customer feedback at multiple touchpoints
A customer touchpoint refers to anytime a person interacts with your business throughout the customer journey, whether it's in your product or on another channel.
These interactions are key moments to collect user feedback that helps you understand your customer's pain points and how they feel about your brand.
For example, you can request feedback after a customer service interaction or when a user requests a new feature.
Some ways that companies collect feature requests include:
User interviews
Social listening
Analyzing this feedback and incorporating it into your product messaging helps you build and sustain long-term customer relationships.
Remember to collect both active and passive feedback, as both types provide valuable insights. Active feedback is when a company contacts customers to ask them for their opinion about something while passive feedback refers to when users initiate the interaction.
One way to collect active feedback is by using in-app surveys triggered by user actions, as seen here below:
Meanwhile, you can collect passive feedback with feedback widgets that blend into the product's UI and overall customer experience, like Miro does here:
Respond to unhappy customers and offer solutions
Unhappy customers tend to jump ship to other brands – and share their negative experiences with others. It's vital to learn from negative feedback and use it as an opportunity to show your customers that you do care.
If you do a good job, you can even turn the situation around and transform unsatisfied customers into strong brand advocates.
One way to identify unhappy customers at scale is to send out an NPS (Net Promoter Score) survey.
You can segment those who rate you under 6 and ask follow-up qualitative questions to gain a better understanding of the low scores.
Next, you can tag user responses to identify recurring patterns which require your attention. This is also your opportunity to go the extra mile: reach out to learn more and offer assistance.
Develop internal communication systems
Businesses with effective internal communication systems are 3.5 times more likely to outperform their peers, yet 60% of companies still don't have a long-term internal communications strategy.
Internal communications refer to the strategy, tools, and systems that help employees work together more effectively and productively.
In turn, this empowers the team to provide a higher quality of customer service and experience across all channels.
Best customer communication management tools on the market
Proper customer communication management is a lot easier when you have the right tools in place to support your efforts.
Here are some of the best ones available on the market today:
Userpilot – best in-app messaging and resource center software
Userpilot is a customer success platform that enables you to create personalized in-app experiences for every stage of the user journey to help product companies improve engagement and grow.
You can choose from a range of UI patterns, then segment users and send relevant and timely in-app messages for each segment:
Userpilot also enables you to create a customizable resource center that can be localized and translated into 32 different languages. Here you can track user engagement with the resources and compare usage over a specific period.
Zendesk – best help desk software
Zendesk is an omnichannel support solution that provides customer service teams with a way to track and resolve customer complaints from a single platform.
The software offers customizable tools for building a customer service portal and knowledge base. It also provides data collection and analysis, real-time chatting, and online community forums.
LiveAgent – best live chat software
LiveAgent is an all-in-one live chat software that helps you personalize interactions with your customers through customer segmentation, built-in CRM, and powerful analytics.
Using LiveAgent, you can set up an omnichannel universal inbox and real-time live cha,t while taking advantage of their built-in call center and comprehensive customer service portal.
Conclusion
Customer communication management is vital for building strong relationships between SaaS companies and their users.
The quality of these interactions can be the make-it or break-it factor when it comes to customer engagement, satisfaction, and retention.
Want to get started with your own customer communication strategy? Get a Userpilot Demo and see how you can improve your customer experience across the board.