Customer Service Model For SaaS—The Complete Guide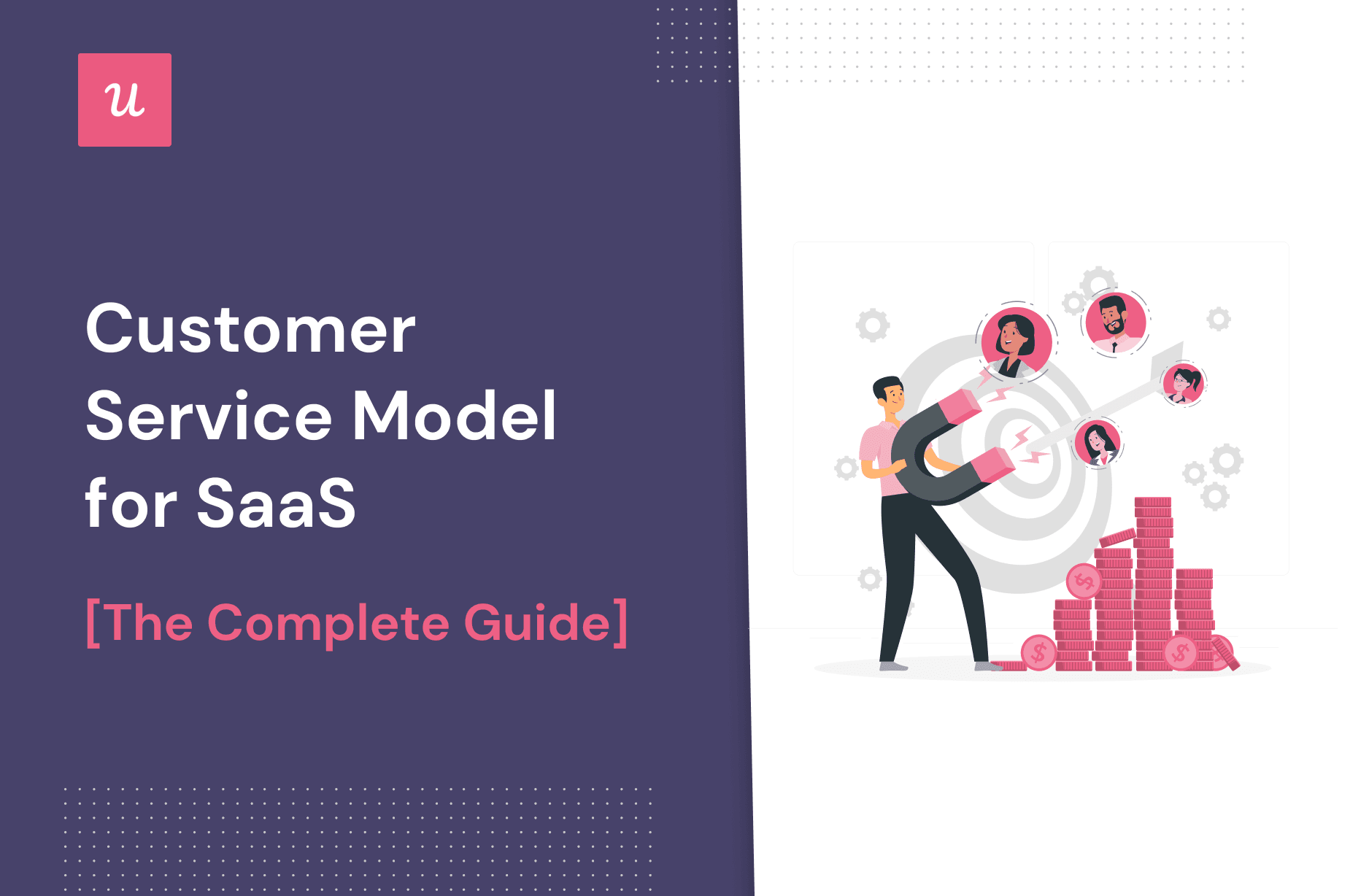 But how do you implement a customer service model correctly?
Customer service is more than responding to email requests. You must ensure that your users have access to self-service support and human help at all times—which might get complicated in practice.
That's why we made this guide, so you can learn and provide excellent customer service that actually helps your customers.
TL;DR
A customer service model defines your process for supporting your customers whenever they face any obstacle with your product.
A customer service model is necessary for customer success. An excellent support service can reduce friction, increase activation, boost retention, and expand positive word-of-mouth.
The customer engagement model is focused on aiding the user proactively and making them stick with your product. In contrast, customer service offers proactive support and reactive service.
Without good product onboarding and high-quality resources, you'll get more support tickets than you can handle—hence you need to offer both self-service support and human assistance.
Some ways to offer bad customer service include:
Having an old-fashioned call center and still giving scripted answers.
Chatbots trained to answer basic questions only.
Only offering personalized support on custom plans.
Here is what makes an excellent customer service model:
Fast response times.
Multichannel support (email, live chat, phone, social media, etc.).
Personalized help resources tailored to the user's needs.
Constant improvement based on feedback.
Vast self-service support with plenty of resources.
You can use Userpilot to:
Build a customized support hub inside your app.
Personalize your in-app support hub content based on user segments, user events, localization, and more.
Track your module's performance based on target audiences (user segments), so you can offer the right customer service to the right users.
What is a customer service model?
A customer service model is your blueprint on how you should assist customers when they face an obstacle (a bug, complex feature, incompatibilities, etc.). It mainly involves solving customer issues through in-app training, calls, emails, videos, articles, chatbots, and more.
However, excellent customer service also offers self-service support to the user—saving support agents time while driving frictionless customer engagement.
Why do you need a customer service model?
You can't expect a smooth customer experience 100% of the time.
That's why a customer service model is necessary, so you can streamline how you should address customer complaints and avoid churn.
Not only that, offering a positive support experience brings more benefits, such as:
Reduced friction. Problems generate friction in the customer experience. So, the quicker you can solve an issue, the less the customer service gap.
Increased activation. Users are more likely to experience the value of your product when you can support them effectively and provide a positive experience.
More retention. Offering satisfactory service continuously builds loyalty and customer stickiness in the long term.
Expands Word-of-mouth. Effective support boosts customer satisfaction and leads them to become your best promoters and source of testimonials. For example, positive reviews on platforms like Capterra and G2:
Customer service models vs. customer engagement models
Although customer service and engagement models are about educating and helping users, their goals are different.
Effective customer service models focus on solving technical issues and helping customers understand how to use the product. Its goal is to address and prevent problems that could ruin the user experience.
On the other hand, customer engagement models are about enhancing the product experience to help the customer achieve success and experience its value. Its goal is to handhold customers across their journey and helps them reach their goals.
Also, their workflows are different.
Engagement models tend to aid users proactively with in-app tooltips, interactive walkthroughs, checklists, and so on (solving the problem before it happens).
Meanwhile, customer service has a balanced mix of reactive and proactive support—providing solutions when the user requests them while offering resources to help users find answers quickly.
The opposite of a good customer service model
If you are looking to build a customer service model that decreases churn and boosts customer dissatisfaction there are some things you must avoid.
Stay away from:
Use old-fashioned call centers. Make the user wait in line to get assisted by a customer service representative—then give them a scripted answer that won't solve their problem.
Replace all human interactions. "Automate" live chats with a chatbot. Since a bot will never offer a personalized answer, your customer will never solve their problem (making it impossible to get assisted by a real person in chat is optional).
Only offer support on premium plans. Provide personalized support for VIP customers only, so customers with a lower plan would need to upgrade if they want to get help with a feature they're already paying for.
For example, here's a real-life result of the latter strategy:
As you can see, not having smooth product onboarding and high-quality resources available created this issue in the first place.
This ultimately leads to:
Way more support tickets opened.
More pressure on your customer support team.
An upset customer as a result of a lackluster service.
Or, as Samuel Cheong says in a few words:
If for some reason, you want to offer outstanding customer service that leaves customers satisfied, your best bet is to mix the self-service model and human support.
This way, users can find answers fast without demanding personal support, and your customer service team can spend their time handling critical problems instead of common customer queries.
What does an excellent customer service model look like?
It's easy to say that you should implement an excellent customer service model.
But what does that mean in practice?
First, let's talk about what makes a good customer service model:
Minimum response times
When you face an unexpected problem, you want to get over it as soon as possible so you can return to your planned routine.
When your customers have to wait in line to get answers, it will frustrate them a lot—not because they lack patience, but because they're unable to get their job done.
This problem won't just increase the customer service gap, it eventually results in a churn if the issue is not solved rapidly.
So if you want to satisfy your customer, make sure that:
Customers can get access to personal support, fast, and at any time.
Users have access to high-quality resources so they can solve common problems quickly.
Your onboarding process is smooth so customers would need less support.
Offering support across multiple channels around the clock
Now, having answers fast isn't the only factor. You also need to provide alternatives.
Some customers prefer live chat over phone calls. Others won't bother sending an email if they can solve the problem with a support article.
For this reason, you must provide 24/7 support on multiple channels. Depending on your user's preferences these might be:
Email
Live chat
Phone
Social media
In-app support hub
Documentation
Loom videos and webinars
And that's still not enough.
Users should have easy access to support at all times. For example, using an in-app widget to show all the options to the user:
Once customers have fast, easy access to your resources, it's just a matter of having the right resources—which leads to the next point.
Personalized to the user's needs
Customers no longer want to receive scripted answers when they have a problem—they need relevant solutions.
And although human help is ideal for providing personalized support to the user, you can't rely on their limited time.
Thankfully, there're more ways.
You can personalize self-service support by only showing relevant resources to the user (based on their segment and the features they're using).
And it doesn't apply to just the resource center.
You can also improve the product UX with in-app guides, video tutorials, tooltips, and in-app messaging to eliminate the need for help—therefore mixing proactive education with support.
Take Miro as an example. It has a resourceful help center with lots of guides, articles, and the option to request account help.
But that's not all. Miro also places a link to their help center inside their in-app learning center—making it more accessible to the user (so they don't have to Google it or browse their homepage).
Continuously improved based on feedback
We explained that you need to provide personalized customer service. But, how do you know what's relevant for your customer?
You won't get it right on the first try.
So you need to collect feedback in order to know what tactic works and what doesn't, then you can iterate and make constant improvements.
The simplest way to collect answers is by adding an in-app feedback widget to make it easy to reply. Just like this:
Another way is to send a customer satisfaction survey to the user after each support interaction. Which helps collect customer feedback from your customer service:
Self-service model
As explained earlier, your team can't handle all the customer queries. Thus a good customer service model must offer both self-service and human support.
This means you need to embrace the self-service model if you want to scale your SaaS without having to expand your support team.
And the best way to do this is to build a user-friendly help center inside your product.
With an in-app help center, your customers can find answers to common issues fast and on-demand (think of Miro's in-app learning center we previously mentioned).
Now, you might think this is easier said than done. But what if you don't need to rely on your development team to code it for you?
Let's talk about it:
How can Userpilot help you provide great customer service
By now, it is clear that you have to implement self-service service support to:
Reduce friction when your users face an obstacle
Boost customer satisfaction
Decrease the number of support tickets generated
Scale your business without having to expand your support team
Customer service tools like Userpilot make it easy to automate customer service with no code. Here's how:
Build effective in-app self-service support without coding
The first thing you can do with Userpilot is create an in-app support hub.
Here, users can access resources like knowledge base, tutorials, and videos directly from your product.
What's better, there're lots of options to customize your support hub, including:
Search function. Where users can quickly find the answers they need instead of scrolling aimlessly through all the articles.
Clear navigation. Letting you organize your knowledge base into top-level categories and sub-categories.
Support for different formats. Such as how-to articles, FAQs for each feature, interactive in-app guides, webinars, video content, and in-depth product documentation.
In-app guides. To make in-app onboarding guides like interactive walkthroughs available in your knowledge base.
Support team contact. So the user can instantly communicate with your support team when needed.
Personalize content for efficient service and a better experience
Throwing resources to your customer's face isn't enough—they also need to be the right resources.
With targeting, your customers don't have to browse through a sea of irrelevant articles to find what they need.
When building your resource center, you can add and group different modules and content types such as links, videos, flows, and even custom Javascript code.
And during this process, you can add specific targeting options to your knowledge base so the content only shows up based on:
A specific URL path. To limit the resource center on specific URL paths within your web app.
User segment. To show the content to a specific segment that you've previously created.
Localization. To show the content in different languages depending on the user's country.
Events triggered by the user. Make events such as NPS surveys, behavioral data, and other user properties trigger the content.
Collect valuable insights so you know what needs improvement
We said constant improvements based on feedback make excellent customer service.
That's why you should track help desk metrics and get feedback once you get your in-app resources in front of users.
Userpilot makes it easy to track how users engage with each module.
As shown in the image below, you can check how many clicks each module had from its target users.
This data is helpful because you can understand the needs of each type of user (based on segmentation) and:
Show the right resources to the right audience.
Offer the appropriate level of support.
Test different modules.
Now, combine this with the feedback you collect from multiple channels (email, phone, chat, etc.), and you'll have access to top-level insights to improve your customer service.
Such insights will help you build more guides, tutorials, and content pieces based on common struggles, questions, and obstacles—and provide better customer service.
Conclusion
By now, you know an excellent customer service model should be:
Fast
Widely available
Personalized
Always improving on feedback
Self-service
There's no doubt that if you want to scale your SaaS, you need to go the extra mile with your customer service—which is only possible by automating your self-service support.
So, unless you want to code it yourself, why not get an Userpilot demo and try to create your own in-app knowledge hub?