Help Desk Metrics in SaaS: What To Track and How to Improve Them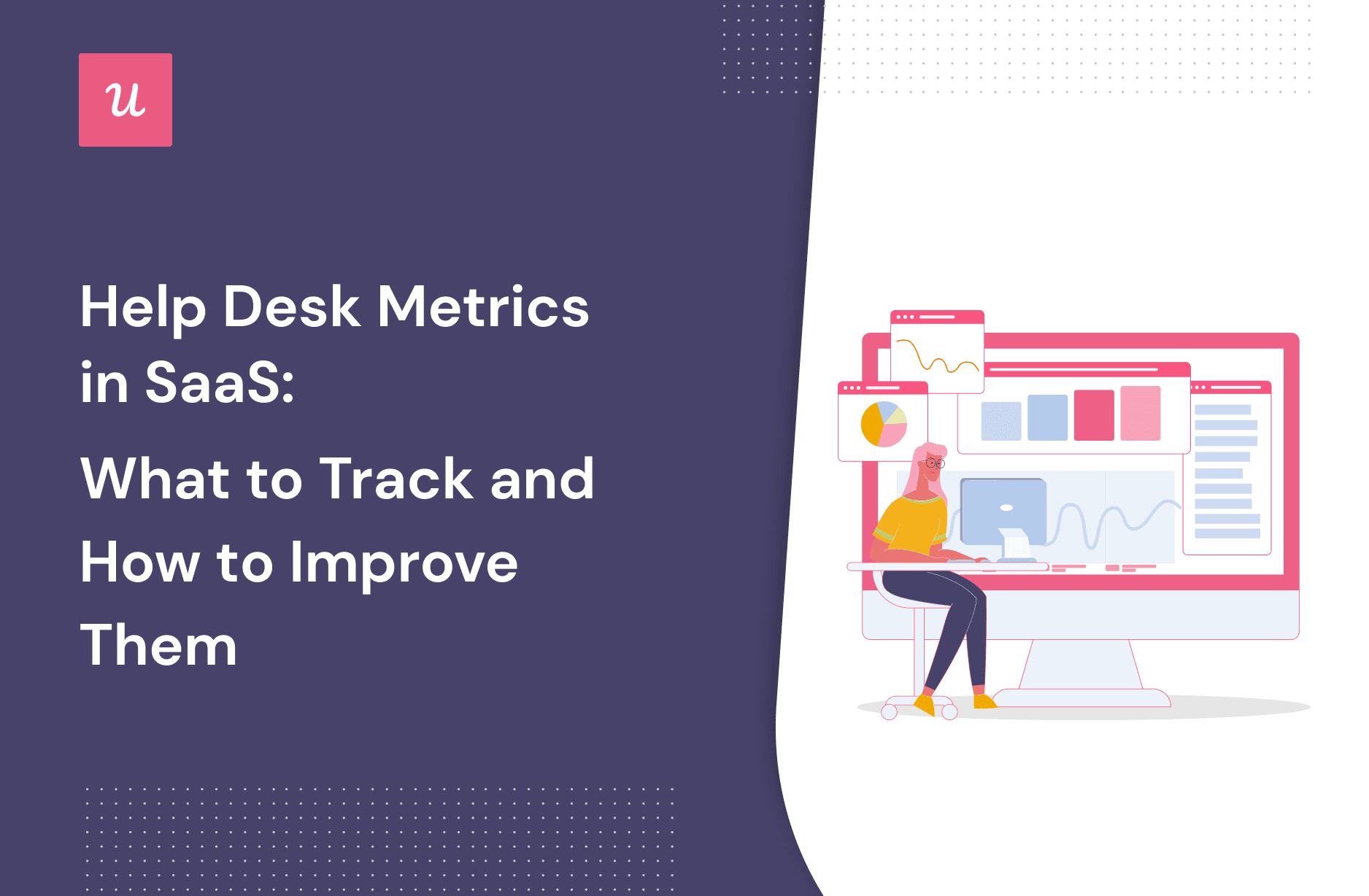 What help desk metrics should you use for your SaaS business to track your customer support team performance and see how often your customers need help?
In this article, we will talk about the most important help desk metrics, and how to measure and improve them to achieve product growth.
So, let's dive into the metrics right now.
TL;DR
Help desk metrics measure customer satisfaction and evaluate the performance of your customer support efforts.
Tracking these metrics will help you understand where to direct your resources to improve the quality of customer support and thus, customer retention.
The 10 key help desk metrics to measure are the number of new tickets, the number of resolved tickets, ticker volume, first response time, resolution time, first contact resolution, Customer Satisfaction Score (CSAT), Customer Effort Score (CES), Net Promoter Score (NPS), and ticket backlog.
You can provide self-service support inside the app using a resource center so that customers can quickly solve repetitive problems on their own without leaving your product.
Use AI-generated micro-video tutorials to provide in-app guidance to customers on the relevant features and functionalities of your product.
Use chatbots to give fast automated answers to common questions asked by users, 24/7.
Collecting user feedback with microsurveys can help you understand the happiness level of your customers.
Create an in-app resource center with Userpilot code-free, get a demo to see how!
What are help desk metrics?
Help desk metrics are quantitative measures that let you track customer satisfaction and evaluate the performance of your customer support efforts.
They offer valuable insights into how you can improve your customer support strategy effectively.
Why is tracking help desk metrics important?
Your help desk or service desk plays an important role in customer satisfaction.
You want your customers to be able to engage with your product and get quick support whenever they need it.
Tracking help desk metrics will help you understand where to allocate your resources to improve customer service. For instance, if your support team isn't performing well, the metrics will help you figure out how to motivate them and train them.
This will lead to better customer satisfaction.
These metrics provide an overview of your company's entire customer support process.
You will be able to improve your customer touchpoints, communication, service level, and content as a result. As a result, you will increase customer satisfaction and growth.
There are two ways in which help desk or service desk metrics affect loyalty: staff loyalty and customer loyalty.
Having a motivated, satisfied, and engaged support team can lead to better customer support. Plus, your customers are more likely to renew their subscriptions with you if they are happy with your service.
10 help desk metrics to track and monitor
Of the many possible key performance indicators for customer support, let's look at the 10 key help desk metrics you should track and optimize.
Number of new tickets
By looking at the number of newly created tickets, you can see how many support requests have come through your support channel.
These are the customers who are looking for help and are also waiting for your response.
As a result, this metric will allow you to understand how well your product performs and whether there are bugs or other issues that need your attention.
Number of resolved tickets
The number of tickets resolved simply tells us how many tickets were opened. Using this metric you can find out how quickly your team responds to customer inquiries and what problems have already been resolved.
In general, the higher the ratio of closed tickets to open tickets, the better.
Ticket volume
In contrast to the number of new tickers, ticket volume tracks all support tickets in the queue within a specific time frame.
It indicates both the level of customer support needed and the health of your SaaS business. Keeping an eye on this metric over time can help you identify trends in ticket volume and predict the likelihood of an upsurge in support requests.
Time to first response
The first response time (FRT), or first reply time, is the amount of time that passes between when a customer submits a case and when the support team replies.
It is sometimes measured in business hours, and sometimes in general hours. The average time taken to send the first response in a given period is equal to the total time taken for all first responses sent during that period divided by the total number of tickers who sent their first responses.
The resolution time indicates how long users must wait for their problems to be fully fixed. When an agent takes longer than others to resolve problems, it would be helpful if they were trained to mitigate knowledge gaps.
This metric is equal to the ratio of the total amount of time spent on resolved cases to the number of cases resolved.
First Contact Resolution
The first-contact resolution rate gives an indication of how many tickets are resolved within the first contact. This eliminates the need for users to call support agents in order to get their problems solved.
Customer satisfaction score
Customer satisfaction (CSAT) is a measure of customer happiness. You can ask users to fill up a short customer satisfaction survey right after a ticket is resolved or a conversation with a support agent ends.
CSAT surveys let you get the customer satisfaction score, which is equal to the number of happy customers divided by the number of customers asked.
Customer effort score
The Customer Effort Score (CES) measures how much effort a customer has to put forth in order to get a support team to fix an issue, answer a query, buy/return a product, or fulfill a request.
Ask users to rate a statement on a scale of 1 to 5, where 1 means Completly Disagree and 5 means Agree ( or user emojis instead of numbers).
[Brand name] made it easy for me to solve the issue:
You can then calculate the CES metric by dividing the number of 'Agree' responses (eg. ratings of 5,6, or 7) by the number of responses, then multiplying the ratio by 100.
NPS score
The Net Promoter Score (NPS) gives you an idea of the likelihood that a customer will recommend your product to others.
As you might already know, users today value the opinions of their peers more than ever before.
The NPS score is the difference between the percentage of promoters and those of detractors. Customers who give your product a rating of 9 or 10 are called promoters, while those who rate your product 6 or less are called detractors.
Ticket backlog
When your support requests go unanswered, you have a ticket backlog.
Another reason for backlogged tickets is poor ticket management, such as reps failing to close a ticket after completing it.
A large number of backlogged tickets indicates that you are unable to resolve issues effectively. Additionally, it can suggest a need to streamline support processes or hire more staff to handle current demand.
4 Ways to improve your help desk metrics
Now that you know what help desk performance metrics you have to measure, you can incorporate the insights into four different improvement strategies.
As the performance of your help desk improves, so will customer engagement and satisfaction.
Use an in-app resource center to reduce the number of support tickets
Reduce the number of support tickets by using an in-app resource center.
In place of a self-service portal outside the app, an in-app resource center helps users stay engaged inside the app.
Resource centers are similar to help centers, but they are more intuitive and focus more on the user experience. The self-service onboarding method empowers users to solve many issues on their own and onboard themselves independently. It scales better and results in less work for your support team.
The user can access a variety of resources in the center for education, including micro-video tutorials, in-app onboarding experiences, and more. You can also include external links to your knowledge base.
In essence, it's a go-to solution that helps customers learn by doing.
Resource centers reduce friction during the onboarding process and give users a sense of accomplishment when they are able to find solutions on their own. This increases customer loyalty.
Furthermore, since users no longer have to turn to agents for every problem, the number of support tickets decreases. This relieves the support team of some of the burden, so they can focus on more urgent issues.
Use AI-generated video tutorials to explain things
AI technology has made it easier to improve customer service. You can now use AI-generated onboarding videos to explain things to users in a more engaging way than, let's say, tooltips.
Video onboarding refers to the use of educational videos and interactive walkthroughs for upskilling users, end-users, and employees.
With a maximum length of 30 seconds, these micro-videos save your users' time by being short and engaging.
Their contextual nature enables them to reach the target audience at the right time, i.e., when they need it the most. So, instead of being bombarded with useless information, users can be introduced to key features.
You can easily generate video from content using Synthesia AI.
Then, add those videos inside your resource center for easy access to guidance on demand.
Use chatbots for automated answers
With chatbots, users can get instant answers to common questions 24/7. They have the capability to answer questions, provide answers, and perform tasks using AI-generated content.
Additionally, they can offer customized experiences to users. A customer can trigger them by engaging with a widget, completing an action, or by visiting a specific webpage.
You can see how HubSpot uses its chatbot to suggest solutions to some of the most common problems users encounter and also to let them share some other issues they may have.
Use customer satisfaction surveys to anticipate needs
In-app microsurveys are useful for gathering customer feedback and determining customer satisfaction levels. They provide qualitative and quantitative data that can be used to:
Identify and eliminate friction points
Provide better customer support
Enhance your product's usability and features
Help customer success teams figure out where users face obstacles
You should use different customer satisfaction surveys at different points in the user journey to gauge their satisfaction level more accurately. Understanding these can help you anticipate needs and address them before the users require support.
Look at qualitative responses and identify patterns associated with low scores from these four types of CSAT surveys:
Customer Satisfaction Score (CSAT)
Customer Effort Score (CES)
Net Promoter Score (NPS)
How to create an in-app help center with Userpilot code-free?
Are you looking for the easiest way to create an in-app resource center? Userpilot enables you to do that code-free!
Set up your resource center
Start by going to the resource center page in Userpilot's dashboard, then select 'Setup' or 'Edit' (to make changes to it, add modules).
First, go to the Content tab. This is where you can create the content of the widget. Plus, you can add a title for the header along with a descriptive subtitle.
Adjust settings and style
You can then move on to the Widget tab and customize its look. Userpilot lets you edit the settings given below:
Main design
Primary color – This is the color of the top header section
Carets color – This is the color of any side arrow that appears in every module
Background color – this is the background color of the content section
Icon color – This is the color of a widget icon
Text settings
Font color
Font family – Add the font you want, given that it is a Google font
Remember that you need to choose the color option as "Manual" to be able to change the text color.
Add modules
To add modules, go back to the Content tab. Click on 'Add a new module' to begin adding resources to the help center.
There are separate module options to select from:
Video – Embed a video, such as a micro video, to offer easy guidance
Link – Use external URLs to send end-users to resources like the knowledge base
Flow – Add one flow that comprises a single or a series of steps
Checklist – Insert a checklist pattern made up of a combination of tasks
Customized Javascript – Finally, add a customized JS function to access custom content like triggering a chat widget
Moreover, you can group various modules to list them in one section.
All you have to do is hit the 'Add Content' button and click on 'Create a Group'. This grouping is very useful for listing content under a single title and managing content in a structured manner.
Note that Userpilot's resource center has a searching functionality that lets you search both the center's content and external knowledge base.
You can access this functionality with the search engine providers below:
Preview and publish
The preview window lets you see any modifications made to the resource center in real-time. To ensure that the center displays and behaves with your end-users as expected, it would be better to preview it during the construction process.
There are two kinds of previews:
Live preview – Go to the 'Preview' tab after you are done building to see the live preview. You can interact with this preview to check its potential behavior with end-users.
Initial preview – You can see this option on the right side of the page while building every part of the help center.
If you are satisfied with the preview, you can further reassure yourself by testing the resource center live before publishing it for end-users. The test mode allows you to inspect multiple things:
The resource center's position on the right page(s)
The resource center's appearance and behavior from the perspective of end-users
Adherence to the specified target audience
Feedback from team members
Assessment of module interaction behavior.
Summing it up
The results of your customer support efforts largely depend on the metrics you choose to measure them. With the right metrics, you can obtain actionable insights to feed into customer support strategies and improve retention.
Want to get started with help desk metrics? Get a Userpilot demo and see how you can make your customers happy.