9 Onboarding Screens Examples to Drive Engagement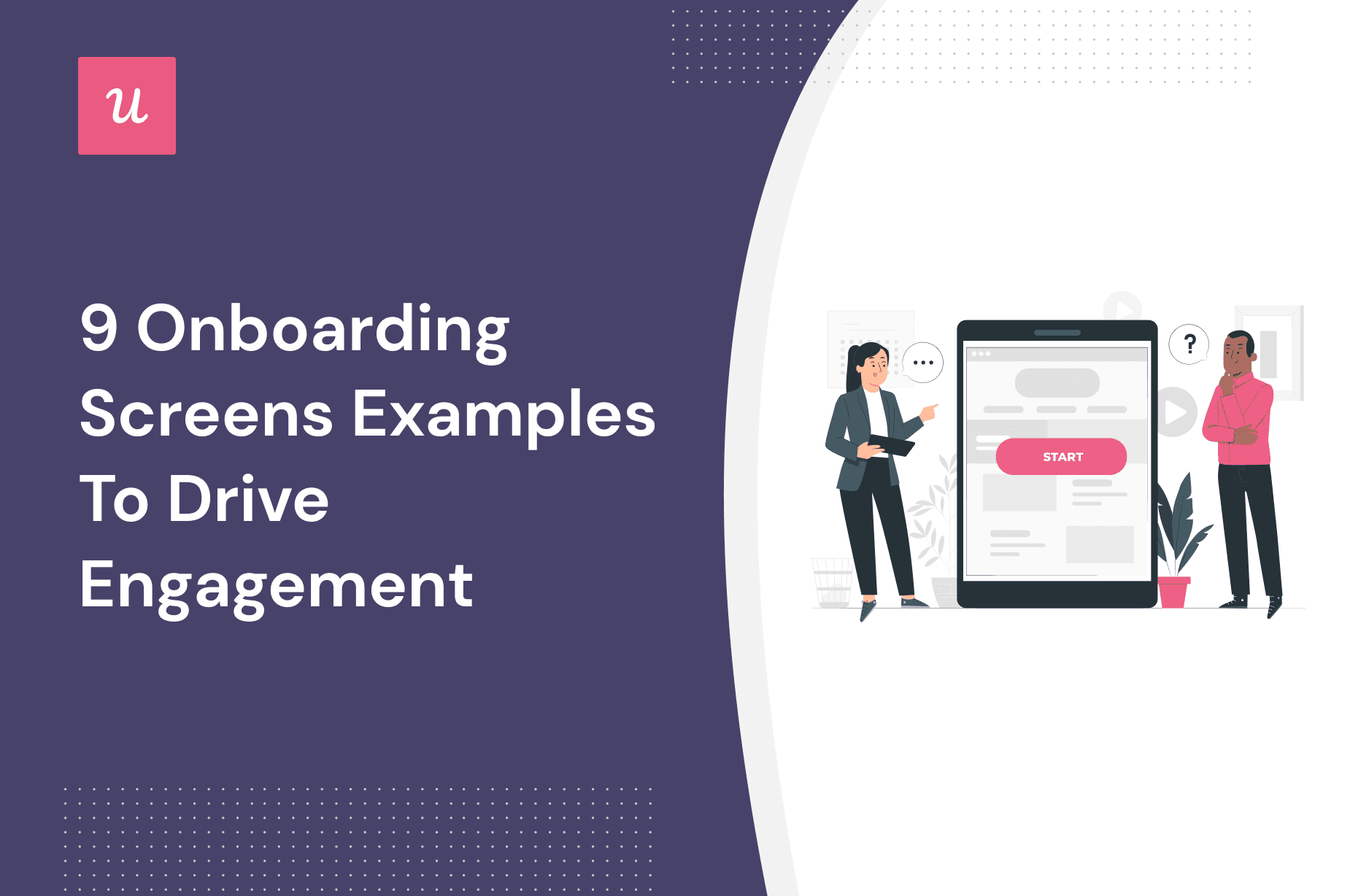 The best onboarding screens examples have one thing in common – they're all great doors into the never-ending party that is user onboarding.
These screens positively impact users long after they first launch the product by helping them make the most of the product.
In this article, we'll examine what makes the onboarding process so important, 9 of the best onboarding examples, and the best practices to follow when designing your onboarding screens.
TL;DR
An onboarding screen is the initial screen users see when they launch an app for the first time. It introduces users to the app and gets them started with it.
The onboarding flow is a series of tooltips, modals, screens, etc. that introduce your app and its primary features to your users. The onboarding screen is typically the first part of this flow.
Onboarding screens come in different shapes and sizes. This includes signup forms, welcome pages, and empty states, each serving a different purpose in your onboarding flow.
Good onboarding screens are an important part of the onboarding process. They help you to:
Leading new user onboarding examples in SaaS include:
Grammarly: uses an interactive demo document to show users how to use the product.
Loom: showcases its video recording features by providing video tutorials for customer education.
Fullstory: uses onboarding screens for customer data collection.
Notion: fills empty state home page with checklists and elements that showcase its product.
Todoist: creates a checklist to guide new users to product activation.
Canva: uses a gamified survey to identify user persona and personalize new user onboarding flows.
Linkgraph: drives customer education using video tutorials.
Asana: keeps the signup page simple and short for a frictionless customer experience.
Duolingo: uses gamification elements and a progress bar to guide users through the signup process.
Userpilot provides an array of features and tools to help you curate your desired onboarding experience. Book a demo today to learn more about these.
What is an onboarding screen?
The onboarding screen is the first screen a user sees after launching your app for the first time. It warmly welcomes the user, sets user expectations, and sets you up for a successful onboarding process.
Onboarding screens may consist of tooltips, microsurveys, or other UI elements that tie into the overall onboarding process and helps to move users from on-the-fence skeptics to regular product users.
Onboarding screens vs. onboarding flows
User onboarding flows encompass every tooltip, screen, or step that gets users familiar with your product. A complete onboarding flow should help new users quickly realize the product's value.
To do this, the user onboarding flow introduces users to the app's interface, showcases its core benefits, teaches new users to use the product, and helps users complete their account creation process.
Meanwhile, onboarding screens are part of the entire onboarding flow. They only appear when users open your application for the first time, serving as the user's introduction to your app.
Different types of onboarding screens
Although they're always the first screen in the user onboarding flow, onboarding screens often differ in form and function. This includes:
Signup Form: Widely regarded as the first step in new user onboarding, the signup page helps SaaS companies collect data, showcase the product, engage users, etc.
Welcome Page: The welcome screen is often the first in-app opportunity to introduce users to your product. Receive users warmly, set expectations, and collect data that helps you segment new users and personalize their onboarding flow.
Empty States: Some products skip the welcome screen and go right to the product screen, making the "empty state" its primary onboarding screen. The best SaaS empty states are filled with helpful information that drives user success.
Why do you need an onboarding screen in your onboarding flow?
Onboarding screens are a very important part of the SaaS onboarding sequence. They shape the new user onboarding experience, helping them feel at ease while helping you to:
Meet users' expectations and drive users to the Aha! moment
Onboarding screens help you define user expectations. It allows you to highlight your value proposition to new users, showing them what to expect from your product and helping them understand your product's main functionalities.
The result is that you help new users reach the Aha! moment sooner. Through a carefully curated contextual onboarding experience, you help users find value in the product, driving customer delight and satisfaction.
Improve new user onboarding experience
A great user onboarding experience is highly subjective. This is because different user groups (or segments) may experience your product differently.
Your onboarding screen is a great place to collect user data, identify user segments, and personalize the user onboarding flow. Armed with the right data, you can deliver a contextual onboarding experience that's unique to the user's pain points and needs.
Increase user retention rate
Ultimately, what makes user onboarding important is its ability to increase customer retention rate. Personalized onboarding helps drive engagement, boost user activation, and shorten the time to value.
By collecting data on the onboarding screen and personalizing the onboarding process accordingly, you set users up for success and increase your retention rate.
New user onboarding examples to encourage users to continue moving forward
One way to successfully deliver a world-class onboarding experience is by imitating the examples of others. Thankfully, the SaaS product community is filled with good onboarding examples you can imitate.
Let's consider a few:
Grammarly's welcome screen invites users to a quick tour
Grammarly is an online writing assistant tool that helps users check for errors in spelling, grammar, and word choice.
After signing up, a welcome screen invites new users to view a quick product tour. The tour opens up an error-ridden demo document with in-line suggestions from Grammarly and guidance on how to make the most of those suggestions.
The cleverly created learn-by-doing approach employs tooltips and modals to accelerate new users' learning process, teaching them to use the tool's features within a controlled environment.
Loom combines learning and showcasing its product in its onboarding process
Loom is a video tool that lets its users quickly record and share videos for personal or commercial use. Unlike YouTube, Loom focuses more on private video sharing among colleagues and friends.
For its onboarding process, Loom focuses on customer education via video tutorials. The empty state dashboard is populated with videos (created with Loom) that show you how to use the product's features.
As you start creating your videos, the tutorial videos will make way for yours and your dashboard will wear a similar look to the original.
Fullstory uses a welcome survey to collect customer data
As a product designed to help users leverage data to improve the product experience, Fullstory understands the power of data.
It's not surprising, then, that they take advantage of their onboarding screens to collect customer data.
Through its robust welcome survey, Fullstory determines your user persona group, identifies your account preferences, and gets you ready to immediately start working with the product.
Notion uses an empty state to showcase its core functionality
Notion is a robust product, where users can capture their thoughts or manage entire projects and teams. With this level of complexity, the learning curve can feel a little steep.
To get new users started on the right foot, Notion's user onboarding flow begins with a filled-up empty state dashboard.
The demo data on the dashboard highlights key features and provides detailed usage instructions (even adding video tutorials) to help every new user reach their Aha! moment quickly.
Todoist uses a checklist to show its core functionality
How do you onboard new users as a to-do list product? Simple, use to-do lists!
That's what Todoist did with its empty state onboarding screen. The new user is immediately presented with an onboarding checklist that shows them what the product is like and prompts them to take action.
By completing the actions in the checklist, users complete the onboarding process and are set to fully utilize the product.
Canva uses a welcome survey to customize onboarding flows for different personas
For the online graphic design tool, Canva, good user onboarding involves creating a unique onboarding experience for every user.
To do this, Canva employs gamified onboarding screens to present new users with a welcome survey. The survey identifies the user's persona and presents them with a personalized onboarding experience based on that information.
With its generous use of highly engaging graphics, Canva also showcases the power of its product without having to write it out.
Linkgraph enhances the user onboarding experiences with educational videos
Linkgraph's SearchAtlas is a complex, multifaceted tool for SEO tracking and management. This makes it a fairly difficult tool to master and use to the full.
To help users easily find their way around, Linkgraph introduces its onboarding process with a series of educational videos for its different content features.
The videos cover everything from how to use each feature to other best practices that'll help you make the most of available features.
But Linkgraph also provides a great example of what not to do with user onboarding or customer education. It displays too many videos at once, which can be demotivating for new users.
Asana uses a simple sign-up process for a frictionless experience
Asana is one of the foremost onboarding examples for proper use of the signup page. Recognizing the signup screen as the first step in an onboarding process, Asana uses this screen to reinforce its value.
Asana ensures the account creation process is frictionless and fast. Users can use their emails to sign up or use SSO options so they don't have to fill out their details from scratch.
Like Asana, you want to make your signup screen short and simple. Offer options to signup through a popular social networking site or using other SSO options. The easier the process, the better.
Duolingo uses a gamified account creation process
Pace-setting language-learning platform, Duolingo, took the world by storm with its graphic and engaging lessons. And, it all starts with onboarding.
Duolingo's user onboarding flow begins with a gamified survey that helps them learn about you and your targets and takes you right into your first lesson.
They also employ a progress bar to encourage users to complete the onboarding process by showing them how much of it is left. This combination of progress and gamification proves to be a major motivation trigger for its users.
Best practices when creating an onboarding screen
Ultimately, good onboarding screens are the bedrock of great user onboarding experiences. To create an effective screen that encourages users to adopt the product, you should:
Create a tidy and simplistic UI
When it comes to UI designs, your best bet is to "keep it simple, stupid" (KISS). Simplicity guarantees the highest levels of acceptance and user interaction. Complexity, therefore, should be avoided at all costs.
Your onboarding screen should be tidy and refreshing, not crowded and confusing. It should be intuitive, allowing just "any" user to navigate it easily.
One way to avoid complexity is by splitting things into multiple pages. So, if, for example, you need to ask more than a handful of questions (say, 2 or 3) to collect data, split your screen into multiple pages.
Like Asana below, you can ask only one question per page to avoid overwhelming the user with the complexity of a long, never-ending survey.
Use gamification elements to engage new users
Gamification is likely the single most effective way to induce user engagement. It leverages game-like mechanics to incentivize users to engage with your product.
When used correctly, gamification elevates your entire onboarding experience. It flattens the learning curve and increases overall digital engagement levels by making learning a more delightful process.
Note, though, that good gamification doesn't get in the way of user activity. Instead, it streamlines and speeds up the onboarding process and the customer journey.
Make it a part of the progressive onboarding process
The onboarding process is progressive and your onboarding screens should reflect that. The best onboarding experience is tied together, from the first screen to the last.
The best onboarding experiences also recognize that there'll be multiple Aha! moments across the customer journey. Your job is to help customers reach all of these, not just the first.
So, avoid overloading your onboarding screens with too much detail, information, or questions. Instead, make it a part of your user onboarding flows.
Your first screen should flow into your welcome survey. Your survey should help you identify customer segments. And, that information should help you deliver a personalized, contextual experience.
Guide users to key features
Finally, it's important to remember that your goal with user onboarding is to get users familiar with your product and how it works.
Use your onboarding screens to direct users to the features they need to succeed with the product. Provide them with information on how the features work and what they do.
If you get this right, your product's new users will hit the ground running, equipped for success from the moment they first launch your product.
Create an engaging onboarding process with Userpilot
Ready to build out or update your onboarding screens? Thanks to tools like Userpilot, you can create the most engaging onboarding flow without writing a single line of code.
As a powerful no-code product growth tool, Userpilot helps you onboard new users and create engaging product experiences for your users. Its features help you to:
Onboard new users with diverse UI/UX patterns
Userpilot is packed with diverse UI/UX patterns to shape your onboarding screens and flow. These include:
Tooltips and Hotspots: They show you information about a specific feature. Hotspots direct users' attention to exactly where it needs to be, while tooltips prompt them to take a specific action. Together, they drive feature discovery.
Driven action: Like tooltips, driven action helps guide user actions. It drives users to interact with an element either by clicking it, typing into the text field, or hovering over it before advancing to the next step.
Checklists: Use checklists to highlight user actions that lead to activation. Create different checklists for different user segments and use progress bars to incentivize user action.
Resource centers: A marvel of modern onboarding, resource centers provide on-the-go support to product users. You can customize your Userpilot-powered resource center to offer targeted support and host different content types.
Modals, Slideouts, and Banners: Modals, slideouts, and banners offer you different ways to communicate with users and make announcements. You can also make targeted announcements with your chosen UI pattern appearing to only a section of users.
Collect customer data with in-app surveys from new and existing users
Data collection is critical for SaaS businesses looking to better understand and satisfy user needs. To help you do just that, Userpilot provides you with an arsenal of tools for data collection and analysis.
Build and launch a welcome survey to collect data from users on your onboarding screens. Userpilot surveys are highly customizable. You can change the color, content, icon, etc., to suit your brand style.
Finally, you'll be able to analyze user responses to find patterns and trends, or segment users according to their responses.
A/B test onboarding screens
Sometimes, you have to play around with different ideas to find what works best for your users. Userpilot allows you to conduct A/B user testing on your screens to see which performs better.
Build different flows, send them out to different users, measure their impact on user behavior, and iterate accordingly. Keep experimenting until you find what works for your users.
Conclusion
As is the case with all the onboarding examples here, good onboarding screens help you know your customers better, kickstart your customer education program, or serve to reinforce your product value.
Ready to begin crafting your user onboarding process? Book a demo today to learn how Userpilot simplifies this process for you and get started right away!