Product Conversion: How To Measure & Optimize It for Your SaaS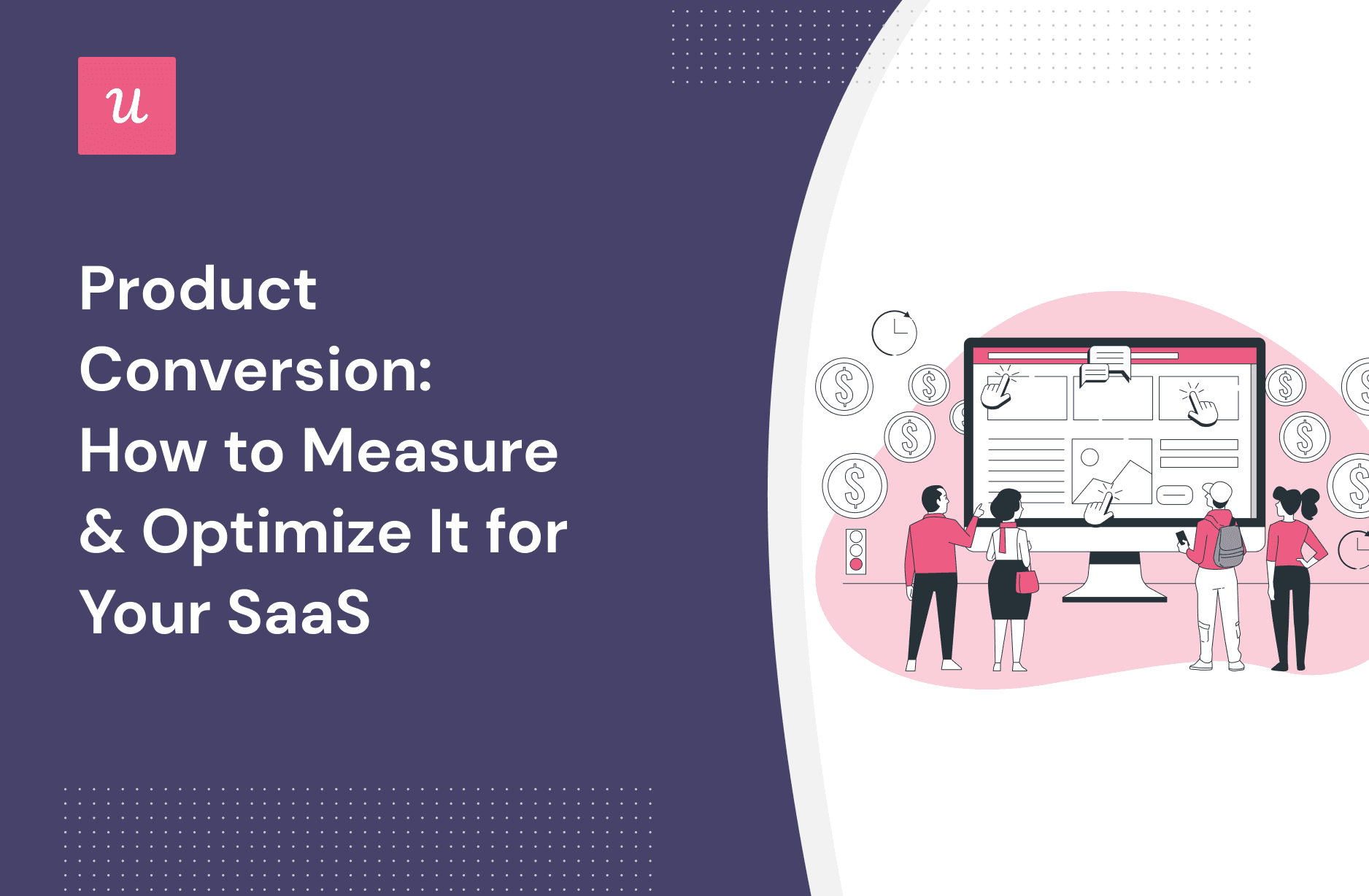 Are you confused about how to measure and optimize product conversion to boost product growth for your SaaS?
You may have the best product page and deploy search engine optimization (SEO), compelling ads, nice and easy-to-understand products, etc., to bring in customers. But is it of any real value if you don't drive conversions after all?
Product conversion rate has more importance than most SaaS businesses give it. This article will help you understand product conversion and boost your business with it.
TL;DR
Product conversion is when users perform a desired action on a product or website, such as subscribing or using a specific feature.
Tracking product conversion rates help you understand customer behavior and identify areas for improvement in the customer journey.
You can measure the product conversion rate by dividing the total number of conversions by the total number of clicks or visits and multiplying by 100.
A good product conversion rate for a SaaS company is typically between 2% and 5%.
Some effective ways to track product conversion include creating a user journey map, setting up conversion-tracking custom goals, tracking in-app interactions and understanding user behavior, using heat mapping tools, and setting up conversion funnels.
With Userpilot, you can optimize the production conversion rate by using Customer Journey Analytics, sending CSAT Surveys, implementing Usability Testing Methods, using NPS Surveys, and running A/B Tests.
What is product conversion in SaaS?
Product conversion is the event when users perform any desired action you want them to do on your site or product. The desired action could be: completing a purchase, downloading a trial software or app, using a specific app feature, completing events, etc.
Why should you track product conversion rates?
The product conversion rates help you understand customer behavior from the moment they begin to use your app, website, or platform. They offer valuable insight into what's working for the customers who go through the whole customer journey and what's not for those who drop off at some point.
Let's see how conversion rates can help you.
Understand the customer journey
You can use the product conversion rate to see what the typical journey looks like for your customers. You can gain a unique perspective on how your efforts impact your customers' experiences.
The conversion rate also helps you identify and understand the conversion events in the journey. With it, you can go through different factors like website visits, sign-ups, trials, and subscriptions to see what works for conversion rates and what doesn't.
Identify friction points in conversion events
As important as knowing what converting your customers is, it is just as crucial to finding out what stops them from converting. The product conversion rate helps you find these friction points by showing you where you lose potential customers or have a problem.
The friction points can be anything from bad user experience design, lack of in-app product guidance, misleading messaging, bugs, etc. But as long as you find out where the friction points that block the customer journey are, you can find your way to an increased conversion rate.
Prioritize actions to improve the product experience
Tracking product conversion rates can help you understand the reasons for your low conversion rate. If you can identify the bottlenecks, you can easily do what's necessary to overcome them and improve them.
You can prioritize what's necessary to be improved to enhance the overall customer experience. Priority-based activities ensure clients will be happier with your product and thus more likely to convert.
How to measure product conversion rate?
You can measure the product conversion rate by dividing the total attributed conversions by the total number of clicks or visits and multiplying it by 100.
For example, your product has 480 total attributed conversions and a total number of clicks or visits of 10,000. Then your conversion rate would be (480/10,000)*100 or 4.8%.
What is a good product conversion rate?
Depending on the type of conversion, the average or benchmark product conversion rate for SaaS companies can vary a lot.
However, a good SaaS eCommerce conversion rate is around 2% to 5% on average. Try to set this range as your desired conversion rate for your business.
5 ways to track product conversion
There are many different methods to track the conversion rate of your products, but not all of these methods will be equally useful or relevant to your specific business goals. But there are some common proven ways that most successful SaaS businesses use.
Let's review the five most effective ways to track product conversion rates.
Create a user journey and map out conversion events
User journey describes the path a user takes while interacting with your product. A user journey map includes all the steps users take to reach the conversion point.
It helps you understand how users interact with your product. By mapping a user's path to conversion, you can identify areas where they may be getting stuck or where you can improve the user experience.
You can create a user journey map to understand the touchpoints and map out the conversion events you can expect from the users. It can be a valuable tool for understanding user behavior and identifying opportunities to improve the user experience and increase product conversions.
Set up custom goals and track how customers are progressing
To track product conversions, you can set up custom goals (a.k.a. milestones) for various tasks users need to complete. The tasks could include completing the onboarding flow, making an upgrade, or completing a specific action within the product.
By tracking the users' journey with the tasks, you can gain valuable insights for user behavior analytics. It also helps you better understand your customer base and identify common trends or issues impacting how users progress.
By using Userpilot, you can set custom goals and track them to see who is completing them and who gets stuck. As a result, you can efficiently do behavioral segmentation and better understand customers.
Track in-app interactions and understand user behavior
Learning what customers are doing in the app and how they interact with different features can be critical for tracking conversion rates and improving the overall user experience.
You need to track in-app interactions and understand users' behavior to see how customers use different app features. This process can help you understand how the conversion rate for different features differs and the reasons behind them.
And to make this process easier, Userpilot lets you track not only feature usage but also clicks, hovers, and text inputs for more robust insights into customer behavior. With Userpilot, you can track and optimize product conversion by tracking in-app interactions and analyzing customer behavior.
Use heatmaps to see what users are doing in your app
Heatmaps are graphical representations of data that show the areas of a website or app that receive the most engagement. Using and analyzing heatmaps can let you see what customers are doing from their perspective as apps or website visitors. You can see where and when they scroll, click, or even leave your product.
Then looking at the heat maps, you can determine which interactions are leading to a high conversion rate and which are not. You can use this conversion rate data to improve your product or website and increase product conversions.
This process can be beneficial for identifying areas of your website or app that may be causing issues. Maybe poor UX design, slow loading times, or any other factor contributes to low conversions, but heatmaps can help you pinpoint the exact cause.
Set up a funnel to identify when a conversion happens
A user funnel shows the customer's journey from finding out about your product to eventually purchasing it and recommending it. You can create a user funnel to track, visualize, and analyze all conversions and drops to ensure you don't miss anything about your customers' experiences.
You can analyze the funnel to identify when a user converts to a paid one, recognize the leaks in your funnel, and find where the most significant drop is. After identifying the bottlenecks with a user conversion funnel, it gets easier to fix them. You can then conveniently maintain, improve, and step back from your strategies as necessary.
By making more data-driven decisions and directing efforts where needed with the help of a funnel, you can expect improved results and a smoother conversion path for your customers.
Top 5 strategies for product conversion rate optimization
With the right moves, you can convert more customers and skyrocket your product growth.
Let's go through the top 5 strategies for product conversion rate optimization.
Use customer journey analytics to detect friction points and eliminate them
We have already seen how you can map customer journeys and track user interactions. But now it's time to analyze the data with customer journey analytics and user journey analytics to see what is causing friction points and blocking potential conversions.
After you identify the friction points, you can fix them as soon as possible and eliminate the friction points. After that customers are less likely to drop out of your product, and as a result, you will see an improved conversion rate.
You can use Userpilot's advanced analytics to track customer journeys and identify the friction points. Some of its notable features include:
Real-time data tracking: You can do real-time data tracking to see your customer journey and identify the friction points. You can integrate with Google Analytics to deeply analyze the conversion data alongside your other web data.
Customizable dashboards: You can create custom dashboards to track the customer journey's various aspects and friction points.
Send CSAT surveys after key interactions to measure customer experience
You can make your customers feel their voices are being heard by sending them Customer Satisfaction (CSAT) surveys after critical interactions. It can be a valuable tool to gather customer feedback, measure customer experience, and improve what's lacking.
You can send microsurveys to measure customer satisfaction and make improvements based on their feedback. The best time to do it is after a key interaction like product delivery or customer service care. At these times, the customers are most likely to have a fresh experience on which they can provide feedback.
CSAT microsurveys can help you accurately measure the customer experience and make the necessary improvements to drive more eCommerce conversions.
Here is an example of Slack's CSAT microsurvey.
Implement usability testing methods
Usability testing methods help you quickly evaluate which users can figure out how to use your product. Most of us are familiar with beta testing, but there are others that can help you implement usability tests as an alternative to A/B tests.
Here are some types of testing that you can implement for your SaaS:
Guerilla testing: This most straightforward form of usability testing involves asking users to perform specific tasks on a product in a public place. This method is useful for gathering initial feedback on a product.
Lab usability testing: It involves bringing a small group of users into a controlled environment to test a product. This method allows for a more structured testing experience and lets you control variables carefully.
Unmoderated remote usability testing: It lets users test a product remotely using their own devices and environments. It helps you gather feedback from users who may not be able to participate in a lab usability test.
Contextual inquiry: This method involves observing users in their natural environments as they perform tasks related to the product. It lets you understand how the product is used in the user's workflow. It can also provide valuable insights into the user's needs and behaviors.
Phone interview: This method involves conducting interviews with users over the phone. It helps you gather feedback from users who may not be able to participate in a face-to-face usability test.
Card sorting: It involves asking users to organize cards into categories that make sense to them. This method can help you understand how users think about and rank the content and features of your product.
Session recording: It involves recording users as they interact with a product. This method helps you observe and analyze users' actions and behaviors as they use the product.
Use NPS surveys to collect feedback and act on it
Net Promoter Score (NPS) measures customer loyalty and satisfaction based on how likely they are to recommend your product to others. You can use the NPS surveys to collect feedback about how your users feel about your products and act on them.
The NPS surveys tell you if your customers will ask their friends or family about your product. And people who get recommendations for a product from their trusted ones are likely to use it themselves. If you can make your customers recommend your products, the conversion rate will increase.
You can add a follow-up question to enable qualitative feedback from your customers. You can then understand why your customers have given specific scores and act on their feedback.
Run A/B tests to compare product experiences and optimize them
A/B Testing can help you compare how different product experience flows perform and optimize them with data-driven decisions to increase conversion. You can make experiments with positional changes, CTAs, flows, and event different segments to compare which one performs better.
You can run A/B testing with any element of your product. You only need to create two versions of this element (referred to as "A" and "B" versions) and assign users of your sample size to one of the two versions. In this case, you can analyze the results after a significant time to see which drives more product conversions.
With the crucial customer data from A/B tests, you can easily find the lower-performing and the successful versions. You can then optimize the lower-performing ones and try to maintain the success of the better ones.
Conclusion
Picking the right strategies to measure and optimize product conversion is essential. Doing so can help you quickly attain a higher conversion rate. You won't have to worry about why you don't have enough converted customers if you take the necessary steps to increase the product conversion rate.
Want to track in-app user behavior and collect data to improve your product conversion? Get a Userpilot Demo and see how you can measure and optimize product conversion rate for your SaaS business.