The "How To Market Software Products" Playbook – 14 Product Marketing Strategies For SaaS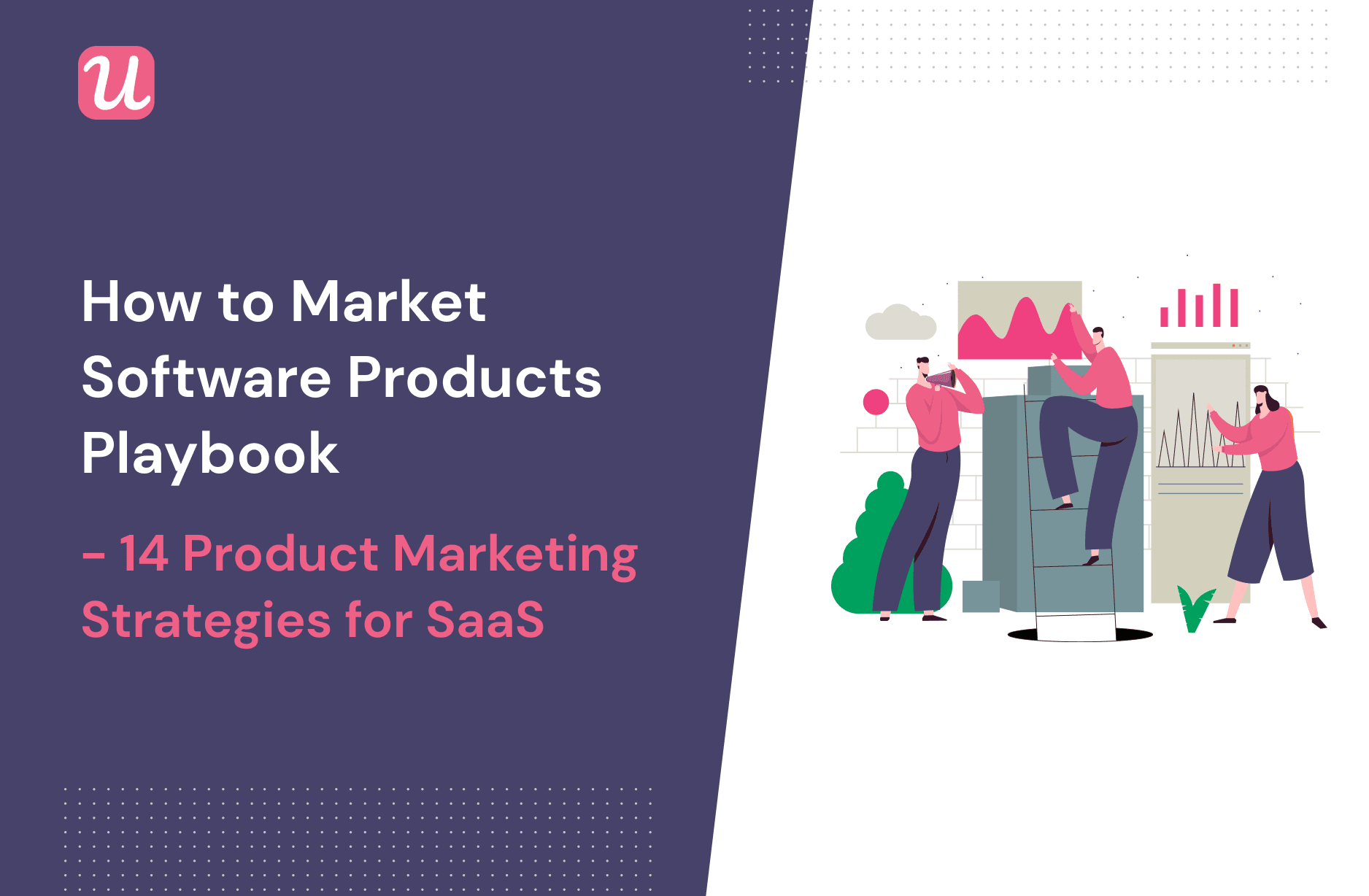 Are you looking for the best strategies on how to market software products?
Marketing software products can be challenging with the abundance of tools out there saying they do everything for everyone.
You might be wondering, how to compete.
In this article, I'll show you how to successfully market software products using examples from industry influencers and tried-and-tested marketing tactics.
Let's get started.
TL;DR
How is marketing for software products different?
Traditional marketing is all about obtaining marketing qualified leads (MQLs) for the sales team – once that's done, that's it, they take it from there.
Marketing SaaS products is different – it uses the product itself as the main driver of acquisition through trial and freemium models.
This means marketing doesn't stop when a lead (trial user) is acquired.
It goes on inside the product too – it's important for software companies to incorporate every stage of the user journey into their software marketing strategy to keep their users coming back again and again.
What does a software marketing strategy for SaaS looks like?
Before you start applying different tactics and try various channels, you must put together a product marketing strategy that outlines what you're trying to achieve.
Based on your goals and the target market you can then apply different strategies to drive the desired results.
Let's look at the five steps in more detail.
Step 1 – Define your target audience
You can define your target audience using a user persona – a data-informed visual representation of the customer who will get the most value out of your product.
In SaaS, it's important to focus on qualitative data when building your persona – surveys and interviews can give you a deeper understanding of who your user is and what their job-to-be-done is.
Knowing this information you can work on your messaging and positioning in a way that it's relevant for your target audience.
Step 2 – Define your positioning and messaging
Positioning is an internal and contextual shared-vision strategy, and messaging is how you externally communicate your product's value.
Positioning means setting the context for your product – it tells your potential customers who you are, what your product is, who it is for, what users can expect from it, and how much it costs.
Messaging is all about communicating the value of your product to a specific user persona – it should show that you understand their job-to-be-done and that your product is the solution.
Step 3 – Set objectives and KPIs
Your objectives are measurable, specific, and realistic goals for your product.
KPIs (key performance indicators) are measurable metrics that track the progress of your objectives. They should be manageable and relevant so your team can extract the data they need to identify opportunities for growth.
The KPIs you track will depend on your objectives, but common ones include customer acquisition costs, customer activation rates, and retention rates.
Step 4 – Define the customer journey
You can define the customer journey by creating a user journey map.
This is a data-backed visual representation of your user's experience with your product. It allows you to see the specific steps users take to complete a task within your product, how users interact with your product, and highlights opportunities for improving how users interact with your product.
A map usually includes a user persona, the part of the journey you want to isolate, goals and key points in the user journey, and touchpoints.
Step 5 – Decide on which digital marketing strategy to apply at each stage
Each stage of the user journey will require specific marketing tactics to be successful. Keeping your objectives in mind, here are some options:
Acquisition stage: optimize your landing page for conversion by using data from user personas to offer contextual CTAs
Activation stage: create a personalized user onboarding based on the data from your user personas
Adoption stage: shorten the learning curve and adoption of the product by providing useful tooltips that introduce primary and secondary features
Retention stage: use user feedback to improve your product and remove friction
Referral stage: encourage brand advocates by celebrating user successes and offering incentives for providing in-depth feedback and reviews
Now that you know what you want to achieve, let's explore some strategies that are a must when software marketing.
How to market software products and acquire new customers
Before you do anything, you need to acquire customers.
Unlike traditional product marketing, SaaS focuses on using the product as the main driver of acquisition – so you should start by offering a free trial.
Marketing strategy #1: Offer a free trial of your software product
Free trials are a great way of demonstrating your product's value to potential customers and increase acquisition.
There are two types of trial: free and paid. The question is – which one is better?
Free trials are accessible. Your potential users can test drive your product without commitment and with a limited period to explore your product, it pushes them towards their Aha! moment quicker.
Paid trials, on the other hand, result in higher retention rates – customers are more likely to stick around if they're financially invested from the get-go, no matter how small the commitment was. Check out Surfer's paid 7-day trial for $1.
If you do opt for a trial period, consider the length. Short trials create a sense of urgency, whereas longer trials let users explore your product in their own time.
Marketing strategy #2: Use paid ads and optimized landing pages to drive trial signups
Now that you know the type of trial you should use, using paid advertisements is a good way to drive traffic to your website and drive trial signups.
There are multiple channels to do paid ads, but if you're just starting out try to focus on one, or test them out and stick to the one that brings in the most qualified leads at the cheapest cost.
You shouldn't just drive traffic to your homepage either. For this strategy to succeed, you should create personalized pages that focus on the targeted persona's needs and pain points, and show them how your product helps them get their job done.
Check out how Userpilot creates separate pages for different roles and solutions.
Marketing strategy #3: Use search engine optimization (SEO) and educational content to attract potential customers
Driving traffic with an organic content strategy: blogs, podcasts, webinars(video marketing), etc?
Optimizing for search engines (SEO) is a must for software companies.
Think of your product's positioning and start writing content optimized to rank across different search engines for specific keywords that are relevant for your product.
Focus on helping and educating the user through your content – do keyword research and write actionable content that answers the search intent behind the user's search.
Take this article you're reading now, for example.
I'm not only giving you a list of different tactics that don't connect and you wouldn't know when to use each (this is what you find in all the articles that rank on Google for this search term) I'm also explaining why you need to focus not only on acquisition but all the stages of the user journey.
Because marketing for SaaS products is so much more than getting users to create a free account.
Marketing strategy #4: Use social media and online communities to distribute your content
It's not enough to share your valuable content on your own website.
One of the best marketing strategies is sharing your content across numerous digital channels. And it's not just social media like Facebook, Linkedin, Twitter either.
You must put your digital content out there, everywhere your target audience is: this can mean Slack channels, Medium, Reddit, etc.
Online forums and the likes of Facebook groups encourage discussion and feedback that a SaaS business can use to improve its product and customer relations by curating customer communities.
Community-led growth is on the rise in software development companies.
How to market software products and increase your free trial to paid conversion rate
You got trial signups, now what?
In SaaS, it's not enough to get a user to signup for a free account – you need to get them to experience the value of your product, fast, to increase the chances of them deciding to pay for your product.
As you can see from the image, there are multiple stages the user must go through to get there, and your job is to engage them in-app and drive them towards the right path.
Marketing strategy #5: Personalize empty states with relevant content
Empty states are the enemy of SaaS trial conversion rates. That's because seeing an empty dashboard with no idea of where to start makes us freeze and do nothing instead.
Ever heard of a writer's fear of the empty page? It's real.
Here's how to avoid it – personalize the user's in-app experience from the beginning. Here's a great example of how Todoist uses personalized empty states to showcase how their product delivers value but also to guide the user and shorten the learning curve.
Personalized empty states with contextual and fitting content will increase your trial to paid customers. The quicker you show a user value, the quicker they'll reach their Aha! moment – reduced time to value leads to increased acquisition and activation.
No value? The user won't return. It's a no-brainer.
Asana is another great example of personalizing empty space with the information collected from the user during the signup flow.
They not only learn about their user and their goals, but they also use the information to personalize the experience of each and remove empty states.
The first thing the user sees once they get inside the dashboard is their data. It's welcoming, customized, and shows you care about providing value to them specifically.
Marketing strategy #6: Identify your buyer persona using welcome screens
Welcome screens should be used for more than just welcoming users into your app – they're an opportunity to collect data about your user so that you could use it to personalize their journey.
By including a microsurvey on your welcome screen, you can collect valuable information on your user that helps you understand their needs better and personalize their journey inside your app – this gets them to experience value faster and reduces churn, by engaging with the parts of your product that are relevant to them.
Marketing strategy #7: Personalize the users onboarding path using checklists
One of the easiest ways to personalize the users' onboarding path is by using checklists to guide users to take relevant action and engage with your product.
Personalized onboarding is all about designing and guiding users on the shortest path of experiencing the value in your product. For example, for the user of a social media scheduling company such as Postify, to experience value, the user needs to engage with the product and get to schedule a post to understand the main benefits of using the tool.
Using an in-app checklist you can create separate tasks and guide users on how to engage with your product. Here's what Postfity's checklist would look like.
Marketing strategy #8: Bring users back inside the app with email marketing automation
In-app strategies and tactics work great to engage users but if the user is not logged in, all your efforts are in vain.
One of the best ways to bring users back inside the app is with contextual email marketing automation – send the right email at the right time and give users a reason to get back inside the app.
The keyword here is contextual – it makes no sense to send an email to someone asking them to return to the app and perform an action that they've already taken.
Here's an example of what not to do. You should already know what the user "managed to discover" and send them more relevant emails that give them a good enough reason to come back and engage with your product.
How to market software products to drive engagement and increase customer retention
Great, you're all set on how to drive trial to paid conversions. Your job doesn't stop here.
As a product marketing manager, you need to make sure you drive repeated engagement in the product – users need to use features more than once.
Repeated usage = Consistent "AHA's" along the user journey= Repeated value.
Let's have a look at some strategies for marketing software products to drive engagement and increase customer retention.
Marketing strategy #9: Announce new features in-app
Your product is always changing and improving, new features are being launched, existing ones updated, etc.
But this doesn't mean your users are actively looking for them.
To drive engagement you need to make sure users are aware of your product's features that are relevant for their use case and that they know how to use them.
Use in-app messaging for this.
Slack is great at announcing new features in-app. Take their "new messaging format" announcement, for example. They use a slide-out modal on the side of the screen to notify users of the new feature launch.
This non-invasive tactic encourages feature adoption because they aren't interrupting or annoying the user while helping with the feature discovery process.
Marketing strategy #10: Use in-app gamification to drive engagement
Gamification is a fun and wholesome way to encourage users to take repeat actions inside your product by using game design elements such as rewards, points, and badges to prompt engagement.
It's not just fun and games, gamification won't increase engagement of a product that doesn't deliver value to the user. So before implementing gamification in your product, make sure your users will get value by using it.
Asana is a fantastic example. When you complete a task, it celebrates with a little flying unicorn – this triggers a feeling of achievement and motivates the user to repeat the actions that lead to success. Engaging with the product, that is.
Marketing strategy #11:Use exit surveys and reduce churn
Exit surveys – or churn surveys – are microsurveys consisting of short questions which are sent after a user decides to cancel or downgrade their subscription plan.
They're designed to obtain insight and feedback as to why users churn – this knowledge will help you improve your product and customer experience, thus reducing churn.
Detailed churn surveys work, but if you want feedback fast, a simple approach is usually best.
Take Monday software company, for example.
They only ask two questions – the quantitative "reason for leaving" and the qualitative "please provide some details".
Simple. Users are far more likely to engage with an exit survey like this one.
How to market software products to drive account expansion from existing customers
In SaaS, you should always be looking to increase your MRR and that isn't achieved by only decreasing churn and converting new users – you can also focus on increasing ARPU (average revenue per user) through expansion revenue (aka revenue added from upsells, cross-sells, and add-ons).
Let's have a look at ways of directing your marketing efforts towards driving account expansion.
Marketing strategy #12: Show users what they're missing out
FOMO (fear of missing out) can be a great influencer that spurs people to action.
When leveraged properly and ethically (aka in the favor of the user ) it can be a great tool to drive users to upgrade.
Miro, for example, tells users what they are missing out on if they don't upgrade.
It's not just the message that works, it's also the moment the user sees it – after clicking on creating a new board miro sets the right expectations on the limitations of its free plan and gives the user an easy way to upgrade on the spot.
Marketing strategy #13: Use contextual in-app messaging
Contextual in-app messaging can make all the difference when it comes to users upgrading their accounts.
Why?
It increases the chances of the user taking action because your message is relevant to them and what they are doing when they read it.
Loom gets it right. They use in-app messaging to send the right message at the right time.
As you finish recording a video, Loom prompts you to try a premium feature that removes filler words like "um" and "uh", which they showcase in a microvideo.
They have timed this perfectly – straight after the user cringes at their filler words and wishes they could get rid of them. Context is everything!
Marketing strategy #14: Offer a free trial version of premium features
Sometimes, the simplest tactic is the best tactic. In this case, showing a user the value of an upgrade by offering them a free trial of premium features.
This gives users a chance to test drive a feature before they commit to buying it.
Asana, for example, uses its premium account features to show users what they're missing out on – rather than hiding them. Asana hooks users to get more freemium users on premium trials.
More premium trails = more retention and upgrade rates = more revenue.
Conclusion
Armed with our 14 marketing strategies, in-depth knowledge of your target market and ideal customer, a great marketing team, and a strong software marketing strategy, you can increase your sales funnel, raise brand awareness, and attract new customers while maintaining your current ones.
Not sure where to start? Get a Userpilot demo and find out how to build great product experiences that drive product adoption and retention, code-free.