10 Best SaaS Knowledge Base Tools To Educate Customers About Your Product Effortlessly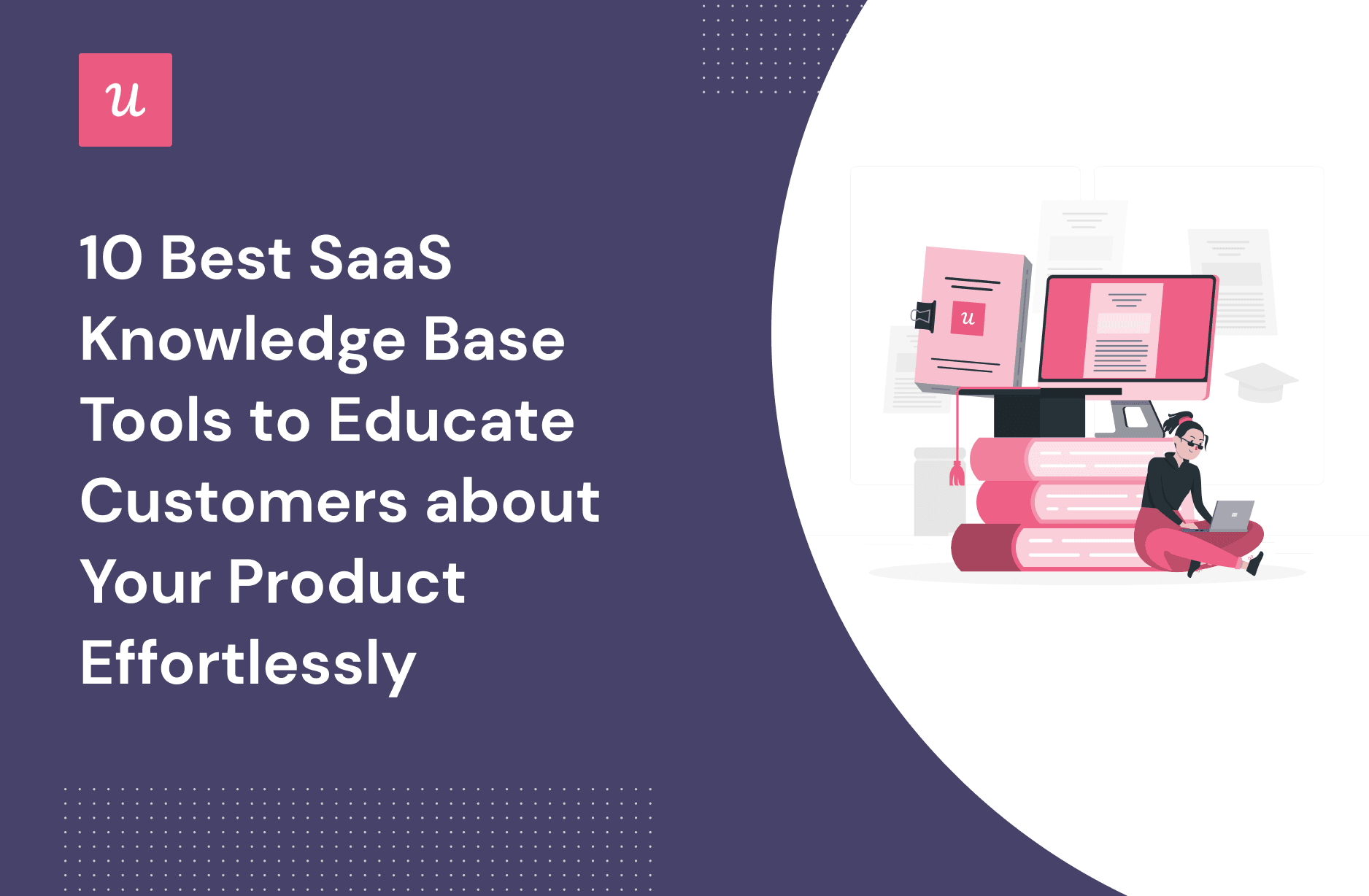 How can you use knowledge base tools to guide your customers and remove their frustrations while using your product?
An in-app knowledge base enables you to take advantage of the self-serve support model for effective customer service delivery. But how can you make use of it?
This article provides a detailed guide to help you find the best knowledge-base software solutions so you can provide frictionless experiences to your customers.
Let's dig in!
TL;DR
Knowledge base software, also called help center software, helps you create, organize, and manage self-service content. A knowledge base typically contains frequently asked questions (FAQs), videos, and how-to articles.
A knowledge base software helps you provide on-demand self-service support to your customers at any time.
Your SaaS business also benefits from knowledge bases through reduced support costs and improved customer retention.
Some of the features that you should look for in a knowledge base include a search bar, live chat, multilingual support, feedback & analytics options, 3rd party integrations, etc.
Best knowledge base tools should also allow you to create easily customizable knowledge bases, enabling you to tweak the styling and design to match your brand and customers.
There are numerous knowledge base tools in the market. Some of the most notable ones are Userpilot, Zendesk, HelpScout, Zoho, WixAnswers, HappyFox, HelpCrunch, Intercom, Stonly, and Freshdesk.
Userpilot is a versatile product growth tool that is also an excellent knowledge base solution.
Ready to learn how Userpilot helps you better support your users? Book a demo to get started right away!
What is a knowledge base tool?
A knowledge base tool is software that helps businesses to gather, organize, and share important information with internal or external audiences.
Also referred to as a help center, a knowledge base may house how-to articles, video tutorials, and FAQs (frequently asked questions).
Why do you need a knowledge base tool for your SaaS?
The primary purpose of a knowledge base software is to provide customers with information that helps them have a better experience with your product/software.
A knowledge base software eliminates the wait time associated with reaching customer support agents. Creating a repository of information for your users ensures customers receive answers quicker.
As a result of easy access to information and answers to queries, fewer support tickets are generated, so the support team can focus their efforts on more complex cases.
Ultimately, an effective self-service knowledge base is a delight to your customer success and sales teams. This proactive support system improves the customer experience, which increases customer retention.
What are essential features to look for in knowledge base tools?
Effective knowledge base software improves the ease of creating, sharing, and managing content for your support team. This requires the presence of several critical features.
To ensure you're building the best knowledge base possible, your chosen software should have the following features:
User-friendliness: With intuitive and user-friendly knowledge base software, you can quickly and easily build your dream SaaS knowledge base application. The tool you choose should be easy to use, with a reasonable learning curve.
Search bar: A search bar makes it easier to find relevant articles and guides in your knowledge base. Customers can locate resources quickly, without endlessly scrolling through your knowledge base.
Multi-language support: Multi-language support extends your customer support system to those who don't understand English. Extensive localization options should also be available.
Live chat: You can enhance your self-service support system with the live chat feature. If users are having trouble finding answers to their questions, support agents are ready to answer them immediately.
Feedback & Analytics: A feedback collection system is a great way to gauge how users feel about your product. A feedback and analytics mechanism helps you see how customers use your product and what difficulties they face.
3rd party integrations: 3rd party integrations are a great way to add extra features to your knowledge base software. This may be a knowledge base analytics and reporting tool, a live chat integration, or any missing feature from your original software.
Customization: Your knowledge base should be easily customizable to match your brand style and design.
10 Best knowledge base software to educate your customers in 2022
Here we'll examine the 10 best knowledge base software for creating a self-service system for your SaaS.
Let's dive in.
Userpilot – Best SaaS Knowledge Base Software
Userpilot enables SaaS businesses to provide robust, on-demand, and contextual support for their users. For starters, users can create an entire internal knowledge base with easily accessible and properly grouped resources.
With Userpilot, your customers can access relevant support by grouping resources and knowledge base posts according to their 'themes'.
Features
On-demand support: Userpilot provides you with an in-app widget to help your users get answers to their questions much quicker.
Varied resource support: Your self-service support system or help center resources can be of any format of your choosing – checklists, tutorial videos, FAQs, or knowledge base articles.
Contextual targeting: Userpilot enables you to share specific knowledge base articles or content with a select audience or to open particular resources based on the page accessed.
Search functionality: Help users quickly locate relevant articles and resources in your knowledge base.
Localization: Resource center modules can easily be translated to other languages for SaaS products targeting non-English speakers.
Analytics Dashboard: A powerful analytics dashboard shows you how users interacted with your resource center, as well as the click rate, unique opens, and total clicks of your modules.
Reviews
Userpilot boasts an impressive rating of 4.6 stars on Capterra and 4.7 stars on G2.
Pricing
Userpilot is priced between $249/mo and $1000/mo depending on the package you need. A 14-day trial period offers you full-featured access to familiarize yourself with the product.
Zendesk
Zendesk is a customizable knowledge base software that can be used either as an internal knowledge base software or as a support agent-only knowledge base software.
Like Userpilot, Zendesk is a no-code builder that offers its users a self-service portal for quickly finding whatever information they need whenever it's needed. Its primary function, however, involves helping SaaS business owners provide support across channels (voice, email, social media, and chat).
Zendesk boasts an advanced ticketing system that makes the grouping, managing, and tracking of customer support tickets easier. Its chatbot feature also serves to further reduce the workload of support agents.
Features
Rich ticket management system
AI-powered chatbot
Localization support for over 40 languages
Branding customization
SEO content support
Content management
Analytics
Community forums
Reviews
Zendesk boasts a rating of 4.3 and 4.4 stars, respectively, on G2 and Capterra. Overall it is described as "feature/function rich" and "excellent for managing tickets". However, users also complained of a steep learning curve with the tool and not enough support.
Pricing
Zendesk's knowledge base software is available for as little as $49 per support agent per month and increases to $99 per support agent per month. You also get a 14-day trial period to ensure the software is the right solution for your SaaS business.
HelpScout
HelpScout describes itself as a complete customer service platform. It provides a knowledge base software known as Docs, which lets you create a knowledge base using either a WYSIWYG editor or an HTML editor.
Like Userpilot, HelpScout allows for in-app integration of your knowledge base, enabling your users to have direct access to the knowledge base library without exiting your app.
Features
Content editor and manager
In-app help center
Search bar
Customized branding
Integrated mailboxes
Multi-brand knowledge bases
Reviews
HelpScout has a rating of 4.7 stars on Capterra and 4.4 stars on G2. It is described as the "best solution on the market if you are looking to interact with your customers only via email." It is also said to be "super simple to set up."
Pricing
HelpScout prices start at $20 per user per month, with the Pro version priced at $65 per user per month. There are also packages for Startups and Non-Governmental Organizations driving valuable social impact.
Zoho
Zoho Desk is a knowledge base software for customizable self-service support. One of its major advantages lies in its flexibility; users can set up both public and private knowledge bases to serve customers or employees.
In addition to the knowledge base, Zoho Desk also provides helpdesk solutions, a ticketing system, and a community forums management system, increasing your options for customer success.
Features
Content management system
Categorization
Third-party integration support
Customization
Multi-brand support
Community forums
SEO-friendly
Ticket management
Reviews
Zoho Desk enjoys a 4.5-star and 4.4-star rating on Capterra and G2, respectively. It is described as an especially great project management tool for "ticket assignment and monitoring."
Pricing
Zoho's pricing begins at a decent $14 per agent per month, with the enterprise plan priced at $40 per agent per month. Zoho also offers a free tier for creating private knowledge bases and the ability to add 3 free agents.
Wix Answers is an intuitive knowledge base software designed for small and medium-sized businesses. A cloud-based solution, it helps you create and embed help widgets within your product.
Wix Answers enables your agents to harness the power of AI and automation to ensure they respond to customer queries in little time. It also provides features like a ticketing system and a live chat feature.
Features
Branding and customization
SEO-friendly
Search bar
Feedback collection
Content categorization
Analytics and Reporting
Ticket management
In-app self-service portal
Reviews
Wix Answers gets a 4.2-star rating on G2 and a 4.6-star rating on Capterra with 26 total reviews.
Pricing
You can begin using Wix Answers for a fee of $24 per agent per month. However, to enjoy the live chat and ticketing features, you'd need to spend up to $60 per agent per month. You also get a 14-day free trial to familiarize yourself with the product.
Happy Fox
Happy Fox is a simple, easy-to-use cloud-based knowledge base software. The software provides ticketing solutions as well as help desk solutions for businesses across different industries. Tickets are sorted and organized based on pre-determined criteria and priority.
Happy Fox Help Desk allows you to create separate external and internal knowledge bases. It includes powerful capabilities like auto-suggestion, feedback collection, and multi-brand user portals.
Features
Categorization
Customization
Auto-suggestion
Customer feedback collection
Multi-brand portal
Analytics
Community forums
External/Internal knowledge management
Reviews
Happy Fox Help Desk has a rating of 4.5 stars on G2 and 4.6 stars on Capterra.
Pricing
Happy Fox pricing begins at $29 per agent per month. This rises to $49 per agent/month for improved ticketing features and the multi-brand helpdesk feature. Enterprise plans go for $69 and $89 per agent/month. Although you could get a 30-minute demo of the app, there's no free trial on offer.
HelpCrunch
Founded in 2016, HelpCrunch is a multi-channel customer support software, with support for live chat, email marketing, and the creation of knowledge bases.
HelpCrunch's robust emailing system enables the complete management and tracking of customer issues, conversations, and information from the inbox.
You can set up triggers for automated messages within a chatbot, and an in-app widget can be added to bring your customer-facing knowledge base directly to your customers.
Features
SEO
Self-service portal
Analytics
Content grouping
Knowledge base branding
Built-in smart search
Multilingual support
Automated chatbot
Reviews
HelpCrunch boasts a healthy 4.7-star and 4.8-star rating on G2 and Capterra, respectively.
Pricing
HelpCrunch pricing begins at $20 per agent per month. Every new agent added is billed at an extra $20 per month. However, prices may further increase based on the monthly email volume. To get a taste of the software before committing to a contract, take advantage of the 14-day free trial option.
Intercom
Intercom is a multi-faceted solution in the mold of Zendesk. Like Zendesk, it boasts a suite of tools, from SaaS knowledge base tools to conversational bots for live chats, and a help desk.
Self-described as a Conversational Relationship Platform, Intercom's biggest feature isn't its knowledge base software. However, its combination of chatbots and knowledge bases makes it a great option for any SaaS company.
Features
Contextualized support
In-app help centers
Rich text editor
Multilingual support
Automated chatbot integration
Customer feedback
Analytics
Reviews
Intercom enjoys a 4.4-star rating on G2 and a 4.5-star rating on Capterra.
Pricing
Intercom's pricing for its knowledge base solutions begins at $74 per month for qualified very small businesses. For businesses that do not qualify for this category, you'd have to get a demo and discuss pricing with a sales rep.
Stonly
Stonly is a user education and self-service support platform designed to help SaaS companies better engage their users. Like Userpilot, it aims to reduce the work of your customer support team by better educating your customers.
Knowledge base content can be grouped by categories. Unfortunately, making the help center available in-app requires some coding knowledge.
Features
Interactive self-service
Content categorization
In-app guides
Knowledge base customization
Interactive chatbot
Public/private knowledge base
Multilingual support
Reviews
Stonly enjoys a 4.5-star rating on Capterra and a 4.8-star rating on G2.
Pricing
Stonly's pricing begins at $99 per month for its Starter pack, with the Business plan available for $199/month. A limited, lifetime free plan is also available for light users.
Freshdesk
Freshdesk is a CRM tool with support for email ticketing, live chat, call center management, social media support, and knowledge base creation.
Freshdesk allows you to structure, collaborate over, and write out your SaaS knowledge base articles using a WYSIWYG editor.
Feature
Rich text editor
SEO-friendly
Multilingual support
Multi-brand support
Analytics
Team collaboration
Task automation
Reviews
Freshdesk is rated 4.5 stars on Capterra from 2,500+ reviews and 4.4 stars on G2.
Pricing
Freshdesk offers four pricing plans. The first is a free plan, which provides support for knowledge base creation, ticket management, and analytics. For more robust features, you'd need to pay between $15 monthly per agent and $79 per agent per month.
Conclusion
Creating an effective SaaS knowledge base system can be the difference between elevated churn or retention levels. But identifying the best knowledge base tools can prove troubling, even if that may sometimes feel overwhelming.
Keep in mind that the more time and effort you invest in the right knowledge management software, the more empowered your customers will be when navigating your SaaS product.
Ready to bring your in-app resource center and knowledge base to life? Book a demo with our team and get started code-free right away.