How to Improve Activation Rate? – Learn from Albacross's Success Story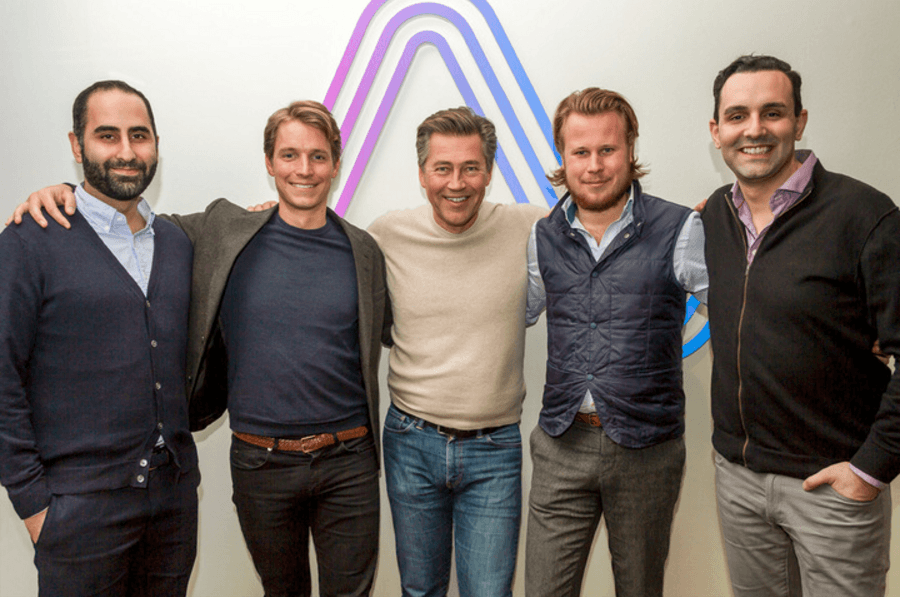 We know that feeling – you've finally got the trial user but she stops using your product after several minutes. Improving the activation rate is a real problem for all companies.
Fortunately, we've passed through these struggles. And you can too. We're going to show you how Albacross used Userpilot to improve activation rate, user adoption, and trial to paid conversions for more than 33% in 14 days.
After this article, you will be able to copy the same tactics and boost your product-led growth.
In order to understand Albacross's secret better, before we dive into Albacross's user onboarding teardown and its success story, let's see what's it all about and what were its user activation problems.
What is Albacross?
Albacross is an online B2B lead generation tool that helps you to capture people and companies who are visiting your website.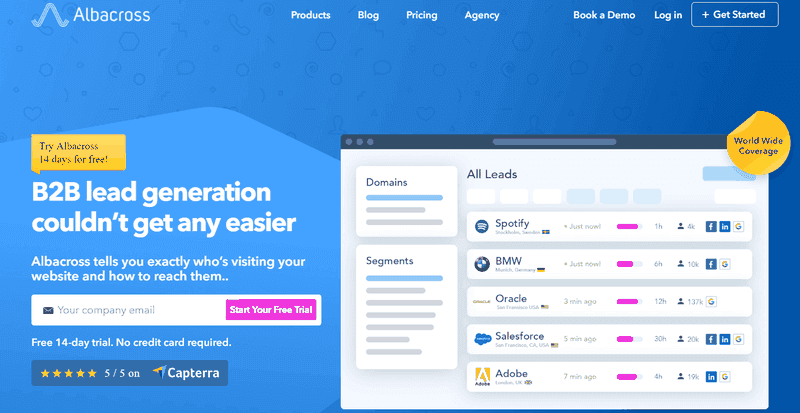 With Albacross, you can easily identify hot leads, track their activity and find out how to approach them on the most effective ways by having in-deep insights in their journey through your website.
Albacross had the same, common problems like everyone else
Like almost all product and customer success managers in every company, Albacross struggled with improving its activation rate, user adoption and trial to paid conversions.
They had a low number of the trial to paid sign-ups, customers were struggling with discovering new features and they would usually leave Albacross after a few minutes.
Albacross's main user activation events were installing its widget on customer's sites and inviting team members.
Before implementing userpilot for their user onboarding, only 20% of their new users were inviting team members, while just 25% of them were installing the widget – the core of Albacross's product.
These numbers are needed to be improved. 
How Albacross succeded to improve activation rate?
As we mentioned above, the main activation events for Albacross's customers were:
Installing Albacross widget on their website

Inviting team members
For that reason, Albacross's user onboarding flow was quite simple and straight forward.
The goal of its user onboarding is to lead its trial customers towards these two activation events – nothing more. Simple, clear and intuitive user onboarding helped them to improve activation rate very fast.
Let's see how Albacross did it.
Even before you create your account, Albacross will trigger your attention.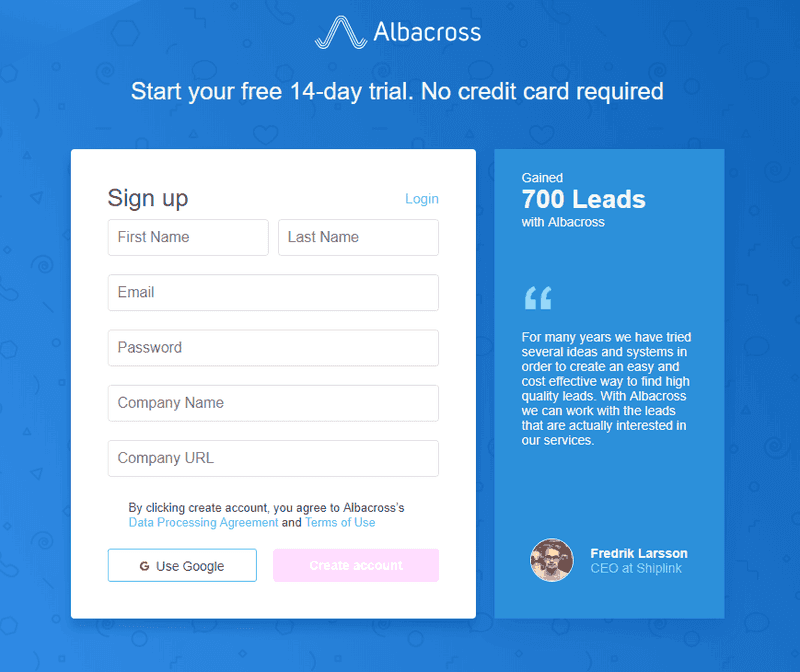 Can you see that value-based and actionable testimonial at the right side? That's how it should be.
Albacross unleashed the "aha moment" with great and catchy testimonial even before you registered.
From the moment when you create your account, you will have two options in front of you to choose from.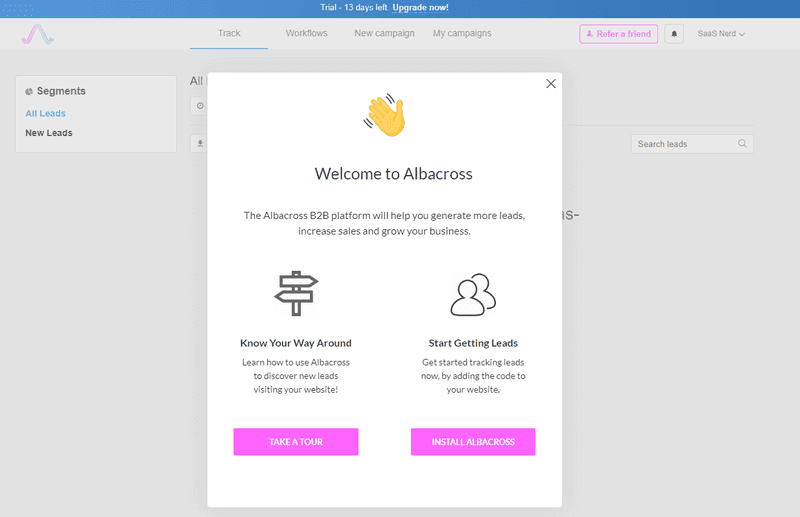 You can choose to take a tour of Albacross's product and learn more about its unique and valuable features, or, you can take action and start getting leads right now.
What can we learn from this?
This is a great example of using the paradox of choice in user onboarding – your customers will be less indecisive and more likely to take action if you offer them fewer choices.

Can you see how powerful it is to say "Start Getting Leads"? – the bold sentences like this one can encourage your people for action.
If you choose to take a tour, you will go through product walkthrough.
Albacross is pretty clear here – it shows you only the most important features.

Easy to read, short, intuitive and informative product tour tips will keep your customers' attention and unleash the "aha moment".
Now, if you choose to Install Albacross, you will see an amazing page.
We can learn a lot from it.
From this screenshot, you can pick up 4 valuable tips for your first contact with trial users.
Let's break them down.
Spicy headline: "You're 20 seconds away from tracking visitors and converting them into new leads", tell us that we need just 20 seconds more to see the value.
This subconscious information pushes us towards completing our checklist on the left side.
Checklists are a great way to motivate your users to complete their goals and take actions.
For example, Albacross's checklist uses two psychological concepts to ensure you'll complete it:
The first one is Zeigarnik effect – A psychological bias where people have a tendency to better remember uncompleted tasks than completed ones. Checklists are a great way of using the Zeigarnik effect in user onboarding.
The second one is the Endowed Progress effect – A bias where people's tendency to accomplish their goals is greater if you provide them with some kickstart or reward. In this example, you can see that the first step in Albacross's checklist is already completed. This will motivate their trial users to complete just two steps more.
This resulted in a checklist completion of 53%.
On the right side, we can see a perfect example of implementing self-serve help in your user onboarding.
According to AmericanExpress, 60% of people prefer to first try to find answers through self-serve support like website, knowledge base or in-app support.
That's the reason why it's so important to include self-serve customer support in your user onboarding.
Albacross implemented it very well.
At the right side, you can see 3 kinds of help their customers need:
Live Chat

Knowledge base

Scheduling a demo
And everything is one click away.
Isn't that amazing?
And finally, in the middle of the screen, you can see exactly what you need to do – whether you're installing your widget manually, through WordPress or with Google Tag Manager.
If the user hasn't installed the widget on their website, he would receive an amazing conditional behaviour email: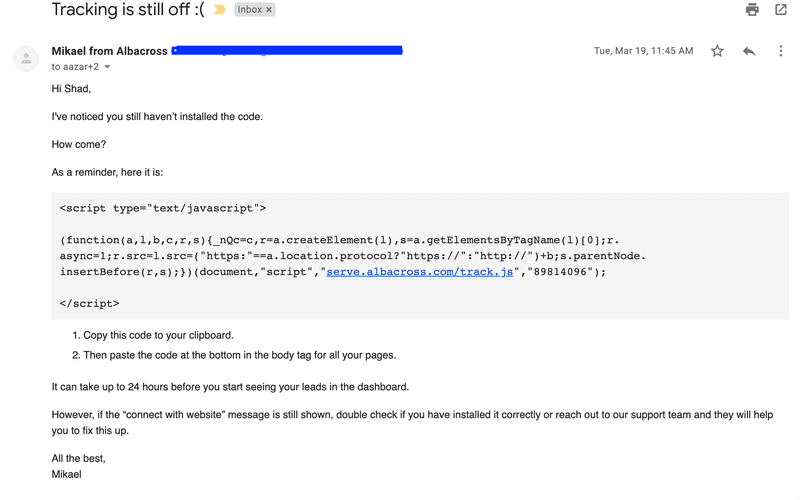 On this way, they followed up with their trial users who didn't install the script yet. The mixture of in-app user onboarding and automated emails helped them to improve the activation rate.
To summarize, all of this helped Albacross to lead their trial users toward their first activation event (installing website widget) in just 20 seconds.
Results?
These 4 things helped Albacross to increase "widget installation" activation event for 14% and improved action rate for 33%.
The Bottom Line
As far as you can see, it was quite simple for Albacross to improve activation rate with clear and actionable user onboarding flow that leads your trial users towards the "aha moment" and user activation events.
Now when you know how Albacross achieved great results and managed to improve the activation rate, what will be your next steps?
If you want to learn more about user activation and how to improve the activation rate, you can jump to our extensive article about user activation.