Customer Success Process: 11 Ways to Drive SaaS Growth as a Customer Success Manager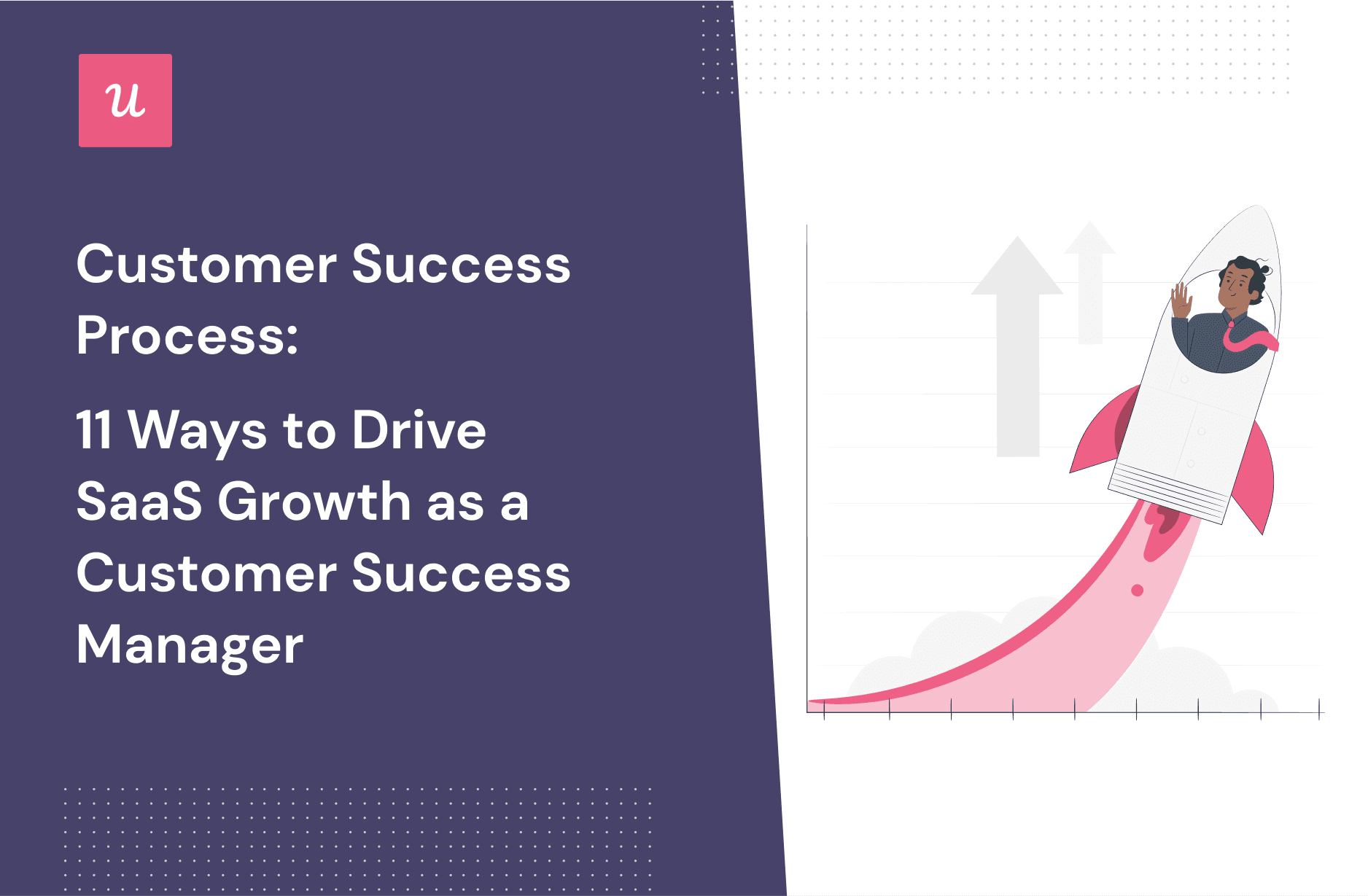 Your customer success process can easily become chaotic.
Since customer success is a relatively new career, CSMs tend to take tasks from sales, support, product marketing, and more than they can handle.
But if your goal is to engage users, retain customers, and drive success, you better not get distracted from the most impactful tasks.
So, what customer success processes should you focus on as a CSM?
Let's clarify the concepts first.
TL;DR
Customer success (CS) ensures customers get consistent value when using your product. And it mainly involves increasing retention, preventing churn, building loyalty, and generating account expansion revenue.
A customer success process describes the specific steps to provide value to the user and help them succeed with your product.
A customer success strategy defines how to approach a specific CS goal, be it generating loyal customers, driving account expansion, or simply reducing churn rates. However, you need processes in place in order to execute the strategies.
Customer success managers are responsible for building customer relationships while ensuring success.
Although customer success and support offer customer assistance, CS is more about helping users proactively and building long-term relationships. In contrast, support is reactive (only helps when the user requests it).
The 11 most impactful customer success processes involve:
Welcoming the user and leaving a positive first impression.
Learn about your customers from the beginning so you can personalize the experience to their needs.
Helping them to engage with core features as quickly as possible.
Offer in-person training and follow-up.
Create product experiences that are relevant for each user segment.
Monitor customer satisfaction across the user journey with surveys.
Track customer sentiment with NPS surveys.
Implement self-service support with in-app help centers.
Keep good communication with new feature announcements.
Upsell account expansions when the user needs them.
Benefit from churn by adding a cancellation flow.
Collecting customer feedback and understanding your users with contextual in-app surveys.
Launching NPS surveys and tag responses to identify which keywords are linked to promoters or detractors.
Segment users based on their survey answers and in-app activity.
Setting goals for essential milestones and tracking how users progress through the journey—so you can offer personalized help whenever they get stuck on one milestone.
What is customer success?
Customer success is the practice of ensuring customers get consistent value when using your SaaS. So they can engage with your product throughout the customer journey., frictionless.
Customer success goals include increasing customer retention, preventing churn, and building loyalty to increase customer lifetime value (plus reducing customer acquisition costs).
What is a customer success process?
Since customer success is about providing value from using your product, a customer success process defines its specific steps and strategies you can use to achieve this.
Think of how you can engage and help a user when starting out with your app: What can you do to reduce as much friction as possible? And when?
Those are questions you must answer when describing your customer success process.
What is a customer success strategy?
A customer success strategy defines the framework for how to approach a specific CS goal, be it generating loyal customers, driving account expansion, or simply reducing churn rates.
In contrast, the customer success processes are the tactics within those strategies— which describe exactly what to do and when.
The key to driving success is implementing the right tactics under a well-planned strategy (you need both to succeed).
What are customer success managers responsible for?
A customer success manager is responsible for ensuring your customers achieve their desired outcomes while using your product. The key Customer Success roles include (but are not limited) to:
Excellent customer success management builds close relationships with customers by communicating and hand-holding them throughout the user journey.
Or as Elise Marengo—Userpilot's Head of Customer Success—explains:
"The relationship between a CSM and a customer should be based on two-way communication. You should strive to learn as much about the customer and their needs, as you teach them about your product and its functionality." – Elise Marengo- Head of Customer Success at Userpilot
In short, you must keep solid communications with users to achieve their (and your) goals.
The customer success process is not the same as customer support
Although customer success processes and support have to assist users regularly, their differences are evident. For instance:
Customer success is relationship-driven. While support has no room to nurture long-term relationships.
CSMs can leverage personal relationships to provide strategies and offer account expansions, renewals, upsells, and so on (which support can't do).
Although proactive support is a thing, support teams tend to be reactive (offering help when the user requests it). In contrast, customer success is more proactive in preventing problems and solving them before they happen.
The customer success process is strategic and requires you to analyze data. Support is often tactical and doesn't need much data to work.
11 Customer success processes that increase user satisfaction and drive growth
Now, what are the key customer success processes you should implement to drive growth and success?
Here are the 11 most impactful customer success tasks based on our experience.
1. Introduce yourself to new customers to establish a connection
First impressions matter—that's why you must welcome your users as soon as they sign-up.
And although an email can do the job, showing a welcome page right from the start has better momentum and can leave a better impression.
For example, try adding an onboarding video embedded inside a modal, just like ActiveCampaign.
This welcome message not only leaves a nice impression. But also encourages you to engage with onboarding videos (so you don't lose time reading unnecessary welcome messages).
2. Learn about your customer needs (what success looks like)
Not all users have the same goals and use cases.
That's why you must learn about your customers either during onboarding or by implementing a frictionless signup flow.
This way, you can:
Take Miro's sign-up process as an example. They right away ask about your role, your company size, and if you're working with a team:
3. Focus on helping users reach the activation stage
Ask yourself: What are the activities that bring the most value?
During primary onboarding, you must help users engage with your product's core features so they can experience its value as quickly as possible (and avoid churn).
We call it the activation stage.
And to achieve it faster, you can implement an onboarding checklist to guide users through the most important features right from the beginning.
For instance, check the onboarding checklist we show to new Userpilot customers. It's short and actionable, plus it instantly introduces you to a critical feature (in-app flows) that you can engage with.
4. Offer in-person training and help
Educating users about your product is a crucial customer success responsibility.
For this, sending a welcome email sequence is a great way to introduce customers to your most essential resources—so they can learn and continuously engage with your product.
You can try to—for example—grant access to a live webinar training after your customer signs up for a trial, just like we do on Userpilot:
Now, you can't automate everything inside an email flow. You can also reach out manually to inactive users to check if they need personal help:
The key here is to be available when the user needs your support (and automate repeatable messages).
5. A personalized experience goes a long way
If you can't collect much customer data during signup, let users choose their path to success.
For this, create branched onboarding flows based on user segments (proper customer research is critical) and allow new customers to choose the option that's most relevant to their goals and needs.
Notion has a great example, as it offers different setups depending on whether you're working solo or with a team:
6. Monitor customer satisfaction across the entire journey
Customer satisfaction is deeply related to success and customer LTV. Thus it's critical to conduct customer satisfaction surveys regularly.
However, sending surveys to your entire customer base at once won't cut it—you can work smarter than that.
The best way to have an accurate understanding of your customers is by showing in-app surveys multiple times at each stage of the journey.
And if possible, after a product experience—similar to this Hubspot example:
This way, you can spot unhappy users and reach out to them proactively, avoid churn, and improve customer satisfaction.
7. Track customer sentiment and drive loyalty
In a nutshell, the Net Promoter Score (NPS) survey asks for a response on a scale of 0-10 to this question: "How likely are you to recommend our product to others?"
Similar to customer satisfaction surveys, NPS surveys can measure loyalty and let you understand who loves your product, who doesn't like it, and why.
What's cool about NPS is that you can use sentiment analysis tools to check the journey stage of your promoters (who are probably successful customers) and replicate their positive experience on new users who share the same profile.
Also, although NPS surveys are quantitative, you can follow up with qualitative questions such as "Why did you choose this score?" So you can get deeper insights and understand your users better.
8. Offer ongoing support with self-service in-app help
You can't be there 24/7 to support any customer around the globe.
That's why you need to offer self-service support, so users don't have to leave your app, google your website, scroll down to find the support button, and browse through messy documentation to find answers.
To solve this, add an in-app help center to give users access to the knowledge base, tutorials, videos, and support tickets right from the product UI.
With an in-app knowledge base, users won't have to leave your product to find answers to their questions, plus it saves you and your support team time by answering repetitive queries.
9. Keep customers in the loop with new feature announcements
Users will simply do their routine work, so they'll easily miss the most recent information.
For this reason, it's a good idea to announce what's new, so customers get repeated value and are encouraged to adopt new features.
For example, you can use a modal to communicate big release notes or major feature announcements—so you can ensure that most customers are aware of impactful changes:
And if there's a big launch, you can pair it with a webinar and invite users to learn more, adopt features, and ask relevant questions using notifications:
10. Identify expansion opportunities for upselling
One key task of customer success teams is to never let users feel like they've outgrown your product.
But it doesn't mean you should try to upsell something at every touchpoint. Instead, prompt users to upgrade their plan only when you're sure they will benefit from it.
Are your users constantly reaching the limits of their plans? Or doing a task the hard way when they could technically automate it with a premium feature?
Then ask them to upgrade.
For example, see how Loom teases you to upgrade when you reach the 5-minute recording limit on their freemium plan (which indicates that you'd benefit from unlimited recording).
11. Leave a door open with a cancellation user offboarding flow
Churn is inevitable.
But the journey doesn't end there. You can still benefit from a churning customer to learn why they leave and improve your product for the other users, and even reach out to ex-customers once the problem is fixed.
This process is called customer offboarding, and it normally triggers a cancellation flow when the user clicks the "cancel subscription" button.
A cancellation flow usually asks questions about why you decided to cancel. And also offers multiple alternatives to churning depending on the user's choices.
For example, if the user cancels because the product is "too expensive," you can offer a discount or a "3 months free" deal to encourage them to stay and have another chance to experience the value of your product:
Best customer success platform your customer success team will love
For all the tactics we've seen on personalizing the product experience, sending automated surveys, offering self-service support, etc., you need tools to implement a great customer success process.
Thankfully—*shameless promotion warning*—Userpilot is honestly the most cost-efficient customer success software we know to apply customer success tactics without coding.
Here's why:
Userpilot
Like the tactics we covered earlier, Userpilot lets you collect feedback and understand user sentiment with contextual in-app surveys.
For instance, think of welcoming the user with questions about their goals so you can learn about them from the beginning:
In the same way, you can include in-app surveys almost anywhere within your product and organize the data for actionable insights.
For example, you can also launch NPS surveys and tag responses to identify which keywords are linked to promoters or detractors:
And if that's not enough, you can segment users based on their answers and in-app activity—which allows you to reach out to them with personalized in-app experiences and guide them to success:
Finally, you can set goals for important milestones and track how users progress throughout the journey—so you can offer personalized help whenever they get stuck in one milestone.
Conclusion
In SaaS, retaining customers is as impactful (if not more impactful) than acquiring them.
That means, focusing on building a great customer success process that keeps your customers happy is essential for healthy growth and success.
So now that you know the tactics, why not get a Userpilot demo to apply them without coding?