Customer Success Platform- An In-Depth Comparison of The Best Tools To Use In 2023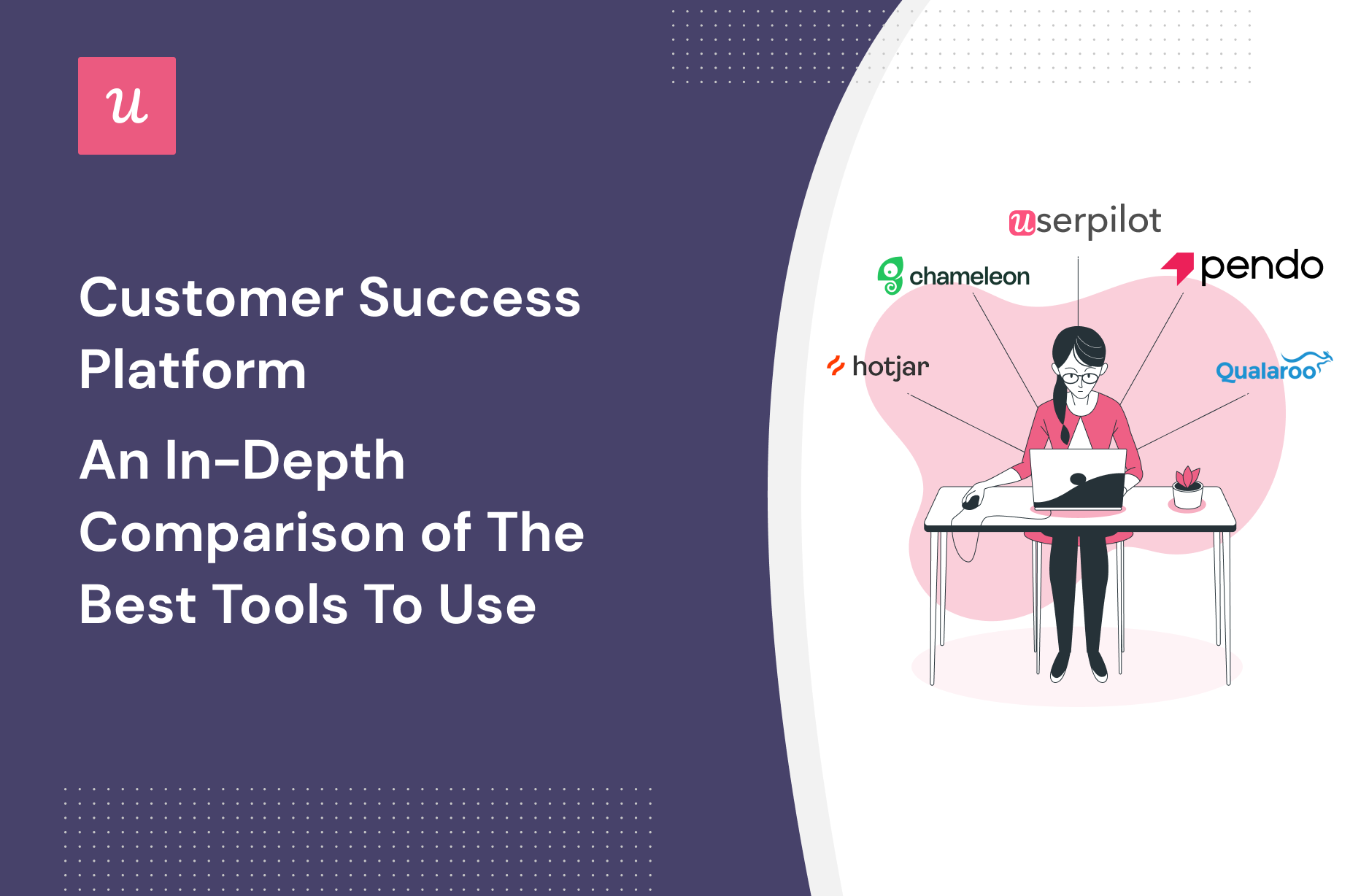 Is your customer success platform up to scratch for 2023?
SaaS is evolving and users today expect more value, more quickly, with less effort than ever before.
If your customer engagement levels are not where they need to be, maybe it's time to look at the customer success software you're using again?
In this blog, we'll look at what you should expect from a platform, and give you our honest opinions on what the best customer success tools available right now are.
TL;DR
Without a top-quality customer success platform at your team's disposal, you'll struggle to help your users get maximum value out of your tool
When choosing customer success software, consider: (i) ease of adoption, (ii) is it no-code?, (iii) analytics and (iv) segmentation capabilities, (v) security, and (vi) third-party integrations
On these terms, the best customer success platforms for onboarding are Userpilot, Pendo, and Chameleon
For collecting data on customer sentiment, our picks are Qualaroo, Hotjar, and Userpilot
When it comes to offering self-service support, we recommend Userpilot, Zendesk, and Drift
For product analytics, choose Heap, MixPanel, or Amplitude
And for email automation, it's between ActiveCampaign, Drip, and Customer.io
What is a customer success platform?
A customer success platform is a type of software that provides SaaS businesses with tools that help them ensure that their users realize value from their services.
The tools that make up a customer success platform will:
Collect and present customer data on behavior, needs, and customer health
Provide ways to contact, guide, and support users at exactly the times when help is needed, in the formats they prefer
Automate tasks and accelerate processes to save you time and effort, and to ensure consistent service levels
Empower you to experiment with ways of improving the customer experience and the rate of customer journey progress
Allow you to track and report on the metrics that matter most to your business
The purpose of customer success software, then, is to ensure that success is achieved as widely, consistently, and quickly as possible – both:
As your customers define it – for their use cases
As you define it – customer satisfaction, customer retention, revenue growth, etc
What to look for in a customer success platform
We think there are six critical things to look for when considering customer success software:
#1 – Customer success software must be easy to adopt
Customer success teams don't have time to waste.
New tools must show their value fast. That means being easy to use without extensive, time-consuming onboarding.
#2 – The best customer success software will be no-code
Few customer success managers are also developers. But they need to be able to experiment with tools, workflows, and experiences to find out what works for users.
A customer success platform designed for non-technical people will help your customer success teams be more efficient.
#3 – Detailed analytics is an essential customer success tool
Basic analytics are a must. Advanced analytics like the capability of calculating customer health scores and engagement levels automatically, is definitely a plus.
Choose your customer success software based on the types of analytics and customer data you need.
In particular, customer success teams need to collect demographic, user identification, user engagement, and user sentiment data.
#4 – Customer segmentation capabilities are vital
As well as tracking user activities, a good customer success software needs to enable segmentation.
Defining different user segments allows you to design, trigger, and automate experiences and messages around different use cases, enhancing your customer relationships in return.
#5 – All customer data collected must be secure
Customers will not use – or get value from – services they can't trust with their data.
The right customer success software platform will make visible use of customer data security best practices.
#6 – Your customer success platform must integrate with other existing tools
The best results for your customers come when all the tools in your marketing stack work together.
That means third-party integrations that enable you to share data across tools are vital for your customer success teams to be able to drive customer satisfaction levels up.
Best customer success platforms for customer onboarding
Customer success begins with onboarding.
Getting a user to that all-important activation point (when they first experience value) is key to reducing churn.
The faster and more effortlessly they get there, the more likely they'll stay and carry on using your service.
Onboarding tools aim to shorten that learning curve.
Userpilot
Userpilot is a product growth platform that is uniquely well-suited to customer onboarding, as it enables you to design, build, deploy, and track personalized and contextual in-app experiences.
It's a no-code onboarding platform aimed to help you increase the customer lifetime value and drive customer success through:
a different range of UI elements to build in-app engagement with (modals, slideouts, tooltips, checklists, etc)
interactive, branching in-app walkthroughs that guide the users on how to use your product
and enables you to define your own custom events and triggers
advanced segmentation capabilities: trigger your in-app flows based on user behavior, custom events, and in-app micro-surveys responses
personalized themes that reflect your brand
Best For
✅ Mid-sized SaaS businesses with product teams: At $249 a month, Userpilot is going to be expensive for really small startups.
✅ At the other end of the scale, while Userpilot is SOC 2 Type II certified and offers bespoke Service Level Agreements, it's not really designed for Enterprise users (eg in terms of large-scale integrations, like SalesForce and HubSpot).
❌ Employee and mobile onboarding: Userpilot only works on your own product (not third-party software) and on responsive web apps.
Want to get started with customer onboarding? Get a Userpilot Demo and see how you can boost user activation now!
Pendo
Pendo is an expensive option for user onboarding: pricing is available only on application, but we're talking $2,000 a month and upwards.
It also lacks quite a few of the features Userpilot has: limited styling; fewer UI elements (no checklists, for example); and limited contextual trigger options.
What you do get for your money is: excellent segmentation and analytics; in-app feedback; and user feedback tools. It's an all-rounder rather than a specialist.
Best For
✅ Enterprises: The price, the wide range of services provided, and the super analytics make Pendo more suitable for bigger businesses.
✅ Mobile app onboarding: Userpilot doesn't work on mobile apps, so if mobile is a target market for you, Pendo is definitely worth considering.
Chameleon
Chameleon is a dedicated onboarding tool, with two key differentiators.
Firstly, you can add custom code to make UI elements look exactly how you want them (or pay Chameleon to do this). Secondly, they have a unique tool called the "Launcher", which lets you add self-serve product announcements and onboarding menus to your product walkthroughs.
The cons of Chameleon is its really steep learning curve. A product onboarding tool shouldn't be this hard to use.
Best For
✅ Businesses with really specific design needs: The ability to use custom code gives you total control over UI look and feel, but at a high cost.
❌ Inexperienced Product Managers: Chameleon is tricky to get to grips with, which is pretty ironic in an onboarding tool!
Best customer success platforms for collecting feedback
User feedback from surveys and microsurveys (NPS, CSAT, CES, etc) is vital for promoting customer success.
How users feel about what they're doing (Is it difficult? Are they satisfied?) is as important as what they're doing.
By gauging user sentiment, you can develop actionable insights that improve user experience and the value your product delivers.
Userpilot
Userpilot has extensive features designed to let you collect and act on contextual user feedback.
It helps you to build (again, without code) micro surveys of various types, analyze user sentiments expressed, and – most importantly – automate response workflows triggered by particular answers.
Best For
✅ Net Promoter Score (NPS) Surveys: While many tools let you build and deploy NPS micro surveys, Userpilot lets you tag responses provided and even trigger automated in-app responses based on the score given.
✅ Reducing churn with contextual feedback: Triggered in-app surveys can help reduce churn by immediately offering solutions as soon as users raise a problem.
✅ Segmenting users by use case: With micro surveys deployed on welcome screens, like the one shown above (created with Userpilot), you can elicit customer use cases fast, to make onboarding more relevant.
Hotjar
Hotjar provides heatmaps and session recordings, plus in-app survey widgets. This combination works well together: customer feedback can give a real insight into why users are doing the things the other tools show them doing.
But Hotjar's main drawback lies in taking this insight further: it doesn't allow you to create automated responses when you uncover a problem, and weak segmentation means it can be hard to hone in on the best solutions.
Best For
✅ Small to mid-sized companies: Hotjar samples data rather than reporting everything. This way, it can keep costs down by storing fewer data.
✅ Explaining user issues visually: With Hotjar, it's the heatmaps and the session recordings that are the stars of the show. Where data can confuse, this helps tell a story.
Qualaroo
If you get a lot of feedback data – particularly around bugs and performance issues that can manifest in different ways for different people – Qualaroo can be a big help.
That's because it uses AI to analyze unstructured, qualitative feedback and organize it, track it on a single scale, and prioritize dealing with it. It also has some of the best user sentiment tools available, using IBM Watson's Natural Language Understanding to read between the lines.
Best For
✅ Enterprise companies: Qualaroo's high cost and complexity make it suitable primarily for larger companies.
✅ Processing qualitative feedback at scale: This is where Qualaroo stands out.
Best customer success platforms for self-serve support
The overwhelming majority of SaaS users prefer to try and solve their problems before reaching out for help.
If you can automate your customer support – using in-app help centers, chatbots, and other tools – not only will you improve customer satisfaction and deliver more value: you'll also save money on support agents.
Userpilot
With Userpilot, you can build a comprehensive resource center without any coding required.
By combining this with the onboarding UI elements mentioned earlier (eg checklists, walkthroughs) you can design a completely responsive, contextual help widget that provides documentation, videos, and FAQs, as well as interactive workflows that hold users' hands as they learn.
Best For
✅ 24/7 Customer Support: A resource center is an essential tool when your users could be working at any time, day or night, and you don't have a team on hand to give help in person – or during high demand periods, when your support team may be swamped
❌ Chatbots and helpdesks: Userpilot doesn't provide these directly, but the tools we look at below can both be integrated into a Userpilot-built resource center.
Drift
Drift lets you build and deploy custom chatbots, and with a dashboard that shows live users engaging with the bot, it also lets your agents take over conversations in-person (including over video or email as well as chat) when it suits.
By integrating Drift with SalesForce or HubSpot, you can build up a detailed picture of what your customers are struggling with and how it affects them.
Best For
✅ Qualifying visitor intent and customizing the experience: Using AI, Drift learns what users need, helping you build out solutions.
✅ Product Marketers: Drift's customization and personalization make it ideal for supporting users' progress through pre-planned customer journeys.
Zendesk
Sometimes, customers need in-person customer support. And that's where Zendesk excels. It's one of the best tools available for logging and handling complex support tickets.
Zendesk also helps you upskill your team and develop new self-serve solutions. By linking tickets together, you can identify ideal solutions and work them into your knowledge base.
Best For
✅ Complex, multi-functional tools, and products with frequent updates: If your users have multiple or complex use cases or your code is prone to bugs, Zendesk can play a big part in preventing frustration from turning to customer churn.
❌ It's not really a self-serve support tool: Zendesk complements a self-serve approach, but ultimately it needs a skilled customer support team to use it – and to set it up!
Best customer success platforms for product analytics
Product analytics is an essential part of any customer success platform.
Analytics tools allow you to collect and analyze data on how users are interacting with your product. With this, you can evaluate where they are on the customer journey, and what they need to succeed.
Heap
What makes Heap stand out from other analytics platforms is that it automatically captures all user interactions with your product.
You don't have to configure by defining the events you're interested in before Heap starts tracking users – which is a massive "ease of use" plus.
Best For
✅ Enterprise companies: Heap's free package is not very generous, and storing all that data doesn't come cheap. Paid plans start from around $1,000 a month.
✅ Product teams who want to explore a customer's behavior and experiment with different custom events. Automatic data capture is retrospective, so you'll be able to compare like with like.
Mixpanel
If you're looking for top-end product analytics and powerful tools for developing actionable insights, Mixpanel may be right for you.
It offers some of the best segmentation capabilities, more than 50 integrations, and a specialism in real-time data.
Best For
✅ Performance marketers, CRM experts, and anyone else for whom real-time data is vital
✅ Teams with data science skills: Mixpanel is hard to use for beginners! Reports, events, and dashboards are tricky to set up, and many of its functions require considerable expertise to use well
✅ Businesses with complex, diverse tech stacks: It may not be easy to implement, but Mixpanel is certainly easy to integrate once you've got it working!
Amplitude
Amplitude has two key strengths. On the one hand, it excels in tracking single customers across multiple products. On the other, it has a free plan that allows you to track up to 10 million actions with unlimited user seats before it costs you a cent!
However, a lot of reviews cite the speed of the platform to load as a bit of a problem.
Best For
✅ Smaller businesses wanting to track limited numbers of actions: Amplitude lets you track more data for free than its rivals. But beware: once you're onto a paid package, it gets pricey fast.
✅ Products where data security is a key consideration: Amplitude prides itself on its security setup
Best customer success platforms for email automation
While in-app messaging is essential to any customer success team, some communications with users need to take place elsewhere.
Disengaged users at risk of churning, ex-customers who could be lured back, and prospects who haven't signed up yet are best engaged via email. So, your customer engagement tools should include email automation as well.
ActiveCampaign
ActiveCampaign is an affordable automation platform that doesn't just do email: it also provides SMS, on-site messages, and other "omnichannel" features.
It can be integrated straightforwardly with a wide range of third-party tools. The workflow builder is easy to use and it has some great A/B testing functionality.
Best For
✅ Account-Based Marketers: ActiveCampaign's "Deals" feature incorporates CRM features into the platform, allowing you to track and message key leads individually. It's not up to the standard of a dedicated CRM system though.
✅ Businesses without in-house design resources: A huge library of email templates is a big help in getting campaigns started!
Drip
If funky UX is a priority for you, you'll love Drip. It makes other marketing automation software look old-fashioned by comparison. But is it any good?
Yes, it is. Drip offers great segmentation, real-time data, an intuitive email template builder, and a focus on e-commerce that is unmatched elsewhere.
Best For
✅ E-commerce businesses: Drip positions itself as an e-commerce Relationship Management platform and comes with a lot of important actions predefined, as well as the ability to add product information to emails with shortcodes.
✅ Businesses with complex tech stacks: Drip used to get flack for a lack of integrations, but today they offer more than a hundred – including all the major e-commerce platforms.
Customer.io
It may have a steep learning curve and a clunky UX, but Customer.io repays investment in time spent figuring out how to use it.
It beats ActiveCampaign for its omnichannel capabilities (which include Slack messaging), but be advised that it's not easy to extract and transfer your data into another platform if you decide to change.
Best For
✅ Businesses with smaller mailing lists: Customer.io only lets you send 50 messages at a time, making it a time-consuming option when you have a really big list.
✅ Omnichannel marketers: If you need to touch your customers across multiple channels, Customer.io is a great option.
Conclusion
Customer success software is becoming more intelligent, more personalized, and more comprehensive than ever before.
Make sure that your choice covers all the important bases that promote happy customers:
Onboarding
User feedback
Product analytics
Self-serve support
Email automation
And then assess tools in terms of:
Ease of use
No-code
Analytics capabilities
Segmentation capabilities
Data security
Range of integrations
Looking for a customer success tool to better onboard your new users and drive value? Get a Userpilot demo and see how you can do it.