Customer Success Strategy: 15 Actionable Tactics to Drive SaaS Growth [+ Examples]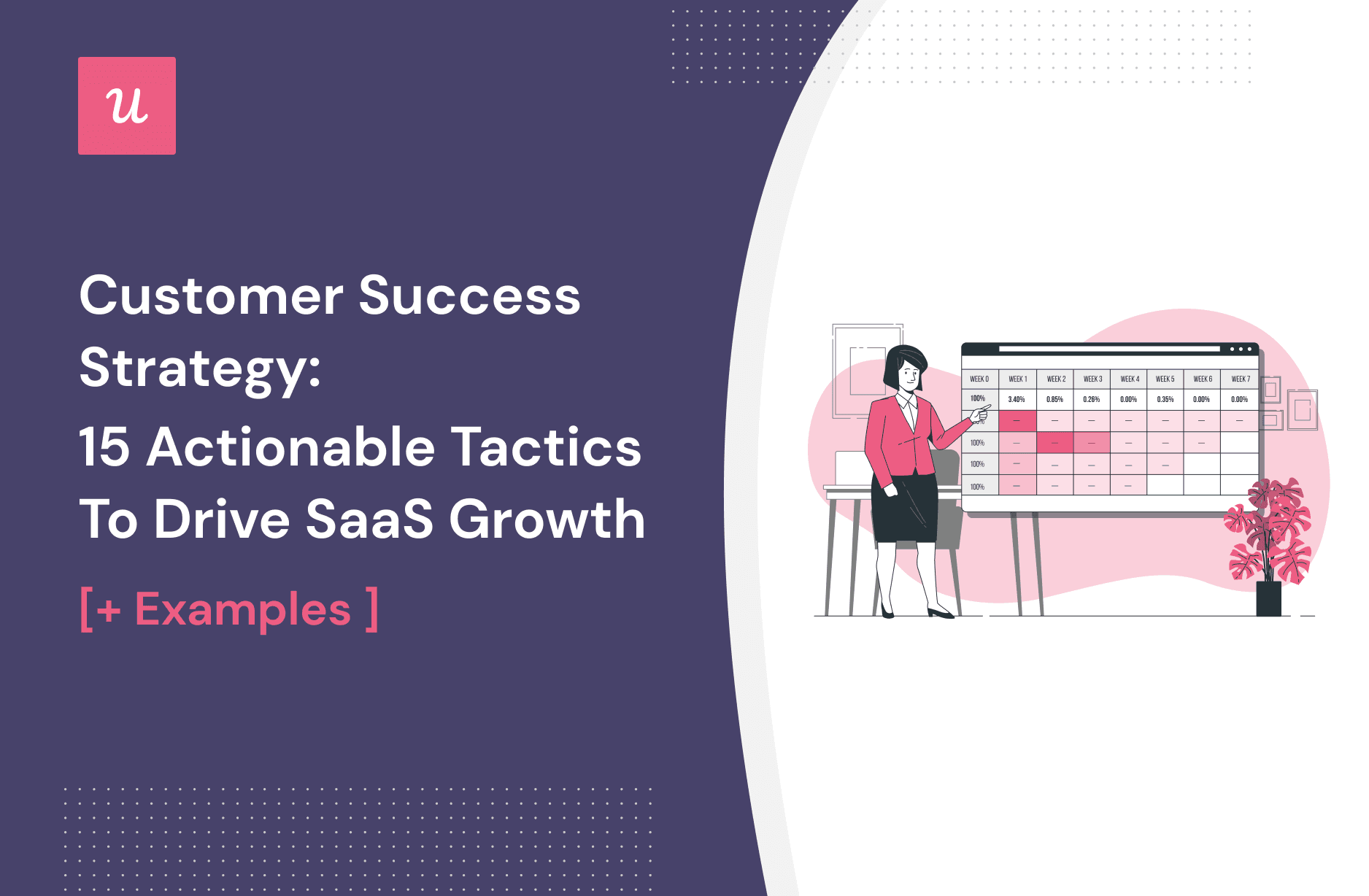 In SaaS, customer success is needed to ensure that your customers achieve their desired outcomes with your product and become loyal advocates for your brand.
But how do you create a customer success strategy that works? And what are some of the best practices and examples across the customer journey?
In this article, we'll show you how to build an effective customer success strategy that drives SaaS growth. While also sharing 15 actionable tactics that you can implement today to improve your customer success efforts and increase retention, revenue, and engagement.
TL;DR
Customer success strategy is a framework of tactics to deliver value to your customers throughout their lifecycle in order to provide them with the right solutions, support, and guidance to help them succeed.
A customer success strategy is beneficial to increase customer retention, boost customer lifetime value, expand WOM, and enhance your product experience.
Our framework for building a customer success strategy involves the following:
Defining the stages of your customer journey and the goals that you want to achieve.
Developing the actionable tactics and process that you will use to help your customers achieve their goals at each stage.
Determining the key performance indicators (KPIs) that will help you stay on the right path and optimize your customer success strategy.
You need to learn the tactics you will use to execute your CS strategy and achieve the desired results. Here are 15 customer success tactics:
Learn about your customers with welcome surveys.
Introduce yourself with an onboarding video after signing up.
Provide a personalized onboarding experience with segmentation.
Help users reach the activation stage as soon as possible with onboarding checklists.
Invite users to join a live demo to experience your product's value.
Implement in-app guidance such as interactive walkthroughs to help users achieve success.
Announce new features via in-app notifications so users can adopt them quickly.
Provide product training via live webinars.
Monitor product usage to identify upselling opportunities.
Offer self-service support via in-app resource centers.
Gather customer feedback to improve your product and ultimately close the feedback loop.
Track customer satisfaction across the user journey with satisfaction surveys.
Send NPS surveys periodically to measure customer loyalty and tag responses.
Avoid churn with cancellation flows.
Discover cancellation reasons with churn surveys.
What is a customer success strategy?
Customer success strategy is a framework of tactics to deliver value to your customers throughout their lifecycle with your product. It involves understanding your customers' needs, goals, and challenges; and providing them with the right solutions, support, and guidance to help them succeed.
Customer success strategy is not just about reactive customer service or proactive account management. It's about creating a holistic customer experience that aligns with your product vision and business objectives.
Why do you need a customer success strategy?
A customer success strategy is essential for any SaaS business that wants to grow and thrive in a competitive market. Here are some of the benefits of having a customer success strategy:
Increases customer retention and reduces churn. You can increase their satisfaction and loyalty by helping your customers achieve their desired outcomes and providing ongoing support and guidance. Reducing the likelihood of them leaving your product or switching to a competitor.
Boosts customer lifetime value (LTV) and revenue. You can increase product engagement and user adoption by delivering value to your customers throughout their journey. Creating more opportunities for upselling, cross-selling, and referrals while also letting you charge more for your product if you can demonstrate its value and impact on your customers' success.
Improves customer advocacy and word-of-mouth. By exceeding your customers' expectations and delighting them with a personalized product experience, you can turn them into promoters of your brand. They will be more likely to recommend your product to their peers, colleagues, and friends, which will help your organic customer acquisition.
Enhances your product development for a better customer experience. By listening to your customers' feedback and understanding their needs and challenges, you can improve customer experience and offer solutions to their problems. You can also identify new features or markets that you can explore to expand your product offering and reach.
How do you build a customer success strategy?
Building a customer success strategy is not a set-and-forget task but a continuous process that requires constant evaluation and improvement.
However, some key steps can help you start and set the foundation for your customer success strategy. Here are three of them:
#1 Define customer success stage and goals
The first step is to define the stages of your customer journey and the goals you want to achieve at each stage. This way, you can align your customer success efforts with your customers' needs and expectations.
For example, you can start by creating a customer success journey map including these stages:
Purchase decision. The stage where the user signs up for a trial, a freemium account, or a product demo.
The Aha moment. When the user understands the value of your product and decides to move forward.
User activation. The moment the user starts engaging with the product's core features and experiencing its value.
Product adoption. When the user engages with primary and secondary features repeatedly. Meaning the product is part of their habit.
Retention. When the user decides to stay with your brand and become a paying customer.
Expansion. The moment a customer upgrades their account to grow and achieve bigger goals.
Loyalty and advocacy. The stage where they become advocates of your brand and drive positive word-of-mouth.
The goal of each stage is to drive the user to the next milestone, so the more specific your goals are, the better.
#2 Develop customer success strategy and process
The next step is to develop the actionable tactics and processes that you will use to help your customers achieve their goals at each stage. This involves identifying the actions you will take to deliver value to your customers and the tools you will use to execute them.
For example, at the purchase decision stage, your customer success strategy could be to provide a personalized onboarding experience using a checklist and an interactive walkthrough. The goal is to reduce time-to-value and help users reach the activation stage as soon as possible.
#3 Measure your customer success strategy effectiveness
Finally, the third step involves defining the key performance indicators (KPIs) to help you stay on the right path and optimize your customer success strategy.
It also involves collecting data from various sources such as surveys, analytics, CRM, and feedback platforms to measure customer success metrics like churn rate, customer satisfaction score, net promoter score, and customer engagement score.
Customer success strategy examples across the SaaS customer journey
Although we gave you the basis for building a customer success strategy, you also need to learn the tactics you're going to use to execute them and achieve the desired results.
So let's explore 15 customer success tactics across the different stages of the SaaS customer journey, from activation to retention to expansion.
Learn about your customer needs
If you want to personalize the onboarding process to engage and retain more users, one great tactic is to start segmenting customers right on the signup page.
For instance, you could add a welcome survey to learn about your customer's use case and their goals with your products, segment your user base, and then tailor the onboarding experience to fit their needs. Just like Miro's signup flow:
Introduce yourself to new customers as they sign up
First impressions matter—that's why you must welcome your users with a greeting message as soon as they signup.
And although an email can do the job, showing a welcome page right from the start has better momentum and can leave a better impression.
For example, try adding an onboarding video embedded inside a modal, just like ActiveCampaign in the screenshot below.
This welcome message not only leaves a nice impression. But also encourages you to engage with onboarding videos (so you don't lose time reading unnecessary welcome messages).
Provide a personalized customer onboarding experience
A personalized product experience is required to deliver value to your customers according to their use case, job to be done (JTBD), and the journey stage—building rapport and engaging users.
For this, you can take advantage of welcome surveys to collect data and segment users based on their needs, in-app behaviors, NPS responses, and product usage.
With segmentation, you can:
Help users reach activation with an onboarding checklist
During primary onboarding, you must help users engage with your product's core features so they can experience its value as quickly as possible (and avoid churn).
We call it the activation stage.
And to achieve it faster, you can implement an onboarding checklist to guide users through the most important features right from the beginning.
For instance, check the onboarding checklist we show to new Userpilot customers. It's short and actionable, plus it instantly introduces you to a critical feature (in-app flows) that you can engage with.
Offer live demos during free trials
Although product demos can be part of the trial stage, they can also be used as an active approach to drive value—especially for complex B2B products.
For instance, you could invite customers to schedule a live demo via email (like the screenshot below), showing how your product differs from the competition while training your users on how to use your app in real-life sessions.
These demos are an unbeatable way to make potential customers more confident about their purchase decisions (making them more likely to stay).
Help users achieve success via in-app guidance
Another tactic is adding in-app guidance to onboard users contextually—reducing the time and effort your customers need to spend on realizing its value.
For example, you could implement interactive walkthroughs to hand-hold users across their app, remove friction, and train them to use the tools.
Interactive walkthroughs are more engaging and likely to improve product adoption during the activation stage. It responds to in-app behavior in real time, so you can trigger tooltips when the user is more likely to need them. Instead of overwhelming the user with information they won't retain—like this walkthrough from Kommunicate:
Introduce new features via in-app notifications
In-app notifications are powerful for announcing new features and encouraging users to try them.
However, notifications can be annoying if not done right. That's why they should be triggered based on in-app events and segmentation, such as user actions, app updates, or time-based conditions, so you can avoid getting your messages dismissed. This way, users are more likely to engage with them as they don't have to leave your app.
Provide product training by hosting webinars
Educating users about your product is a crucial customer success responsibility.
For this, host webinars to provide product training and introduce customers to new and advanced features—so they can learn and continuously engage with your product.
To get users to register, you could simply send them an email. However, you can go further by triggering an in-app notification to specific user segments who'd find your training valuable—just as we do at Userpilot:
Identify expansion opportunities for upselling
One key task of customer success teams is never to let users feel like they've outgrown your product.
But it doesn't mean you should try to upsell something at every touchpoint. Instead, monitor product usage and prompt users to upgrade their plan only when you're sure they will benefit.
Are your users constantly reaching the limits of their plans? Or doing a task the hard way when they could technically automate it with a premium feature?
Then ask them to upgrade.
For example, see how Loom teases you to upgrade when you reach the 5-minute recording limit on their freemium plan (which indicates that you'd benefit from unlimited recording).
Offer self-service support via in-app resource centers
You can't be there 24/7 to support any customer around the globe.
That's why you need to offer self-service support, so users don't have to leave your app, google your website, scroll down to find the support button, and browse messy documentation to find answers.
To solve this, add an in-app help center to give users access to the knowledge base, tutorials, videos, and support tickets right from the product UI.
With an in-app knowledge base, users won't have to leave your product to find answers to their questions, plus it saves you and your support team time by answering repetitive queries.
Gather customer feedback in the app and act on it
Communication is the key to building customer relationships. It creates accountability and makes your customers feel invested in your brand.
That's why collecting feedback is useless if you don't close the feedback loop.
You see, you shouldn't receive feedback for the sake of it. You must identify improvement opportunities and implement them—then communicate with your customers to show the impact of their response.
Or else, both you and your users have wasted your time with feedback.
Some forms of feedback include one-on-one interviews, in-app surveys, usability tests, reviews on 3rd party websites, and feature request surveys like in the screenshot below:
Monitor customer satisfaction across the entire journey
You can't control what you can't measure. Thus you need to keep track of your customer satisfaction levels at each stage of the journey.
This way, you can easily spot where users are experiencing friction and improve the product experience across the customer lifecycle.
For instance, you could trigger a CES survey at every important touchpoint to collect insights on how easy it's been to use your product. Just like this example from Userpilot:
Measure and drive customer loyalty with NPS
Similar to customer satisfaction surveys, NPS surveys can measure loyalty and let you understand who loves your product, who doesn't like it, and why.
And although NPS surveys are quantitative, you can add follow-up questions such as "Why did you choose this score?" So you can get qualitative insights and understand your users better.
What's cool about NPS is that you can tag NPS responses and identify common keywords across promoters or detractors. This way, you can either double down on what's working or fix what's causing people to become detractors.
Implement cancellation flow to reduce churn
Churn isn't the end of your job as customer success manager.
In fact, that's where customer offboarding starts. When the user intends to click "unsubscribe," you can still trigger a cancellation flow to ask about their cancellation reasons and have a chance to prevent churns by offering alternatives.
For example, if the user cancels because the product is "too expensive," you can offer support or a downgrade alternative to give them another chance to achieve value realization:
Capture customer churn reasons using churn surveys
No matter how good your customer success strategy is, churn is inevitable.
But as part of your user offboarding process, you can also learn why a customer leaves, improve the product experience for the other users, and even reach out to ex-customers once problems are fixed.
To do this, you can trigger a churn survey when the user hits "cancel." Ask what went wrong and improve your service to get a step closer to building an effective customer success process.
What are the most important metrics to measure customer success?
Now that you know the tactics, how do you know if your customer success efforts are working? How do you measure the impact of your customer success team and strategies?
Here are some of the most important metrics to track and optimize your customer success strategy:
Customer Lifetime Value (LTV): LTV calculates the total revenue a customer generates for your business over their entire relationship with you. Its formula involves multiplying the average monthly income per customer by the average customer lifespan in months and subtracting the average cost of acquiring and serving a customer.
Customer Satisfaction Score (CSAT): CSAT is a simple and direct way of asking your customers how satisfied your customers are with your product or service—helping you identify areas of improvement. It is usually measured by asking customers to rate their satisfaction on a scale of 1 to 5, or 1 to 10, where higher scores indicate higher satisfaction.
Monthly Recurring Revenue (MRR): This is the revenue you generate from your customers every month. It can be calculated by multiplying the number of customers by the average monthly revenue per customer.
Customer Retention Rate: Retention is the percentage of customers who stay with you over a given time. It can be calculated by dividing the number of customers at the end of a period by the number of customers at the beginning of the period and multiplying by 100.
Customer Health Score: This is a composite score that reflects how well you understand your customers' needs, goals, challenges, and behaviors. It can be calculated by combining various indicators of customer health, such as usage data, feedback data, support data, billing data, etc. And sum them up.
How Userpilot can help your customer success team drive SaaS growth
You need tools to implement a great customer success process for all the tactics we've seen on personalizing the product experience, sending automated surveys, offering self-service support, etc.
Thankfully—*shameless promotion warning*—Userpilot is honestly the most cost-efficient customer success software we know to apply customer success tactics without coding.
Here's how:
Trigger custom in-app experiences based on the customer's journey stage
Userpilot can trigger in-app experiences based on the following:
User segments
In-app behavior and engagement
User's journey stage
Specific events and the count of them using custom attributes
This way, you can create personalized in-app messages with different UI patterns—just by making a flow:
Create surveys to gather actionable feedback
Like the tactics we covered earlier, Userpilot lets you collect feedback and understand user sentiment with contextual in-app surveys such as NPS, CSAT, and CES. And trigger them based on segment, user ID, event tracking, etc.
Improve customer success strategies with advanced product analytics
Additionally, Userpilot gives you access to advanced product analytics to monitor in-app behavior and product usage. Including plenty of functionalities, such as the ability to tag features, track their usage, and even segment your users based on the features they engage with:
Wrapping up
In SaaS, retaining customers is as impactful (if not more impactful) than acquiring them.
That means building a successful customer success strategy that keeps your customers happy is essential for healthy growth and success.
So now that you know the framework to build a solid strategy and follow effective tactics, why not get a Userpilot demo to apply them without coding?