12 Knowledge Base Structure Best Practices For SaaS Companies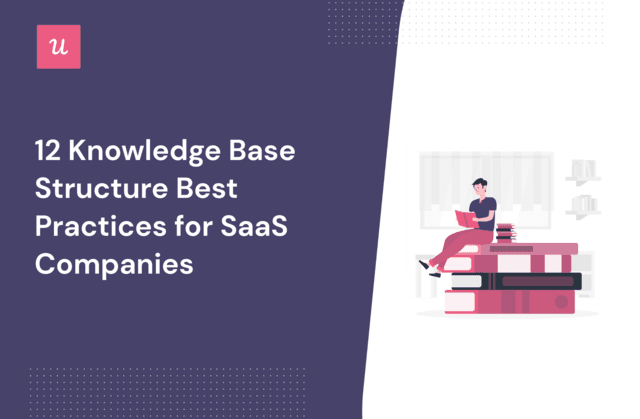 Applying knowledge base structure best practices can help users get answers faster in a self-service world.
An effective knowledge base will:
streamline the onboarding process
reduce impending support tickets
improve product experience
This article outlines the best practices for creating an ideal knowledge base structure.
Let's get started.
TL;DR
A SaaS knowledge base is a collection of structured documentation that provides instant customer support.
The terms knowledge base, resource center, and help center are used interchangeably and mean the same thing in SaaS.
While the classic knowledge base tends to interrupt the user experience, in-app knowledge bases are contextual and timely.
A good knowledge base can improve customer retention and satisfaction while easing the pressure on your customer support team.
Here are the best practices for building an in-app knowledge base:
Have a search function and an easily navigable interface.
Incorporating different formats of educational content makes a help center more effective.
Split the documentation into modules to help customers find the resources they need without much effort.
Each documentation should focus on tackling one problem at a time.
Play video tutorials directly in-app to ensure users replicate the instructions easily.
Use help center software to build your knowledge base.
Add interactive walkthrough guides in your help center, teaching users how to use specific features in a natural way.
Your knowledge base search feature should integrate with other search engines, allowing users to access external knowledge bases.
Offer personalized support in your resource center by showing only relevant content to specific users based on product user segmentation and behavioral segmentation.
As your product/service changes, update your documentation to reflect those modifications.
Use content localization to a broader audience and increase engagement.
Track how customers engage with your resources and create more documentation where necessary.
If you're looking for the best self-support software tools you can integrate into your product get a Userpilot demo and see how we can help.
What is a SaaS knowledge base?
A knowledge base, also known as a help center or resource center is a self-serve library of information about a topic, product, or service, usually hosted on a separate page of your website.
It typically contains troubleshooting guides, video tutorials, knowledge base articles, how-to instructions, and answers to frequently asked questions [FAQs].
A SaaS knowledge base is designed to provide instant solutions to users, streamline their product experience and drive customer satisfaction.
The classic knowledge base structure vs the in-app knowledge base
The classic knowledge base is the documentation page on the company's website consisting of popular articles showing how the product works, major integrations, and descriptions of its core features.
It's available to users and visitors alike.
On the other hand, the in-app knowledge base is built to bring together multiple help content formats, and it's hosted in-app. Users get quick access to video content, answers to common customer questions, interactive in-app guides, easy access to chat support, bug reports, feedback etc.
Both are packed with useful resources.
When it comes down to it, the in-app knowledge base is the best option because it is easily accessible, more contextual, timely, and engaging.
What are the benefits of creating an in-app knowledge base for your SaaS product?
The main reason you should create a knowledge base directly in-app is that it has a direct impact on customer success and it also decreases your costs with support.
Here's how.
A good knowledge base increases customer retention
Knowledge base content, if structured right, is a valuable asset that increases user engagement. In turn, consistent user engagement will increase the chances of product adoption and will drive a positive customer experience.
What does this result in? Higher customer retention!
Access to knowledge and support 24/7 boosts customer satisfaction
The better a user understands your product, the more likely they will achieve their goals and have an outstanding customer experience.
Self-service support is always available in your app– this way, no matter when users are navigating your product, they can always find answers to their problems, without you having to have a 24/7 support team.
Self-service eases the workload of your customer support team
A large percentage of SaaS users refer to self-service options to solve problems before contacting customer support.
With a knowledge base, you can reduce the influx of support tickets reaching your customer support team, thus giving them ample time to attend to the most critical customer problems.
Also, having an in-app resource center will cut down customer service costs to a large extent because you don't have to hire more agents to keep up with your numerous users.
Knowledge base UI design best practices
Ready to start building the best knowledge base? Here's what to keep in mind when it comes to design.
Search functionality
The search function is a must-have in your help center.
This allows users to quickly find the answers they need – instead of scrolling aimlessly through the help center.
With the search functionality, the rate of contacting support staff for personal assistance is greatly reduced.
Navigation usability
Knowledge bases need to be not only packed with information but also easy to navigate. Navigable help center interfaces streamline the whole process of searching, ensuring a seamless user experience.
The search bar is not always the most convenient way to navigate a resource center. The interface of your knowledge base should therefore be highly intuitive, with clear names for each document that are aligned with the user's expectations.
You should also organize your knowledge base into top-level categories and sub-categories.
Different formats of educational content
Let's be clear– having an intuitive interface is only half the battle.
An effective knowledge base contains self-service content in various formats, including how-to articles, a FAQ page for each feature, interactive in-app guides, webinars, video content, and in-depth product documentation.
These various formats are needed because every user digests information differently, so you need a wide array of options that anyone can understand.
The availability of these content formats makes for a better user experience.
Knowledge base structure and content best practices for SaaS
Ok. What about content, you might ask.
Group by category into modules for easy navigation
It's important to group resources by category so that customers can easily find what they need.
Categories might vary depending on the product/service you offer, but here are examples of categories you might want to add to your resource center.
External URLs to knowledge base articles
Getting started module
Access to customer support or chatbot
Product updates section
The sooner you make your knowledge base follow a clear structure such as this, the faster customers will solve their problems and get back to engaging with your product.
Add multiple types and formats of resources
As I mentioned earlier, every customer absorbs content differently.
Including multiple types of resources in your help center will allow each user to find support that is best tailored to their needs.
At this point, writing documentation just doesn't cut it.
Expand your support scope by adding video tutorials, linking to relevant written content or audio, triggering in-app flows and experiences (these could be guides), and even launching checklists that prompt users to take action.
Create granular knowledge base articles and content
When users visit the help center, it's because of a specific problem they've encountered in their user journey. So try to create documentation [both text and visual content] that addresses only one issue at once.
A perfect example of granular knowledge base content is Asana's micro video guides that are short and on point, helping users adopt the product, one video at a time.
Play video tutorials in-app
When customers use the in-app help center, sending them outside of the product to watch a video tutorial only adds friction.
Avoid redirecting users to a new platform when they click on your in-app tutorials.
Instead, the visual content should be played in-app to ensure they follow the instructions and replicate them easily.
Don't custom code – use a knowledge base software
However, when you create a knowledge base with specialized knowledge base software, you can deliver an engaging learning experience for customers without wasting company time and resources.
Don't reinvent the wheel.
Your developers already have enough backlog. And it's much easier to build and update a knowledge base when you use a tool for it.
Offer self-serve in-app guidance from inside the knowledge base
Use walkthroughs to guide the user on using the product. But also make the available on-demand via your knowledge base.
Instead of just providing a link to the relevant page, a walkthrough shows customers how to use a feature and get their 'Aha! moment'.
It follows the principle of 'show, not tell.'
Users can choose which in-app guides they want to engage with based on what they are trying to achieve.
Let users search on multiple platforms through your knowledge base
Upgrade your search functionality and allow searching your help center content as well as external knowledge bases.
Userpilot's in-app resource center search functionality allows users to access knowledge base content from three other search engine providers, including:
If you want this functionality in your knowledge base, try building it with no code, using Userpilot.
Customize your knowledge base based on the user's needs
Segmentation plays a huge role when you intend to present users with relevant solutions to their needs.
You can either show or hide resources modules based on the user segment or the feature they were interacting with before visiting the help center— this is a way of providing personalized support.
Personalized help center content is effective because instead of a packed help center with all the resources in the universe– you only show your users relevant documentation at a specific point in their journey.
Continuously update your knowledge base
It's essential to keep your documentation up to date.
Whenever you add a new feature, upgrade a function or adjust the terms of your service, ensure that you inform users by either creating a separate section for announcements or just adding the new information in its relevant category.
Also, eliminating outdated information from your resource center is a best practice for knowledge base management.
Localize your knowledge base for a better user experience
Content localization is a vital strategy for any SaaS company competing for a spot in the global market.
Offering your knowledge base content in local languages will increase engagement and improve user experience because many customers might struggle with instructions in one language only.
Userpilot provides a sleek content translation experience within the product itself.
Its automated translation service gives teams without translators the full ability to translate their content back and forth between 32 languages— with the click of a button!
Track knowledge base engagement and improve
Knowledge base management also involves studying your product usage analytics to identify which resources customers engage with the most, then create more of that type.
For example, if your users prefer video guides to text, then create more visual content around your product or service.
Apart from providing insight into the kind of self-support content your customers need, tracking knowledge base engagement can guide you towards product enhancement.
It's simple.
The parts of your product that users struggle with the most represent your most challenging feature. If your most searched documentation is about a specific feature, then it's proven to be challenging for most of your customers, and you need to add more help while optimizing that feature for a better product experience.
Here are some metrics to track:
Temporal analytics enables you to compare usage over a specific period.
Live changes that allow you to see how users are interacting with your help center in real-time.
A status tracker that tells you if your resource is live or down.
Knowledge base software tools
A knowledge base software tool will be your best friend for building and updating your SaaS in-app resource center while saving you money.
We have outlined two of the best knowledge base tools that any SaaS company can use to create and manage a functional knowledge base.
Userpilot– best knowledge base software
Call me biased, but Userpilot is one of the most comprehensive tools for building a resource center inside your web app.
It offers a lot of flexibility– you can add different types of content, group them, and then analyze how users engage with them.
Userpilot is totally customizable, in the sense that you can choose your knowledge base design and structure, and create a help center that feels unique to your brand, without worrying about article templates or a style guide.
Essentially, the final result will look and feel like a part of your product.
Userpilot's all-encompassing functionalities distinguish it from every other help center software because they might be suitable for one or two core elements, but they seldom offer the full experience.
The best part?
Userpilot allows you to create in-app help centers without writing a single line of code. We also don't make you pay a fortune for access to this feature. The resource center is included in all pricing plans, starting at $249/mo.
Zendesk— for integrating chat and support
Sometimes, instead of creating a help center from scratch, you can just integrate Zendesk into your product, thereby giving your customers access to live chat and support tickets.
You can also create and customize a full knowledge base with a Zendesk integration, but note that it has no in-app guidance modules or other advanced functionalities that Userpilot offers for wholesome customer support.
Conclusion
For a help center to offer adequate customer support, it has to follow a defined structure and have a good knowledge base design.
The 12 best practices for creating an online knowledge base highlighted in the sections above have been proven to work time and time again because they:
save time
enable customers to solve problems almost instantly
help companies provide adequate customer support
lead to customer success
Ready to build the best self-service hub inside your app? Get a Userpilot demo and get started right away.