Walkme Product Tours – All You Need to Know + Alternatives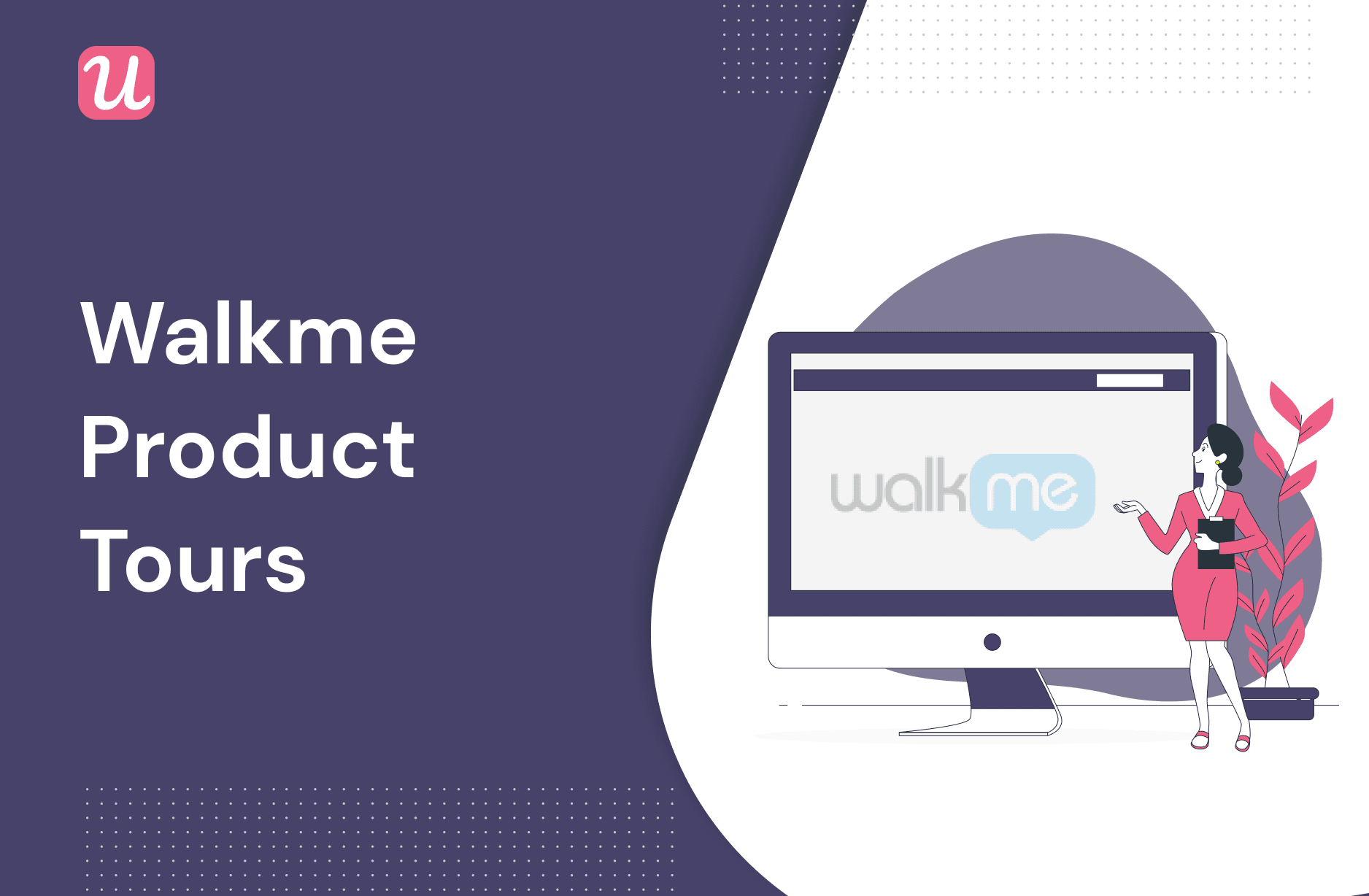 Wondering if WalkMe product tours are worth the hype?
It's hard to argue with WalkMe's reputation for digital adoption solutions. After all, it's the onboarding software of choice for 30% of Fortune 500 companies.
Impressive? Definitely. But does that mean WalkMe is right for your company? Maybe, maybe not.
This article will lay out the good, bad, beautiful, and ugly of WalkMe product tours to help anyone contemplating their platform for user onboarding needs.
There's a lot to consider, and getting the right (or wrong) digital adoption platform can have a massive impact on your product adoption rates and user engagement.
So let's dig right in!
TL;DR
WalkMe is a digital adoption platform that's popular for its product tours and product adoption features.
WalkMe's feature mainstays are their on-screen application overlay guidance elements including WalkThrus, SmartTips, and ShoutOuts.
Employee onboarding is the primary use case for WalkMe's product tours. They can be used for SaaS customer onboarding as well, but this isn't their focus.
The benefits of going with WalkMe include its code-free Editor, large support network, strong feature adoption results, and reduction of technical support tickets.
WalkMe draws criticism for its steep learning curve, occasionally clunky visual editor, ironclad contracts, and the need for coding to fully customize product tours.
WalkMe isn't cheap – its Basic Plan starts at $9,000 per year and offers very limited features.
Userpilot is a robust, code-free, and easy-to-use SaaS product adoption platform that offers many of the same features as WalkMe but at a fraction of the price.
What is WalkMe?
WalkMe is one of the biggest names among digital adoption platforms (DAP) along with Whatfix. In other articles we've already looked at how it fares against competitors in its class, such as WalkMe vs. Pendo (which has both analytics and product walkthroughs) and WalkMe vs. Whatfix.
But here we're going to focus on what you actually get with WalkMe's product tours. First, however, we need to establish what WalkMe is and what it does.
At its core, WalkMe offers digital onboarding solutions to help companies train users on software solutions.
In many cases, this means training employees on how to use software that's part of their job. But it can also mean helping customers get more value from a software product.
In both cases, the main goals of WalkMe's product tours are to assist users in learning a piece of software and reduce the amount of human technical support they require during use.
WalkMe achieves this by providing tools to create dynamic, interactive product tours that guide users to discover features, learn how to use them, and avoid common technical difficulties along the way.
WalkMe Features Overview
In addition to product tours, WalkMe offers a powerful dashboard for product usage analytics. This can be used to track and measure user adoption and engagement during onboarding, which is incredibly important for optimizing the user experience.
But here we're going to keep our focus on WalkMe's product tour features. While these user walkthroughs are quite robust and customizable, they rely on three core features: WalkThrus, SmartTips, and ShoutOuts.
WalkThrus
WalkMe's WalkThrus are its primary engine for creating user onboarding experiences. They overlay the target software or web app and provide on screen guidance to help users complete tasks.
In most cases, this means step-by-step instructions and tips that lead users from a starting point to the completion of a given task.
SmartTips
SmartTips are also a form of on-screen guidance, but they're less about the process and more about resolving points of friction.
For example, with a SmartTip you can trigger a small note to pop up suggesting relevant links or giving more information about how to complete a form.
ShoutOuts
ShoutOuts operate like SmartTips, but are geared toward in-product messaging. You can trigger them to pop up and give more information about relevant features, new updates, or product promotions.
Additional features
WalkMe also offers a couple of other more niche features. For example:
Launchers: Buttons that launch other WalkMe features or experiences.
Surveys: Pop-up surveys to collect user feedback or customer feedback.
ActionBot: Automated robo-chat to help users resolve issues and answer questions.
WalkMe Product Tours – Overview
In customer-facing SaaS use cases, product tours help users reach the "AHA moment" where they discover the value of a product.
This can be done via features like tooltips, onboarding checklists, or notifications that trigger certain user actions. All of these nudge the user toward greater levels of product adoption and activation.
While similar customer onboarding goals can be achieved with WalkMe, its primary use case is employee onboarding. The product tour structures and features are generally the same as with customer onboarding, but they drive users toward more productive software use with less technical friction.
In practice, this means that employee onboarding solutions (like WalkMe) optimize for training a captive audience (employees), while customer onboarding solutions prioritize experiences that show the user that your product is worth their time and money.
Userpilot: An alternative for customer onboarding
To reiterate, WalkMe can be used to create product tours for customer onboarding. It's just that its tools prioritize training value discovery.
But what if customer onboarding is your primary use case, and you want a product designed to meet that specific set of needs?
This is where Userpilot can help. Userpilot is a product adoption platform that lets you create robust, customizable user onboarding experiences just like WalkMe.
The difference is that its features – such as tooltips, walkthroughs, in-app messaging, microsurveys, and user resource centers – all prioritize getting users to the "AHA moment" and progressing further along the user journey.
Userpilot only works on your product, and not 3rd party apps, so it's not the best for employee onboarding. But for customer-facing SaaS, its dynamic, code-free user walkthrough creation tools are hard to beat.
WalkMe Product Tours – Pros
More than 2,000 companies worldwide use WalkMe, and so they're obviously doing something right. So let's take a look at some of the areas where WalkMe's product tours really shine.
WalkMe editor
As we mentioned previously, WalkMe's product tours are pretty robust. This lets you create user experiences tailored to your product or software tools and imbued with your company's persona
Creating effective, integrated user guidance can be a complex task, though. Tools that provide on-screen, overlaid user experiences and event triggers are inherently technical.
WalkMe's Editor is designed to let you do all this with a code-free, point-and-click visual editor.
The Editor gives you access to all the features mentioned above, and lets you build, manage, and publish your product tour all from one interface.
Support
Even with the benefit of a visual editor, learning to create user walkthroughs with WalkMe can be challenging (more on that in the next section). To help, WalkMe offers its customers thorough training via its "Digital Adoption Institute".
Reducing human support needs
One of the major benefits of effective employee onboarding is that it reduces the amount of human technical support needed when using software to complete tasks.
WalkMe Product Tours – Cons
While it may be an extremely popular digital adoption platform, WalkMe isn't without its downsides. Here we'll cover some of its drawbacks based on the platform's offerings and customer reviews.
WalkMe editor
Yes, this was in the "Pros" section, too. However, it turns out that the Editor isn't as easy to use as it may appear.
The first major issue is that being a code-free tool, the Editor's ability to truly customize your product tour is quite limited.
Are you looking for a quality, no-code user onboarding solution? Go grab a Userpilot demo and get started today!
Users also report that the interface is frustratingly sluggish at times, and that the experiences and elements you design don't always work the way you expect them to.
Customization (not code-free)
The WalkMe Editor does allow for some basic customization, but to create a genuinely tailored user experience you'll need to be proficient with CSS and JavaScript.
To be fair, WalkMe earns accolades for its customer education efforts, but that leads us to the next point…
Learning curve
There's a steep learning curve and a fair amount of technical knowledge required to create WalkMe user guides and get them implemented the way they're intended. This can involve hours of study and tutorial videos at the WalkMe Digital Adoption Institute just to get started.
WalkMe implementation is also known to take weeks if not months, and to be a heavy drain on a company's technical resources and manpower.
WalkMe offers certified experts to help with this, but that's an additional service you have to pay for.
Contracts
WalkMe isn't cheap, and so purchasing its services can be a big decision. The stress of this decision is compounded by the fact that their contracts are known to be extremely difficult to get out of.
Contracts can be long, multi-year affairs, and if you find that WalkMe's technical requirements are beyond your company's capabilities, the only solution is to pay more for a WalkMe technician.
Userpilot: Digital adoption alternatives without the cons
If challenging implementation, coded customization, and hours of online study aren't your thing, then its worth checking out a more user-friend alternative.
Creating customized product tours with Userpilot is completely code-free, and its platform can be installed in minutes, not months.
Getting started with Userpilot just requires downloading a web browser extension and copying a snipped of JavaScript to your app. After that, you're ready to go and don't need any additional applications or online courses to start creating tailored user onboarding experiences.
WalkMe Product Tours – Pricing
WalkMe's basic plan starts at $9,000 per year. And for nine grand you get a whopping three walkthroughs with up to five steps per walkthrough. Not exactly awe-inspiring.
Oh, and that comes with "Basic online support".
To get more features and support requires upgrading to a Custom Plan. WalkMe pricing for these plans is based on your company's specific use case and the number of users you expect to have over the course of a year.
We don't know exactly what these custom plans cost, but user reviews indicate that some companies pay $20,000+ per year.
An affordable alternative
Perhaps you've got $9,000 taking up valuable desk space in your office and only need a couple short product tours. In that case, WalkMe is a terrific option. But if that's not the case, Userpilot provides an affordable alternative.
Starting at $249 per month, Userpilot offers unlimited walkthroughs, features, and user segmentation.
This price point also allows you up to 2,500 monthly active users (MAUs), so that the platform's cost only increases as your company grows.
With Userpilot you get many of the same product walkthrough features available with WalkMe, plus more functionality geared to customer onboarding, but at a fraction of the cost.
WalkMe product tour alternatives
WalkMe is a leader in digital adoption for good reason. But that doesn't mean it's the best product tour software for everyone.
For SMEs and companies that prioritize product growth, WalkMe's price point and features may not cut it.
Userpilot, on the other hand, offers an affordable, quality digital adoption platform that is designed with your product growth and user activation needs in mind.
In addition to creating product walkthroughs, Userpilot also provides user segmentation tools so that you can tailor onboarding experiences to persona and use case, as well as product usage analytics to help you optimize the user journey with your product.
If that sounds like a good deal to you, check out a Userpilot demo and see how it can meet your user onboarding needs.
Are WalkMe product tours right for you?
There's no doubt that WalkMe can be used to create robust product tours. But deciding if WalkMe is right for your company depends on assessing your needs and resources.
For large, enterprise-level companies with significant financial and technical capital, WalkMe offers a valuable tool for user onboarding and training. Its product tours are proven, and though they may involve some technical hiccups, user sentiment is largely positive for the product.
However, for mid-market companies looking for an affordable SaaS customer onboarding platform, it's worthwhile checking out alternatives.
Not every company is in the Forbes 500, and that's okay. If you are, then WalkMe might be just what you're after. Otherwise, a solid alternative like Userpilot can save you tons of time and money while still offering outstanding value.
Are you looking for a quality, no-code user onboarding solution? Go grab a Userpilot demo and get started today!