14 Best Product Tools Every Product Manager Needs [Multiple Use Cases]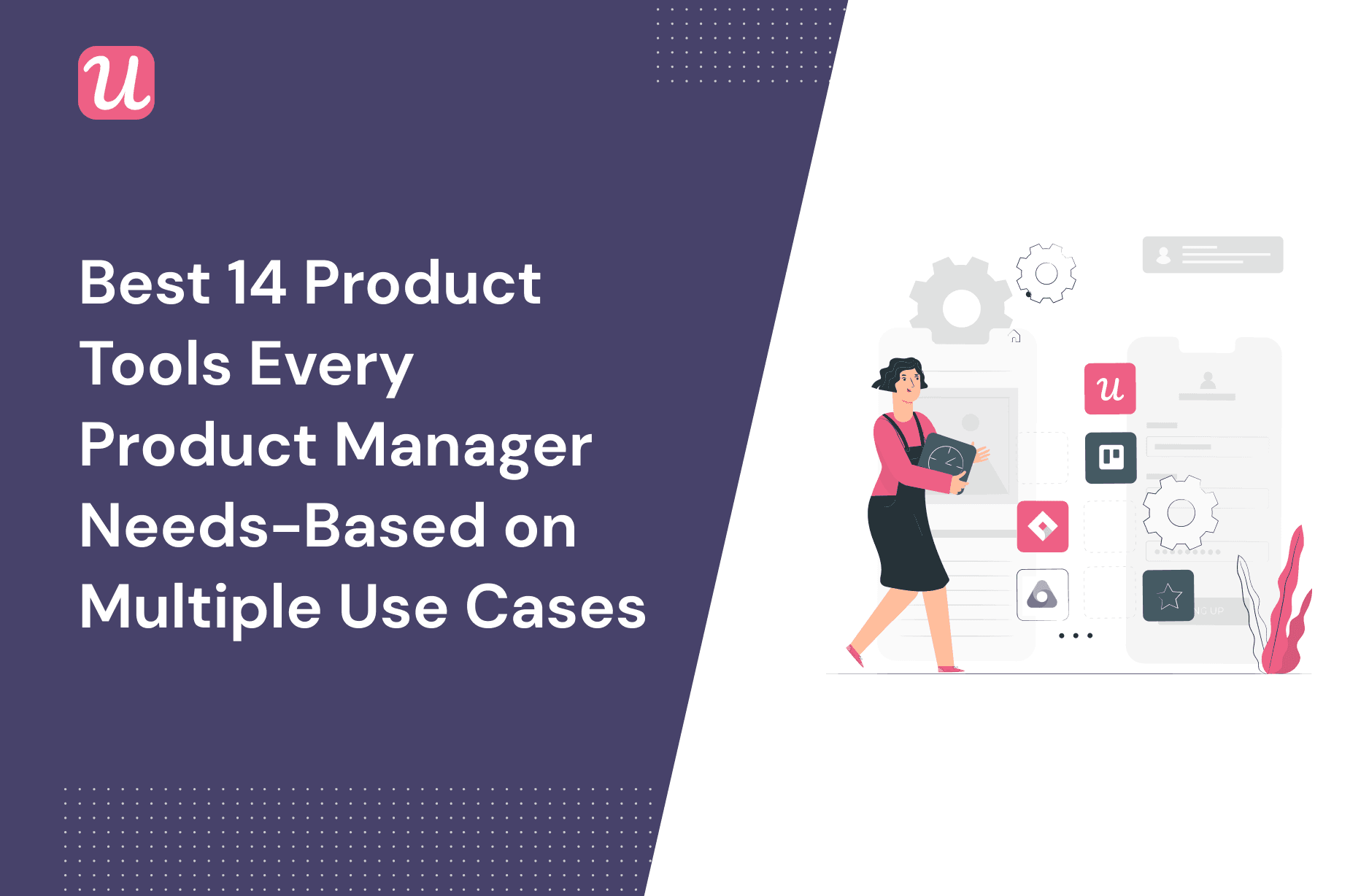 How big of an impact can the right product tool make on your product management efforts?
With the right tools for the job, a product manager can make some truly transformative contributions, save time, energy and resources in the process.
Product management is a dynamic, varied field, and so there's no one-size-fits-all approach to success. So to help you find the right product tool for your product manager, we've rounded up the best product management tools and organized them by use case.
So let's dive right in!
TL;DR
Product management tools provide information and resources for improving products.
Product managers use these tools to improve user experience and drive product adoption.
Product adoption and user onboarding tools: Userpilot lets you create onboarding experiences that help users understand and get value from your product quickly.
Product management and roadmapping software tools: Airfocus and ProductPlan make it easy to plan product growth and prioritize development targets.
Project management tools: Jira and Trello help keep your team on track with task management.
User research and customer feedback product tools: Userpilot and Hotjar make it easy to collect user feedback and behavioural data.
Product analytics tools: Heap and Mixpanel show you what users actually do in your product and how they use it.
Wireframing and prototyping tools: Miro and Figma provide dynamic, creative spaces for your product team to brainstorm and develop ideas.
Team communication tools: Slack and Zoom offer digital messaging and video conferencing platforms to keep everyone on your team in touch and up-to-date.
What is a product tool?
At the core, a good product management tool gives you information about how to improve your product and/or facilitates making improvements.
But because products come in all shapes and sizes, so do product tools. What works for you and your team in terms of prototyping, building, and driving product adoption may not work for another company.
As a result, choosing the best product management software is not about only the tools, but also identifying your use case and finding a match for your product.
Why are product tools important for SaaS?
Success for a SaaS business depends on getting customers subscribed and ensuring they keep paying for the subscription. But people will only continue their subscription if they're happy with the product.
This is where a product management system comes in. The right tools can tell your product management team what's working and what's causing friction for customers.
Good product tools can also help product managers and teams act on this information to make meaningful improvements that drive product adoption, and thus increase revenue for the company.
Types of product tools every product manager should use
As we mentioned, not every tool is right for every product or use case. That's why choosing the right product management tool can be so daunting! But we're here to help.
First off, here's a rundown of the main types of product management tools available.
Product adoption and user onboarding tools to help customers understand and use more of your product better.
Product management and roadmapping software tools: Plan for software development targets and how you want your product to grow.
Project management tools: Assign, track, and collaborate on a variety of tasks all from a single platform.
User research and customer feedback product tools: Let customers tell you what they like and where improvements can be made in your product.
Product analytics tools: Dig into what customers actually do with your product and how they use it. These tools can reveal points of value and friction that customers don't even realize they're having.
Wireframing and prototyping tools: Platforms that let your team brainstorm and build ideas dynamically and collaboratively.
Team communication tools: Keep everyone on your team in touch and up-to-date with digital chat and video conferencing tools.
Now let's get into the tools available for each use case!
Product adoption and user onboarding tools
Helping users get value quickly from your product is key to increasing activation and reducing churn.
One of the most effective ways to do this is through effective user onboarding.
If you're a SaaS business with good customer acquisition but lacklustre product adoption, a user onboarding tool is just what you need.
Userpilot
Userpilot is actually more than just an onboarding tool. It's a product growth platform specifically designed for mid-market SaaS companies with a product team. We won't toot our own horn too much here, but see our G2 reviews for yourself! We won the Summer 2022 Leader plaque too!
It lets you build code-free interactive and branched product walkthroughs that are perfect for new user onboarding.
See a quick peek inside our chrome extension builder below:
Userpilot Key Features
User layer – Perform detailed user segmentation based on in-app behaviour and user persona/use case.
Growth insights (analytics) layer – Track and analyze user behaviour in-app. Feature tagging gives you a no-coding-needed tool for tagging UI elements in your app and tracking engagement.
Engagement layer – Build in-app linear or branched onboarding flows to drive engagement and guide users along the user journey.
User sentiment layer (NPS) – Track and analyze NPS responses with both qualitative and quantitative data. Then, set up automated responses and in-app flows based on the answers.
Userpilot Pricing
Starting at $249 per month, Userpilot offers the best value you can find for a mid-market user onboarding solution. This price gets you unlimited feature use, unlimited segments, and up to 2,500 monthly active users (MAUs).
Sound good? Try out a Userpilot demo today!
Userpilot Reviews
Capterra: 4.6/5 (50+ reviews)
G2: 4.7/5 (70+ reviews)
Pendo
Pendo is another one-stop-shop for new user onboarding, product analytics, and user feedback solutions. However, they're aimed at enterprise-level companies and their tools come with a corresponding price tag.
Pendo Key Features
In-depth analytics – Powerful and robust analytics on user in-app behaviour for tracking progress along the user journey.
User segmentation – Group users based on a variety of factors and create tailored onboarding flows for each segment.
In-app feedback – Trigger feedback surveys to discover how customers feel about specific in-app experiences.
Product roadmapping – Pendo's shareable product-planning tool lets your team organize customer feedback to identify high-value features.
Pendo Pricing
Pendo offers a free trial but doesn't publish its pricing information. Reviews indicate that a single product starts at about $12,000 per year and low-tier plans are $30,000+ annually.
Pendo Reviews
Capterra: 4.5/5 (190+ reviews)
G2: 4.5/5 (500+ reviews)
Product management and roadmapping software tools
Letting your product grow organically or haphazardly is a recipe for wasted time and resources. Getting your product on a focused, efficient path is where product roadmapping tools come in.
Airfocus
Airfocus is all about prioritization. You input your cost and value drivers and Airfocus calculated your priorities. This is especially helpful for SMBs, and Airfocus offers templates to make effective prioritization as easy as possible.
Airfocus Key Features
A clean, easy-to-use UX for data visualization.
Integration with JIRA, Trello, Github, and more so your roadmap can start making an impact across workflows.
Custom scoring and weighting for ideas, tasks, and features.
Airfocus templates get you up and running quickly but with room for tweaking and customization later on.
Airfocus Pricing
Airfocus offers a free trial, a limited basic plan starting at $15 a month, and Advanced ($49/month) or Pro ($89/month) subscriptions for added functionality.
Airfocus Reviews
Capterra: 4.5/5 (90+ reviews)
G2: 4.4/5 (80+ reviews)
ProductPlan
ProductPlan is designed for teams who want to make roadmaps that they're proud to share with stakeholders and clients alike.
The depth of detail ProductPlan supports makes it perfect for large enterprises who deal with a lot of complexity. But it may be a little more than a startup or small business needs.
ProductPlan Key Features
Integrate data directly from JIRA or spreadsheets.
Share different versions (ie. simple vs detailed) of your roadmaps with different people.
Scale, colour-code, and annotate your roadmaps with an easy drag-and-drop interface.
Master Plans group different roadmaps together to show the big picture.
ProductPlan Pricing
ProductPlan starts at $39 per month when billed annually with the option of a free trial period.
ProductPlan Reviews
Capterra: 4.5/5 (50+ reviews)
G2: 4.4/5 (130+ reviews)
Project management tools
Keeping your team on task and on deadline can be overwhelming. Luckily, project management tools make it simple to view progress and follow up on tasks all from a single dashboard.
Jira
Jira is a productivity tracking and organization tool, especially useful for teams who use a Scrum methodology. Manage tasks, create epics, and track progress all on the simple web or mobile platform
Jira Key Features
Scalable
Custom and template workflows
Integrates with other popular project management tools.
Built-in roadmapping tools
Jira Pricing
Jira is free for teams of 10 users or less. For more users and features, plans start at $7.50 per user per month.
Jira Reviews
Capterra: 4.4/5 (10,000+ reviews)
G2: 4.2/5 (4,000+ reviews)
Trello
Sometimes more isn't better. If you're looking for a simple, intuitive workflow management system that doesn't require a lot of onboarding or training, Trello is your solution.
Trello Key Features
Kanban-style bulletin board
Simple and intuitive design
Integrations – with tools like Google Drive, Slack, Jira, and more.
Trello Pricing
Trello's basic version is free, but for more advanced functions and storage plans start at $5 per month.
Trello Reviews
Capterra: 4.5/5 (20,000+ reviews)
G2: 4.4/5 (12,000+ reviews)
User research and customer feedback product tools
When you want to know what features are giving your customers the most value, sometimes it's best just to ask them!
Userpilot
In addition to helping you drive product adoption with its onboarding tools, Userpilot also has a suite of powerful feedback tools.
Userpilot Key Features
Net Promoter Score (NPS) widget – Simple, quick survey implementation to collect and analyze NPS data.
Microsurveys – Get more detailed information about your users' persona and job-to-be-done so that you can tailor their in-app experiences.
Churn surveys – Find out why customers cancel their subscriptions and give them alternatives to cancelling.
Interested in a powerful customer feedback tool? Check out a Userpilot demo today!
Hotjar
Hotjar offers in-app surveys like Userpilot (although without the capacity to customize the user experience based on responses), but their real claim-to-fame is their user behaviour analytics.
Hotjar Key Features
Heat maps – A record of user clicks and movements on your product, which can help you determine which features are working and which can be improved.
In-app surveys – Get qualitative data by asking for user sentiment on their experience.
Hotjar Pricing
Hotjar offers a free version with limited features, with the next tier up starting at $39 per month for unlimited heat maps and surveys.
HotjarReviews
Capterra: 4.7/5 (400+ reviews)
G2: 4.4/5 (200+ reviews)
Product analytics tools
Getting customer feedback is great, but sometimes users just don't know what they don't know. In this case, analyzing how a user engages with your product can provide insight into where the experience can be improved.
Heap
Heap is a powerful product analytics tool designed to give you a high-level view of everything users do in your app.
Heap Key Features
Quick setup
Retroactive data capture
Analytics dashboard
Heap Pricing
Heap offers a fairly limited free version, as well as free trials of higher tiers that start at around $1,000 per month.
Heap Reviews
Capterra: 4.5/5 (25+ reviews)
G2: 4.3/5 (600+ reviews)
Mixpanel
Mixpanel is another robust tool for behavioural analytics on your product or website. It lets you track and analyze user behaviour to see what's driving engagement and where it flags.
Mixpanel Key Features
Live  data capture
Behavioural messaging
In-depth analytics
Mixpanel Pricing
Mixpanel offers a free basic version, with the more powerful "Growth" tier starting at $25 per month.
Mixpanel Reviews
Capterra: 4.5/5 (90+ reviews)
G2: 4.5/5 (600+ reviews)
Wireframing and prototyping tools
Whether you're putting together ideas to get product development kicked off or deciding how to turn user feedback into product improvements, wireframing tools can help you make those ideas actionable.
Miro
Miro Key Features
250+ ready-made templates.
80+ integrations with tools like Jira, Asana, and Google Workspace.
Real-time, visual, drag-and-drop collaboration.
Miro Pricing
Miro's free version comes with the basic tools to get you started. Its "Team" tier starts at $8 per month and uncaps many of the feature limits.
Miro Reviews
Capterra: 4.7/5 (500+ reviews)
G2: 4.8/5 (2,600+ reviews)
Figma
If brainstorming for your team means sharing prototypes and designs, then Figma has you covered. Teams can collaborate on custom projects, save their progress, and then return to it later.
Figma Key Features
Cloud-based and on-premise platform.
Prototyping and version control functionality.
Simple yet powerful drag-and-drop UI.
Figma Pricing
Figma is free for up to 2 editors and 3 projects. The "Professional" tier removes many of the limitations and costs $12 per editor per month.
Figma Reviews
Capterra: 4.7/5 (300+ reviews)
G2: 4.6/5 (350+ reviews)
Team communication tools
Product management teams can certainly benefit from tools for collaborative development, but sometimes what's needed is just a space to talk. Now more than ever, digital tools for communication are essential for allowing teams to keep in touch whether they're working remotely, in different time zones, or just in different parts of the office.
Slack
Slack is an all-in-one virtual meeting area for your team. It provides a platform for handling a team's digital communication needs, from chats to video conferences.
Slack Key Features
Chat, audio, and video messaging.
Calendar management.
File sharing.
Slack Pricing
Slack offers a free version as a kind of "taster", but to get video conferencing with multiple team members and fewer data caps means upgrading to the $6.67 per month Pro version.
Slack Reviews
Capterra: 4.7/5 (20,000+ reviews)
G2: 4.5/5 (28,000+ reviews)
Zoom
In case you were lucky enough to miss the pandemic and don't know, Zoom is a video conferencing tool that makes connecting face-to-face with just about anybody quick and easy.
Zoom Key Features
Voice and video conferencing.
Screen recording.
Screen sharing and annotation.
Zoom Pricing
Zoom is free for individual users with group meetings of up to 40 minutes. A $14.99 per month Pro account removes the group meeting limit.
Zoom Reviews
Capterra: 4.6/5 (10,500+ reviews)
G2: 4.5/5 (39,000+ reviews)
Conclusion
Now that's a lot of product management tools! As you can see, no one tool does everything. But with the right combination of tools to support product management team collaboration, data collection, and development, you'll be on your way to new levels of product adoption and growth.
It's also important to note that all the project management and prototyping tools in the world won't help your product management process unless you have a good way to turn product analytics into improved user experiences. Setting a strong foundation with a product growth platform like Userpilot is the most effective way to start building your product management toolkit.
Ready to start putting product tools into action? Get a Userpilot demo and see how you can begin ramping up product adoption today!