Product Experience Insights: How To Collect PX Data and Improve the Customer Experience?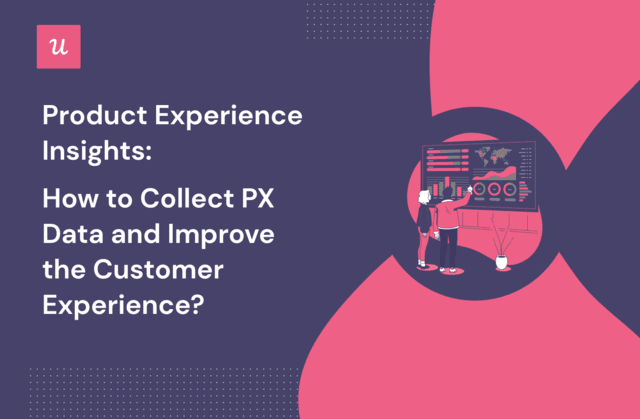 Ever wondered what your users think about your product's features, UI design, and quality?
Product experience insights help you understand how customers feel about your product, and how they react and interact with it.
In this article, we'll be discussing what product experience insights are, why they are critical to improving your product engagement levels, and how you can get these insights from within the app.
Ready? Let's begin!
TL;DR
Product experience (PX) is the customer's overall experience and interaction with the product.
You can use PX insights to find out why your users behave the way they do and how to improve it.
Product analytics helps you observe how users engage with your product. Meanwhile, product experience insights explain the actions of your users.
PX insights help you understand users' behavioral patterns through direct customer feedback.
Both product management, marketing, and customer success teams will benefit from collecting PX insights.
To harness PX insights within your product, you must pay attention to these three components –feedback, analysis, and engagement data.
Collecting PX insights aims to improve the customer experience. The process involves creating a data-driven customer journey, tracking feature adoption levels, and taking action based on user feedback.
You can track PX insights and behavioral trends in your product using Userpilot without writing any code. In addition, it allows you to collect feedback in-app using microsurveys.
What is product experience in SaaS?
Product experience (PX) refers to the entire customer journey within a product. It focuses on everything that shapes the user's experience throughout the entire lifecycle of your product.
What are product experience insights?
Product experience insights are the data that help you determine the perception of your product based on all touchpoints. These insights validate (or nullify) your hypothesis about your product's UX.
Product experience insights vs. product analytics
Product analytics is the gathering of hard data that informs you which pages are performing well, which features are utilized more, etc.
Product experience insights take product analytics a step further, connecting the dots between what happened and why it happened. It adopts a more human approach, helping you understand the intentions behind user actions and enabling you to empathize with them.
What is the importance of product experience insights?
There are many advantages to collecting product experience insights. In a nutshell, they can:
Help you understand your users' behavior within your product.
Uncover why users follow a specific customer journey and what that journey looks like.
Help you understand and empathize with your customer's experience at every stage of the customer journey.
Serve as direct feedback from users.
Who needs product experience insights?
Product experience insights can be a great resource for all departments of the SaaS companies, but mostly they are invaluable for the following teams.
Product managers
Data gathered from product experience insights helps product managers understand the user's experience, identify UX pain points, and empathize with customers' challenges. This makes it easier to determine what changes to make to delight your customers.
Product designers
Product designers work with product management teams to develop the user experience of a product. These insights, thus, help them better fine-tune the user experience, drawing upon the feedback to ensure customers achieve their goals.
Product marketers
Product experience insights help product marketers refine the product's messaging and positioning to achieve better product-market fit. Using the insights gleaned, product marketers find it easier to identify the best customer segments and ensure these groups learn about the product.
Customer success teams
Product experience insights provide customer success teams with direct feedback from the customer on an individual level. Voice of the Customer programs will enable you to better understand the challenges and needs of customers.
What are the three components of PX insights?
There are three components to be considered when looking to drive product adoption and increase customer retention using PX insights. These include:
Feedback
Customer feedback data is a critical component of PX insights that can help you create a better version of your product. This feedback is collected in multiple ways, including:
Triggering context-based feedback collection surveys (such as after they've used a new feature) to increase response rates.
Using CES and ratings on core features to improve your roadmap planning.
Using NPS surveys to gather information on the user's overall sentiment and health.
Analysis
Collecting and analyzing the correct data enables you to deliver a better product experience backed by data insights. To make the most of the data collected, you should utilize different types of analysis, focusing on a variety of metrics. Some interesting analysis types include:
Retention Analysis: This is used to analyze user retention levels for your product, establish a baseline measurement standard, and validate (or invalidate) your hypothesis about what product features drive growth and retention.
Funnel Analysis: Used for identifying the friction points at each stage of the funnel. This analysis helps you understand how and when your users are dropping off.
Adoption Analysis: Used for measuring the revenue attribution of different features and understanding the product's feature adoption levels. Adoption analysis also reveals upselling opportunities based on the depth and breadth of feature adoption.
Engagement
Customer engagement is key to reducing churn and increasing your product adoption.
You can measure the success of your engagement efforts by collecting data on:
The percentage of users that completed the onboarding phase successfully
The activation rate of your customers, and
The stickiest features which are widely adopted by your users
How to use product experience insights to create a better customer experience?
Product experience directly impacts how users engage and interact with your SaaS company. Thanks to its impact on the overall user experience, product experience insights are harnessed to improve the customer experience. They also make the customer journey more fulfilling.
Be sure to collect product experience data and use those insights to improve your existing operations.
Here are some tactics for you.
Create a customer journey for both new and existing customers
The first step is to map out the entire customer journey for your customers. This map visualizes all of the steps (the major touchpoints) a customer needs to take before achieving a goal within your product.
Customer journey analytics captures every interaction with a customer across multiple channels during their lifetime. Through customer journey analytics, you can better understand your customers' actions, track their paths, and improve their experiences.
These product insights help you measure the effectiveness of your product strategies, and determine what works, and what doesn't.
Track feature usage and prioritize customer needs
Product analytics tools are great for observing who your users are and what they're doing within your product. These tools help you understand feature adoption levels – which features your users are using the most and which ones they're struggling with.
When you identify your least adopted features, you can also pinpoint what prevents customers from using those features and resolve those problems as quickly as possible.
You can also learn about your product's power users, identify the ideal product roadmap for these users, and improve feature discovery efforts to attract even more power users.
A tool like Userpilot makes it easier for you to learn more about how users interact with your product. Simply tag a feature in your product's UI and set custom events to track feature engagement without coding.
Create heatmaps to monitor user behavior and identify trends
How do users interact with your product? Is there a group of users who behave similarly within your product? What can you do to improve the product experience for these users?
You can find answers to these questions with user behavior analytics tools. For example, you can employ heatmaps to "spy" on your visitors and track their behavior on your app or website. Where they are clicking, what features are they using, etc.
By doing so, you'll identify and visualize trends in the product experience.
There are several tools in the market that can help you track behavioral data using heatmaps, but Hotjar remains one of the most popular out there. We'll be discussing this tool a bit later.
Use microsurveys to measure product experience
Obtaining deeper insights by gathering usage and behavioral data is important, but it cannot replace direct feedback from users.
In-app microsurveys are a great way to collect user feedback and gauge customer satisfaction. The qualitative and quantitative data gathered from these surveys can be used to:
Improve your product's features and usability
Discover and remove friction points
Help customer-facing teams better understand where users struggle
Offer better customer support, etc.
To get the full picture of your customer's satisfaction levels, place different customer satisfaction surveys at different points in the user journey. Use CSAT, CES, and other customer happiness surveys to collect product feedback at different stages of the customer journey.
As you collect more product feedback, you'll better understand the overall product experience for your users as they journey through the product.
Collect customer feedback and act on
Listening to your users and acting on their feedback is one of the hallmarks of a customer-centric mindset.
Once you identify friction points that impact your users, you should prioritize what needs to be fixed.
Create an actionable plan to fix the issues and improve the product experience. Make sure you keep your customer updated on the progress and close the feedback loop.
Best tools to collect product experience insights
So far, we've considered what product experience insights are, the different components of them, and how these insights can be used to create better customer experiences. Now, let's consider some of the best tools for both gathering and understanding these insights.
Here we go!
1. Userpilot
Userpilot is a product growth and product adoption tool that allows you to track in-app user behavior, create personalized flows for users, and collect customer feedback using different types of microsurveys.
Userpilot also helps you create NPS surveys. Responses from these surveys can be grouped into separate themes to help you understand what makes users loyal – or what keeps them away.
The good news is that you don't need to have any programming skills to make use of it, Userpilot is a code-free solution.
2. Hotjar
Hotjar is one of the most popular tools for collecting insights into product experience, and it focuses specifically on behavioral analytics.
Hotjar provides you with tools like heatmaps, surveys, feedback widgets, and session recordings. These tools help you understand and empathize with your customers as you analyze feedback data.
3. Mixpanel
Mixpanel helps you capture data on users' interaction patterns with your digital product. You can query and visualize this data using simple, interactive reports that give you a clear view of the user behaviors driving your product. The tool has direct integration with Userpilot.
Conclusion
Providing a better product experience is a surefire way to acquire new users, increase customer lifetime value, and reduce churn.
With product experience insights, creating better customer experiences doesn't have to be a gamble. These insights can help you gain a deeper understanding of your users, learn what features they love, and find ways to improve their experience.
Want to track what your users are doing in the product and collect feedback from them? Book a Userpilot Demo and learn how it can help you gather invaluable product experience insights and make data-driven decisions.