5 Best Behavioral Analytics Software for SaaS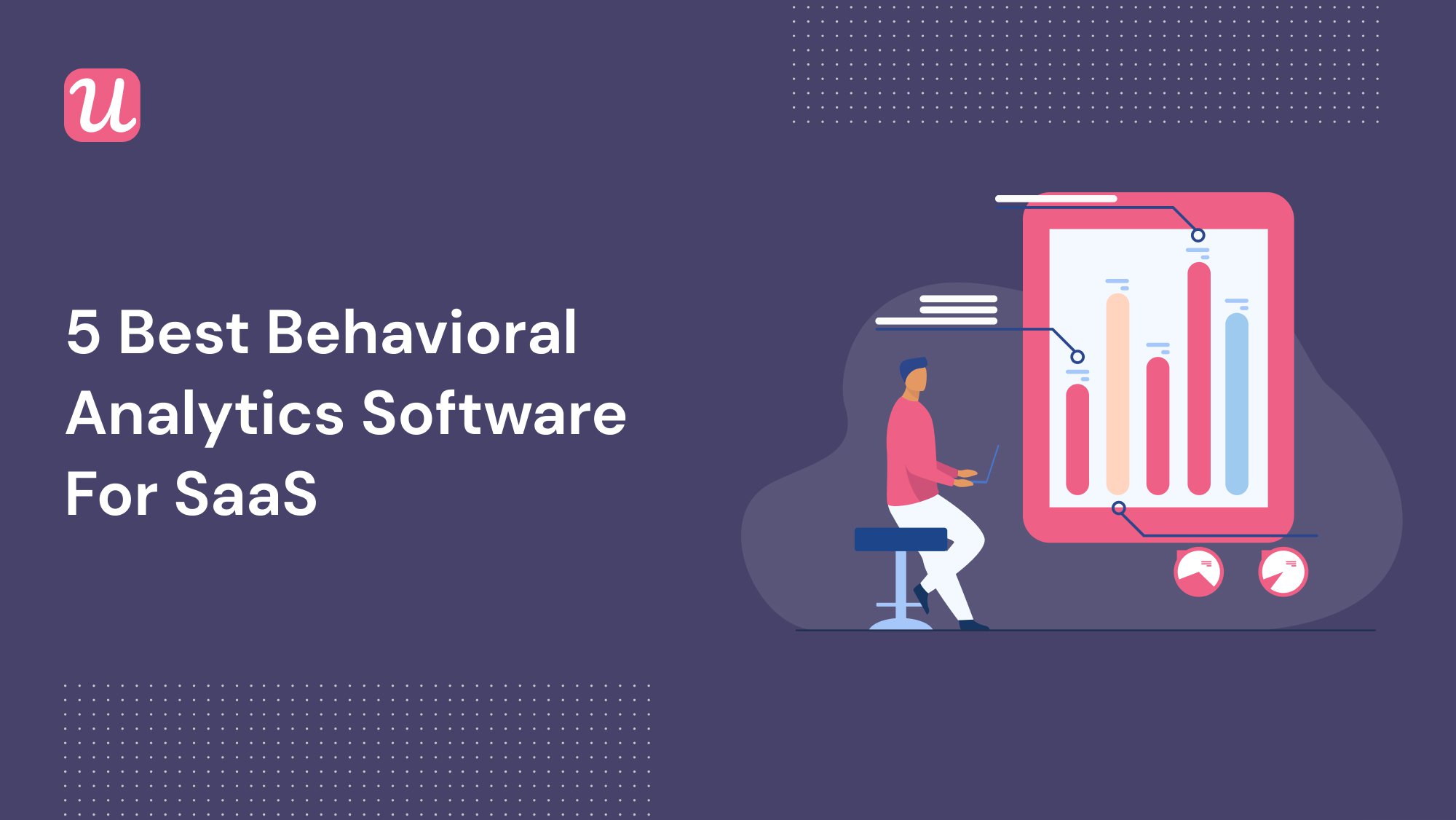 To say that behavioral analytics is a powerful tool in product growth is somewhat of an understatement.
Building successful products isn't just about finding the perfect idea or the right team. You can build products packed with unique features and offer great functionality and yet miss the mark.
And that's because one of the secrets to building successful products is following the data.
More specifically – user behavior data.
Behavioral analytics analyzes this data to tell you what your users are doing inside your product and why they are doing it. It can be a powerful tool to help you improve user experience.
But to reap its benefits, you need the right tools at your disposal.
TL;DR
Behavioral analytics focuses on user or customer behavior inside a product/on a website.
Behavioral data examines the impact of engagement with your product on retention, conversion, revenue, and the outcomes you care about.
Understanding user behavior helps you understand the ways of increasing engagement, retention, lifetime value, conversion rates, and ultimately, revenue.
The actions (behavior) users take in your product are measured by firing custom events or clicks on the front-end (feature tags).
Behavioral analytics can be divided into 3 types: Segment Analytics, Funnel Analytics, and Cohort Analytics.
Behavioral analytics tools like Amplitude, Mixpanel or Heap, and Product Growth platforms with behavioral analytics components like Userpilot allow you to make informed product decisions based on the insights.
What is behavioral analytics?
User behavior analytics focuses on recording user activity, grouping them into behavioral cohorts, and analyzing relevant metrics such as engagement with the product.
Behavioral data helps you understand how engagement with your product is related to increasing engagement, retention, lifetime value, conversion rates, and ultimately revenue. User actions or behavior can be measured by firing custom events or clicks on the front end.
Behavior analytics allows you to identify the issues your users face with your product and find ways to ensure a smooth user experience. It can be divided into three categories: segment analytics, funnel analytics, and cohort analytics.
Why is behavioral analytics important for SaaS?
Behavioral analytics allows you to improve your marketing efforts targeted at customer acquisition by understanding why your website visitors are not signing up.
It helps you identify bottlenecks in the conversion funnel and optimize those to boost conversion.
Behavioral analytics also provides you with insights on where users are dropping off in the onboarding flow. This helps you improve user activation through product marketing, allowing you to optimize your onboarding process to get more users to reach the activation point.
Understanding how your users interact with your product and where they are facing issues can help you improve your product and product experience. Behavioral analytics plays a key role in this case, allowing you to improve your UI and UX design.
At times, you may notice users failing to adopt a feature even after requesting it. This might mean that the feature is not in an intuitive place in your product, or they need help with more secondary onboarding. Behavioral analytics can provide you with valuable insights to help you create reactive in-app experiences and improve feature engagement.
Behavioral analytics can also help you improve the most important metric in SaaS business – customer retention, including Day One retention.
The importance of behavioral analytics software for product managers
Understanding the customers and the problems they face is the most important role of a product manager (PM).
After shipping a feature, the most pressing questions a PM asks are – Are people using the feature? How are they using it?
The success of a feature depends on how good the user perceives it to be.
Behavioral analytics also helps the PM identify the user behavior pattern that leads to churn. Apart from identifying bottlenecks, it also helps them monitor a user's journey to conversion and measure user engagement in real-time.
The importance of behavioral analytics software for product marketing managers
Like product managers, product marketing managers can utilize the insights from behavioral analytics to optimize product marketing efforts.
Behavioral analytics allows product marketing managers to look for bottlenecks preventing website visitors from converting. For example, they can analyze user insights from user behavior during checkout to improve the checkout experience.
Product marketers can also identify "positive" and "negative" user behavior patterns at different stages of the user journey. They can use these insights to build in-app experiences to facilitate positive behavior.
Behavioral analytics can also help product marketers to improve user onboarding flows and experiences for different personas, and help them increase 1-day retention, and improve First Time User Experience or FTUX.
Understanding how successful users interact with the product can help product marketing managers maximize retention by building more experiences that lead to adopting "winning habits".
They can also push users further in their user journey through secondary onboarding experiences. Behavioral analytics also helps them find the right time to push for upsells, driving more expansion revenue.
How to choose the right behavioral analytics software for your SaaS
Choosing the right behavioral analytics software depends on a range of factors, including your product and business goals.
Assessing your overall business goals will help you identify the KPIs you need to improve. Once you have it figured out, you can then focus on your data taxonomy, which will act as the foundation for your behavioral analytics tool.
You also have to consider if you need cross-platform behavioral analytics. This is particularly important if you're expecting user behavior to vary across platforms.
How easy is it to set up your behavioral analytics software?
Setting up behavioral analytics tools like Userpilot and Heap is quite easy, and you can set it up in a few minutes.
Other tools like Mixpanel and Amplitude require a bit of configuration beforehand, so it might take longer to start tracking user behavior.
Can you set up custom events easily?
Custom events are the backbone of behavioral analytics for SaaS. It helps you track when a user completes a certain action. Many behavioral analytics tools let you create custom events, and it's quite easy to get it up and running.
The real challenge is to identify if you're setting up the right events to track the right metrics.
How easy is it to set user tracking and attributes?
You can set up user tracking and user attributes by collecting user data from multiple touchpoints. User attributes include details about the user it's attached to.
These include demographic data such as gender, age, location, app language, browser language, device type, plan, and more.
You can then measure their interactions, including web sessions, responses to onboarding and micro survey questions, and more.
Most analytics platforms require you to configure some kind of identifier, which can be a username or email in their mobile SDKs or HTTP API for keeping track of unique users.
Does your behavioral analytics software have feature tags?
The feature tag is a great alternative to event tracking. After installing the Userpilot builder, you can fire it by heading over to the features dashboard and clicking on the 'Tag new feature' button on the top-right.
Then, enter the build URL where you want to tag your feature and click on the 'Create' button.
Once it's fired, the builder will pop up. Here, you can find other features you have previously tagged or tag a new one.
Once you enter element target mode, you'll notice that a highlighted rectangle follows the cursor around the screen to help you understand what the tag is capturing.
This means the Userpilot builder is picking up every CSS element that you might want to associate with a feature.
Sign-up for free today to tag your features without coding!
Feature tags are suitable for non-server-level events that only happen on the front-end, such as button clicks.
However, note that feature tags are not suitable for server-level events that happen in the database or those that require leaving the app, for example, connecting an integration.
Best behavioral analytics software for SaaS
Mixpanel
We're starting with Mixpanel, a powerful product analytics tool that is also extremely user-friendly.
Mixpanel offers great functionality when it comes to tracking and collecting user data, particularly in real-time (where it excels!). However, it's quite hard to implement.
You need to define any event before capturing it. Setting up reports of analyzed data can be quite tricky and time-consuming, not to mention the expert level skill required to analyze the data.
Mixpanel also doesn't support account-level tracking, which is quite strange for a tool with such powerful features. You have to figure out a workaround by adding all users from one company into a custom segment.
However, if you're a large company with in-house data and analytics teams or you need a more thorough analysis of a long and complex user journey, Mixpanel could be the best option for you.
Mixpanel offers a free version and an affordable Growth package ($17 per month) with limited features. Despite a decent price tag, you can't quite call it a bargain, as Mixpanel offers its real value to enterprise-level users only.
Userpilot
Userpilot is a code-free tool offering a brilliant behavioral analytics solution and integration with both Amplitude and Mixpanel.
Userpilot allows you to instantly act upon behavioral analytics by building in-app experiences.
You can track user behavior based on predefined goals, allowing you complete flexibility on aspects of product usage you want to focus on. This makes it much easier to interpret and track behavioral analytics. You don't need expert-level skills to make sense of the results.
Userpilot's analytics is based on the in-app activity of users. It's based on custom events or "feature tags", which allows you to 'tag' a feature on the front end of your web app.
Userpilot also allows you to build user segments and funnels based on user activity using custom filters. For instance, here's what the segments will look like if you want to find users who signed up less than 3 days ago, are using your product for themselves, have more than 3 web sessions, speak German, and have seen the first onboarding experience.
Segmenting users using multiple filters will let you dive deeper and find out who is doing what.
Userpilot's robust combination of features lets you instantly act upon these analytics by optimizing in-app experiences to help struggling or hesitant users proceed further down the user journey.
But the real value of Userpilot lies in creating secondary onboarding experiences that ultimately help users continue to unlock value along their user journey.
One recurring issue you may face is that basic users don't discover certain features themselves after activating. Failing to find the features they're looking for may also cause them to churn.
Kommunicate, a chatbot tool, had the same issue.
Kommunicate's team realized that their paying customers were adopting 5-7 key features. So they took all of these and plugged them into Userpilot's product adoption feature.
28% of users reached them after Kommunicate released small product adoption cues, which later increased to 41%.
Another "AHA moment" for Kommunicate was the "chat widget customization", which acted as an important cue to turn users into paying customers. Its introduction led 6% of people to complete the chat widget customization goal and caused a 3% increase in the feature's usage. The most important aspect of it was the noticeable boost in MRR, which increased by 2-3%.
Wanna start creating similar experiences without a line of code – and boost your feature adoption? Sign up for Userpilot for FREE now and start increasing your product usage today!
Heap
Heap is a comprehensive product analytics suite that tracks everything all users do once you install it in your app.
You don't need to configure or define any events to start tracking. You can start tracking user activity from day one.
This is an attractive feature for many users since tools like Mixpanel require users to carry out extensive setup work to determine what they want to monitor. Although you can add new events later, these tools collect data from the time you define the event.
Heap offers user and account-level tracking, which is quite useful for teams handling multiple projects.
You can also create custom events to use in funnels and cohorts and combine tracked data into your own custom "virtual events". Heap comes with real-time reporting and analysis capabilities along multiple axes and behavioral segments.
But there's always a catch.
Heap's incredible set of features don't come cheap. Although it offers a free package with unlimited user licenses, it's restricted to 1 project and 10k sessions per month. Its paid plans start from $1,000 per month.
Amplitude
Amplitude is another great behavioral analytics tool in our list, which comes with a wide range of integrations.
Like Mixpanel, Amplitude requires configuration beforehand to define the events to be tracked.
Amplitude's single user tracking across different products is a feature to take note of. It generates useful insights into user experience and lets you create a holistic user journey.
Working with user data calls for robust data governance and data security features ensuring maximum safety, an area where Amplitude excels.
The most attractive aspect of Amplitude is its pricing. The free plan allows you to track up to 10 million actions, which is quite a lot. However, it can get expensive fast, and many of its unique features are available only to premium users.
FullStory
FullStory is a session recording platform that allows you to track user interactions and create funnels to analyze user behavior.
FullStory offers a unique behavioral analytics solution by combining qualitative data and quantitative analysis.
It helps you cross-reference the quantitative data you collect across multiple users with the qualitative experience of what real users actually did on-screen. This allows you to better understand the causes behind specific user actions compared to isolated quantitative data analysis.
Witnessing exactly what your users are doing allows you to go deeper into the reasons behind their actions, which is when session recording comes in handy!
FullStory is our favorite session recording tool, and for good reason. It records page views and clicks of visitors and combines it with user data to give you the most accurate user session recreation possible.
Like Heap, FullStory doesn't require any configuration to start capturing user interactions with your app.
FullStory even tracks and measures "rage clicks" – which tracks when a frustrated user clicks all over the page with their mouse.
FullStory's AI and machine learning features make the process of extracting accurate insights from your data much more efficient.
In case you're wondering, yes, there's a catch: FullStory doesn't disclose its pricing information on its website.
But it does offer a free plan restricted to three seats and 1,000 sessions per month. Before you contact its sales team for a price quote, you can opt for a 14-day free trial for its paid plans.
Final thoughts
Picking the right tool to meet your behavioral analytics needs can take quite an effort. You need to consider factors such as your product and business goals, budget, cross-platform compatibility, and more.
The list we've compiled for you includes analytics platforms like Amplitude, Mixpanel, and Heap, and Product Growth platforms with behavioral analytics components like Userpilot, giving you a broad range of functionalities to choose from.
The only thing left to do is pick the behavioral analytics tool that suits you the best, get started, and use the insights for creating better product experiences.
Want to build product experiences code-free? Book a demo call with the Userpilot team to get started!