The 9 Best Customer Engagement Software for 2023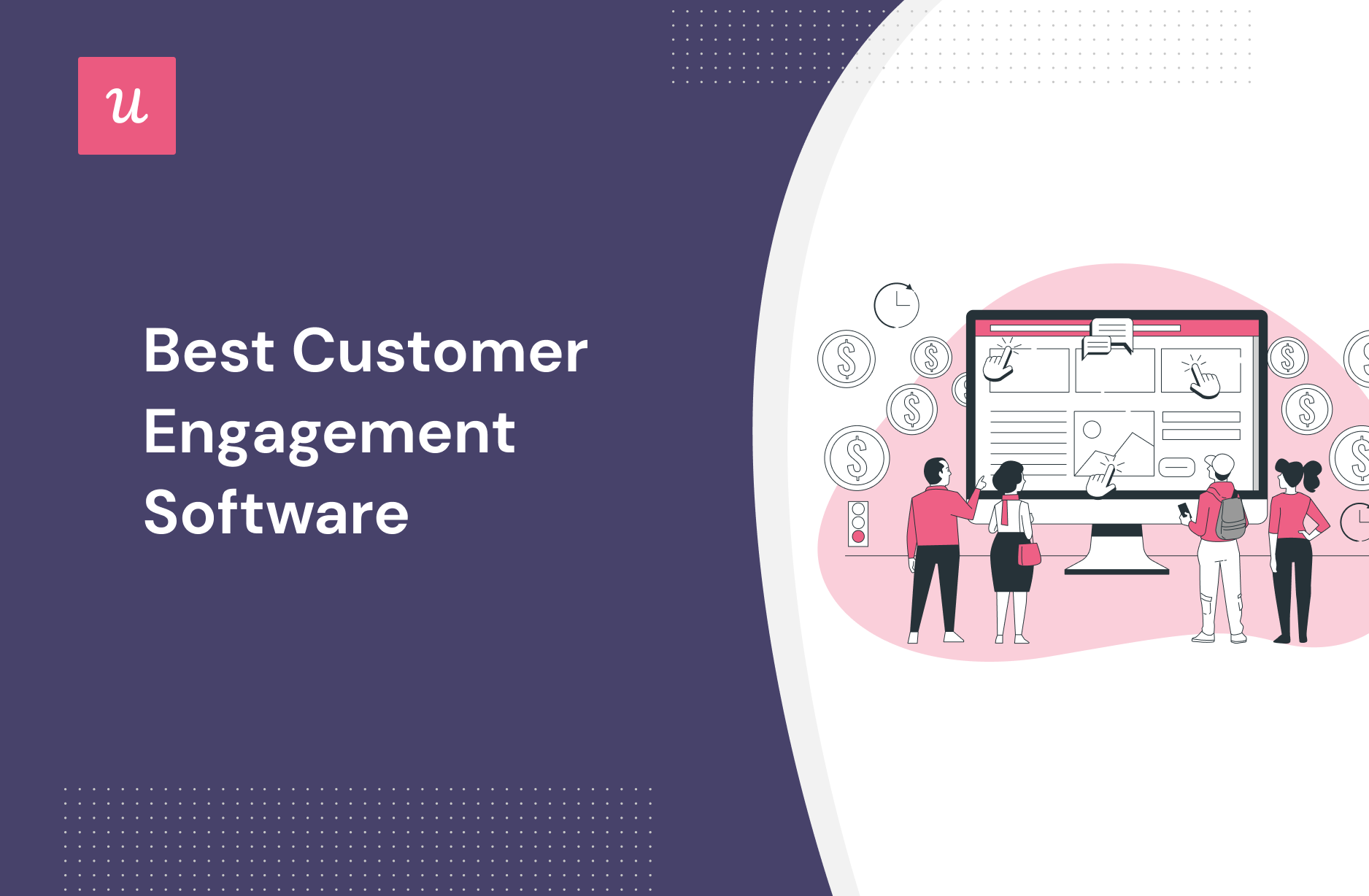 Looking for customer engagement software? We know there's a lot to choose from. Today we're walking you through the best customer engagement software solutions for SaaS in 2023 based on four main criteria:
user analytics & tracking features
user segmentation
customer engagement automation
and third party integrations
By utilizing the power of customer engagement software, users can discover more value through personalized engagement, across every step of the customer journey.
TL;DR
Customer engagement software lets you track and analyze customer behavior inside your product
Good customer engagement software lets you track user identification and engagement data via custom events specific to your product
This allows you to create bespoke in-app experiences for your customers based on the real usage data to drive more product engagement and sales.
User segmentation capabilities let you break down your audience based on how and why they use your service, to tailor the communication they receive from your in-app
Customer engagement software allows you to create automated engagements across the user journey – on brand, and without coding
Third-party integrations allow you to pass user behaviour data from your customer engagement software to your CRM, e.g. Hubpspot or Salesforce, to let your Sales and Customer Success Teams act upon them
What is Customer Engagement Software?
Customer engagement software is a tool that helps you track and analyze customer behavior at every stage of the customer journey.
Through automated interactions, you can engage with your customers at each point throughout their user journey.
Customer engagement software is not a CRM, although both do collect data.
The main difference is that a CRM collects data about your team's interactions with customers, and customer engagement software collects information about how your customer engages with your product. This in turn allows you to create automated engagements across the user journey.
So what are the benefits of using customer engagement software?
Benefits of using software for customer engagement
First of all – customer engagement software allows you to actually act upon your data in a contextual way.
By looking at the insights from your user behaviour, you can build in-app experiences to increase user engagement with different features at every point of the user journey.
This, in the long run, leads to increased customer adoption and retention.
Now, let's see what features you should look out for in a good customer engagement tool.
Essential features of Customer Engagement Software
1. In-depth analytics
Customer journey analytics show who you should be interacting with and when, to provide the best customer experience.
A good customer engagement software should allow you to track:
Demographic data – usually self-reported attributes like company size, but also user attributes like location, browser language etc.
User identification data – based on the so-called "user attributes" (who your customers are) – e.g. users of Linux vs. Windows, an individual or a company account, user on a basic plan vs. a pro plan, login frequency, etc.
User engagement data (what the users do in your product) – based on the so-called "custom events" (events happening in your product) or feature tags – button clicks, code installs, feature usage and frequency of use etc. Also include some user attributes – web sessions, number of pages viewed in a session etc.
User sentiment data (what your users think about your product) – e.g. NPS score, microsurvey responses.
All these data points gives you insight on where your users are on their journey (see image below) and helps you move them forward:
2. User segmentation
User engagement software allows you to segment your users based on their interactions with your product.
This in turn allows you to target specific segments with specific messages based on certain event triggers.
Personalization in SaaS is often confused with adding the user's first name to messages, but what it should really mean is targeting the right user, with the right message, at the right time.
And the segmentation capabilities of your customer engagement software should allow you to do exactly that:
3. Customer engagement automation
Of course, you don't have to automate your customer engagement experiences.
You can hire a bunch of Customer Success managers to work in shifts and watch your user analytics tool 24/7.
Then, when a user hits a particular milestone, you can rush to your email/customer engagement software and push a compelling next-step experience.
Just liked how Brand24 celebrated a new customer in their classic ad…
No, of course, I was joking.
If you want to conduct any user engagement activities – a customer engagement automation tool is a must.
In the same way that you don't send newsletters to your 5,000-subscriber email list one-by-one via outlook, you don't respond to users' activity in-app manually.
It's simply impossible.
What you do instead: create user segments to indicate certain milestones in their user journey, and then create in-app experiences to be triggered when a user 'falls into' the particular segment.
Just like email automation – you trigger an email sequence when someone joins an email list. Here, you trigger an experience sequence once someone joins a particular segment or reaches a stage in their user journey:
4. Third-party integrations
Why should you worry about whether your customer engagement software integrates with third-party tools?
The best results are achieved when you are able to integrate the tools in your marketing stack, so you can utilize the same user data across multiple channels.
For instance, feeding data about users hitting certain milestones in their user journey, or having engaged with certain features, into a CRM like Hubspot or Salesforce, would allow your Customer Success to help struggling users, or your Sales Team to reach out to users who seem ready for an upsell.
The 9 Best Customer Engagement Software for 2023
Customer Engagement Software #1 – Userpilot
Userpilot enables you to build engaging onboarding flows into your product with ease, and without the need to code. Thus, it really simplifies the process and (finally!) hands the responsibility for customer engagement from engineers over to your product and success teams.
Analytics
When examining from an analytics perspective, Userpilot helps you to track and analyze your: user identification data, custom events, as well as in-app engagement and NPS and other in-app surveys.
This allows you to collect and analyze both quantitative and qualitative data
Userpilot allows you to set goals and track how your user engagement influences success
In-built feature tagging lets you monitor how many users are interacting with your app's features, without the need to pass custom events (aka without resorting to using your devs.) This is all done through the Userpilot chrome extension.
Tagging your features will allow you to set feature adoption goals – think automatic user segments based on their actual engagement with certain features of your product:
Segmentation
Userpilot utilizes advanced segmentation, allowing you to engage with your customers in a highly personalized way.
You can basically drill down to the most nitty-gritty use cases, or pre-set conditions that will inform you a certain group of users is becoming "disengaged":
Customer engagement automation
Userpilot allows you to create fully interactive, branched onboarding and user engagement experiences. Goodbye boring, linear product tours. Welcome interactive walkthroughs.
With 5 UI patterns and 4 actions, Userpilot is one of the most robust engagement tools out there. It allows you to deliver engaging experiences via tooltips, slideouts, modals and driven actions.
Also – you can connect each experience to your goals, allowing you to easily track how changes impact your results.
Userpilot also offers a NPS functionality, this enables you to launch NPS surveys, build an in-app resource center, and guide users through simple checklists.
Third-party integrations
Userpilot is always adding new integration options to improve your workflow. Right now you can integrate with a number of analytics tools: Mixpanel, Kissmetrics, Amplitude, Google Analytics, Intercom, GTM, Segment, and Heap.
Customer Engagement Software #2 – Mixpanel
Mixpanel provides customer insights that add value, improving decision-making times by keeping you well informed through advanced analytics functionality, which is focused on unique events tracking.
You can use Mixpanel to learn more about why and how your customers use your products, with clear insights into the health of each account.
Analytics
Mixpanel analytics have been designed to enable teams to become more efficient through real-time user data analysis
You can use Mixpanel to help identify trends through customer engagement, understand user behavior, and make key decisions about your product
Customizable dashboards allow you to tailor which analytics you see for faster decision making
Measure group analytics to calculate metrics at an organisation level, useful for B2B SaaS companies
We recently compared Mixpanel's analytics with Google Analytics, if you're curious to see who comes out on top click here.
Segmentation
Mixpanel prides itself on its event tracking and segmentation capabilities.
Analyze the actions which your users perform through their platform to gain greater insights into user behavior and drive retention, engagement and conversion.
Customer engagement automation
Through Mixpanel's 'MoEngage' functionality, you get detailed personalization at scale across mobile, email, web, as well as SMS and other messaging channels.
Third-party integrations
Mixpanel has a directory of 50+ third-party integration software capabilities, which is available to view on their website.
Each integration software is broken down by category, tier, and integration capabilities.
Platinum members include: Airship, Iterable, mParticle, One Signal, and Segment
Customer Engagement Software #3 – Pendo
Pendo has two main solutions-focused capabilities: product experience and digital adoption.
Get data-driven results through Pendo's extensive product analytics capabilities, to help your users make key decisions.
Its goal is to showcase what your clients consider key features, and the ones they don't whilst sharing the path they tread through your products.
Analytics
Pendo enables users to capture customer activity and engagement across all of your products
With Pendo you can learn what your users are adopting, ignoring, and see how they navigate your product portfolio through tracked usage
These analytics focus on the areas of your products that drive user engagement, broken down at both the account and individual user level
Segmentation
Pendo's user segmentation factors in a number of metrics to deliver useful insights about how your clients engage with your products.
Through side-by-side comparison capabilities, Pendo compares user behaviours to uncover new opportunities to improve your overall product experience.
Customer engagement automations
As part of its customer engagement automation, Pendo's in-app self-service resources are a tool to increase customer satisfaction.
With a variety of tips, walkthroughs and in-app resources, users can navigate some of the more complex areas of your products, with more clarity, as part of the in-service experience.
Third-party integrations
Considered as partners on its website, Pendo's third-party integrations are varied including some big names such as: Zendesk, Salesforce, Segment and Zapier.
Customer Engagement Software #4 – Appcues
Appcues is designed to make product adoption easier.
With Appcues, you can design personalized experiences for your products through their no-code builder, which simplifies the process.
Analytics
Design centric focus allows you to personalize your dashboards, combining stylish easy-to-read visuals with highly measurable analytics
Its click-to-track functionality is how Appcues users can capture user data around product engagement, with no need to code
Create flows and track new events as well as adding tracking over your product for identifying important user behaviors
Segmentation
Appcues studio lets you identify user segments based on a myriad of behaviors, and link them up with the event tracking through the Appcues Builder offering.
Customer engagement automation
Appcues' customer engagement features include checklists, tooltips, slideouts, hotspots, and more.
Third-party integrations
Appcues offers a variety of integrations with some well-known names, with clear listings for their more costly 'premium integration' services including Salesforce, Hubspot, Slack, Zendesk Support, and Zendesk Sell.
Customer Engagement Software #5 – Intercom
Self-referred as a 'Conversational Relationship Platform', Intercom is helping organizations develop stronger relationships with their customers, through personalized message-based interactions.
Intercom conversational capacity extends from customer engagement, to support as well as marketing capabilities.
Analytics
Intercom combines your customer and behavioral data to enable a more tailored interaction with your users
Through a combination of company, behavioral, and conversation data Intercom's analytics focus on giving you the information you need when you need it
Segmentation
Intercom helps you to target specific customer segments.
You can filter and select important user groups to send targeted and tailored messages, and break down the data based on who they, where they are based and how they have engaged with you.
Third-party integrations
With its own standalone website, Intercom's integration capabilities are vast.
With 250+ listed on site, you can search for the specific integration capabilities or filter and search based on your criteria.
Through powerful API functions, custom integration capabilities are also offered to ensure Intercom works with your services in the best way possible.
Customer Engagement Software #6 – Hubspot
Hubspot offers a varied service, leading with its CRM offering that focuses on inbound marketing support, it tracks and monitors user engagement through its marketing.
Its customer engagement elements focuses on scaling customer support, whilst empowering front-office teams on a single platform.
Analytics
With Hubspot you can focus on both quantity and quality of traffic to your website both by big picture thinking and on a page-by-page basis
You can filter analytics either by country or URL to identify key traffic sources that are driving engagement
Segmentation
Content mapping through Hubspots' marketing software allows you to segment your audience based on their engagement and experience with you, ideal for lead generation.
Customer engagement automations
Hubspot's engagement automations focus on supporting your customers through: conversational tools such as chatbots, help desk automation, knowledge base functionality, as well as customer feedback surveys and reporting.
Third-party integrations
You can connect with many notable services through Hubspot's app ecosystem, which includes: Zendesk, Eventbrite SurveyMonkey and Wistia.
Customer Engagement Software #7 – ActiveCampaign
ActiveCampaign combines email marketing and automation with a CRM system that allows you to create customer experiences.
Through ActiveCampaign's drag and drop automation builder, you can simplify your marketing process without hassle.
Analytics
Set goals and track your success, including conversions, to know what works and what needs to be optimized
Create events that track all activity across your website, to improve the processes around marketing and sales initiatives
Segmentation
ActiveCampaign's segmentation capabilities deliver specific content that your clients need to see.
You can automate and tailor your follow-ups with ActiveCampaign through dynamic email content as well as A/B test flows. Its segmentation capabilities can also make your Drip campaigns more effective.
Customer engagement automations
Focused on four pillars (orchestration, segmentation, personalization, automation), ActiveCampaign provides a spectrum of services to improve your customer engagement automation across email marketing, marketing automation, CRM, and account management.
You can also utilize the event tracking features to create trigger based automations.
Third-party integrations
Over 860 apps can integrate with ActiveCampaign!
Customer Engagement Software #8 – Drip
Drip is a marketing automation platform that focuses on eCommerce automation, through a combination of email, SMS and third-party integrations that help organizations really drive their revenue.
Analytics
Drip's analytics tab includes a variety of reports and metrics, that allow you to measure the impact your work in Drip has across your customers as well as your business
You can view consolidated email metrics, to export key metrics specific for your reporting
See clicks from new users or existing subscribers, track events, conversions and monitor recent activities
Segmentation
Drip lets you personalize the marketing which your audience receives, which is tailored based on their historical engagement with you.
Custom campaigns and workflows enable you to market clearly to each segment of your audience.
Customer engagement automation
With Drip you can send emails and texts with personalized and dynamic product recommendations, which can all be automated through Drip's visual workflow builder.
Third-party integrations
Drip boasts over 100 third-party software integrations. You can connect to different e-commerce platforms including Shopify, Magento, and Woo Commerce.
Customer Engagement Software #9 – Drift
Drift identifies as a revenue acceleration platform that helps you engage with your users from their initial interaction, right the way through to close.
Through identifying each visitor, Drift lets you personalize your customer's visit in ways that are unique to them, to drive conversion rates, it also helps your team to engage more productively with your users.
Analytics
Through website engagement metrics, insights and analytics, Drift lets you continually optimize your sales and marketing strategies
Drift's analytics capabilities provide a clear picture of website performance, analyzing which conversations on which pages offer the highest lead conversion
You can set your qualification and engagement strategy at different levels for multiple audience types, to analyze website performance and take action to drive revenue for your site
Segmentation
Through Drift segments, you can filter contacts based on attributes and events, allowing you to provide a great buying experience for your customers.
Drift's platform provides both static (only lets you see those accounts as part of your filter criteria) and dynamic (which grows as you add more accounts to match your filter criteria) segmentation functionality.
Customer engagement automation
Where Drift stands out is its ability to offer in-built communication integrations for your customers.
Through Drift Automation, powerful and customizable chatbots harness strong communication AI to engage with your customers and move them through the sales process both quickly and effectively.
Third-party integrations
Drift integrates with over 50 different third parties to get the most out of the tech which you are already using.
All third parties are listed on their website but some big names include Salesforce, Slack, Zendesk, Hubspot, and Zapier.
Conclusion
2023 is a big year for customer engagement software, these tools are becoming more intelligent and more personalized than ever before.
Consider your analytics, and your goals, the segmentation capabilities you need to maximize your customer engagement. Test out what feels right for you and your customers, and don't forget to check the third-party integrations that match your setup so you can create the most seamless experiences.
If you're interested in learning more about UserPilot, you can book your demo today!