A Career in Product Marketing vs Product Management – What You Need to Know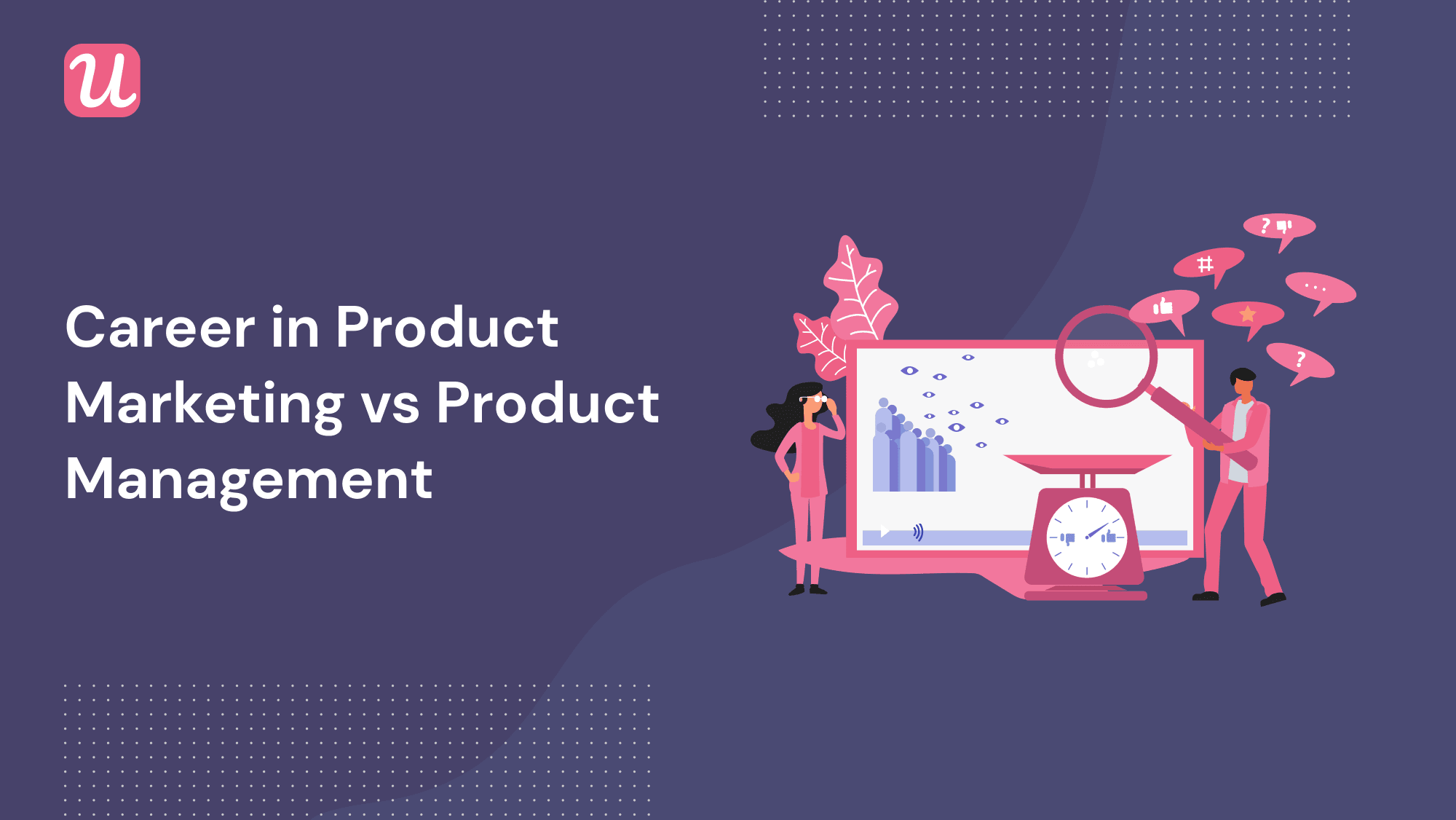 Are you thinking about a career in product, but you're not sure whether you should pursue Product Marketing or Product Management? To explain the difference in the simplest of terms: Product Managers build product features and Product Marketers promote them to their audience and users.
Keep reading to learn about the skills and requirements for the two roles, differences between product marketing vs product management, and how to become a PM or PMM below!
TL;DR – Post Summary
A Product Manager builds the product by identifying customer needs and creating specifications for developers. They also ensure it fulfills the business's wider objectives, do the initial research, user interviews, and collect user feedback and data.
A Product Marketer's role is to communicate the value of the product to the market. Their responsibilities and expectations vary from business to business, but they generally fall into two buckets: pre-signup (acquisition) and post-signup (retention).
Product Marketers are responsible for defining the whole value prop also before the signup. That can include educational posts and videos focusing on solving specific problems using the product, case studies showing how existing users have achieved success with your product, and writing help docs.
A Product Manager's responsibilities include: defining the product strategy and roadmap, and running beta and pilot programs with early-stage products and samples. PM's generally require a degree (or MBA), field experience; technical background is a plus.
Salaries: Product Managers are better paid. The average salary of a product marketer is £27,000 in the UK compared to £ 50,000 of that of a product manager (source: Glassdoor).
Product Marketing vs Product Management: What is a Product Manager?
A Product Manager is a person who identifies customer needs by communicating with users and prospective customers to create user stories. These stories are used to translate customers' needs into business requirements and practical, functional specifications for product engineers.
A Product Manager identifies how products fulfill a business's wider objectives, expresses what would make that product successful, and forms a creative team to bring the product to life. They ensure the product is efficiently made and meets its user's needs, and analyses feedback from users to guarantee the best future for the product's development.
Product Managers are a relatively new role. Unlike specialized roles such as engineering or design, Product Managers have their fingers in many pies – be it marketing, business strategy, production, or user feedback – so the role will have different definitions based on the company. They can sometimes be split into two roles, depending on the business. One Product Manager can talk to customers and create user stories, while another can translate those user stories into technical requirements for the engineers and oversee the delivery of the product to the Product Owner.
"Product owners are usually the bridge between more general product managers and engineering teams." – says Yazan Sehwail, Product Manager and CEO of Userpilot, a product adoption platform for product teams.
In the scrum paradigm, Product Owners are the ones creating the tasks, stories, managing scrum/agile, and doing the daily stand-ups while the Product Managers focus on the initial research, user interviews, collecting user feedback and data.
At its core, a Product Manager can be understood as a manager who is with the product from its birth, launch, and long after it's been in the world. Their role is all about user needs.
Product Managers come from all walks of life, be it engineering, quality assessors, marketing, or sales. They tend to have a working knowledge of economics, consumer psychology, coding, UX design, and much more. There is no specific education path required to become a Product Manager, but there are particular technical skills that can give you a distinct advantage (more about it later!)
Product Marketing vs Product Management: What is a Product Marketer?
A Product Marketer's role is to communicate the value of the product to the market. They do this by promoting the benefits of the products to prospective users, while "selling" the product's secondary features to existing customers who have yet to adopt them, thus adding more and more value to the product. This is known as secondary onboarding.
Like Product Management, this role is relatively new as well. The responsibilities and expectations of Product Marketers vary from business to business, but they generally fall into two buckets: pre-signup (acquisition) and post-signup (retention). The more product-led the company, the more post-signup activities the product marketer will be required to do.
Natália Kimličková – Product Marketing Manager at Kontentino:
"My job is to take care of the users post-signup. So basically – [new user] onboarding, product discovery, feature discovery, product adoption, retention, and so on. All my tasks are around the product – product updates, feature releases, video tutorial, written tutorials and so on…plus some data analysis."
KPIs: Activation, Adoption, First Month Retention
The pre-signup activities of a Product Marketer include planning and organizing product launches, writing product and feature pages, writing help docs, FAQs, sales/cs enablement assets, and creating bottom-of-the-funnel educational content for users.
"As a product marketer in a product-led company, I was responsible for the whole funnel from the signup, through PQL, through customer acquisition to retention."
On the other hand, Parth admits that Product Marketing happens also before the signup:
"[Product Marketers are responsible for] defining the whole value prop also before the signup – you need to somehow nudge the users to sign up."
This is what Ahrefs refers to as pre-boarding:
'Creating these 'Aha' moments before the user signs up for our tool – via educational content like these videos.'
This means that in some companies, Product Marketers will also be responsible for creating content that expresses the product's value for leads before the signup. These can include:
Educational posts, playbooks, and videos focusing on solving specific problems using the product (also known as 'pain-point SEO')
Case studies showing how existing users have achieved success with your product
Sales enablement assets such as playbooks and PDFs showing how to use the product in different use cases
Landing pages for different solutions, features, use cases of the product
Writing help docs
Writing FAQs
As Surya S, Product Marketer at Animaker Inc. mentions:
"My day shuffles between checking where the user is coming from checking if they are coming back to the app; then circling back to the product team to report a bug or a feature feedback; then I'm busy defining the user journey on the website and other collaterals, and fixing the positioning and content across all platforms – on the website, on the blog, on the FAQ…Being a product marketer you cannot leave out any form of content. For either the people who are just coming in, or for people who are already using your product – all the content that is going on any collateral – either internal or external. The third thing is monitoring the sales pipeline – what is happening on the demos, why we are losing deals – and then I'm coming up with sales enablement collaterals, to educate the leads better."
For Product Marketers, the post-signup activities include:
Creating and optimizing new user onboarding
Creating and A/B testing experiences that increase feature engagement
User retention
Account expansion
Doing feature announcements
In-app communication with users
These activities may to some extent overlap with Product Manager's role, but a Product Manager usually has too many other responsibilities to execute the product adoption strategy – hence the need for Product Marketers.
In general, the amount of different activities in the Product Marketer's daily work depends on the companies' go-to-market strategy.
Product Marketing vs Product Management – key differences
So what are the key differences between a Product Marketer and a Product Manager?
Product Managers build the products, Product Marketers promote them
Product Managers work with more stakeholders – including the users, business stakeholders and engineers – and Product Marketers mostly work with the users and the Product Manager
Product Marketers can be on the product OR the marketing team, depending on the company
The Product Manager's role is more technical and requires specific skills, the Product Marketer can be more expressive and creative
The Product Manager role is more established and essential for a product business than that of the Product Marketer and requires more technical skills, responsibility, and ability to manage multiple stakeholders and work to tight deadlines under pressure. It is, therefore, better paid.
Product Manager Role – duties, skills, day-to-day responsibilities, challenges
A successful Product Manager tends to have these three key traits: great communication skills, flexibility, curiosity, and empathy. They also have soft skills including being a great communicator and the ability to problem-solve.
Product Manager Responsibilities:
As a Product Manager, you will need to:
Determine the product strategy and roadmap
Deliver MRDs and PRDs with high-ranking features and corresponding justifications
Work with third parties, usually external, to evaluate partnerships and licensing opportunities
Carry out beta and pilot programs with early-stage products and samples
Respect your competition: this is a crucial part of being a business professional
Be a leader within the company
Product Manager Requirements:
Here are some requirements you may need to meet as a Product Manager:
Some years of experience as a Product Manager
Demonstrated success defining and launching excellent products
Some years of experience in a job in the relevant market
Excellent written and verbal communication skills
Bachelor's degree (MBA preferred)
Ideally: Technical background, with experience in a relevant market
Excellent teamwork skills
Proven ability to influence cross-functional teams without conventional authority
Must be able to travel (dependent on the company)
Examples of an effective document or documents previously delivered
Challenges of Product Manager's Role
And here are the most common challenges/ complaints you will hear from PMs:
Communicating with numerous stakeholders, including business, user, and technical
Understanding how to select user feedback not to become a 'waiter' and dilute the product vision: this is the 'build trap' (a book by Melissa Perri) where the PMs with poor product vision often fall – they just don't know what they'd like to build
Having to understand technical language and requirements as well as technical limitations of the technology used in products
Great organization and communication skills, and the ability to work under pressure
Product Marketer Role – duties, skills, day-to-day responsibilities, challenges
Product Marketing Manager Responsibilities:
Here's what a PMM has to do on daily basis:
Build on product messaging that enables new products to stand out from similar products others in the market by giving them a USP
Express the vision and value of new products to the sales team and develop sales tools that aid the selling process
Plan and participate in new services and products launches: this usually involves working with several different departments
Determine product pricing using market research data
Brief the internal and external PR teams and the press about new products
Presentations
Research competitors
Understand customers' usage of current products, untapped opportunities and buyer personas, through interviews, surveys, focus groups and sales data
Analyze inventory levels to guarantee product availability
Agree on timelines and deadlines for a new product's development with product management, and the relevant engineering or manufacturing departments
Create content: this can include case studies, videos, website copy and blog posts
Speak about products with external and internal audiences
Test new goods and products
Pitch and maintain a budget
Recruit and develop a team of product marketing executives
Product Marketing Manager Requirements & Skills:
And here are the skills required of a PMM:
Communication skills: being able to speak and write clearly is critical. You will often have to present new products and write captivating copy, where you tell a product's 'story'
Collaborative skills: Product Marketing managers have to work with multiple teams across the company, which includes the engineering department, product management, the sales and marketing department, press and PR and senior executives
Research skills: gaining insight into customer needs and experiences is a crucial component of a Product Marketer's role. You must be able to analyze data, surveys and customer interviews
Challenges of Product Marketer's Role
Still needs to be quite technical to use e.g. product analytics tools to understand why the adoption of certain features is low
Copywriting skills – PMs need to write short and snappy copy in-app for the users, and writing UX microcopy is a big challenge
Creativity – what product experiences would nudge the users to use feature X more?
Perfect knowledge of the product
Needs to be quite analytical and goal-oriented – their role will be very performance-oriented: e.g. improving product usage metrics: improve new user activation by 20% in 3 months
Product Marketing vs Product Management – salaries
As I mentioned, Product Marketers are cheaper to hire than Product Managers (let alone developers)! The average salary of £27,000 in the UK compared to £ 50,000 of that of a product manager (source: Glassdoor):
The differences are less pronounced for Product Marketers vs. Product Managers in the US, and have grown by 32% in the last two years (which may be a good reason to leverage the remote work trend and hire in the UK):
Regarding the career progression for product marketers, it's still too early to say exactly how the role develops, but with the growing trend of SaaS companies becoming more and more product-led, one can imagine in a few year's time there will be proper product marketing teams in every larger product-led SaaS, with Head of Product Marketing leading the product adoption activities.
Product Marketing vs Product Management? Should you become a Product Manager or a Product Marketer? How to decide
Go for Product Management if:
You want to build products
You're very technical and analytical
You don't mind learning technical skills
You are a great communicator, listener and negotiator
You can handle working under stress to deadlines
You're good at communicating with technical stakeholders
You're a strategic thinker who can form a clear product strategy and vision
You have strong business acumen
Go for Product Marketing if:
You're goal-oriented – you like having clear goals for your work + metrics (e.g. improve adoption of feature X from 12% to 16% in a month)
You're a great copywriter
You're creative but also analytical- you like to experiment and test different hypotheses
You like technology and products
How to get your first Product Management job

You'll want to start off by developing your technical skills within a Programming/ QA role. By showing initiative within a product team, you'll be able to gain a wider breadth of experience.
Pro tip if you choose this path to a career in Product: "show that you can identify and then solve problems. Start-up experience was where I learned these two skills." – said Jack Gandolfo – a PM at willistowerswatson.com, currently also building an app in the food and delivery space.
How to get your first Product Marketing job

As Product Marketing is a relatively new role, many entries into this field are through general marketing. When you join a SaaS business, you can consider taking some product management courses – learn about product analytics, feature adoption, engagement, UX writing to help add to your skillset. Our biggest tip here as well is to take initiative within your own company to improve feature adoption, user engagement, or to write bottom-of-the-funnel content and sales-enablement docs for your portfolio!
Want to learn more about Product Adoption?