Upcoming Product Management & Product Marketing Conferences In 2021 [Updated]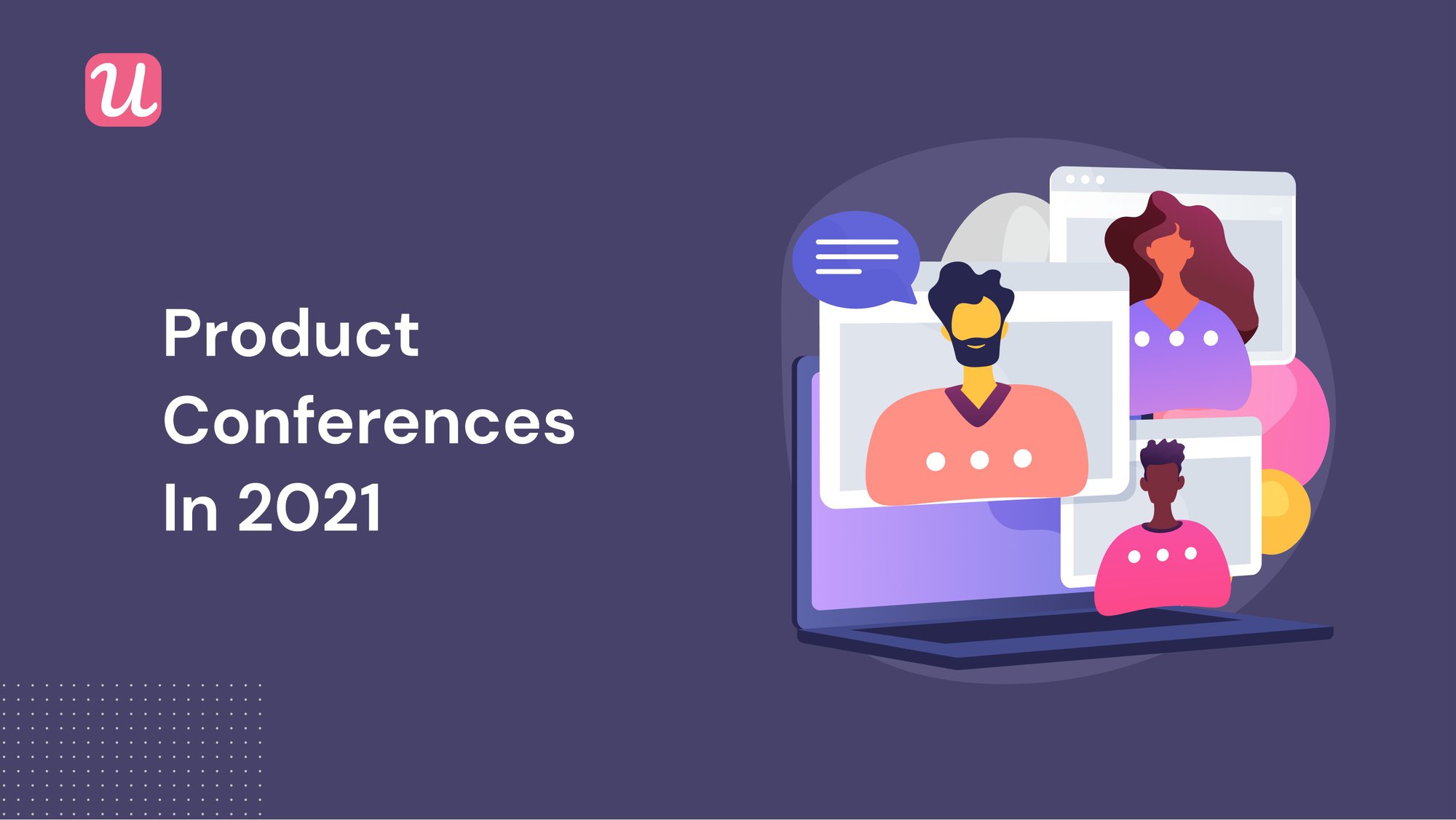 Wondering what the best upcoming product conferences of 2021 are? We've collected the best events for product folks that you can attend online or in-person. Check them out below in our month-by-month roundup with prices, dates, who attends, format, and what topics are going to be discussed.
August Product Conferences 🌻
In August, the relative lull in product management conferences continues.
The most interesting event is Product Design Week at the Future London Academy. This is a truly immersive and exclusive experience as you spend three days learning and designing with a small group of 30 like-minded entrepreneurs, UX designers, and product managers from around the globe.
If you still haven't gotten a chance to go to the Product Marketing Summit, now is a good time as any as Denver is wonderful in August.
When: August 5-6, 2021
Where: Hilton Garden Inn, Denver Union Station, Denver USA
Source: futurelondonacademy.co.uk/en/course/ux-and-digital-design?utm_source=kara-articles
What: This design safari, as some people like to call it, is a way to understand how to create experiences that people fall in love with. You can get inspiration for your current projects and advice on building a design team of your dreams. Find out the secrets of what makes products successful and what mistakes companies made when building new services.
Topics: Best practices in conducting research, prototyping, testing, and product launch, The role of DesignOps in the organization, How human-centered design can help your projects, How do the world's best design team and companies work: processes, workspaces and culture, Latest methodologies and tools for digital product design, and much more!
When: August 24-27, 2021
Where: London, exact location TBA
Who: Creative directors and heads of design departments, Digital product designers, UX and visual designers, Design managers, team leads, UX researchers and analysts, Service designers, and product owners.
Price: £2,200, only 30 spots available!
September Product Conferences 🍁
The product management conference circuit hits its climax during September. 7 events make this one of the packed months of the year and an interesting selection of virtual and in-person events.
This is the month to catch all the main product conferences, including the last Chief Product Officer Summit of the year. It is also the month that you can branch out a bit and try something new with the Growth Marketing Summit, Ace! 2021, or SaaStr Annual 2021.
Try and prioritize which events to go to based on the gaps that exist within your product team or on what your product/company needs the most. Regardless, do not feel forced to try and travel and attend; each ticket still gives you access to all the pre-recorded sessions.
Source: growthmarketingsummit.com
What: This is Europe's largest conference for digital growth and optimization. The summit is about a data-driven, customer-oriented, and agile approach to scale sustainably. 700+ like-minded optimizers will come together to share their insights on scaling digital growth.
Topics: TBA
When: September 2, 2021
Where: Alte Oper – Frankfurt am Main, Germany
Who: Growth experts from Spotify, Blinkist, Shopify, Booking.com, KonversionKraft, and many more!
Price: 119 € for students. 799 € for regular admission that includes catering and after-show party. 1.959€ for an exclusive meet and greet with Keynote speak Dan Ariely and access to the conversion seminar and the behavior patterns card set.
Source: productmanagementfestival.com
What: This is Europe's largest conference for product management. The festival brings together over 60 speakers to share their experiences. With 6+ new stages, over 1200 attendees, over 42 countries, and 360 companies in attendance, this is the premier event of the year.
Topics: TBA
When: September 13-14, 2021
Where: ARENA Cinemas Zürich, Kalanderplatz 8, CH-8045 Zurich, Switzerland
Who: Product Managing experts from Google, Shopify, Spotify, Credit Suisse, Facebook, and many more!
Price: You can get the super early bird ticket right now for CHF 899.00.
When: September 15-16, 2021 (All three)
Where: Bespoke San Francisco, USA
What: ACE is the largest software development conference in Central Europe. ACE! 2021 combines Agile Software Development and Product Design & Management into one conference. This conference is a truly great place where product managers can work one-on-one with developers and exchange thoughts/best practices.
Topics: Tech Jam: 3 extra sessions to catch up on the latest trends. Product Jam: 3 extra sessions for Product, Design & UX professionals. There is also a workshop day so that attendees can apply new skills and experiment with new ideas.
When: September 16-18, 2021
Where: Multikino, ul. Dobrego Pasterza 128 Kraków, Poland
Who: Product Managing professionals, Design experts, and seasoned developers.
Price: Tickets still have not gone on sale yet but are priced at 340€.
When: September 23, 2021
Where: Virtual
Source: saastrannual2021.com
What: SaaStr has several conferences under its brand, but not one is larger than the SaaStr Annual. This is the mecca for all those that work in SaaS, from executives, founders to VCs, and a perfect place to connect with product professionals across the spectrum. The hybrid event consists of 2 full days with 100+ sessions, 150+ speakers, and 1000+ networking opportunities.
Topics: TBA
When: September 27-29, 2021
Where: San Francisco, Exact locations TBD
Who: SaaS executives, founders, and venture capitalists from the world's leading organizations.
Price: TBA
October Product Conferences 🎃
Product Marketing Summit Product Conferences
When: October 18, 2o21
Where: Virtual
November Product Conferences 🦃
When: November 17-18, 2021
Where: Chicago, USA
When: November 18th, 2021
Where: Virtual
December Product Conferences 🎄
When: December 02
Where: MaRs Centre, Toronto, Canada
Wrapping Things Up
2021 is sure to have plenty of surprises in store. We have yet to see if any of these ambitious live conferences see the light of day (considering the pandemic), but the only thing we can do is hope for the best.
It is still a year to continue to develop yourself personally and professionally, so use this list as a guide of what is available in the product management field. The opportunities await!
Calendar