StoryChief Onboarding Teardown – (removing) the complexity out of simplicity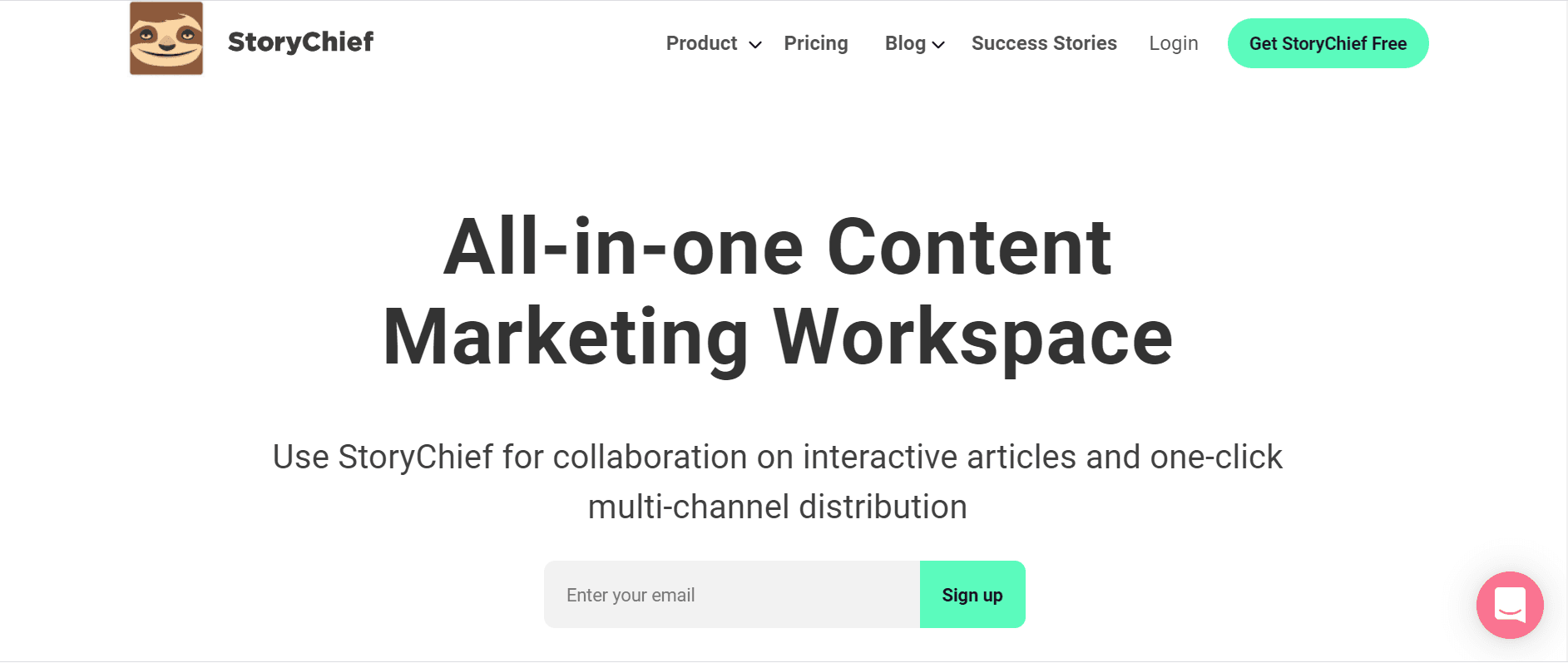 If you have a complex tool that combines the features of several alternative tools, you know the pain of trying to convince your potential user that using your tool is better than using B + C +D + E.
People are creatures of habit. And even if your tool is simplifying their work and thus saving them tons of time and effort on switching between/ zapping different tools, they may still choose to do it 'their own (inefficient) way' – just out of habit: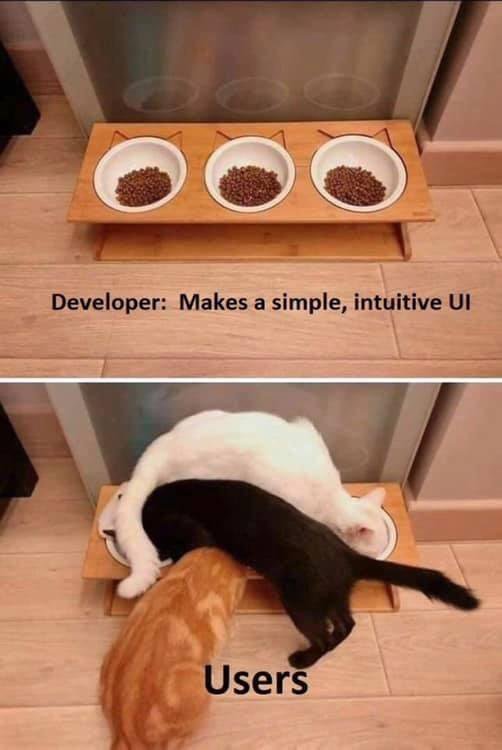 To break this habit, you need to get them to the 'AHA!' moment in your app A.S.A.P – get them to understand the value of your product over the ones they have been using in a flash.
StoryChief did exactly that in their onboarding.
And in this post, I'm going to analyse how they did it.
But first: let's dive into what StoryChief actually is, and what problems it actually solves for its target users.
What is StoryChief?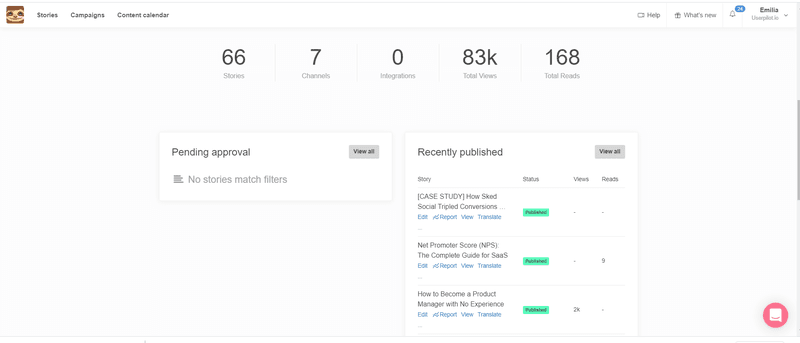 StoryChief is a one-stop-shop for collaborative content creation, publishing and distribution. It combines the features of Yoast SEO (gives you feedback on SEO and readability), Social Media Scheduler and a commenting tool.
Hey, I'm actually using StoryChief to write this story: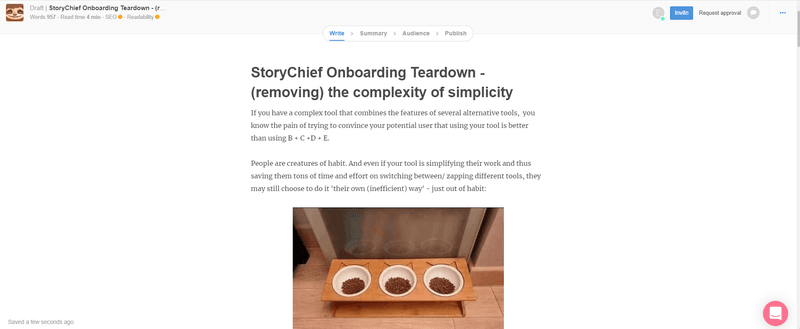 For every content marketer, StoryChief is a godsend.
That's why writing about the onboarding of StoryChief feels like a personal crusade to me. Let me explain.
I've been a content manager for the past 5+ years.
Which means, I still remember the Dark Ages of working as a Content Manager before StoryChief.
And let me tell you the honest truth: working with freelancers or guest writers on blog posts was a proper nightmare.
My Process Before StoryChief:
Communicating the outline, content and deadlines via email
Creating and sending the writers a Google Doc
Them ignoring the Google Doc and sending me a Word Document as an attachment anyway;
Asking them to put the content in the Google Doc anyway (in a threatening tone)
Revising the content in the Google Doc, adding the comments which would be probably ignored anyway because there was no approval system
Saving all the images from the post into a folder, compressing them all to save on the size with tinypng, and then uploading them manually into WordPress, adding the alt tags manually as I went…
Pasting the content of the blog into WordPress and then figuring out where to put all the pictures, OR publishing the Google Doc to the web and then having to manually remove all the Google redirects from the links;
Having to adjust the meta title, meta description, slug, featured image etc. in WordPress
Publishing with the canonical tag, then syndicating on Medium
Then going to a social media publishing tool to schedule Facebook/ Twitter/ LinkedIn posts
Having a little cry over how much time I need to spend on the whole process (2-3 hours easily each time)
Deciding to hire a VA to do it for me.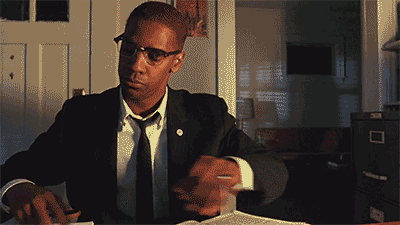 Now, that all changed with StoryChief.
But there's a crack of the issue: how does StoryChief communicate its (complex/compound) value to its new users in minutes, so they reach the 'AHA moment' quickly?
Full disclosure: I never read instructions or user manuals. I have an attention span of a goldfish. This means that unless I can work out how a new tool works in under 5 minutes, I'm going to ruthlessly abandon it (and either search for another one, or use all of the inefficient tactics I've used before – if the pain is not big enough.)
But StoryChief stuck with me, and I've since become an evangelist for them, preaching the tool to at least 5 startup founders I know (and actually getting them to use it.) Brand affinity at its finest.
But back to our main point: how did StoryChief achieve that with their onboarding?
How StoryChief delivers on its value proposition – quick?
Homepage
Selling the value to users starts from their first encounter with your business, and what they usually first see is your homepage. So let's start from StoryChief's homepage: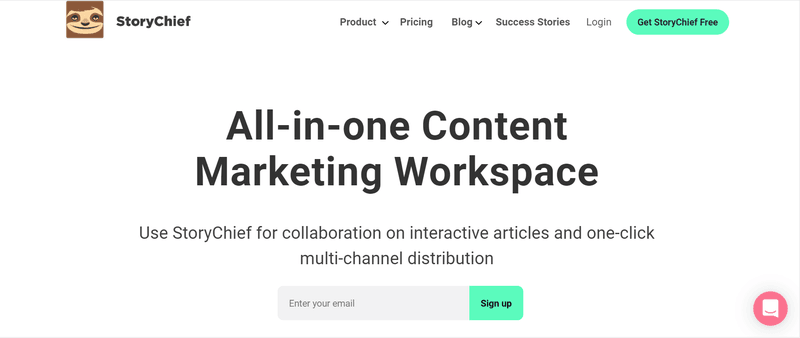 This is the winning design from StoryChief's A/B testing (you can test different homepage designs or CTAs easily using tools like Optimizely (paid) or Google Optimize (free) – see our review of A/B testing tools here).
The main header may sound a bit vague, but the H2 explains the main value proposition (collaborative content creation + one-click multichannel distribution).
I'm sold.
And actually – other content managers were clearly sold too.
StoryChief has been testing different versions of the CTA on its hero header, so in October 2019, at the time of recording of Aazar's onboarding teardown with StoryChief's team members, it actually looked like that:

This experiment was necessary for StoryChief to discover how to communicate the pain point/ value proposition to the target audience and get this complex message across in 2 sentences.
This moment is critical for the potential users' decision whether they want to proceed to the signup page or not.
So hey – don't make assumptions. Test. Again, you can find our review of free and paid A/B testing here.
The winning design focused on the 'All in One Toolkit', proactively calling StoryChief the 'All in One Content Marketing Workspace', and then explaining the two key features in H2. The losing design focused only on distribution in H1, which may have been leading a lot of potential users to drop off at this stage already.
Signup page

Who wouldn't want to become 'a content hero'?
Adding this CTA next to the signup page was a very smart move for StoryChief.
So did listing all the features in benefits language – but maybe it would be better to keep this list shorter and focus on key 3-features.
After pressing continue, we're moving on to a screen where we need to name our workspace (after the business we're working on the content for). This is a bit misleading, and perhaps could be moved to a later stage, when the user has already gotten to know the tool.

Signup experience
StoryChief opted for as friction-less signup experience as possible -two screens, 4 fields you need to fill- in you don't even need to confirm your email to start using the tool.
After giving your email and creating a name for your workspace, you are taken to the dashboard immediately.
There, within seconds – you see an onboarding video walking you through the main features: (as an impatient user with the attention span of a goldfish, who wants to figure everything on their own, I skipped the video instantly, of course.)

And probably – a lot of people do that too. Having a 5-minute video in this 'welcome state' for a (relatively simple) dashboard is somewhat arguable.
Clicking 'Get Stated' takes us to another welcome modal:

This modal does two interesting things:
communicates who this app is for (writers, freelancers…)
and confers the main benefits of using it (collaborative content creation + instant multichannel distribution)
It doesn't, however, let the users find out what the app does – and they are desperate to find out. Another step in the welcome process without conveying that could already lose them.
And clicking 'next' still doesn't take us to the app.
The next screen presents a short user survey, which can be a very helpful way to segment the users at the start and deliver the best personalized onboarding experience to them, depending on their needs:

This is true provided that you actually differentiate the onboarding flow and emails depending on the answer! If not – this is just another (pointless) step in the user's journey to the AHA-moment, and with every additional step – the risk of losing them increases.
The StoryChief did exactly that though:
'The next step depends on what you choose.'
…and if you choose 'for work' – it takes you to another modal asking about the number of co-workers you're planning to use the tool with:

This may be getting on the potential users' nerves already:
The best way to improve it would be to add a 'progress bar' to help people get an idea of how many steps they have to accomplish before they can start playing with the app.

Another thing is: reducing the number of options and volume of text on each modal to reduce the cognitive load.
And finally: letting the impatient, goldfish-focus users like me skip the onboarding questions altogether 😉
Otherwise, they may easily become frustrated and demotivated by the onboarding, and close your app altogether. Trust me – I've done that several times 😉
"Onboarding is for the user. Signup flow is for the user. Even though you may wanna get something out of them, make it optional and see if they click on it, and give you your data" – Aazar Shar, Head of Growth at Userpilot.com
The Dashboard – in-app onboarding experiences
Ok, so finally – after jumping all the hoops – we get to see the dashboard.
StoryChief made good use of the empty state by adding the 'create a story' button, but the tooltip on the top is somewhat distracting the user from actually doing that:

It would be better to delay this experience by e.g. 5 minutes, and focus on steps leading the users to the key activation points 1 & 2:
Creating the user's first story
Connecting their publication channels
Key activation points are the initial interactions of your users with the tool that bring them to the 'AHA' moments.
E.g. for StoryChief – the 'AHA' moments would be:
discovering the value in collaborative content creation
discovering the value in the centralized content distribution to multiple channels (at one click)
That's why you want them to create their first story and connect their accounts as soon as possible.
StoryChief aimed to guide the users towards that in two ways:
Through a checklist
Through tooltips
The checklist was quite smart to employ the Zaigarnik effect: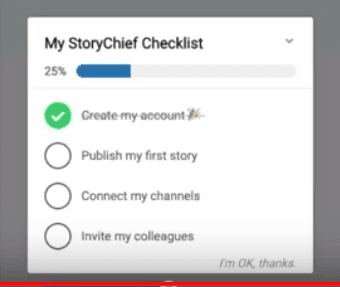 The Zaigarnik effect means that people remember incomplete tasks better than completed ones. As you can see, 2 out of the 3 incomplete tasks are the key activation points. Well done 😉
The next onboarding experience, however, does not really lead the user on to their first two 'AHA' moments:

What would make more sense though is guiding the users through the process of creating their first story.
The good thing about the experience in 'creating the story tab' – is that it included a clear progress bar.

Bottom Line – Lessons from StoryChief's Onboarding:
Reduce the number of steps your users need to take to signup (reduce the friction) and see what the tool actually does
Make signing up seem like they won something by including a compelling CTA ('Become a Content Hero!')
If you're asking your users for something in their onboarding flow, e.g. provide more information about themselves: add a progress bar, and make the questionnaire optional
Make the signup flow drive the users towards their first 'AHA' moment as soon as possible – preferably within the first 5 minutes of signing up
Use tooltips to walk your users through their key activation steps (e.g. linking their publishing channels)
Use a checklist with the first step already ticked off to show users what they need to do
Use progress bars whenever possible to encourage users to finish key processes that are key activation steps leading to an AHA moment (e.g. publishing a story)
Use empty states to highlight the main key activation steps
Use as little text as possible on modals to reduce the cognitive load
Wanna learn more about onboarding from fast-growing SaaS companies? Follow our Onboarding Teardowns on YouTube!
Wanna create effective onboarding experiences? Book Userpilot Demo today and create 100% personalized onboarding experiences in your app toady – code free!

About the author: Emilia Korczynska is a marketing manager @Userpilot and content marketer with 5+ years of experience in startups and 10+ experience in copywriting, keen on helping startups grow through great content, reading & everything SaaS-y. When she's not writing, you can find her exploring (concrete) jungles of South East Asia or running in Hyde Park.