How Can Brand Monitoring Improve Product Design and User Feedback?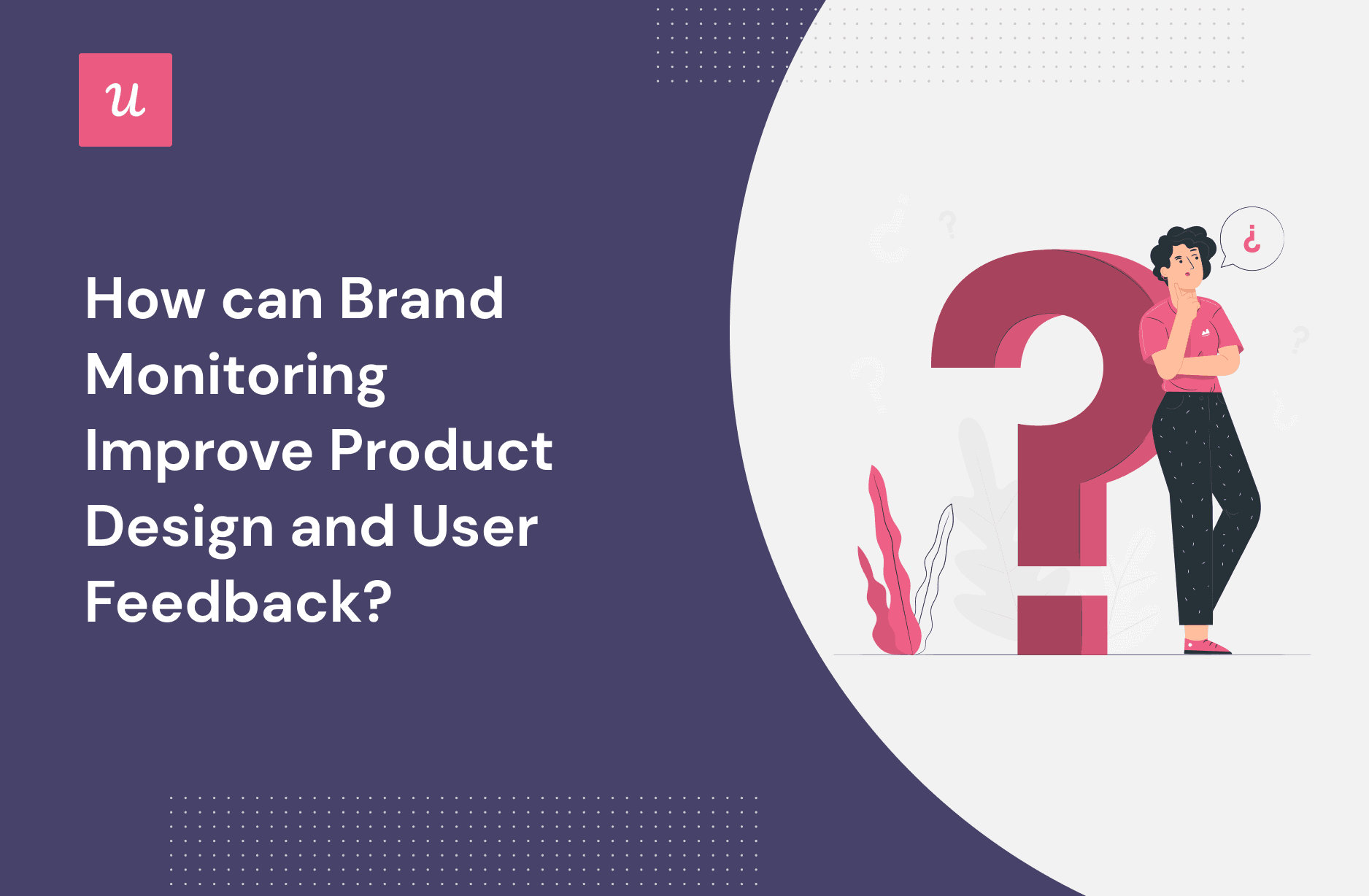 How can you tell if your product is resonating with users? How do you get feedback on what new features to build next? Brand monitoring is a crucial part of any product's development process.
Being up to date with customer feedback is more important than ever as it gives you direct insights into what people think and feel, without you pushing them to say it.
If you're interested in learning more about how to better track and understand your customers' thoughts on your product, read on!
What is brand monitoring?
Brand monitoring is the tasks and activities you do that help you track and monitor what people say about your product and brand across multiple channels.
This helps you better understand how users perceive your brand and gives you a chance to join the conversation.
How can brand monitoring help your business?
Building a strong customer base is key to growing your business.
Happy and satisfied customers will become loyal lifelong followers if you show them how much value their feedback provides. This means every company needs good sources of information on what factors make up an enjoyable buying experience – and then uses those insights when making improvements.
Customers are often too busy to fill out lengthy surveys, which makes gathering qualitative feedback a challenging endeavor for companies. Businesses need customers who would be ready to give their honest opinions on the products they use.
Brand monitoring helps with both.
In today's age of high-speed internet and social media's rising popularity, brands must take advantage of brand monitoring tools.
Social media platforms are vital sources of customer feedback, so you should keep an eye on your brand mentions there.
It's probably one of the easiest ways to learn how your customers feel about your brand, without asking for feedback.
Tip: Be very proactive and respond quickly. Make sure you acknowledge the positive feedback. And if you receive any complaints, try to actively resolve them. The best thing about social media is that you can directly reach out to your customers and talk to them.
Learn how your users interact with your product
Brand monitoring can help you gather feedback and understand how users interact with your product. Designers have to keep a careful eye on how their products are being used in the wild.
This information can help make changes and improvements to your design and user experience.
By using the right tools, you can collect data from social media, review sites, and forums to get a better picture of how people perceive your product.
Tracking your brand online helps you get early warning signs of any significant issues such as the decline in positive feedback or fewer brand mentions overall that need to be addressed.
Your product success will ultimately depend on the satisfaction of your customers.
Knowing your customers – and what they like and dislike – will allow you to develop your product and promote it in a way that resonates with what they really want.
Don't neglect your most valuable resource, especially since innovative social listening tools make this so easy today – and due to popular demand, there are plenty to choose from.
If you want to stay on top of what people are saying about your brand, then Brand24 is an excellent tool. It allows real-time monitoring and provides access from all major social media channels (including TikTok and Telegram) in one place so that it's easy for anyone to view the latest conversations surrounding your business.
Brand monitoring helps with sentiment analysis
Sentiment analysis examines the language used in comments about your brand to determine whether people have a positive, negative, or neutral sentiment toward it.
Sentiment analysis tools give you valuable insights into how people feel about your company.
They also help you read between the lines and observe how people react to your content or brand. The good news is that many media monitoring tools offer such functionality.
Having real-time access to negative mentions is particularly important.
Unhappy customers tend to post negative feedback online, negatively affecting your brand image. Receiving such mentions allows for an immediate reaction and lets you straighten things out.
What is more, sentiment analysis saves your time and effort. The process of sentiment extraction is fully automated, and the algorithm analyses everything for you.
The context of a discussion allows you to analyze the most popular words that appear in the context of negative or positive emotions. Using this method, you can quickly detect and assess how a negative story affects your brand discussion.
The mechanisms for understanding text and drawing conclusions are developing at an amazing pace. Of course, they will not replace a good analyst, but they save more and more time for specialists using social listening tools.
What to do with the brand monitoring data you collect?
Okay, so you've already chosen a brand monitoring tool, and you've got your first results.
But now what?
It's time to analyze your findings so that you can use the information to plan for success.
Analyze the meaning of the metrics you chose by looking at what they mean for your brand. You should ask yourself:
Is the external brand perception in line with the internal brand personality?
Is the sentiment around your brand positive?
Do we deal with conflicts often?
Is there something our competitors are doing better than us?
What works best for us today in our marketing strategy, and how can we use it in the future?
Remember that data is gathered for a reason – use it to ensure that your brand continues to thrive.
What are the other ways to collect user feedback?
Of course, brand monitoring is not the only way to collect feedback. There are some other methods. Let's take a look at them:
Online review sites
Online forums
Customer surveys
Telephone surveys
Getting feedback via live chat
Customer feedback widgets
Marketplaces
Personalized emails
Although each of these examples has its advantages and disadvantages, they all involve asking customers for their opinions. However, I think there are two weaknesses connected with these forms of feedback gathering:
They might be too pushy or cause survey fatigue
They might lead to biased reviews
Make sure your inquiries are not too intrusive. Some of these ways may corner the customer into saying something they wouldn't normally say.
Listen carefully to your users
There are many things to consider when developing a product, but it all comes down to the end-user. The better you know your customer and their needs, the more successfully you can produce innovative solutions.
Monitoring your brand's perception can be an effective tool for marketers. And who knows? You might even find some new ideas for products or features while you're at it.
Thanks for following along with me. I hope you found it helpful and that you put these techniques into practice to improve your own designs.
About the Author
Alicja Mękarska – Partnership Manager at Brand24, fascinated by the world of online marketing and branding. An avid traveler who loves discovering new places and cultures, plant lover, and collector of beautiful ceramics and prints.