Top 11 Female Product Management Influencers to watch in 2023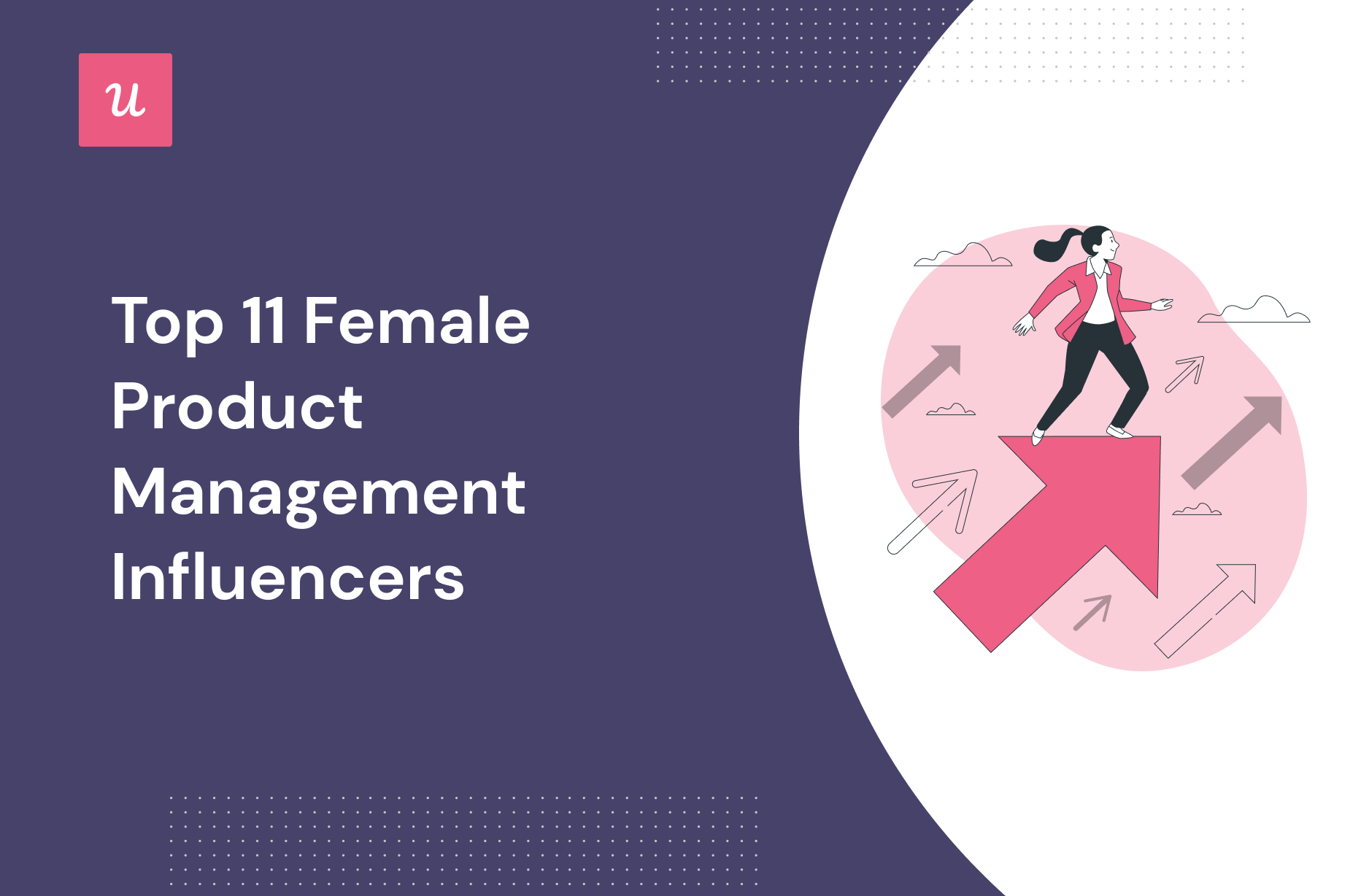 Women are still underrepresented in the Product Profession – with only 33.3% of US Product Managers being female in 2021, according to a metastudy of 30 million profiles conducted by Zippia:
So to celebrate International Women's Day – as usual – we're casting the spotlight on some of the most prominent influencers and thought-leaders in Product – who also happen to be ladies.
There are some well-known names as well as new faces on the list, from all over the world – together with their LinkedIn profiles and medium blogs, so you can follow their journeys and insightful posts yourself.
1. Melissa Perri – Speaker, consultant, and teacher in Product Management. CEO of Product Labs. Author of "The Build Trap"
Melissa Perri is one of the most recognizable names in Product Management. She's currently a consultant, speaker, and teacher in product management. Her company, Produx Labs, provides product management training. She advises executives around the world regarding product management.
Great product leaders are the key to a successful product management organization, according to Perri. Using her scientific approach to product management, she runs programs such as The CPO Accelerator to grow product leaders.
Harvard Business School appointed Perri to teach product management in their MBA program in 2019.
Melissa's largest contributions to the Product Management field
In 2018, Perri published a popular book entitled "Escaping the Build Trap: How Effective Product Management Creates Real Value".
The book described the common tendency for organizations to focus on features instead of delivering true value for the users, and discussed:
How not to turn into a feature factory
How to create a scalable product organization
How product strategy uses a company's vision to fuel profitability
An iterative product framework for identifying and pursuing the right opportunities to create value.
Melissa broke silence over the excessive focus on delivery in product teams. Your users will thank you one day.
Teresa Torres is an internationally renowned author, speaker, and coach. In her classes, she teaches a structured and sustainable approach to continuous discovery that helps product teams infuse customer input into their daily product decisions. Her coaching experience spans a variety of industries and companies of all sizes, from early-stage start-ups to global corporations. Through the Product Talk Academy, she has trained over 8,500 product people in discovery skills.
Teresa's largest contributions to the Product Management field
In 2021, Torres published her book "Continuous Discovery Habits" on how to foster the habits of sustained discovery in product teams. She's made hundreds of product teams aware of the need for speaking to their customers every week, and how to recruit users for these discover interviews on autopilot, even with limited resources.
3. Andrea Saez – Head of Product Marketing @ Mindstone
Andrea, who calls herself a "Product Thinker" and "a professional asker of many questions", has amassed 1600 followers on her Medium account. Andrea has 15+ years of experience in Product Management and Marketing, from SMBs to large enterprises and educational organizations such as Product School.
She has been featured in numerous product-related publications, from Product Management HQ, Mind the Product, to Product School.
Andrea's largest contributions to the Product Management field
Andrea's unique perspective and critical thinking have led her to contest a number of well-established notions in Product Management: from NPS, through KPIs and OKRs, Product Roadmaps, to Product Prioritization Framework – Andrea takes no prisoners.
If you feel like challenging your viewpoints and seeing a new, contrarian direction – head to Andrea's Medium.
4. Susan Stavitzski – Customer-Driven Product Person and Product Leader.
Susan is an experienced Product Leader with a track record of working in start-ups, SMEs, and enterprise companies. Experience in e-commerce, subscription, marketplace, and retention-focused products.
She's an expert in Product Management, User Interviews & Testing, Prototyping, Data Analytics, Product Marketing, Ecommerce, Self Service, Advertising, Sales, Event Management, Market Research, and Account Management.
Susan's largest contributions to the Product Management field
Susan writes about everyday problems of Product Managers with radical candor – and brings actionable solutions rooted in her experience rather than high-level theories (which she mentions plenty of on her blog though if you fancy a healthy dose of theory too!)
You can follow her insights from her professional career on her Medium blog.
5. Lena Sesardic – Entrepreneurial Product Manager, PM @ Aviso
Lena's everywhere – one day she's a product owner, the other she's coaching people on how to improve their Linkedin skills and find their dream jobs in Product, next thing you know she's publishing a book of short stories called "The making of Product Managers". Follow her for a good dose of career advice combined with a neverending supply of positive energy.
Lena's largest contributions to the Product Management field
Lena advocates an entrepreneurial approach to Product Management and encourages Product Organizations to invest in "innovation teams" and "kiss their experimentation budget goodbye."
See more in Lena's talk about building an innovation team and a "startup" within a larger organization on Product Drive or watch a shorter interview with her on that topic here:
6. Evelyn Ebo – Product Manager at Advans Nigeria, Product Management Mentor
Evelyn Ebo is a Nigerian product manager with 9 years of experience in the microfinance industry experience, working cross-functionally with the Business Team (Business Development, Marketing, Finance, and Sales) and the Technical Team (Product Designer, Backend, Frontend Engineers, and Quality Assurance).
Her experience has taught her to empathize with users, be passionate about understanding customers, their pain points, and their jobs to be done.
Evelyn's largest contributions to the Product Management field
According to Zippia, only 4.2% of Product Managers are black.
Evelyn's playing a big role in popularizing product management among African men and women, and casting the spotlight on the rapidly growing and vibrant product community in Sub-Saharan Africa.
She also helps showcase some of the up-and-coming Nigerian products in her community.
7. Galina Ryzhenko, Head of Product at Mavenoid
Galina is a product leader with strong customer success and digital strategy background and 10+ years of experience in all aspects of software product management (discovery, productization, go-to-market strategies, scaling, and lifecycle management).
She loves leading teams to create great products that delight users and achieve business goals.
Galina's specialties include SaaS product management, product engineering, go-to-market strategy, pricing strategy, monetization, web/mobile UX, user research, analytics, pre-sales technical leadership. She's a domain expert in Support, Fitness & Healthcare, Utilities, Telecom, AdTech, and GameDev.
Galina's largest contributions to the Product Management field
Galina, a native Ukrainian working for a Product Company in London, has been advocating and guiding product teams through the challenging process of product internationalization.
Recently though – she had to apply her organizational skills to help Ukrainian refugees displaced by the war with Russia find new homes and jobs – also in Product.
Sam is a Product-Led Growth expert and a Product-Driven Growth manager.
Sam's largest contributions to the Product Management field
Sam's helping popularize Product-Led Growth and best practices in SaaS onboarding through apt metaphors, hilarious memes, and TikTok videos – taking the "boring" out of B2B.
9. Sanjana Murali – Product Marketing Manager @ Leadfeeder | YouTuber (All About B2B Marketing)
Named one of the "10 Indian SaaS Marketers you must watch on LinkedIn", Sanjana is a result-oriented B2B SaaS Marketing Specialist with 8+ years of extensive experience.
She specializes in product marketing, inbound – lead generation through content, videos, influencer marketing & brand marketing.
She speaks at different networking events online & offline including LinkedIn Local Chennai, MSME India, Peak community, B2B rebellion, Hellomeets, RevGenius, Ampliz, Marketing Rapid Fire Quiz Show, Saastitute, etc.
Sanjana's largest contributions to the Product Management field
Sanjana is the voice of Indian product marketers on YouTube, sharing her hacks in a series of approachable videos and LinkedIn posts.
10. Hana Mohan, CEO of Magic Bell
Hana is not only a successful female CEO of a YC backed startup in the PLG space, but also a strong advocate of diversity in Product Management.
Hana's largest contributions to the Product Management field
Hana is the first openly transgender woman-CEO of a YC-backed product company – giving courage and inspiration to a lot of aspiring leaders in Product in the LGBTQ+🏳️‍⚧️ community.
Last but not least – there's Alexandra Ciobotaru, our long-time Product Drive speaker, Podcast Host, and dedicated Head of Product at Novoresume.
Alexandra is a dedicated, outcome-oriented PM focusing on growing customer-centric businesses and building products people love. She drives the product and business planning across cross-functional teams, analyzing customer needs, refreshing current market trends, examining product requirements, and ensuring successful delivery.
As Head of Product, she focuses on innovation, strategy, and growth while building new products and services that help people find their dream jobs.
Her experience includes "appraising new product ideas and strategizing appropriate to-market plans, creating the product roadmap, product strategy creation, and product launch."
Alexandra's largest contributions to the Product Management field
Alexandra's podcast empowers women in Product to think bigger about their careers and shoot for the leadership positions in their organizations.
"Femme Lead Podcast is my passion project where I interview leaders about their professional journeys and share advice to inspire the next generation of leaders." – said Alexandra.
Final Thoughts
Of course – the list of inspiring female thought-leaders in Product could go on and on. Let us know in the comments whom we should have also included, and whom we should watch for next year!
Also – here is our list of Women in Product from 2020 and an interview with Margaret Zablocka, a female Product Owner and CEO from 2021.