Customer Onboarding Specialist: Everything You Need To Know [Job Description, Salary, Tools]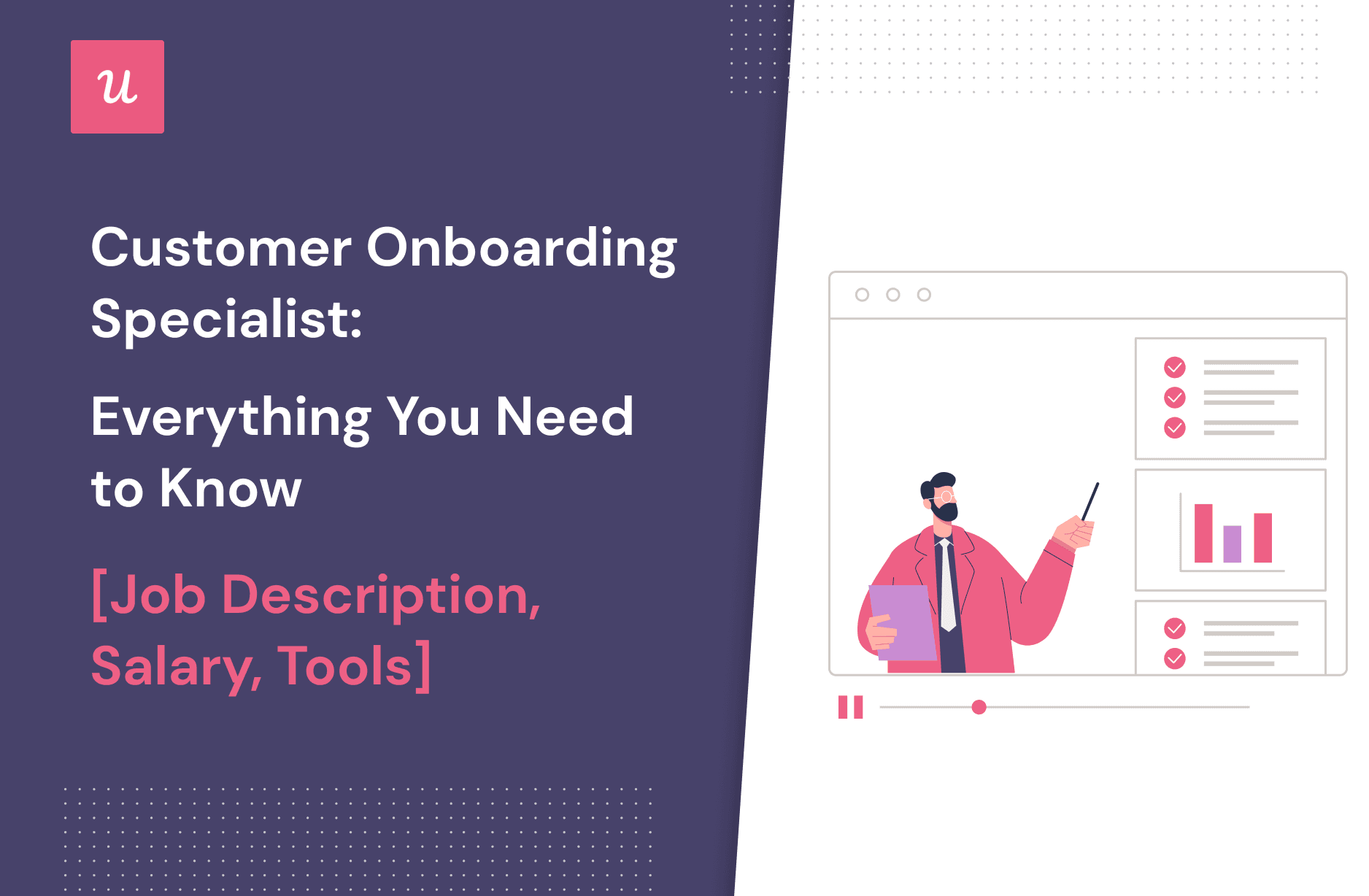 Fancy hiring a customer onboarding specialist or simply want to know who they are and what they do? We've got you covered!
In this article, you will get everything you need to know about customer onboarding specialists. What do they do? What salary do they get? What user onboarding software do you need to buy to equip them? And what skills they should possess?
Ready to dive in? Let's go!
TL;DR
A customer onboarding specialist is the one who ensures that the customer has a successful experience with the product or service from the very beginning.
A SaaS company needs to hire a client onboarding specialist because they drive customer adoption and retention from the very steps of the user journey.
While a customer success specialist is in charge of decreasing churn and retaining existing customers, it's not the same as a customer onboarding specialist.
To provide the best customer support, look for this set of skills when interviewing a customer onboarding specialist — empathy, good communication skills, problem-solving skills, and patience.
Once you have hired an onboarding specialist, introduce them to every part of your product and make sure they have the decent product knowledge to be able to solve technical problems.
Set the following key responsibilities for the customer onboarding team:
help customers complete a successful implementation of your product and
drive product adoption, as well as create and maintain the customer onboarding process
The average salary is ~$50,000 / per annum but it varies from country to country.
Separate your best applicants by role-playing angry and non-savvy customers during the interview process. Watch how they handle these situations.
Get your customer onboarding specialists to figure out how to work with different tools, such as Userpilot, Mixpanel, Zendesk, Synthesia.
If you don't have resources for a dedicated customer onboarding specialist but still want to create the best onboarding process for your product, just choose Userpilot and build interactive walkthroughs, and in-app help centers to guide your customers.
Who is a customer onboarding specialist?
A customer onboarding specialist is the one who makes sure the customer has the first moment of success with the product or service. Once a new user signs up, it is the responsibility of the customer onboarding specialist to take care of the customer.
He or she must ensure that customers feel comfortable using the product from the first moment and convey the idea users have someone from the team to ask for help.
In a nutshell, the main goal of an onboarding specialist is to make users excited about your product and deliver an amazing customer experience. Hence, to get them to the activation point and convert them into paying users.
Why is a customer onboarding specialist important in SaaS?
Since this role is responsible for adopting and retaining users from the very beginning, a customer onboarding specialist is of utmost importance for the entire SaaS business to thrive.
They meet new customers and help them unleash your product potential in the shortest way possible. Therefore, users reach the activation moment faster and become paying customers.
Also, a customer onboarding specialist is in charge of creating a solid onboarding process. This helps customers achieve the "Aha!" moment smoothly and frictionlessly.
Customer onboarding specialist vs customer success manager
Sometimes customer success agents also take care of the first user adoption flywheel phase — delivering great customer service for new signups. But it will not work in the long run and this is usually applicable only to early-stage companies.
As your business is growing, the focus of your customer success managers shifts from onboarding users to establishing strong relationships with paying customers. Therefore, their responsibilities are also changing to retain, upgrade and upsell existing users.
On average, one customer success specialist handles 100-500 customers. So they just don't have enough time to pay attention to new signups.
That's why you need an allocated onboarding specialist to get them to deliver an amazing customer experience for new users.
What skills should a customer onboarding specialist have?
Not every person can manage customers as it requires having some soft skills.
Here we will walk you through five important skills customer onboarding specialists must acquire to deliver great customer service.
Here we go!
Great communication skills
As a customer onboarding specialist, you have to prepare yourself for a barrage of questions. They will spring on you every day in decent numbers. So you should quickly figure out what poses a problem and come up with a short, concise answer that completely solves customer queries.
Developing good communication skills will help you convey maximum information in the minimum time.
Empathy
Usually, customers address support chat when something is not working across the product, or they can not figure out a way to resolve a particular task. Meaning you will face annoyed or angry users quite often.
A high level of empathy will help you suppress negative emotions and turn them into neutral without any negative connotations. As a result, you will solve an issue faster, making customers happy.
Patience
Cultivate your patience as you will need to explain the same things to different customers often. Remember, if something is obvious to you, it's directly the opposite for someone who engages with your tool for the first time.
Problem-solving skills
Sometimes it's really about technical problems you can not resolve immediately. Then, you should figure out who is responsible for the issue and get them to fix it.
Also, you have to find the right words to alleviate the tension a user is experiencing, especially when dealing with one critical customer requirement that may cause the user to churn. That's why problem-solving skills are critical for a great customer onboarding specialist.
Extensive knowledge about the product
Knowing your product ins and outs on the top level is crucial for a good onboarding specialist as you will work with technical problems customers encounter. You should become the savviest person in the room about every feature your product has to fulfill customer needs.
What are the key responsibilities of a customer onboarding specialist?
Although we have slightly covered what a client onboarding specialist will face when stepping in, we will go more granular and show you every aspect of this job.
So let's learn the key responsibilities of a customer onboarding specialist.
Help customers with implementation
Some products need implementation like API connection or code embedding from the very first moment. That is what customer onboarding specialists will assist with and why they need extensive product knowledge.
Assist with best practices and tips
A good onboarding specialist not only deeply understands the technical side of the product but also poses decent industry knowledge to provide key pointers and contextual help for customers. For example, if you work for an SEO automation tool, this is your duty to learn everything about SEO and assist users in achieving their SEO goals.
Drive product adoption
The onboarding team first works on smooth adoption. Their chief goal is to get as many new customers as possible to the point when users fully understand how they will benefit from using your product.
Solve customer queries
Once you have formed strong relationships with customers, they are getting back to you with new product ideas and important queries to implement. Your task is to document every request and convey it to the product team for further assessment and development.
Create a loyal customer base
Earn long-term loyal customers by delivering top-tier customer onboarding. Thus, you will facilitate customer accounting and smoothly transfer new paying users into the caring hands of your customer success team.
Collect customer feedback and act on it
When a product company hires a customer onboarding specialist, they want to increase user satisfaction and product stickiness. Hence, after helping customers achieve their goals, the onboarding specialist should ask for customer feedback to ensure that customer expectations are fulfilled. Then, act on collected feedback to increase customer retention.
Customer onboarding specialist average salary
The onboarding specialist job is usually an entry-level position where you can expect a $43,875 reward on average. Some companies offer up to $63,132 when the minimum salary starts from $35,100. This is the benchmark for the USA market.
However, the salary of customer onboarding specialists depends on various factors:
the level of experience
industry benchmark
proven track record
company size
As soon as you demonstrate continuous improvement in your problem-solving, communication, and project management skills, you can expect a pay rise.
How to hire brilliant customer onboarding specialists?
Everything begins with the proper job description. As an onboarding specialist job stands for entry-level, you should be prepared to get million of plain applications.
And yet, there are a couple of tricks on how to attract only excellent and highly motivated candidates.
First, when designing an onboarding specialist job description, try to play with a title to make it stand out and sounds challenging.
The bad one is the dull "Customer onboarding specialist."
To play with emotions and draw the best candidates, add amplifiers:
Customer Happiness Agent
Customer Champion
Customer Experience Agent
Once you select interesting applications, arm yourself with the right questions to ask during the interview. You don't care about their five-year plan, but you do care about their empathy, problem-solving skills, and patience.
For checking these skills, go for role-play scenarios.
Angry customer
Pretend to be an obnoxious customer who asks for an immediate refund, "Your product is useless. It doesn't work. I want my money back. Now!"
Watch how a potential employee is handling this situation. Do they lose their cool? Do they apply empathetic responses to lower the tension? If they try to find out what product problem caused this gush of anger?
Non-techy customer
This time role-play a customer who doesn't get the hang of the technical side of your product, and overall they are not tech-savvy.
You can go for, "This [X] feature is not working. I can't solve my task and download the report. Please, fix it. I don't know what to do. It's the only reason why I'm trying your product."
When a candidate asks you to record your screen or take screenshots, say that you have no clue how to do this.
What you are looking for is their ability to guide a frustrated, non-tech person and get them to the "Aha!" moment.
Best tools for a customer onboarding specialist
Now that you have known what it takes to become a customer onboarding specialist let's arm you with extensive knowledge of user onboarding software.
We will show you the main features of each product so you can check these learnings when conducting a customer onboarding specialist interview.
What products you will explore:
Userpilot — for in-app onboarding
Zendesk — for customer support
Synthesia — for AI video creation
Mixpanel — for customer insights and analytics
Userpilot
If you want to indulge your clients with an excellent customer onboarding process, take a look at Userpilot. This tool was built for you to create frictionless user in-app onboarding. Meaning it works great for SaaS companies.
Below we'll showcase its main features that facilitate user activation.
Welcome screens
You can meet your new customers with personalized welcome screens that show up once a user signed up. Look at an example of how Kontentino is welcoming its customers.
See the below friendly and warm way they introduce Hana, a customer onboarding specialist.
So now, a new user is fully aware of whom to reach out to if they need a little assistance.
Interactive walkthroughs
In short, interactive walkthroughs are in-built guidelines that navigate users across the product and encourage them to take specific actions to discover your product's core value.
This is like a virtual assistant that gets your hand and shows you what to do next to solve your specific task.
Walkthrough forms may vary — tooltips, modals, checklists, chat widgets, etc.
This's how Kontentino's customer onboarding specialist set up a new walkthrough by using Userpilot to drive more user engagement and make sure features get adopted.
Checklists
Checklists are small slideouts usually placed on the right bottom that help users get their job done, therefore driving customer success.
It's super practical because checklists help customers reach the activation point faster and learn the product by actually playing with the features.
To explain things, let's walk through Postify's checklist.
Once you signed up, you are offered to create an account, connect to your social media accounts, or schedule your first post.
When you choose what to do, then you will be guided by tooltips, videos, articles, and so on.
As a consequence, new users like you don't feel lost and misled and understand the value of your product soon.
In-app help centers
When users are craving help, the onboarding specialist's responsibility is to deliver it in different ways. This is where in-app help centers come into play.
You can create a help button that triggers your resource center. Fill it out with product-related key pointers to deliver comprehensive support to customers.
A great help center includes:
Chat with us option — open a support chat
Give feedback — sometimes, customers feel an urgent need to provide input on some features.
Submit an idea — good for collecting feedback to consider developing new features customers ask for and establishing good communication.
FAQ, Knowledge Base, Video training, or other educational resources.
NPS surveys
Creating a good onboarding process takes some time and data to act on.
By implementing NPS surveys, you can measure customer satisfaction and ask how they feel about your product. If they didn't find your product valuable or have complaints/suggestions, then you just found a gap to work on.
This means that you should improve your product/service and show users this survey again a week/month later.
Zendesk
A big part of customer success and the onboarding process is educating your users and making their journey smooth and bug-less.
This is what you can utilize Zendesk for.
First, this tool is great when it comes to building an extensive knowledge base (aka documentation) and having fast access to this.
Second, Zendesk has a ticket feature that allows you to set, track, and easily maintain a ticket system.
For instance, when you get the next query from a customer, create a ticket, tag the responsible team member, and watch the ticket status to notify the user when the ticket is resolved.
Synthesia
Synthesia is an AI video creation tool that generates guides, tutorials, etc., from written text. It's extremely helpful for customer onboarding specialists when they want to create short video explainers for the product but lack time or resources.
Once Synthesia generates a video for you, embed this into your in-app onboarding using Userpilot. You can put it inside modals and tooltips or simply launch them from the resource center.
Mixpanel
Last but not least is Mixpanel. This tool enables you to map the onboarding process and recognize every obstacle customers encounter on their path.
For doing this, set up specific events in the user journey your customers must complete. Then analyze how new users engage with your product and what step causes them to churn.
Conclusion
A customer onboarding specialist is an essential and precious asset for any SaaS company as this role sets standards for customer support and converts newbies into paying customers.
Want to find out more about Userpilot and its in-app onboarding features? Get a Userpilot Demo and see how you can boost your product activation rate!