Customer Onboarding Specialist: Everything You Need To Know [Job Description, Salary, Tools]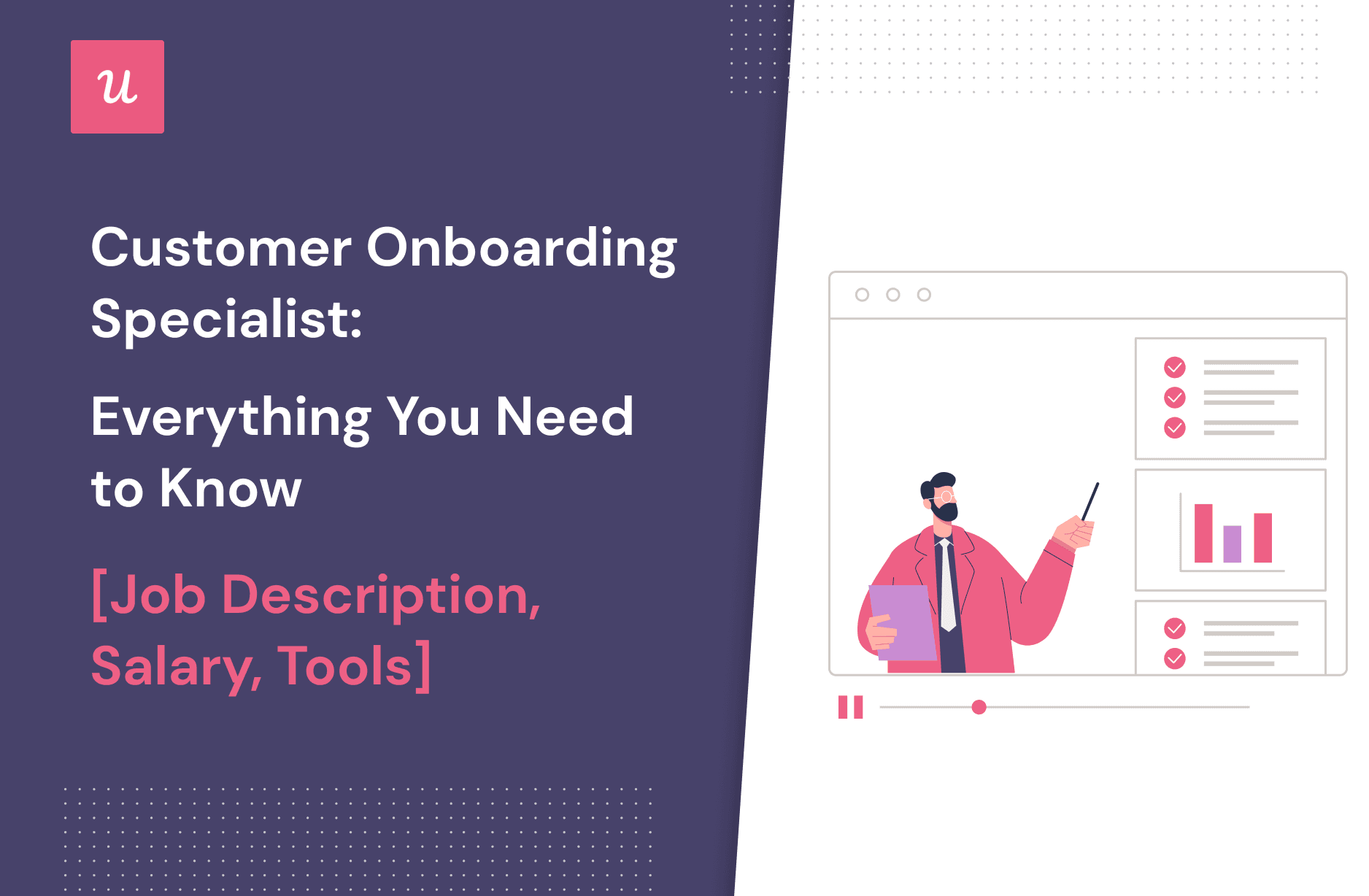 Want to streamline your SaaS user onboarding efforts and hire a customer onboarding specialist?
This post will teach you everything you need to know about onboarding specialists, the tools they operate with, and what impact they can have on the onboarding process.
In this article, you will also learn about the customer onboarding specialists' average salary, critical skills to look for, and how to hire a good onboarding specialist.
Ready to dive in? Let's go!
TL;DR
A customer onboarding specialist is the one who makes sure the customer has the first moment of success with the product or service.
A SaaS company needs to hire a customer onboarding specialist because they drive product adoption and retention from the very steps of the user journey.
A customer onboarding specialist manages onboarding. A customer success specialist owns lifecycle management.
In order to hire a great onboarding specialist, you need to write a compelling job description, ask the right interview questions and test their skills.
Get your customer onboarding specialists to figure out how to work with different product adoption tools — Userpilot, Pendo, and Chameleon.
If you don't have resources for a dedicated customer onboarding specialist but still want to create the best onboarding for your product, choose Userpilot and build interactive guides. Let's book a demo to see how it works.

Build exceptional customer onboarding with Userpilot!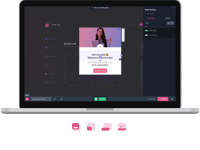 Who is a customer onboarding specialist?
An onboarding specialist is the one who makes sure the customer has the first moment of success with the product or service. Once a new user signs up, it is the moment when customer onboarding specialists enter the stage.
They must ensure that customer expectations have been met and that they feel comfortable using the product from the first moment.
A great customer onboarding specialist should also make sure customers get exceptional customer service and an amazing customer experience.
In a nutshell, the main goal of an onboarding specialist is to get them to the activation point and convert them into paying users, thus improving customer retention.
Why is it important for SaaS companies to have customer onboarding specialists?
A SaaS company needs to hire a client onboarding specialist because they drive customer adoption and retention from the very first steps of the user journey.
Moreover, they set customers up for success by helping new customers achieve the "Aha" moment in a fast manner.
Customer onboarding specialists also make sure the onboarding experience is as frictionless as possible, thus reducing churn.
And most importantly, it drives product adoption from the beginning.
Customer onboarding specialist vs. customer success manager
Customer onboarding specialists are part of your customer success team and their job is interloped with success managers.
Onboarding specialists' main focus is to ensure an exceptional onboarding process for new customers and drive them to activation. Meanwhile, customer success managers focus on establishing strong customer relationships with existing customers.
Their responsibilities include bridging the gap between customers and support teams to solve customer needs, advocating for customers, and creating a loyal customer base.
Customer onboarding specialist key responsibilities
Here are some key responsibilities you would want to add to your onboarding specialist job description:
Help customers with a successful implementation – Some products need implementation like API connection or code embedding from the beginning. That is what customer onboarding specialists will assist with and why they need extensive product knowledge.
Solve technical problems – An onboarding specialist should have the skills and the technical knowledge to understand your product and fix any arising issues with customer accounts, and technical problems.
Educate customers for immediate success – An adequate onboarding specialist should also pose decent industry knowledge to provide key pointers and contextual help for customers.
Collect and act on customer feedback – It's important to improve the onboarding process and what better insights you can find than user feedback? They need to prompt in-app surveys, collect data, and implement the findings to make the onboarding process more efficient and improve customer satisfaction.
Solve customer queries – To avoid churn and customer frustration, it's essential to deal with customer requirements in a timely manner and solve customer issues.
Implement onboarding tools – It is important to manage an onboarding tool that will give you the right analytics and insights and will keep every department on the same page.
Effective skills every onboarding specialist should have
Not every person can manage customers. And it's okay as everyone has unique traits that can match various specialties.
Here I want to walk you through important skills customer onboarding specialists must acquire to deliver great customer service.
Let's find out if there is a match.
Project management skills
Onboarding specialists should have project management experience. It is imperative to have effective organizational and time management skills.
Onboarding specialists typically work with the onboarding team, different customers, and other departments. In order to meet customer needs, they must be able to jump between different projects.
Good communication skills
Effective communication skills are a must-have for every onboarding specialist.
Customer onboarding specialists need to share accurate information about your features (it can be via an interactive walkthrough, product tour, etc.), give clear and precise responses to user feedback, and communicate with your customers with empathy and patience.
Problem-solving skills
Sometimes it's really about technical problems you can not resolve immediately. Then, you should figure out who is responsible for the issue and get them to fix it.
Also, you have to find the right words to alleviate the tension a user is experiencing if you are dealing with one critical customer requirement that may cause the user to churn.
That's why problem-solving skills are critical for a great customer onboarding specialist.
What is the average salary of an onboarding specialist?
According to ZipRecruiter, the average annual pay for a customer onboarding specialist in the United States is $46,035 a year which is the equivalent of $885/week or $3,836/month.
While we can see annual salaries as high as $72,000 and as low as $28,000, the majority of customer onboarding salaries currently range between $36,000 (25th percentile) to $54,500 (75th percentile) with top earners (90th percentile) making $68,500 annually across the United States.
Customer onboarding specialist salaries vary depending on the industry, company type, and experience level.

Try the best onboarding tool for your SaaS now!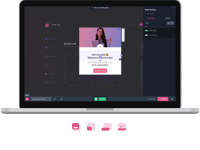 How to hire a customer onboarding specialist
Now that we have learned about the skills and requirements of a brilliant customer onboarding specialist, let's dive into the hiring process.
Step 1: Write a compelling customer onboarding specialist job description
Everything begins with the proper job description. An effective customer onboarding specialist job description describes the role clearly and accurately and shows applicants what their duties will be.
Let's look at a good example of an onboarding specialist job description:
We are a profitable technology company looking for a customer onboarding specialist to join our team and provide continued support and drive customer success.
The perfect candidate to join our team will need excellent communication and critical thinking skills, as well as being detail-oriented.
The key responsibilities of the client onboarding specialist will be:
Helping customers complete their account setup and implementation.
Ensure a smooth adoption of the product.
Solve arising customer problems in a timely manner.
Enhance user engagement with educational materials and contextual onboarding flows.
Leverage feedback for continuous improvement of the onboarding process.
Work with the customer success team to build strong relationships with existing users.
Step 2: Ask the right questions during the customer onboarding specialist interview
Select a collection of questions that identifies essential qualities and talents of a customer onboarding specialist, such as communication and coachability to ask during the interview process.
For example:
What does customer success look like to you?
How would you react if new customers were not receptive to your onboarding efforts?
How would you handle a customer complaint?
Do you have experience with web technologies?
Do you have experience using customer onboarding tools?
How do you track the successful implementation of the onboarding?
Tell us about your last experience as a customer champion.
Step 3: Test their critical thinking skills
For checking these skills, go for role-play scenarios.
Pretend an obnoxious customer who asks for an immediate refund, "Your product is useless. It doesn't work. I want my money back. Now!"
Watch how a potential employee is handling this situation. Do they lose their cool? Do they apply empathetic responses to lower the tension? If they try to find out what product problem caused this gush of anger?
Now role-play a customer who doesn't get the hang of the technical side of your product.
You can go for, "This [X] feature is not working. I can't solve my task and download the report. Please, fix it. I don't what to do. It's the only reason why I'm trying your product."
When a candidate asks you to record your screen or take screenshots, say that you have no clue how to do this.
What you are looking for is their ability to guide a frustrated, non-tech person and get them to the "Aha!" moment.
Tools every customer onboarding specialist should know about
Now that you have known what it takes to become a customer onboarding specialist let's arm you with extensive knowledge of user onboarding software.
I will show you the main features of each product so you can check these learnings when conducting a customer onboarding specialist interview.
Userpilot – best money for value
Userpilot is a powerful product adoption platform that enables you to quickly build personalized, flexible, contextually relevant in-app experiences targeted to different user segments.
Here's what you'll get when you start using Userpilot:
Forget about coding in-app experiences: Userpilot is a no-code solution. It only requires your dev to install a line of Javascript inside your app and for you to download a chrome extension that opens up the visual builder.
Build in-app flows using the largest range of UI patterns (modals, slideouts, tooltips, hotspots, banners) and in-app onboarding experiences (using checklists, micro surveys, NPS surveys, in-app resource centers, etc).
Get access to a built-in NPS tool for collecting and analyzing user sentiment so you can improve your customer onboarding efforts based on real data.
Create and track combinations of in-app events like clicks, hovers, and form fills, and then analyze all these interactions under your own custom events.
Use advanced product analytics (monitoring online behavior) and in-app flows analytics to identify where users need help and create granular user segments to trigger in-app experiences contextually.
Enhance the onboarding experience with in-app help by launching a Resource Center. Add in-app guides, and video tutorials, and give users access to search the knowledge base or reach out to support. Self-service has never been easier.
What users think about Userpilot
Users love the range of features and the fantastic team:
"Userpilot is simple to set up, use, and does not require any dev – which means instant publishing. This is critical for us as a SaaS company that releases new features frequently; we need the ability to inform our customers of changes quickly, and doing this in our platform through Userpilot allows us to reach the right audience, at the right time, in the right place. The customer service is excellent, from sales, CSM through to support – everyone has been friendly, quick to respond, realistic and very helpful. Thanks guys! It is very much appreciated."
Userpilot pricing
There are several tiers of Userpilot pricing available:
Traction: For up to 2500 users, this plan is $249/ mo.
Growth: For up to 10,000 users, this plan is $499/ mo.
Enterprise: These plans begin with $1000/mo for large-scale businesses.

Quickly onboard new users with Userpilot!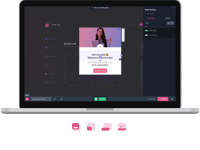 Appcues – best for mobile customer activation
Appcues is another no-code user onboarding platform that helps non-technical teams track and analyze product usage.
They used to provide onboarding templates, but they've recently removed them – without really replacing them with another solution.
That makes it harder to justify the higher price tag.
Here's what you'll get when you start using Appcues:
Access to an easy-to-use UI that anyone on the team can handle for building in-app flows without coding.
Building a product tour in Appcues is relatively easy. You just need to open their chrome extension on top of your application and start building your in-app experiences: simply select a UI pattern and customize it 'live', or point to the elements you want to e.g. append your tooltips to.
You can also create checklists with Appcues (NOT available on the Essentials plan) and prompt users to take action. These have limited functionality (i.e. can't trigger JS functions, or add gamification elements) compared to alternatives, such as Userpilot.
Track UI engagement with Events explorer which allows you to tag elements without coding.
Build custom user segments based on user properties, flows, interactions, or events you set up in the events explorer.
What users think about Appcues
"The best part of Appcues is the guided tour features which they call flows. Especially on a team with limited resources, it allows you to improve your activation and engagement overnight by using this feature to guide your users around your product. What I love even more is the design and UX features are modern unlike other tour tools we've researched, and the software is easy-to-use with the need for a developer after the initial install."
Appcues pricing
All things considered, Appcues does not offer the best value for money compared to other tools. If your product has 2,500 active users, the costs for different plans are:
Essentials: $249/month (Up to 3 user licenses).
Growth: $879/month (Up to 10 user licenses).
Enterprise: Custom (Unlimited user licenses).

There is a better alternative than Appcues. Try Userpilot!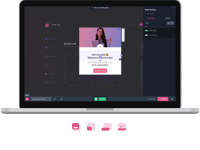 Chameleon – best for advanced integrations
Chameleon is a digital adoption platform with a difference: while the other tools discussed are mostly no-code, Chameleon does require some developer involvement.
Nevertheless, it's a powerful and effective tool that works in a similar way to Userpilot and offers similar features: styling, analytics, templates, goals, A/B testing, and checklists. However, it doesn't offer a resource center, or dedicated NPS.
With that in mind, the value for money – given the limited features on the basic plan – leaves something to be desired.
Here's how Chameleon's main functionality helps with user onboarding:
Chameleon's product tours help you build flows for guidance. You can use several UI patterns: modals, banners, tooltips, and hotspots.
You can customize the styling (font, color, opacity, etc) of your product tours and even add in some CSS styling if you want advanced branding.
Launchers are where Chameleon is different compared to its competitors. These are in-app widgets that can open checklists, small help widgets, or notification centers. The downside is that you can't have one launcher with multiple types of content.
You can target content to different user segments based on multiple data sources including event triggering.
Ability to use micro surveys with great customization and question-and-answer types. On Growth Plan and higher, you also get access to more functionality like A/B testing, multiple environments, localization (Enterprise plan only), and advanced integrations like Hubspot.
What users think about Chameleon
"I really like how easy it is to build updates and announcements on our own platform using Chameleon, I was able to get started building within a day! I also LOVE the inspiration page so I can see how others have done what I'd like to do successfully."
Chameleon pricing
Chameleon split their pricing options primarily by the number of monthly active users, but you should keep in mind that the Startup plan also has limited features and might not be enough for interactive user onboarding and adoption for SaaS products:
0 – 2500 MAUs: Startup plan from $349/mo, Growth plan from $899/mo.
2000 – 3000MAUs: Startup plan from $419/mo, Growth from $899/mo.
3000 – 5000 MAUs: Startup plan from $489/mo, Growth from $899/mo.
5000 – 10,000 MAUs: Startup plan from $517/mo, Growth from $999/mo.

There is a better alternative than Chameleon. Try Userpilot!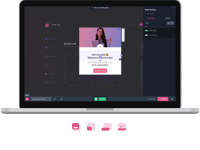 Conclusion
A customer onboarding specialist is an essential and precious asset for any SaaS company. Because this role sets standards for customer support and converts newbies into paying customers.
Want to find out more about Userpilot and its product onboarding features? Get a Userpilot Demo and see how you can boost your product activation rate!
Ready to learn more about how to use Userpilot and set new customers on the path to customer success? Book a demo today.