Women in Product: From Product Owner to Product Business CEO – How Margaret Zablocka Pulled Onoco off the Ground Against The Odds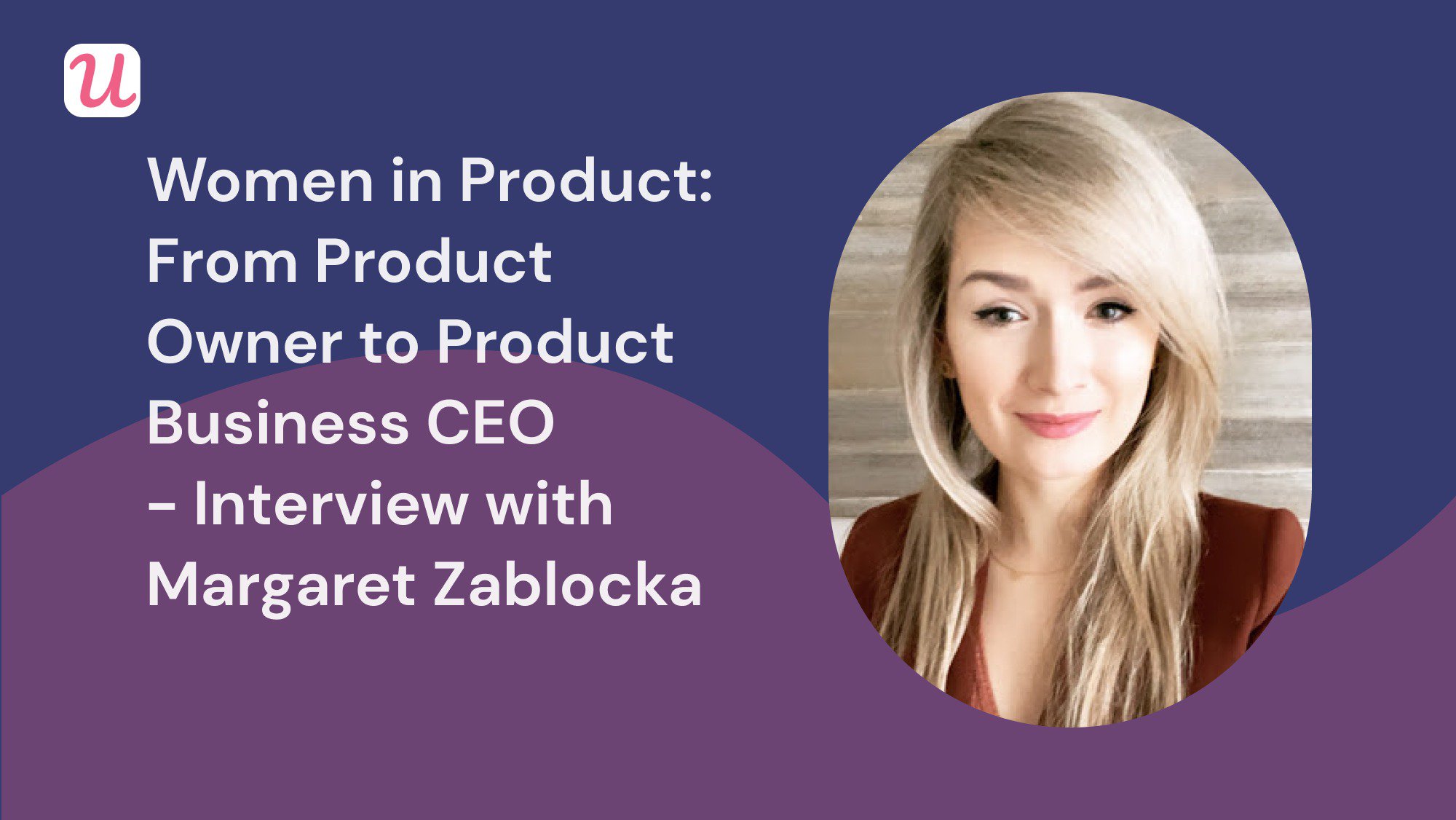 Margaret Zablocka is a founder and CEO of Onoco – a parenting app with 20,000 users – and the former Lead Product Manager at Betfair. Born in Poland, she moved to London in 2014 to embark on her career in Product Management. When she first became a mother she realized there was a huge gap to fill in the market of parent tech. In this post, we're talking to Margaret about her journey from product management to building her own product, the challenges she experienced, and her product vision.
Hi Margaret. First of all, could you tell us a few words about how you ended up becoming a product manager?
Good luck I suppose 🙂 I studied IT and Econometrics, where they teach you how to test theories and generate forecasts using mathematical models and programming languages. It was a great way to learn analytical skills, but also having graduated I was sure I didn't want to become an analyst.
I was looking for job opportunities where I could combine my passion for technology with my interest in business. I was very lucky to be offered a job as a product owner – a role on the intersection of tech and business, it was a perfect mix.
It was a medium-sized company, so my responsibilities covered a lot of the product managers' job. Different companies call "product manager" different things. I finally got that title when I started working for much bigger companies.
What did you do before starting Onoco? What other products were you working on?
I started my professional career in the financial sector. First as a product owner of a social trading platform (a web-based app). I then lead a team responsible for the development of the public API of the main trading platform, managing a marketplace for software providers and retail customers wanting to build their own EAs (algorithms).
Next, I was hired by one of the biggest gambling companies in the world to build a white label product of their sports betting exchange. It was an invaluable experience for me due to the fact that the product was intended to mimic the main platform, so I had to work closely with all business departments.
After 6 months of development, we had a successful product launch. Later, I got an opportunity to work on the main product with several million users and hundreds of transactions per second during popular events.
How did you come up with the idea of starting Onoco? What was the gap in the other products available on the market back then that made you realize there's a market opportunity for another, better baby tracker app?
When my daughter was born, I recorded feedings and nap times on a piece of paper. Later I discovered a couple of apps which were helpful, but as my baby grew older I got tired of logging everything – and unfortunately in standard baby tracker apps, once you stop recording events you start losing visibility of your child's routine.
I got to a point where I naturally knew what to expect and what to do with/for my child, but this didn't help anyone who was caring for my daughter in my absence – such as family members who offered to babysit (glorious days), or the childcare – in my case, the nanny – I needed to appoint when I returned to work. Handovers to other carers were often stressful.
I found I couldn't relax whilst away from my child. It was important to me to support my child's development.
So, I tapped into my background in tech – and my current needs as a parent – and I created Onoco.
When did you start working on Onoco full-time? What was the biggest challenge for you in building the product from scratch?
I've made a decision to work on Onoco full time in the Q4 of 2019. Building a product from scratch is exciting! If you have an opportunity to do so, it's probably one of the most enjoyable and fulfilling parts of the job. However, in a startup, unlike in big corporations, you have very limited resources. You have to move fast. That time pressure was probably the most challenging – you know that you can always change things as you go along, and it is an MVP, but also you want users to love your product. Settling for 'average' isn't going to make your app the winning product. I should also probably mention the challenge brought by covid pandemic when Onoco was in development and had 2 little kids at home.
What's your product vision for Onoco? How do you see your product and company developing in the next year or so?
Our goal is to power the future of technology in childcare.
Next year, Onoco will become popular among new parents who are looking for the most practical, evidence-based tool. This app isn't just a baby tracker, we do not expect parents to digitize every aspect of their child's life.
Onoco, apart from providing insights on baby's natural rhythm, is also a safe space for families to agree on care arrangements, plan family schedules, share, and comment on pictures, all in a simple and safe way.
It's your decision if you want to track feeds and nap times yourself or if you use this feature as a log for other caregivers. It is up to you how often you assess your child's development if you introduce a fixed or flexible daily schedule.
You know what is best for your little one(s). We are here to support you.
What skills do you think are most important for a product manager to succeed in building their own product? What would you recommend Product Managers who are thinking of starting their own business in the future to focus on?
There is no recipe for success. However, in my opinion, analytical skills combined with technical expertise are very helpful.
If you are thinking of starting your own business, you probably should do it when you feel ready. It all comes down to basic psychology – the biggest focus on the conviction that this is your time.
What advice do you wish you had gotten before founding your own product business?
'Go for a long holiday!' 🙂
It's Women's Day today – so what do you think are the biggest challenges for women in Product?
Tech industry is highly male-dominated. Unfortunately, in many cases women still need to first prove themselves to be taken seriously due to the gender stereotypes.
But on the other hand, there is a great number of women in tech who set an example and have publicly overcome numerous hurdles, stereotypes, and generalizations. I feel very positive about the future.
Happy Women's Day 🚀🔥
And Happy Women's Day to you too! Thank you!