Inline Manual Alternatives: The Top 3 To Consider for 2023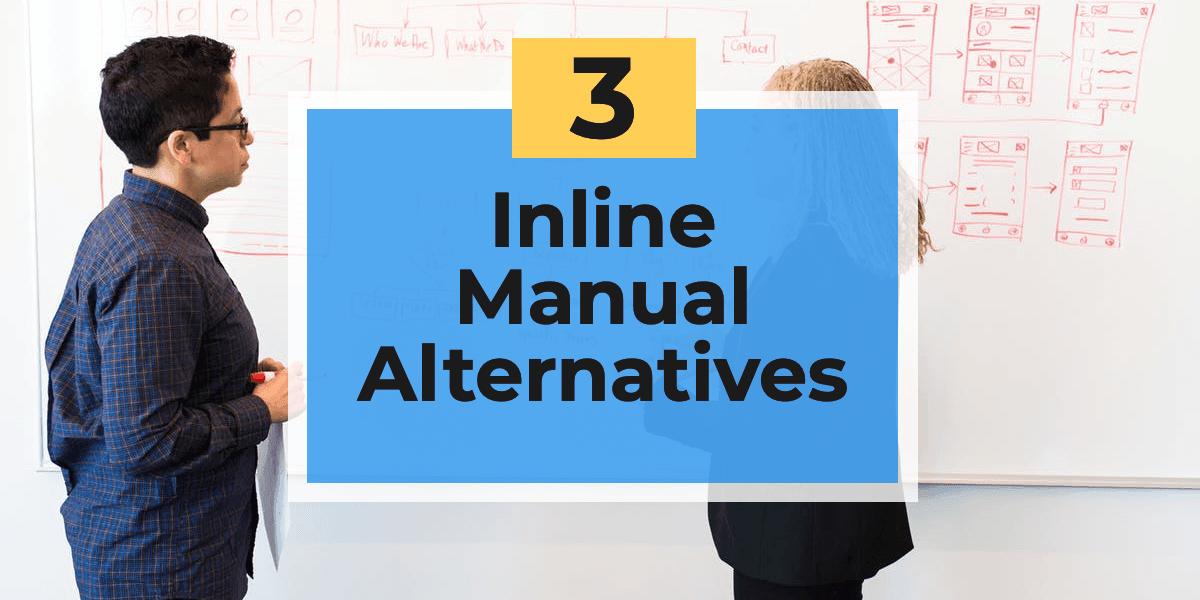 Today we're going to take a look at 3 Inline Manual alternatives that will help you increase feature engagement.
While Inline Manual is a good onboarding tool, it lacks a lot of features that will help you activate your users.
We're going to look at these 3 Inline Manual alternatives:
Each of these suits different use cases, so we're going to explore what each product offers, why you should choose them, and how much they cost.
To begin, let's take a look at Inline Manual itself…
About Inline Manual: Support for every language
What is it?
Inline Manual aims to offer an all-in-one onboarding solution. You can choose from a range of UI elements to onboard your users.
It also provides detailed analytics, including health scores and user tracking.
Why you should choose Inline Manual
Inline Manual's biggest strength lies in its internationalization. It claims to provide support for every language in the world. This makes it extremely useful for larger Enterprises that have a globally-used product.
On top of that, the team at Inline Manual pride themselves on providing the best possible customer support for customers on any price plan.
Inline Manual has a range of useful features, and if internationalization is high on your list of priorities, then it's worth keeping it in mind.
Why you should NOT choose Inline Manual
Of course, this article is about Inline Manual alternatives. So, you can probably guess that there are some reasons why you shouldn't choose it.
First up, it has limited onboarding functionality. Compared to Userpilot's contextual onboarding (more on that later) for example, it's practically ineffective.
It's also relatively costly, as you're about to see.
How much does Inline Manual cost?
Inline Manual's "Standard PRO" pricing tier starts at $158 per month. That price only gives you 250 monthly active users (MAU).
More importantly, if you want access to the whole range of languages that Inline Manual supports, you must upgrade to the "Enterprise" plan. The price of this is quote-based.
Should you look for Inline Manual alternatives?
Basically, yes.
Ultimately, the whole point of buying on the onboarding tool is to improve your onboarding and feature engagement. While Inline Manual can help you do that, it doesn't offer as many onboarding features as some of the alternatives we'll look at.
Not to mention the price. If you're after internationalization, you'll have to pay a premium price for it. We aren't sure the rest of the tool is worth it.
Let's move on to the first of the Inline Manual alternatives…
The Best of Inline Manual Alternatives: Userpilot – Your no-code, contextual onboarding tool
Call us biased, but we think our very own product deserves a mention on this list.
Userpilot is a one-stop-shop for all your onboarding needs. It offers all of the most popular UI elements, including checklists and modals.
It also enables you to segment your users and personalize the onboarding to each persona.
The look of each element can be fully customized without any coding knowledge required.
Why you should choose Userpilot
Because we said so!
No, but seriously, here's the main reason: contextual onboarding. We're always ranting and raving about this because it's so effective.
It means that you can send the right message to the right person at the right time. In other words, your onboarding reacts to a user's in-app behaviour, providing them with a personalized experience.
This proves to be far more effective when it comes to increasing feature engagement and activation.
EDITOR'S NOTE: We've written about the benefits of contextual onboarding here.
The second main reason is that you don't require any coding knowledge. Once you install the Javascript snippet to your app, you're ready to get started.
You can customize every single element of your onboarding flow to achieve the exact look you want. But the best part is that you can do it all with Userpilot's easy-to-use interface. No coding required.
How much does Userpilot cost?
Userpilot's pricing is completely transparent. You simply pay depending on how many MAU you have.
Our base plans start at $249/month (billed annually). This gives you up to 2,500 MAU.
All of Userpilot's functionality is available at any price point – including trial plans.
Is Userpilot one of the best Inline Manual alternatives?
Yes.
When it comes to improving feature engagement, contextual onboarding is the way forward. Userpilot's onboarding flows are easy to set up, and provide the best possible onboarding experience.
Inline Manual Alternative #2:

Appcues
What is it?
Why you should choose Appcues
Appcues is also a well trusted onboarding platform. It's also one of the oldest platforms out there.
They have a variety of UI elements, meaning you can dream up any onboarding flow you want. You can then use the A/B testing to further refine and improve it.
It's also worth mentioning that they have some of the best UX and onboarding content around. Both their blog and their "Really Good UX" site offer lots of practical advice.
Why you should NOT choose Appcues
Appcues' feature-packed product also comes at a price. It's a little cluttered and difficult to use.
While it's great that Appcues has added more and more features over the years, little thought has been put in to making a cohesive product. This means it'll take a while for you to get up and running.
The other issue is that Appcues doesn't support non-linear onboarding. That means a user will have to work through onboarding flow A before they see onboarding flow B. This isn't as effective as Userpilot's contextual onboarding.
How much does Appcues cost?
You can start using Appcues for $299 per month (billed annually).  But to unlock all of Appcues' features and functionality, you'll have to upgrade to the larger plans, which cost significantly higher.
For a full breakdown of Userpilot vs Appcues, see our page here.
Is Appcues one of the best Inline Manual alternatives?
It depends.
Appcues is great when it comes to offering a comprehensive onboarding platform. However, it's also extremely bloated and difficult to use.
The lack of non-linear onboarding, and the coding knowledge needed to customize elements, means that it isn't as good an alternative as other tools on our list.
Inline Manual Alternative #3:

Pendo
What is it?
Pendo isn't strictly an onboarding tool. We thought it deserved a place on our list anyway, because of its in-depth product analytics.
Pendo's analytics enable you to track how your users interact with your product.
You can then use this data to see where your product works, and where it falls short. It highlights areas where onboarding may need to be improved.
Why you should choose Pendo
When it comes to analytics, Pendo is a fantastic choice. The detail and scope of the data you can collect is far superior to the other Inline Manual alternatives on this list.
Pendo also enables you to collect feedback from your users. This means you can surface ideas on how to improve your product, and provide an experience that your users will love.
We should also mention that some big SaaS names, such as Marketo and Insightly, use Pendo. That's always a sign of a good product.
Why you should NOT choose Pendo
The trouble is, you're reading this because you need to improve your onboarding.
While Pendo will show you where improvements need to be made, it doesn't necessarily help you make them.
Pendo's onboarding functionality is very limited. In fact, it's not really an onboarding tool at all.
It also requires coding knowledge if you want to customize the look of any elements you add to your product.
How much does Pendo cost?
Pendo's pricing isn't very transparent. Even for their basic plan you need to book a demo before finding out how much it will cost. We've heard it costs above $3000/month or so.
That suggests Pendo is relatively costly compared to other Inline Manual alternatives.
Is Pendo one of the best Inline Manual alternatives?
Basically, no.
It's true that Pendo's analytics are second to none. If you're in the market for a product analytics tool then you should seriously consider Pendo.
However, if you're wanting to improve feature engagement, you need a dedicated onboarding tool like Userpilot or Appcues.
The Best Inline Manual alternatives?
All of the products on this list above provide a better alternative to Inline Manual.
Your choice depends on what you need:
If you need internationalization, stick with Inline Manual.
If you need contextual onboarding, go with Userpilot.
If you need feature-packed software, go with Appcues.
If you need in-depth analytics, go with Pendo.
Want to See If Userpilot is For You? Book a Demo Today