User Onboarding Academy: Best Resources To Learn How to Onboard New Users Effectively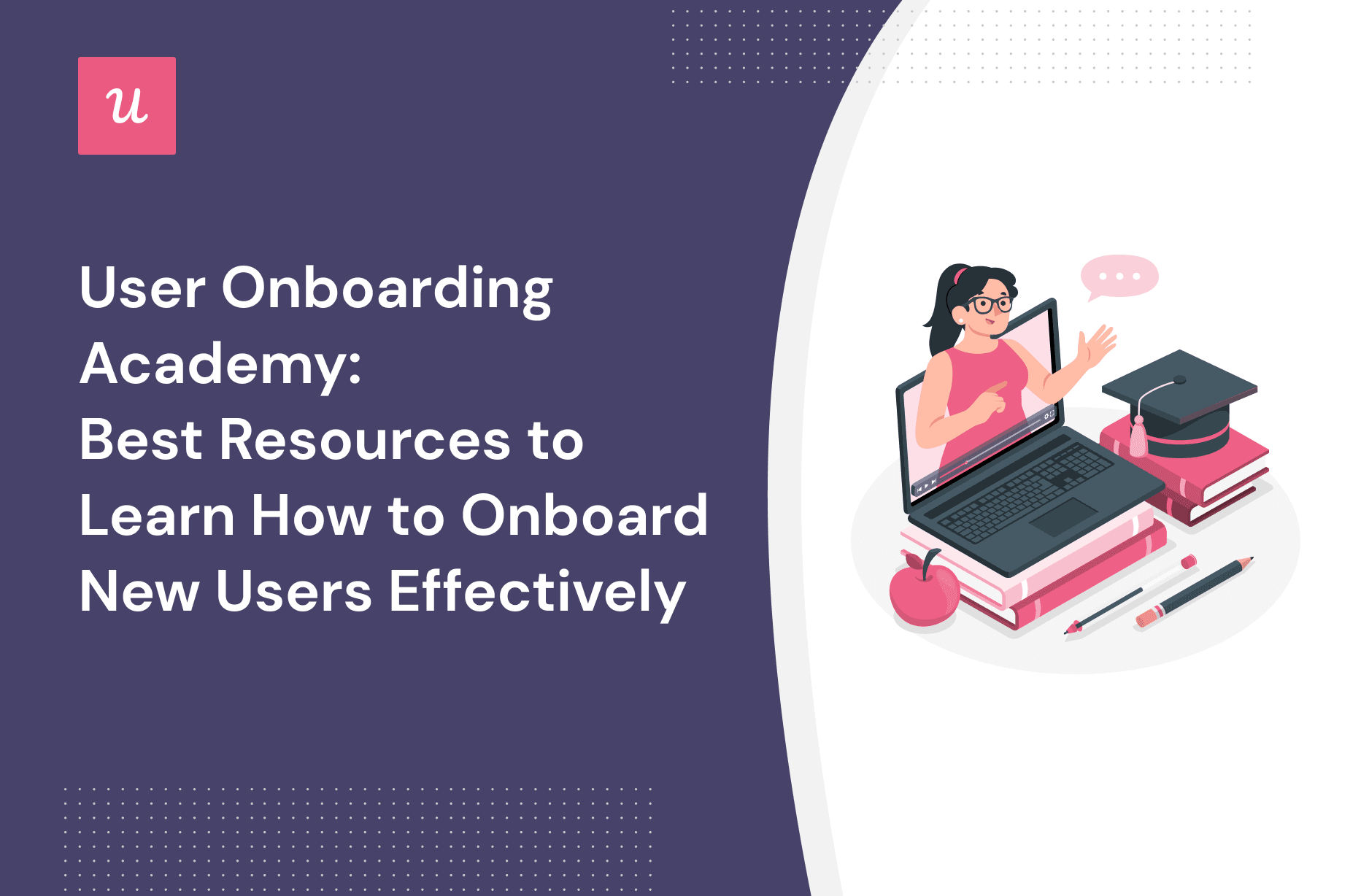 Are you looking to increase product adoption levels across your product but unsure how to begin? A user onboarding academy will help you get started on user onboarding and how to build great user onboarding flows.
In the brutal world of SaaS business where activation and retention are crucial, smooth user onboarding ensures users are highly engaged and activated from the start.
In this article, we'll be discussing what user onboarding is, why it's important for SaaS businesses and the best resources for learning how to onboard users.
Let's get started!
TL;DR
User onboarding is the process of familiarizing new users with your product and guiding them throughout their journey.
A good onboarding process keeps your customers engaged and active which in turn, reduces churn, boosts conversion rates and drives revenue.
You should follow these best practices if you want your onboarding to be effective:
Keep the signup flow frictionless and easy to complete. Avoid requesting too much information upon signup.
Personalize the message on the welcome screen. Take advantage of this screen to learn a little more about your user.
Replace boring product tours with short interactive walkthroughs that are contextual and can be completed in a few clicks.
Provide continued support using the self-serve support model to quickly answer user queries.
Take advantage of final onboarding surveys to learn how users rate their onboarding experience.
Userpilot's product adoption school can teach you everything you need to know about user onboarding. Sign up to receive 5 lessons in your email.
What is user onboarding?
User onboarding encompasses the entire process of making a new user proficient with your software. It is an ongoing process that begins with the user's first interactions with the product and includes the organization's customer success strategy.
Why is customer onboarding important for a SaaS product?
Imagine for a moment that your first interaction with a customer was a first date with someone you desired. You have one opportunity to leave a great impression on them. What do you do?
First impressions are as important for first dates as they are for first-time users. Customer onboarding sets the tone for the right first impression, defining the relationship between you and your customers.
A good customer onboarding process is often the difference between an activated user and a user who doesn't see value in your product.
For a user to be fully activated, they need to experience (and not merely appreciate) the value of your product. Thus, a user that follows through with your onboarding walkthrough or checklist should perform the first tasks required to find value in the service.
An effective onboarding process does not end with user activation. This ongoing process ensures users derive value from every feature they interact with through the customer lifecycle. As your product evolves, customers must remain well-informed on how to attain the product's core value.
What elements should an effective user onboarding flow contain?
User onboarding flow refers to the entire process of introducing users to your product. Great user onboarding flows help you:
Familiarize users with your application's UI
Showcase the primary benefits of the product
Teach users how the product works, and
Helps users finalize their account setup
To achieve these goals, user onboarding flows should contain the following elements:
Sign-up form
The signup form is the user's first interaction with your product. Ensure the signup flow is as simple, quick, and friction-free as possible.
One way to do this is by employing third-party authentication via platforms like Google and Facebook; this makes it a lot easier for users to get started on your platform.
You should also limit how much information you request upon signup. No one wants to fill out 30 fields while signing up for a service. If you must get all of that data from your user, do so after they've signed up.
Little things like autofill and password simplification can also make life easier for new customers.
Welcome screen
The welcome screen is the initial pop-up modal the user sees after successful signup. Think of your welcome screen as an in-app welcome email.
Personalize your greeting by using the first name of the customer in your welcome message. Use the opportunity to introduce your business (again!) and communicate the next steps.
Welcome screens also serve the purpose of collecting data, which is often overlooked. Add microsurveys to your welcome screen to understand who your user is and why they signed up for your service. Use data from the survey to segment customers and serve tailored walkthroughs to get them to their Aha moment.
Userpilot helps you create personalized welcome screens with built-in microsurveys like the one above without writing any line of code.
Interactive walkthrough
The product walkthrough is your chance to show the user how to use your software. This doesn't require that you show every minute detail of all features.
Generic product tours that try to cover too much at once – in a monotonous style, no less! – end up like boring lectures that no one understands.
Instead, you want to guide users through the product using interactive walkthroughs. Encourage interactions by having the user take certain actions as part of the walkthrough. Use different modal types and UI patterns to keep things interactive while highlighting different features.
Keep it from becoming lengthy by only showing them the features they need to activate, based on the answers they provided on the welcome screen.
Note that the primary goal of any interactive walkthrough should be user activation rather than information overload. By the end of this process, the user should have reached their Aha moment.
Onboarding survey
There are two types of onboarding surveys that you can work into user onboarding flows.
The first is the survey on the welcome screen designed to understand the user and their goals. The second comes at the end of the onboarding flow, designed to ascertain the user's rating of their experience so far.
Are they satisfied with the onboarding process? Do they have any issues that need addressing? Are there any areas they think require improvements?
Use the answers from the final onboarding survey to improve the overall process for new users.
Self-service support
Users who master your product can still get stuck. Try to implement a continuous onboarding process that caters to users' needs long after the initial user onboarding process. This is where the self-service support model comes in.
Use in-app resource centers to help users quickly find answers to questions they have. An in-app resource center should contain support articles, FAQs, and other training materials so customers don't have to wait on customer support reps for answers.
The self-service support model ensures users have access to on-demand support, finding solutions to their problems in their time of need.
User onboarding academy: Best resources to learn how to onboard new users effectively
Now, let's look at 8 different resources for learning about user onboarding, and what the learning experience is like.
Product adoption school by Userpilot
Userpilot is designed to help you build dynamic onboarding experiences for each new user, ensuring they get to their aha moment faster.
Userpilot's Product Adoption School is a great way for product teams and new hires to learn about user onboarding.
The course begins by highlighting the building blocks of a successful user onboarding process. It also covers how to:
Map a user journey from the aha moment to complete product adoption
Detect and prevent dropouts in the user journey
Choose and build the best product experience for your onboarding
Pricing: Free
Certification: Not Available
Venue: Email
Product adoption academy by Appcues
Appcues' Product Adoption Academy is a growing academy with several courses for product teams. Amongst these courses are User Onboarding 101, Value-first Onboarding, and Mobile Apps Onboarding.
The onboarding courses begin by highlighting the importance of user onboarding, before highlighting:
Some good and bad user onboarding examples
User onboarding best practices
The 'how-tos' of user onboarding, and
How to track the success of your onboarding flows
Pricing: Free
Certification: Available after assessment
Venue: Online
User onboarding ebook by Intercom
One of the leading providers of user support software, Intercom seeks to help you better support, engage, and convert your users.
Intercom on Onboarding by Intercom provides requisite training and invaluable lessons for ensuring each user is successfully activated.
It covers everything from how you can make a great first impression, to how you can create your onboarding strategy and onboarding flows to boost retention and conversion rates.
Pricing: Free
Certification: Not Available
Venue: Ebook
The Onboarding Academy by Arengu
Arengu is a software tool for visually building optimized self-service signup flows. The Onboarding Academy is Arengu's attempt at helping product teams learn more about user onboarding.
Designed to help companies and businesses better onboard their users, the course covers what user onboarding is, best practices and tips for effective onboarding, common mistakes to watch out for when building onboarding flows, and some of the best tools for it.
Onboarding Academy uses some excellent user onboarding examples that make for an enjoyable learning experience for novices as well as experts.
Pricing: Free
Certification: Not Available
Venue: Online
Product-led onboarding book by Ramli John & Wes Bush
How can you help your users go from experiencing their first aha moment into becoming raving fans of your product?
This is the focus of the Product-Led Onboarding book by Ramli John and Wes Bush. The book discusses how to create exceptional experiences for users from a product perspective. It highlights how to:
Grab customers' attention from the start
Make your product easier to use to boost adoption
Get users addicted to your product
Build self-serve support into your onboarding flows.
Pricing: $12.99
Certification: Not Available
Venue: Kindle or Paperback
The Elements of User Onboarding by UserOnboard
This is a 130-page ebook designed to provide readers with a detailed guide to user onboarding and adoption.
The book highlights how to optimize the onboarding experience from before users signup to after their first login. Using onboarding examples and expert interviews, the book discusses, among others, how to:
Turn users into highly motivated raving fans of your app
Create a signup flow that targets the best users
Create lifecycle emails that ensure users return to your product beyond their first visit
Pricing: Three-tier pricing package of $49, $249, and $1989
Certification: Available after assessment
Venue: Online
User Onboarding by Invision
If in need of a simplified learning experience that is more like a blog post than an academy, this is the option for you.
The User Onboarding Essentials by Invision is a 10-minute read that discusses essential information about user onboarding, from the principles of onboarding to the different onboarding techniques you could adopt to optimize the process.
Pricing: Free
Certification: Not Available
Venue: Online
User onboarding quick guide by ConversionXL
A quick guide to user onboarding, this blog post by ConversionXL is a great read for getting to understand user onboarding without going too deep.
The post highlights some of the best onboarding tools, and considers how to:
Audit your funnel to ensure it remains unclogged
Identify each friction point in your onboarding flows, and
Identify red flags in metrics such as churn and conversion rates
Pricing: Free
Certification: Not Available
Venue: Online
Conclusion
A user onboarding academy is a great way to dive deep into user onboarding and put together your winning onboarding strategy. With a whole world of content out there on user onboarding, the materials on this list are carefully selected to help you finally get started.
If you want to not only learn user onboarding but also create onboarding flows code-free, book a Userpilot demo to learn how Userpilot can help you do that.